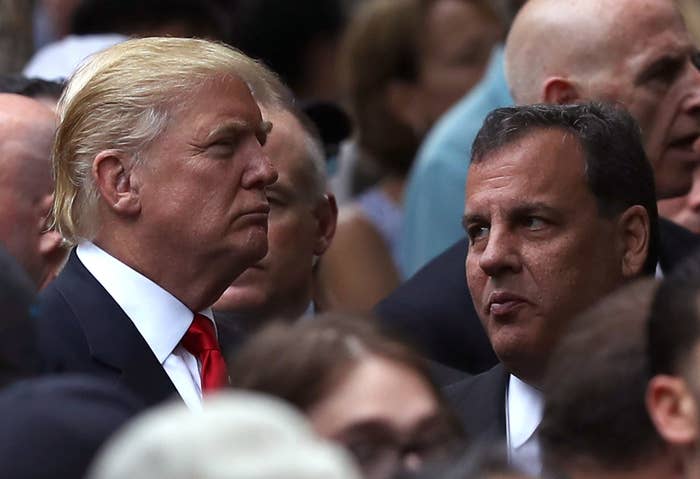 President-elect Donald Trump's transition team has put together a who's who shortlist of Trump surrogates and advisers to take top positions in his administration next year, ranging from former New York Mayor Rudy Giuliani for attorney general to 39-year-old Rep. Duncan Hunter Jr. to be the secretary of defense.
The list of 41 names, obtained by BuzzFeed News, covers 13 departments, the attorney general, Office of Management and Budget, White House chief of staff, and White House counsel.
A source familiar with the list stressed it was not final, and it is unclear whether transition officials have narrowed it down or added more potential candidates for consideration by Trump.
In a handful of instances there is only one candidate listed — Republican National Committee Chairman Reince Priebus is the only name listed for chief of staff, EEOC Commissioner Victoria Lipnic is listed for secretary of labor, Rep. Jeff Miller as veterans affairs administrator, Sen. Jeff Sessions as director of the Office of Management and Budget, and Donald McGahn, who has served as counsel to Trump's campaign, to be White House counsel.
In some cases, it appears the transition team is looking to find a home for a particularly loyal ally — Ben Carson, for instance, is listed as a potential candidate to be the secretary of education and secretary of health and human services, while Sen. Jeff Sessions is listed as a possible attorney general, head of the Office of Management and Budget, or secretary of defense.
Likewise, New Jersey Gov. Chris Christie, who is heading up the transition team, has his chips spread across the board, listed as a candidate for AG, commerce secretary, and homeland security secretary. Christie may face unusual scrutiny after the guilty verdicts handed down to two of his former advisers in the trial over the George Washington Bridge lane closures.
Although political appointments, cabinet-level positions typically require some level of expertise in the issues they cover. Most of the candidates either have at least nominal experience in their issue areas — for instance, Sessions is a former judge who has also served on the Senate Judiciary Committee.
Still, some seem clearly designed to create buzz — like the possible nomination of Sarah Palin to head the Department of the Interior.
List of Potential Trump Cabinet Nominees:
Attorney General:
Gov. Chris Christie
Attorney General Pam Bondi
Sen. Jeff Sessions
Former Mayor Rudy Giuliani
Secretary of Commerce:
Christie
Former Nucor CEO Dan DiMicco
Businessman Lew Eisenberg
Former Gov. Mike Huckabee
Sen. David Perdue
Former Sen. Jim Talent
Agriculture Secretary:
Gov. Sam Brownback
National Council of Farmer Cooperatives CEO Chuck Conner
Gov. Dave Heineman
Texas Agricultural Commissioner Sid Miller
Former Georgia Gov. Sonny Perdue
Secretary of Education:
Ben Carson
Hoover Institution fellow William Evers
Secretary of Energy:
Venture Capitalist Robert Grady
Businessman Harold Hamm
Secretary of Health and Human Services:
Former New Jersey state Sen. Rich Bagger
Ben Carson
Newt Gingrich
Gov. Rick Scott
Secretary of Homeland Security:
Christie
Sheriff David Clarke
Secretary of the Interior:
Gov. Jan Brewer
Gov. Mary Fallin
Grady
Hamm
Oil Executive Forrest Lucas
Rep. Cynthia Lummis
Former Gov. Sarah Palin
Secretary of Defense:
Former Gen. Mike Flynn
Stephen Hadley
Rep. Duncan Hunter Jr.
Sessions
Former Sen. Jim Talent
Secretary of State:
John Bolton
Sen. Bob Corker
Gingrich
Treasury Secretary:
Rep. Jeb Hensarling
Businessman Carl Icahn
Banker Steven Mnuchin
Chief of Staff:
Reince Priebus
Director of Office of Management and Budget:
Sessions
Secretary of Labor:
EEOC Commissioner Victoria Lipnic
Veterans Affairs:
Rep. Jeff Miller
White House Counsel:
Donald McGahn