Republicans Set To Confirm John Kerry
"Kerry gets a pass."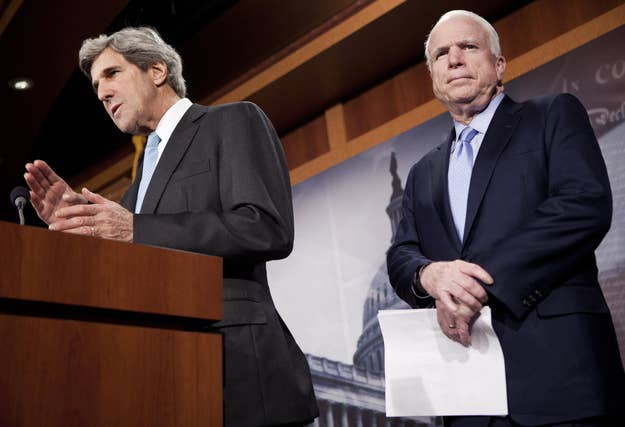 With UN Ambassador Susan Rice's scalp hanging from their belt, Republicans' spear unlikely to stand in the way of Sen John Kerry to replace Secretary of State Hilary Clinton.
Following President Obama's reelection last month, Republicans had warned that Kerry could face a repeat of the infamous "swiftboating" he endured during his 2004 presidential bid. But following their success in torpedoing a possible Rice nomination, it now appears Kerry wont face major opposition.
"Kerry gets a pass. He's as good as confirmed," said one top GOP strategist. CNN reported on Saturday afternoon that President Obama is planning to nominate Sen. Kerry.
Although sitting senators have long been given deference by their colleagues when nominated for a post requiring Senate approval, Kerry is a particularly divisive figure since his presidential campaign, and has become one of the leading faces of his party's liberal wing.
But the Rice debacle has sated Republicans' desire for a high profile post-election win against Obama. And it could clear the way for outgoing Sen. Scott Brown to return to the Senate next year.
"He's a senator. No one liked Rice and she's out. And Kerry opens seat for Brown," the strategist said, noting that Sen John McCain, who is friends with Kerry, could ease his way. "McCain, as a former presidential candidate, will make sure behind scenes that we're as respectful and deferential to former presidential candidate as we can be."
Former GOP leadership aide Ron Bonjean told BuzzFeed that "[Kerry] will go through some turbulence, but at this point it seems he would likely be confirmed, especially because of the previous alternative."
Still, Republicans won't simply roll over and will likely use his confirmation as a chance to hammer the Obama administration.
"I don't expect him to have too much trouble. There might be a little resistance here and there but I would guess most of the tough questions focus more on the Obama administration's problems and less on his," a senior GOP leadership aide said Saturday night.