Republicans May Tie Federal Paychecks To Shutdown Negotiations
House leaders have plans for a stand-alone bill that they hope will force Democrats into negotiations.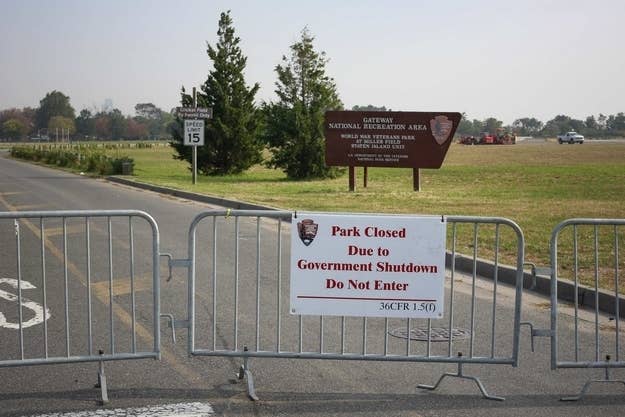 WASHINGTON — Hundreds of thousands of federal employees may be reporting for work every day during the government shutdown, but unless Congress acts soon, they won't start seeing paychecks until the political stalemate is over.
Although these employees, including tens of thousands of defense-related workers who returned to the job Monday, have been designated as "essential," they're required to show up for work despite the fact that they can't legally be paid until the shutdown is over. But under a new plan being considered by House Republican leaders, those employees could get their checks as scheduled — and provide the political impetus to force all sides to the negotiating table on an agreement to reopen the government as well as avoid a default on the nation's debt later this month.
The gambit, described to BuzzFeed by Republicans Monday, could provide a way out of the growing shutdown crisis: Public employee unions are extremely powerful within the Democratic Party, and a chance to ensure at least some of their members don't have their pay interrupted could tempt them into the fight. And by getting Democrats to the negotiating table, GOP leaders could potentially use almost any nominal concessions they can extract from Democrats to bring along enough of their conference to end the shutdown.
According to these Republicans, although no decisions have been made, the House's three top leaders — Speaker John Boehner, Majority Leader Eric Cantor, and Majority Whip Kevin McCarthy — brought a discussion of the plan to the leadership table Monday afternoon. Under the plan, Cantor would bring the bill authorizing payments to non-furloughed employees to the floor, along with a language that would start the process of a formal House-Senate negotiation on the bill.
Those talks would become the forum for a broader negotiation between the House, Senate, and Obama administration on ending the seven-day-and-counting government shutdown, as well as averting a debt default by the federal government.
The pay bill is part of a series of stand alone bills Republicans in the House have been moving since the government shutdown last week, and would follow largely party line votes on measures to fund the District of Columbia, veterans affairs, national parks, disaster relief agencies, and to provide furloughed employees with back pay once the shutdown is resolved.
Aides stress that no conclusion has been made and that Boehner's leadership team is unlikely to make any formal decision on a path forward until after they meet with their conference Tuesday morning.
Indeed, whether they can make the sell on that plan is unclear. Although House Republicans have been almost entirely united in voting for the so-called rifle shot approach of one-off spending bills, leadership's ability to guide the Republican conference along any path toward an end to the standoff has been largely absent.
Still, Boehner, Cantor, and McCarthy go into Tuesday's conference meeting at least with a largely unified conference — something that they have rarely had over the last three years.
"We're incredibly united … We haven't had much of a reason to be this united in a long time," one leadership aide said of the conference.
But even assuming the bill passes, its fate is far from certain. Democrats in the Senate have refused to take up the narrow bills, and the White House has threatened to veto all of those bills except for legislation providing back pay.
And, at least publicly, the bitter war of words between Democrats and Republicans was continuing unabated Monday.
After Boehner said Sunday that he does not have the votes to pass a clean spending bill that does not include changes to Obamacare, Senate Majority Leader Harry Reid's spokesman Adam Jentleson charged in a statement Monday morning that "Speaker Boehner has a credibility problem … there is now a consistent pattern of Speaker Boehner saying things that fly in the face of the facts or stand at odds with his past actions. Americans across the country are suffering because Speaker Boehner refuses to come to grips with reality."
An hour later, Boehner's spokesman Michael Steel fired back, "It's time for Senate Democrats to stow their faux outrage and deal with the problems at hand. The federal government is shut down because Democrats refuse to negotiate, and the debt limit is right around the corner … It's time for some Washington Democrat to step up, act like an adult, and start talking about how we reopen the government, provide fairness for the American people under Obamacare, and deal with the drivers of our debt and deficits."
By the afternoon, the principals were getting into the act, with Reid angrily saying, "We won't negotiate with a gun to our heads. We say to our Republican colleagues: End this irresponsible government shutdown. Stop your reckless threats of a default on the nation's obligations. Then Democrats will negotiate over anything our Republican colleagues want."