Republican Moderates Tire of Leaders' Tea Party Tilt
Speaker John Boehner has been trying to keep the right happy. Now he's facing restive moderates, House Republicans say.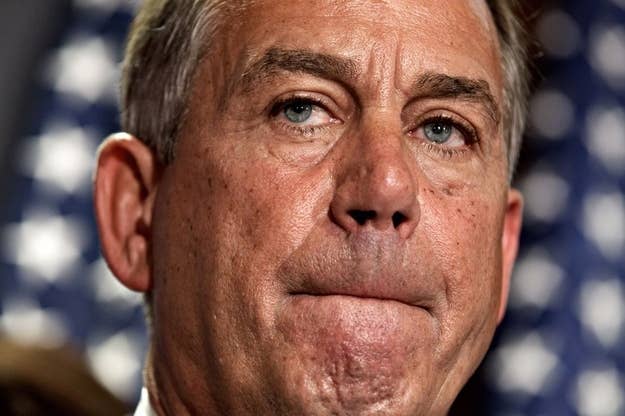 As Republicans prepare for yet another show vote on abortion Tuesday, Speaker John Boehner and his leadership team are facing a rising tide of frustration from Republican moderates angry over the rightward tack the conference has taken under his leadership.
Tuesday's abortion vote – which would ban late term abortions in the District of Columbia – has rubbed a number of moderates wrong. Given that the bill may not pass the House – and would never be taken up by the Senate – moderates and even some conservatives have questioned leadership's decision to force another vote on a divisive social issue rather than remain solely focused on the economy.
Those dissatisfied moderates hit Boehner with a one-two punch Monday.
First, the Columbus Dispatch reported that Rep. Steve LaTourette had abruptly decided to retire. That decision shocked many Republicans, in part because LaTourette – who like Boehner is a from Ohio – has had, at least until recently, an extremely close relationship with the Speaker.
At the same time, Syracuse Republican Rep. Hanna harshly criticized the GOP, arguing leadership has gone too far in deferring to the demands of conservatives.
"I have to say that I'm frustrated by how much we — I mean the Republican Party — are willing to give deferential treatment to our extremes in this moment in history," Hanna told the Post-Standard.
According to Republicans, moderate members of the House GOP conference feel that Boehner, who has struggled with an often raucous and openly defiant right wing, has forced them to go along with conservative demands but has provided them little in return.
One Republican familiar with the dynamics within the GOP argued part of the difficulty for Boehner has been the fact that conservatives -- and not moderates -- have been the "squeaky wheel" within the conference, which has forced him to focus on them for much of the 112th Congress.
Rather than work with his entire conference Boehner has had to "prove to conservatives constantly that he's advocating for them and not screwing them behind their backs," the Republican said.
Boehner remains deeply popular within his conference, and despite the frustration of moderates he faces virtually no chance of an effort oust him as Speaker.
Although a spokesman for Boehner declined to comment, one Republican lawmaker privately downplayed Hanna's complaints, noting that pushing back against leadership is a favored past time of lawmakers in swing districts like Hanna's.
Nevertheless, Republicans acknowledged that unhappiness with leadership amongst the moderate ranks has been growing for months. Earlier this year LaTourette and the chamber's "Old Bulls" – a group of old-line appropriators and other dealmakers – openly broke with Boehner over his efforts to reshape federal transportation spending.
And the decision by Majority Leader Eric Cantor to schedule several votes on abortion, reaffirming that the nation's motto is, in fact, "In God We Trust" and other social issues has angered moderates for more than a year.
"Leadership told us that the 'get out of town' week messaging was 'stop the tax hike.' It baffles many of us that they would muddy that messaging by scheduling an abortion bill vote," one Republican told Buzzfeed Friday of the decision to hold another abortion vote.
Still, moderate dissatisfaction appears to have been far worse than had been thought – so much so, in his interview with the Post-Standard Hanna went so far as to say that "I would say that the friends I have in the Democratic Party I find ... much more congenial — a little less anger."