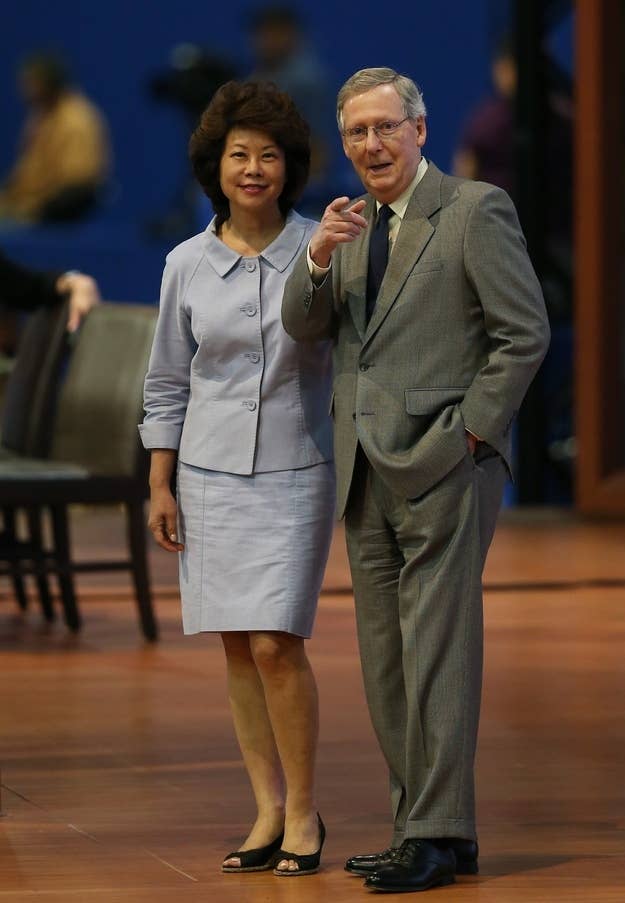 WASHINGTON — Kentucky liberals have accused Senate Minority Leader Mitch McConnell of making policy decisions about trade with China based on the fact that his wife is Chinese, claiming she has undue influence over his positions.
The liberal organization Progress Kentucky has in at least two instances sought to make the Chinese heritage of McConnell's wife an issue in his relection campaign.
First, in a Feb. 14 tweet, the group wrote, "This woman has the ear of (Sen. McConnell)—she's his wife. May explain why your job moved to China!" and included a link to a conspiracy website alleging McConnell's wife, Elaine Chao, had discriminated against Americans during her time as Labor Secretary. The tweet was first reported by Louisville public radio station WFPL
.
Then in a second tweet on Feb. 26, the group wrote "China Premier grateful to McConnell father-in-law/@KYGOPcontributor-4 his role in developing China industry" and including a link to a China State Shipbuilding Corporation press release.


The daughter of Taiwanese immigrations, Chao was born in the United States and has been a leading conservative figure on labor issues for years. Taiwan and the People's Republic of China are separate nations.
A spokesman for the group, Curtis Morrison, sought to downplay the tweet in a comment to WFPL.
"It's not an official statement. It's a Tweet. And we will remove it if it's wrong … People make mistakes in Tweets. It happens. Inferring that Elaine Chao is not a U.S. citizen was not our intention," Morrison told the radio station.
However, while the group has deleted other tweets since then, both of the Chao tweets remained in their feed as of Feb. 26.
McConnell's campaign spokesman Jesse Benton slammed the tweets as racist.
"Secretary Chao and her family are shining examples of the American Dream: salt-of-the-earth folks who escaped oppression, came here with nothing, joined our great melting pot, worked exceptionally hard to build a thriving business, and then dedicated so much of their lives to giving back," Benton said in a statement.
"It is unconscionable that anyone would use blatant race-baiting for political again. Progress Kentucky should be ashamed of themselves. We hope all Americans can agree that these disgusting tactics have no place in American politics as we try to bring people together to solve our difficult problems," he added.
UPDATE: The executive director of Progress Kentucky, Shawn Reilly, himself retweeted one of the two attacks, which focused on McConnell's father-in-law: