Obama Throws Down The Gauntlet Over Defense Cuts
"If that's an argument they want to have before the court of public opinion that is an argument I am more than willing to engage in," defiant president tells House Democrats meeting in Virginia. "It won't be smooth it won't be simple."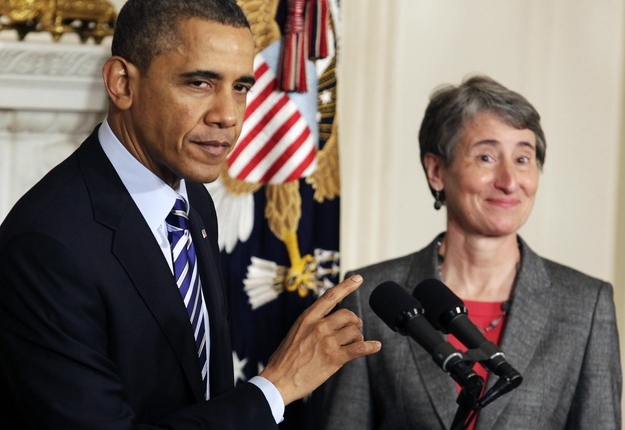 LANSDOWNE, Va. — President Barack Obama told House Democrats that immigration, gun control and putting an end to the string of economic crises that have ruled Washington remain his top priorities for the year and that, if the party sticks to it's principles, "I expect Nancy Pelosi will be speaker again."
Addressing House Democrats' annual retreat at the Landsdowne golf resort and spa, Obama told the crowd of lawmakers that "I love Nancy Pelosi … she just generates good looking grandbabies."
On the biggest issue facing the country in the short-term — a series of fiscal deadlines that could each send the country in a new recession or depression — Obama told Democrats that he is "prepared eager and anxious to do a big deal a big package that ends this governance by crisis."
But he made clear he wasn't simply going to go along with Republican demands for massive spending cuts, insisting it be a "balanced package that will reduce our long term deficit and debt but will also allow us to invest in those things we need right now."
"What they suggest is the only way to replace it is to cut social cut Medicare and not close a single loophole … If that's an argument they want to have before the court of public opinion that is an argument I am more than willing to engage in," a defiant Obama said.
On immigration reform, Obama noted that "I said this is going to be a top priority and an early priority … [and] I am heartened" by bipartisan talks in the House and Senate.
"I recognize that politics aren't always easy … but what I also know is that part of our strength is our youth and dynamism and our history of attracting talent from all over the globe. Ive seen some of that talent in the young DREAMERS I've met," he said.
He also urged Congress to address gun violence and to "do so recognizing that again there are regional diff here, and we should respect those … guns means something differ for somebody who grew up on a farm or rural community and someone who grew up in a city."
"But we can't have a situation where 20 more of our children or 100 more of our children are shot in a senseless fashion," Obama added.
Before ending his remarks to begin a question and answer situation — which, predictably, was closed to the press — Obama acknowledged his often difficult relationship with not only Congress and Republicans, but members of his own party.
"It won't be smooth, it won't be simple; there will be frustrations. There will be times when you guys are mad at me, and I'll occasionally read bout it. But as long as we keep in mind why we came here in the first place … if we keep that in mind every single day I have no doubt we'll continue the extraordinary progress we've made already," he said.