Obama, Congress No Closer To Avoiding Mandatory Spending Cuts
"This is not a win for anybody. This is a loss for the American people," Obama says as cuts are set to begin taking effect.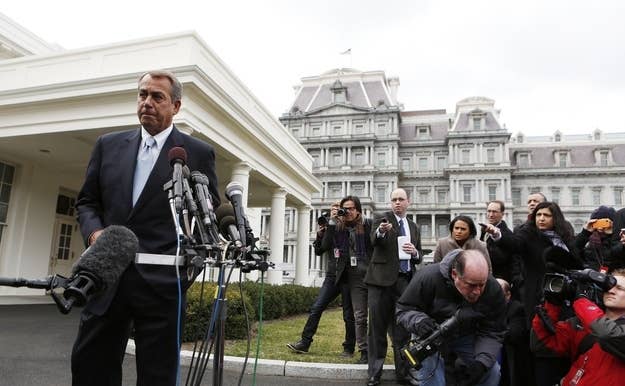 WASHINGTON — A perfunctory meeting between President Obama and congressional leaders resulted in no progress on staving off a set of $85 billion in mandatory spending cuts set to begin taking effect this afternoon, and both sides were digging in for a long, drawn-out battle.
"It may take a couple of weeks, it may take a couple of months. But I'm going to keep on pushing on it," Obama told reporters following his midmorning meeting with Speaker John Boehner, Minority Leader Nancy Pelosi, Majority Leader Harry Reid, and Minority Leader Mitch McConnell.
"We will get through this as well. Even with these cuts in place, folks across the country, and making sure the republic will keep going," Obama said, adding, "But Washington sure isn't making it easy."
But he clearly sought to lay the blame at the feet of congressional Republicans.
"Every time we get a piece of econ news over the next month, the next two months the next six months … As long as the sequester is in place, we'll know that economic news could have been better if Congress hadn't failed to act," he said, charging it is "a choice Republicans in Congress have made … because they refuse to budge in closing a single wasteful loophole."
According to Boehner's office, during the meeting Republicans reiterated their position that Obama and Reid must first pass legislation out of the Senate before the House will act, and warned they will not accept any legislation changing the sequester that includes new revenues.
One bright spot, however, is that it now appears increasingly likely that Congress will act by the end of next week to avoid a government shutdown, which will likely be a rare bipartisan bright spot in Washington.