Nancy Pelosi Wants You To Believe That Democrats Can Retake The House
The conventional wisdom says Republicans have it locked up. But Pelosi spent her week in Charlotte obsessively making the opposite case.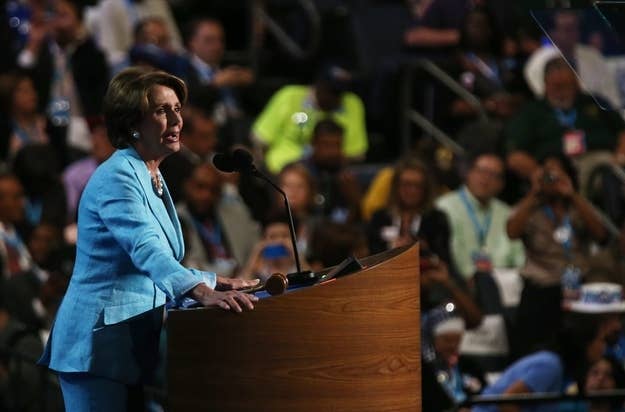 CHARLOTTE, NC — The highest ranking woman in American politics was on a mission during the Democratic convention in Charlotte, NC: to convince the media, donors and her own party that conventional wisdom be damned, control of the House, and a return to the speakership, are within reach.
Her hype runs counter both to the prevailing wisdom and to the usual expectations-lowering game of politics, but House Minority Leader Nancy Pelosi and other House Democratic leader are convinced that selling the path to victory is a key part of the battle to bring cash and attention to a tier of House candidates in states like Illinois and Texas who would, in theory, provide the 25 seats the party needs to restore her to the Speaker's chair.
And so last Tuesday she found herself at her third event of the day Pelosi, 72, and the first of several lunches, teas and dinners before convention proceedings began that evening.
"Oh, you want to talk politics?" Pelosi drolly asked to National Journal's Ron Brownstein, before launching into her pitch for why Democrats are in an excellent position to retake the House.
When Brownstein asked whether she agreed with the conventional wisdom – that at best Democrats will pick up only 10 of the 25 seats needed to take control of the House in November — Pelosi flatly rejected the idea.
"Absolutely not. But I'd like them to keep thinking that and telling Republicans that to lower expectations," she said.
Although Pelosi has always been energetic when it comes to the rough and tumble world of politics — she is, after all, the scion of one of Baltimore's storied political families — her pace at the convention was surprising even to her staff.
While the Democratic leader prowled the city's streets and convention halls in high heels and looking sharply dressed, after trailing her all day Monday from event to event her staff, used to Pelosi's pace, switched into sneakers just to keep up.
And at every stop over her four days in Charlotte, Pelosi made some version of her "we can win" pitch, ticking off well worn message lines:
Democrats have a "very intense grassroots operation without ceding one grain of sand;"
"We've out raised them, we've out districted them;"
And her seemingly favorite, that Democrats will fight "mano a mano, door to door, neighborhood by neighborhood, precinct by precinct district by district and city by city" to wrest control of the chamber from Republicans.
Then she'd quickly tick through Democrats' "Drive for 25," the program Democratic Congressional Campaign Committee Chairman Steve Israel has put in place to net the 25 seats needed to take the House, outlining how pickups in California, Illinois, Texas and other areas could add up to the magic number.
Of course, Pelosi's pitch runs counter to virtually every independent observer. Political handicappers like Stu Rothenberg and Charlie Cook have argued at best they see the Democrats taking at most six to 10 seats from Republicans. In fact, those same analysts even begun to see an outside possibility that Speaker John Boehner may end up adding a handful of Democratic seats to his already sizable majority.
Bolstering that new wrinkle, Republicans the week before began rolling out their own plan to not only defend their majority but try and put Democrats on the defensive, insisting they now saw opportunities for pickups in districts that had seemed solidly blue only a few months ago.
But while if the conventional wisdom and empirical evidence may not by on Democrats' side, Pelosi isn't alone in thinking Democrats have a shot at the House. Her fellow leaders, in fact, were downright bullish on their prospects.
"Yes, I think we can win the House. I don't think it's a slam dunk," House Minority Whip Steny Hoyer told Buzzfeed in an interview.
Hoyer insisted that after the anger-fueled 2010 election, the public has soured on hardline politicians and is looking for lawmakers who are willing to compromise —something he contends Democrats' current crop of candidates represent.
"I think the American public has gone from really almost white-hot anger in 2010 to an anxiety knowing their government needs to work," Hoyer said.
"Because of that, they're going to be looking very carefully at who they elect to the congress of the united states and the candidates who are the most reasonable and most positive, and that have a sense of cooperation, not just 'I don't like government, I don't like this, I'm going to be against that,'" Hoyer added.
"It's absolutely in play and more so at the beginning of September than at the beginning of August.... I think we got our mojo back in August" Israel told Roll Call last Thursday.