Some People Mourn "The Old New Orleans" — But Not The City's Mayor
"We stopped ourselves from going over a cliff." Since Hurricane Katrina destroyed parts of New Orleans 10 years ago, the city has changed in big, gentrifying ways. And Mayor Mitch Landrieu, for one, is proud of it.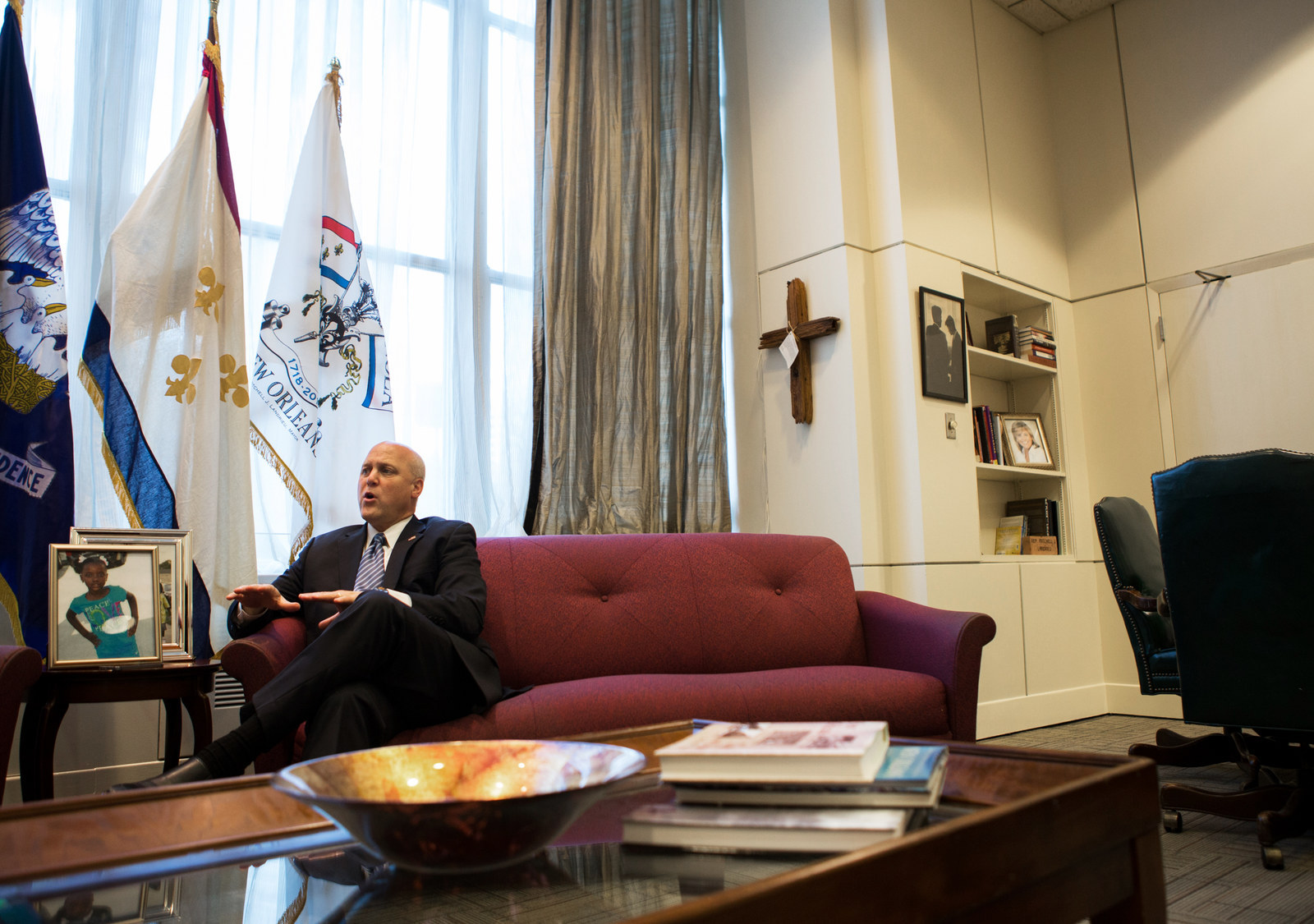 NEW ORLEANS — New Orleans Mayor Mitch Landrieu hopes next month's 10-year Katrina anniversary won't just be commemoration of the lives lost during the storm but also a key moment in his efforts to do what few politicians have ever had the chance to do: remake an entire city.
"When I became the mayor of the city of New Orleans, what I said was out of this huge tragedy came this huge responsibility to get it right. Some people say, 'Oh, you see Katrina as an opportunity.' I don't really see it that way. I see it as a huge responsibility to make it right," Landrieu told BuzzFeed News in an interview this month.
Landrieu, 54, came into office five years after the storm at a time when reconstruction efforts were still struggling to get off the ground in much of the city. With New Orleans' 300th anniversary in 2018, Landrieu said he's hoping "Katrina 10" can be used to leverage wholesale changes in the city that have been needed for decades — while cementing his legacy as mayor.
"Don't just go patch the school up, don't just patch the playground up, don't go, you know, rebuild the house just like it was," he said. "Build it the way it should have been built."
Landrieu is proud of the changes. He talks about decades of decisions that contributed to problems in New Orleans, and positive developments since Katrina. Landrieu isn't like politicians in other major cities who delicately tread the rhetorical line between pro- and anti-gentrification forces battling over major changes to a city. More people are moving in than moving out of New Orleans, he will tell you. The city is "ascending." The "most amazing thing" to happen in New Orleans since Katrina is that people didn't "go right back to what it was before."
"We stopped ourselves from going over a cliff."
Still, Landrieu, who inherited the city in 2010 from former Mayor Ray Nagin (now serving a 10-year sentence for post-Katrina corruption and bribery), acknowledges the often dramatic change in much of the city has not come easily and has many residents on edge.
"Change doesn't come easily to anybody, especially folks who live here that are used to being steeped in history and, you know, kind of stuck in whatever it is we've been historically," he said. "Change usually comes slow to this part of the country. So it's been a struggle."
Those changes have been significant: The city used the Katrina recovery process to undertake a multibillion-dollar redevelopment in the Fifth Ward, the centerpiece of which is a massive hospital and medical research complex, anchored by a new state-of-the-art Veterans Administration facility.
With real estate prices at rock-bottom levels in the years after the storm, thousands of new people have moved into the Fifth Ward, taking over badly damaged homes from residents who didn't have the money or will to rebuild. City officials this year opened the new Lafitte Greenway, a "linear park" that includes a bike path linking the Treme neighborhood with Mid-City, replaced the old Lafitte housing projects with new, mixed-income housing, and have steered significant federal transportation dollars into rebuilding roads and creating bike lanes in the neighborhoods.
Those efforts there and in other parts of the city have paid benefits: Large swaths of the city are being redeveloped by private businesses and property owners, whole blocks in some of the city's most run-down neighborhoods have been rebuilt, and new networks of community health and job training groups have sprung up to help black and low-income residents.
And Landrieu is proud of all of it. "I want you to think about now, if you're a child today in New Orleans, none of that stuff was there."
"Now, after Katrina, you have a pathway to prosperity within six blocks," he said. "Wake up in Lafitte housing that's safe. Walk to Phillis Wheatley to school to get a great education … get on your bike and go to City Park through the Laffite Corridor or go to the French Quarter for work, and then walk down to the University Health Center, where depending on where you are in your life, where you are generationally in your family's building of generational wealth, you can be a security guard, a phlebotomist, a med tech, a nurse, or the CEO of that hospital."
This notion of a "transformed city," as Landrieu calls it, underlies most of his decision-making when it comes to redeveloping New Orleans, an approach he hopes will create an environment in which "people can actually live their whole life in that same neighborhood and go from poverty to wherever it will take somebody."
"Think of a Ben Carson, think of our U.S. Attorney Ken Polite, who went from the Ninth Ward to our U.S. attorney," he said, while acknowledging even those changes won't always mean immediate benefits for longtime residents. "It's a generational fight … without being trite about this, it takes generations."
But the changes Landrieu is ushering in have had other consequences, including significant shifts in the racial makeup of many of the traditionally black neighborhoods that have been targeted for redevelopment — a fact the mayor is acutely aware of, if not entirely sympathetic toward.
"It's a predictable fear. So for a city that doesn't like change, but needs a lot of it … how do I aggressively change the bad things that made it impossible for us to fully participate in the American dream, the institutions that held us back — the criminal justice system that wasn't fair, the education system that didn't teach? Right? The health clinics that didn't exist before … and then get rid of the bad things but keep the good things that made us who we are today, without sacrificing our authenticity. That's the challenge. And you see the city marching through that," Landrieu argued.
He also pushed back on growing complaints about the complexion of the city under his watch, saying "the city of New Orleans is a majority minority city. Nothing has changed, other than a few percentage points."
Landrieu also bristles at the concern that changes in the city are watering down the city's culture — the very reason many out-of-towners have flocked to it. "There is little or no chance that a human being not from here is going to come here and change us before we change them. That's just never, ever going to happen," the mayor said of the growing concerns about the city's changing face.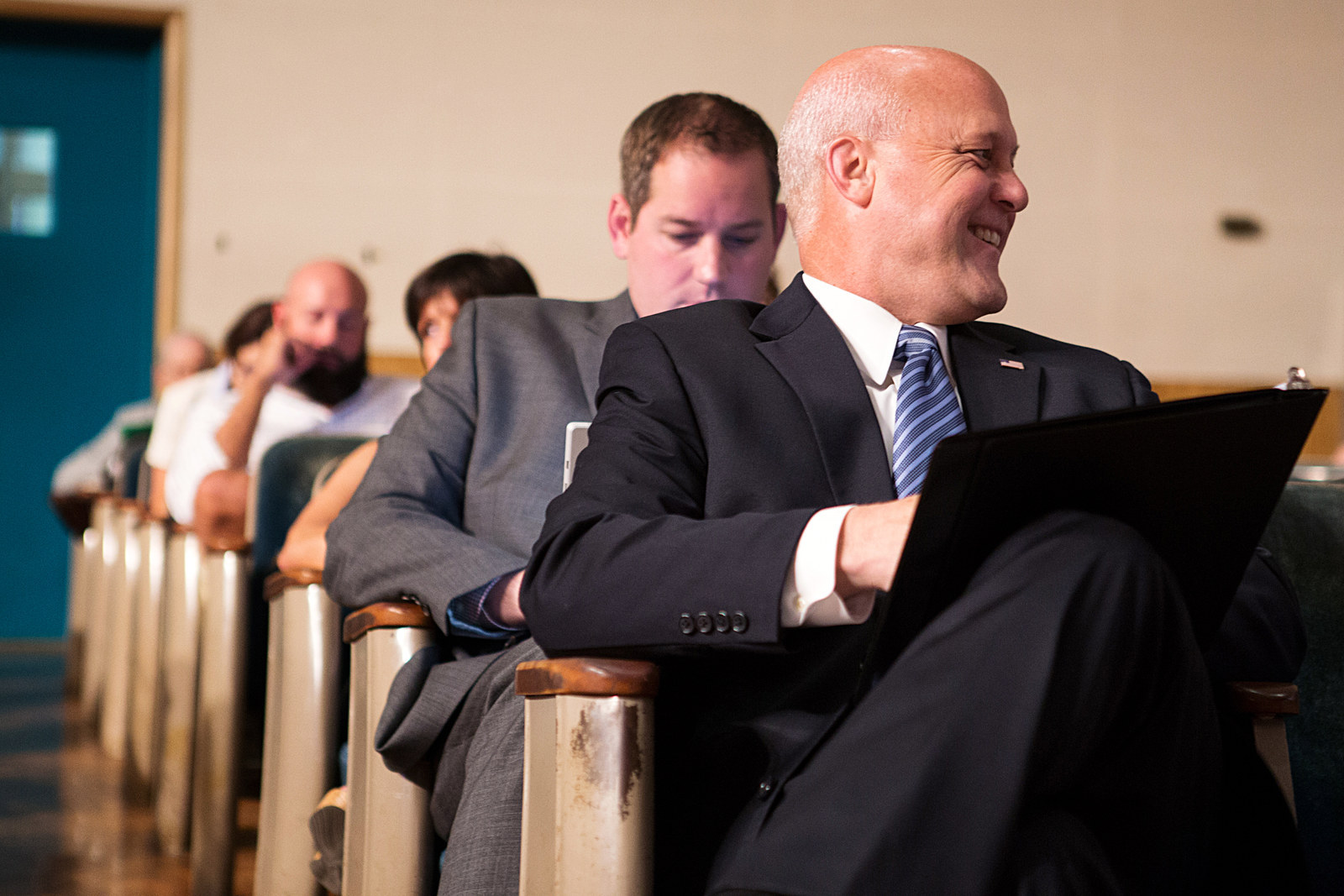 And in some cases, the city has resisted change: For instance, a push to institute a new noise ordinance — which was viewed by longtime residents as being directed at second-line celebrations — ultimately failed. But in areas of the city like the Bywater and Marigny neighborhoods that have become magnets for out-of-towners, rents and property taxes have skyrocketed in recent years, forcing many longtime residents to leave and changing the racial makeup of the neighborhoods. That, in turn, has resulted in tensions between longtime residents and transplants.
But Landrieu dismisses those concerns, saying that while the city needs to ensure redevelopment and change doesn't displace populations, the city will ultimately absorb its new residents into itself.
"The people of New Orleans are vicious in the protection of our culture. We're not trying to be Houston or Atlanta, although they have some wonderful things we can borrow. We want to be ourselves. They don't know how to second-line other places," Landrieu insisted.
Landrieu went further, arguing "there's some people who have this sick mentality that all the bad things kind of help make the good things. That's wrong. I think that's wrong. I don't believe you need poverty to make culture … Lots of people conflate good things and bad things. It's good for neighborhoods to have housing that's improving. It's bad for everybody to be priced out of the market. It's good for neighborhoods to be diverse and not just racially monolithic. It's bad when it flips one way or another."
But despite Landrieu's optimistic outlook, significant parts of the city are not only still not seeing the benefits of redevelopment, but they seem to be sliding further and further behind.
As floodwaters rushed into the city in the days following the hurricane, America's televisions were filled with images of the Lower Ninth Ward, a predominantly black, poor area of more than 15,000 residents. Whole neighborhoods were underwater, and images of terrified residents perched atop the tiny islands of their roofs amidst the muddy waters became a symbol of the city's destruction.
After the waters receded, cleanup crews slowly made their way through the area, bulldozing whole neighborhoods, leaving only the concrete steps as somber markers of the families who once lived there.
Today the Ninth has an official population of 3,000 residents, less than a fifth of the pre-Katrina level. Huge sections have been overgrown by underbrush and trees; there is little commerce beyond corner stores, liquor stores, and check cashing joints.
The neighborhood is a stark reminder of the significant distance New Orleans still has to go before it fully recovers.
"I would say if you think about the city in its whole context, the water hurt everybody, it didn't discriminate," Landrieu said when asked about the lack of progress in the Ninth Ward.
"Some neighborhoods have come back slower than others, because they didn't have the generational wealth. We've spent $500 million in the lower Ninth, that's a big nut. So you continue to see it's a struggle … I think the Ninth Ward is a big challenge," he conceded.
Landrieu argued part of the problem has also been a lack of interest from the private sector in redeveloping the area.
"It was not in great shape before the storm. And so building back is harder and tougher and it's going to take longer. It just is. Because we have limited resources. And the market needs to help too. There's no way the government by itself can rebuild this entire city. And that's been a real challenge for us," he said.
Additionally, violence remains high in New Orleans.
"You see those books, you see those red books?" Landrieu said, motioning toward a stack of binders behind his desk. "All those books are pages of human beings who've been killed on the streets of New Orleans since I've been mayor. It's a lot of 'em, right? What I'm trying to do is focus people's attention on the losses of lives of young African-American men."
"It's a national epidemic … I want to find a way of changing what I call a culture of violence into a culture of peace," Landrieu said, explaining that the city's inability to contain the violence in its streets is perhaps his most significant outstanding challenge.
While other traditional issues like the economy or health care are a matter of "muscle memory" for governments, "what we do not know how to do is stop the violence on the streets of America. I'm frustrated and impatient, because we can't get there faster and sooner."