Meet The Real King Of The Republican National Convention
Grover Norquist throws punches at "whiny Democrats" and social conservative "bigotry." "You're the smartest man in Washington," one fan gushes.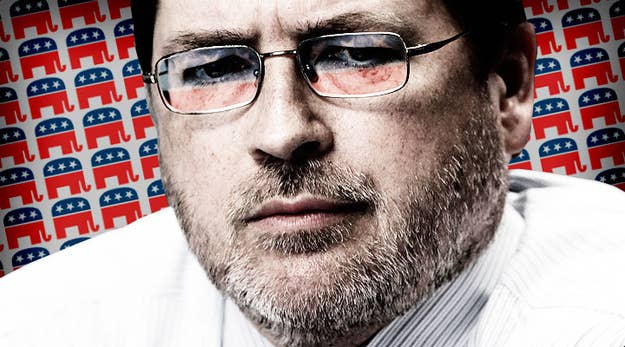 Tampa, Fla. — Grover Norquist is doing standup.
"I'm not French. I'm not bragging, its just a fact," the president of Americans for Tax Reform cracked from the stage of The Improv in Tampa's Ybor City neighborhood in the wee hours of Wednesday morning.
One hand thrust into his pants pocket, Norquist, let the laughter from his right-leaning audience die down, a content look on his face. French jokes always go over well with conservatives.
"When you're married, you're introduced to new things. Like abstinence," he dead=panned to more laughter from the audience, which included both rank and file delegates and conservative figures like Daily Caller editor Tucker Carlson.
Norquist, who has been a key figure in turning opposition to tax reforms from a tendency to an iron law of the Republican Party, has been the focus of increasingly intense criticism from Democrats — and some Republicans — as a confrontation or grand bargain on fiscal policy looms in Washington. Democrat's view him as their Beltway archenemy. Former Florida Governor Jeb Bush said Norquist's no-tax pledge asked legislators to "outsource your principles and convictions."
But here in Tampa, Norquist's centrality to his party seems, if anything, enlarged by his notoriety. He's everywhere, from morning to night, preaching his blunt gospel on any cable news show that will have him and asking detailed, slightly nasal questions about the intricacies of state politics of the delegates who constantly stop him to shake his hand. He visibly enjoys the attacks.
"Democrats whine because the pledge is a very effective tool," Norquist told BuzzFeed. "They want to say it's about me. It's not. It's about taxation."
Here in Tampa, it is evidently some of both.
"I think you're the smartest man in Washington," one guest gushed to him Tuesday morning as he fielded questions on state tax policy at Armani's restaurant, overlooking the bay.
Norquist's central organizing tool is his famous Wednesday meeting, a gathering started in the 1990s to bring together and coordinate elements of the conservative movement; it's referred to by some of its regulars as the Vast Right Wing Conspiracy Lunch. Norquist called a special meeting of it this week at Liberty Plaza, a small tent city conservative organizations erected in an empty lot near the Tampa Bay Times Forum.
"What are you working on right now?" Norquist demanded of his audience for the Wednesday breakfast, which he told them was for the purpose of updates from their far-flung bases to him, an undisputed if low-key leader. "What are you doing?"
Norquist has expanded those lunches into a national phenomena, with 64 groups in 48 states holding their own off-the-record versions; this week's meeting featured dozens of attendees from across the country.
A few blocks away at the cramped office the Democratic Party is using for rapid response, Norquist's name was mentioned with less warmth. The top Democrat on the House Budget Committee, Chris Van Hollen, argued that the selection of Paul Ryan as Romney's running mate is an endorsement of Norquist's power.
Van Hollen and other Democrats have also made Norquist a bogeyman, and are now to linking Norquist's name to Vice Presidential nominee Paul Ryan's controversial budget.
"If you look at the Romney Ryan budget, it's a big salute to Grover Norquist over the American people," Van Hollen told BuzzFeed.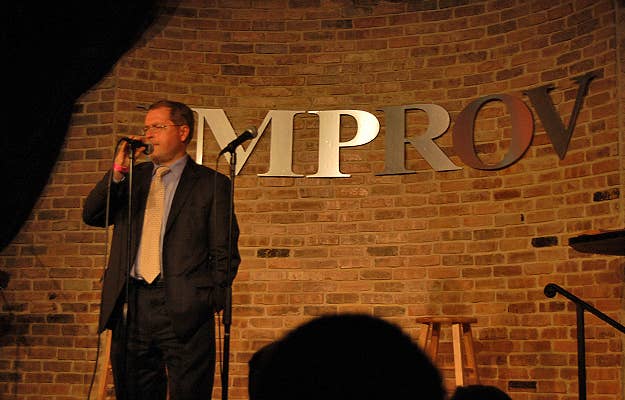 At the same time, Norquist has also come under attack from within his own ranks for his positions on cultural issues. Hardline conservatives have bristled at his vocal support for inclusion of Muslims not only in America but within the conservative movement itself, accusing him (with no real evidence) of ties to the Muslim Brotherhood.
And his characteristically direct embrace of the gay community has ruffled feathers, particularly amongst opponents to marriage equality. He returns their criticism in kind, accused them of "bigotry" in an interview with BuzzFeed.
But for all the criticism heaped on him, its clear his standing within the ranks of the Republican Party hasn't diminished — and may even be getting stronger.
"All they've done is just raise his visibility, which is just fine," Republican Policy Committee Chairman Tom Price said.
"He's been a boon to fiscal responsibility in this country," the Georgia Republican argued.
"He's not the issue … I think he's still very effective at what he does," House Majority Whip Kevin McCarthy said.
Democrats "try to make him the issue … [but] but he continues to go out there and fight for smaller government. That's why he continues to be effective because his message is strong," McCarthy argued.
As for attacks on Norquist from the right, McCarthy dismissed its impact on his standing, arguing that "one thing to know about Grover, he fights for things he believes in. That's one of those things we respect in people who have the courage to for what you believe in and fight for. That's why he continues to be strong."
And here in Tampa, everyone sought Norquist out. From arch-conservative Virginia Attorney General Ken Cuccinelli to the director of conservative religious group pulpitfreedom.org ,and from Microsoft executives to actress-turned-conservative-activist Janine Turner, Republicans reported back to the fair, diminutive activist on their latest exploits. Conservative members of the British Parliament even turned up to provide an update on their efforts to reign in spending.
Norquist argues that he represents a "modern Reagan Republican Party … there's lots of doors you can come through" as evidenced by the variety of organizations represented at the Wednesday meeting.
And Norquist, who also put in an appearance at the gay conservative group GOProud's louche Homocon party, manages to hold his place while dispensing unusually sharp jabs at elements of his own party's base.
"Attacking me for not sharing their bigotry says nothing about me. It's a confession of their bigotry," he said of his critics among social conservatives.
Moving onto politics, Norquist cautioned his "conservative friends" about questioning President Barack Obama's birth certificate.
"We're about to nominate a guy who grew up in Utah and was the Governor of Massachusetts. He's never technically lived in this country," he said to applause from the crowd.
And some Republicans have begun to hedge their support for Norquist's tax pledge, and his open backing of GOProud and the Muslim community has bred resentment amongst some conservatives.
As directly whether he worries his high profile and the target on his back have diminished his effectiveness, a clearly confident Norquist replied: "I have wisely chosen as political opponents a collection of cranks and idiots."