John Boehner Sits Back As Ted Cruz Fights Budget Negotiations
Conservative leader Ted Cruz's distrust of Republican fortitude on the budget is giving Boehner a respite from public intra-party fight. "Let me be clear, I don't trust the Republicans. And I don't trust the Democrats."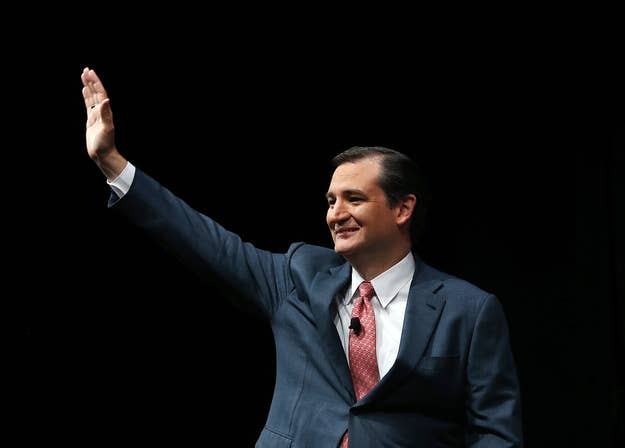 WASHINGTON — The fight over the budget has become an intra-party feud for Republicans in Congress, with Tea Party hero Sen. Ted Cruz objecting to negotiations between the House and Senate because he fears House Republicans will break down and agree to raise the nation's debt ceiling — a cardinal sin against ideological purity in some conservative circles.
Cruz's demand that House Republicans take the debt ceiling off the table pits him not only against leaders like Speaker John Boehner and Budget Chairman Paul Ryan, but even some of his conservative allies in the House.
Fights between Republicans normally spell headaches for Boehner. But the nation's top Republican is remarkably comfortable with this particular behind-the-scenes budget battle — in large part because it's staving off a much more divisive and public one that could threaten to engulf the party if conference proceedings every begin, senior House and Senate Republicans told BuzzFeed.
Cruz, along with Sens. Marco Rubio, Mike Lee, and Rand Paul, has been leading conservatives' objection to going to a budget conference, much to the frustration of Democrats and quite a few Senate Republicans, like Arizona's John McCain.
Meanwhile, Boehner is quietly content to let the Tea Party crusaders in the Senate keep the conference from taking place, acknowledging that if it ever does, House Republican bickering will once again be thrust into the national spotlight. Conference committees are made up of Democratic and Republican members from both chambers, and can include dozens of lawmakers. That alone could mean headaches for Boehner. "You lose control when you've got 20 members" on a committee, a senior House Republican aide explained.
Ranging from demands for the agreement to include a repeal of Obamacare to more dramatic cuts to spending and entitlement programs, an open air negotiation could reopen long festering wounds within the GOP at a time that Boehner is trying to slowly mend them.
According to lawmakers and senior aides, Cruz's complaints have less to do with Majority Leader Harry Reid — as he has claimed — than with his suspicions regarding fellow Republicans who have thus far refused to rule out including a controversial debt ceiling increase in any budget deal with Democrats.
"Nobody knows why" House leadership, and specifically Budget Chairman Paul Ryan, won't agree to Cruz's demands, a Senate Republican aide said, speculating that it "may be part of Ryan's plan for a grand bargain kind of thing."
Ryan's office declined to comment.
Conservative Rep. Tom Price, the vice chairman of the Budget Committee, told reporters Wednesday morning that it is entirely appropriate for the debt ceiling to be addressed during the budget process. "I do believe the budget conference is the vehicle, if there is an opportunity, to address the debt ceiling."
Price also dismissed the divisions between Republicans in the two chambers as the difference between actually governing and politics.
"It's the difference between a majority and a minority. It's the responsibility of a majority to govern in the direction of solving challenges. The responsibility of the minority is to create contrasts and to hold the other side to account. So the roles are different," Price said.
Publicly, the two sides say they are singing from the same page.
"It is regular order for the House and Senate budget chairs to agree to a framework before appointing conferees. That's tough, frankly, when Senate Democrats' budget doesn't balance - ever. But we're still working," said Boehner spokesman Michael Steel.
"The only thing preventing the budget from proceeding to conference is Majority Leader Reid's insistence on using procedural tricks to raise the debt ceiling." Said Cruz Communications Director Sean Rushton.
Ostensibly, everyone is continuing to work on towards a budget: Senate Budget Chairman Patty Murray and House Budget Chairman Paul Ryan have been privately meeting for sometime in an effort to come to a deal. And leaders continue to insist a deal could be reached.
Privately, Republicans acknowledge there is little chance a budget can ever make it to the floor of the House. Assuming Murray and Ryan could come to some basic framework — which, given their ideological differences, is the longest of long shots — a conference committee would be a disaster for Boehner.
Conservatives would likely use the conference as a way to once again push repeal of Obamacare or other impose significant new cuts in spending.
House Democrats, meanwhile, would likely use the conference to their advantage, one the rare times they can command the spotlight in a divided government.
There's another problem. After a certain number of days, if the conference has not finished their work, both sides are allowed to force an unlimited number of votes in as a messaging tactic to highlight policy priorities.
"That's where you can really muck up the works," a Democratic aide explained.
All of which could put the delicate detante Boehner has built with conservatives in his conference into danger, which in turn could make fights over immigration, annual spending bills and the debt ceiling impossible to navigate.
Cruz' disdain for other Republicans isn't anything new. Senior aides in Cruz' office helped torpedo efforts by House Majority Leader Eric Cantor to fix a portion of Obamacare.
And last month Cruz laid his personal distrust for his colleagues bare. During a floor debate over the budget, Cruz said bluntly, "let me be clear, I don't trust the Republicans. And I don't trust the Democrats."
CORRECTION: A previous version of this post misstated the post of Rep. Tom Price. He is the vice chairman of the Budget Committee. (6/5/13)