Jindal Campaign Defends Plan To Block Removal Of Confederate Monuments In New Orleans
A Jindal campaign spokesperson calls the New Orleans mayor's efforts to remove Confederate monuments, including one dedicated to a white supremacist insurrection, "political correctness run amok."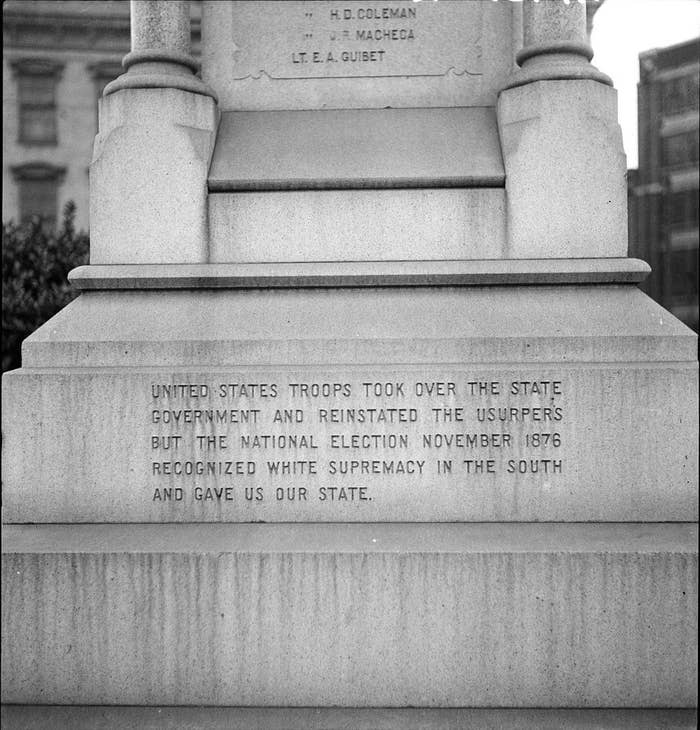 WASHINGTON — Republican Louisiana Gov. Bobby Jindal's presidential campaign Thursday defended his plan to block New Orleans Mayor Mitch Landrieu's efforts to remove statues to confederate soldiers — including one which celebrates a white supremacist insurrection that left 32 people dead, including a number of police officers.
On Thursday, Jindal's administration said the governor is looking into legal authorities to block Landrieu, and his campaign spokesperson accused Landrieu and his supporters of "political correctness."
"The Governor opposes tearing down these historical statues and has instructed his staff to look into all relevant laws to determine the legal authority we have to stop it. We need to preserve our history to remember what we've learned and how far we've come," spokesperson Shannon Dirmann told BuzzFeed News. "This is political correctness run amok. What's next? Maybe we can edit our history books too, and then burn all the books we disagree with."
Last month Landrieu proposed removing three statues from New Orleans public property that celebrated the Confederacy, as well as a memorial to the Battle of Liberty Place, the 1874 white supremacist insurrection against the integrated reconstruction-era government.
"The monuments were erected at a time when supremacy was the order of the day," Landrieu told the City Council as part of the announcement. "But a lot has changed since the Civil War. Supremacy is a part of our past. But it should not be part of our future."
Efforts to remove monuments to the Confederacy, which began in earnest following the July mass shooting at a black church in Charleston, South Carolina, have been controversial amongst some segments of the South. But the Battle of Liberty Place is unique in that it specifically celebrates the efforts of white supremacists to overthrow the post-war government.
The monument hails the efforts of white supremacists to overthrow the "usurpers" and notes that while "United States troops took over the state government and reinstated the usurpers … the national election of 1876 recognized white supremacy in the South and gave us our state."
The Confederacy lost its four-year bid to maintain slavery in 1865 when it was defeated by the United States.
Landrieu spokesman Brad Howard did not comment directly on Jindal's decision, saying in an email that "Mayor Landrieu called for a 60-day period of public discussion to encourage opportunities for people to respectfully engage in public discussion about these statues … It is important that all those who are interested have an opportunity to share their perspective and opinion about this issue."