NEW ORLEANS — "This is where I'm from, this is me, right here," Domonique Meyers, 28, says as we walk up to his family's home in the 5th Ward.
Rows of slender, single-story shotgun houses crowd together along the narrow streets of the neighborhood, with only a few feet separating them. But the Meyers family's massive two-story home on the corner of Dumaine and North White dominates the block. As we approach, Meyers — tall and whip thin — is quick to flash a smile, a manifestation of a personality that takes up far more space than his frame would suggest. "We called it the White House," he jokes. His home once felt like the center of his neighborhood.
It was here that the up-and-coming MC and community activist used to gather his friends to hang out and hone their rap skills on the corner, knocking out beats on the side of the house. Growing up in the New Orleans of the '90s and early 2000s, they had plenty of inspiration. Second lines, the boisterous brass band parades that have long been a symbol of New Orleans culture, started in the Tremé neighborhood, just across the highway. "Bounce," a genre of music that blends brass beats and hip-hop into a uniquely New Orleans sound, has roots in the 5th Ward, too. "I started doing hip-hop, being on this corner right here, bebopping," he remembers fondly. "Beating on the house with a battery, and coming up with a rhyme."
No one lives in the White House now.
Though the house still towers above its low-slung neighbors, its split facade has become a symbol of the struggles the neighborhood has faced in rebuilding since Hurricane Katrina hit in August 2005. A sturdy new foundation and joists have lifted the building several feet, a requirement for insurance since the storm. New windows have been installed, and Meyers and his younger brother have mostly finished painting the first floor's exterior. But the second floor still shows damage, the aging paint almost completely wiped, exposing the weathered, gray boards underneath.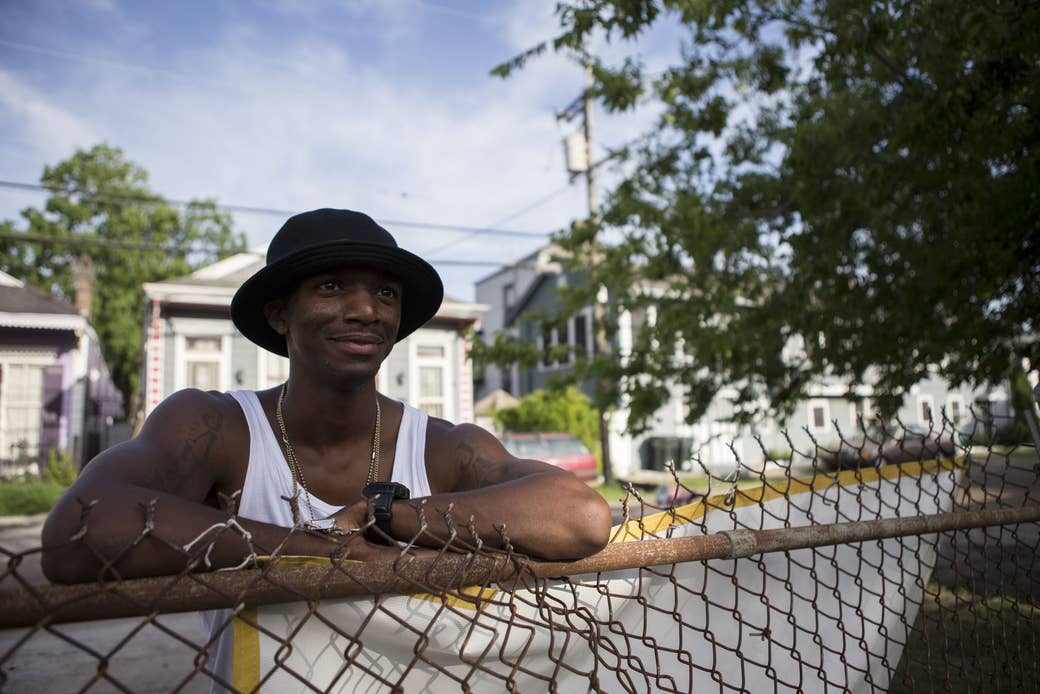 Like many families in New Orleans, the Meyers heeded the last-minute warnings from city officials to evacuate the day before Katrina hit and decamped to Baton Rouge. But rather than being gone for a few days or a week like evacuations past, this time they were stuck. The White House was badly damaged, and delays in receiving recovery money meant the family wouldn't be able to move in for years. When Meyers returned to New Orleans in 2011, he found his neighborhood had changed in more ways than he could have imagined.
In the years since Katrina destroyed much of New Orleans, thousands of people have poured into the city, drawn by economic opportunity and the city's music and food scenes, as well as the laid-back, almost European pace of life in the Crescent City. The transplants, many of whom first fell in love with New Orleans as volunteers in the post-hurricane cleanup process, have brought with them new small businesses and an infusion of private capital, which combined with billions in federal, state, and city spending have begun to transform huge sections of the city.
New bike lanes have been built, massive redevelopment projects are underway, and commercial areas like Broad Street in Mid-City — an area of the city that includes the part of the 5th Ward where Meyers lives — which once were home to liquor stores and check cashing joints, now have boutique tea shops, gourmet restaurants, and upscale grocery stores. Mayor Mitch Landrieu has trumpeted the changing face of New Orleans, saying the city is "ascending" in an interview with BuzzFeed News last month. But is this bright future happening at the expense of the city's rich past?
Tension surrounding gentrification is hardly unique to New Orleans. Over the last two decades, major cities across the country have seen dramatic shifts in their demographics as young, typically white professionals have sought out neighborhoods with cheap housing that are close to their jobs and cultural hubs. City governments hungry for new tax revenues have encouraged these shifts, and areas like Washington, D.C.'s U Street Corridor have seen massive redevelopment efforts tailored specifically for these new young professionals — which, thanks to rising rents and property taxes, force out the existing poorer, minority communities.
But while in most cities gentrification is caused by a simple desire for prime real estate, in New Orleans the draw is the very culture that the resulting changes to the city is eroding. Like many natives of the city, Domonique Meyers thinks New Orleans is already in danger: "It's 'bout to be extinct."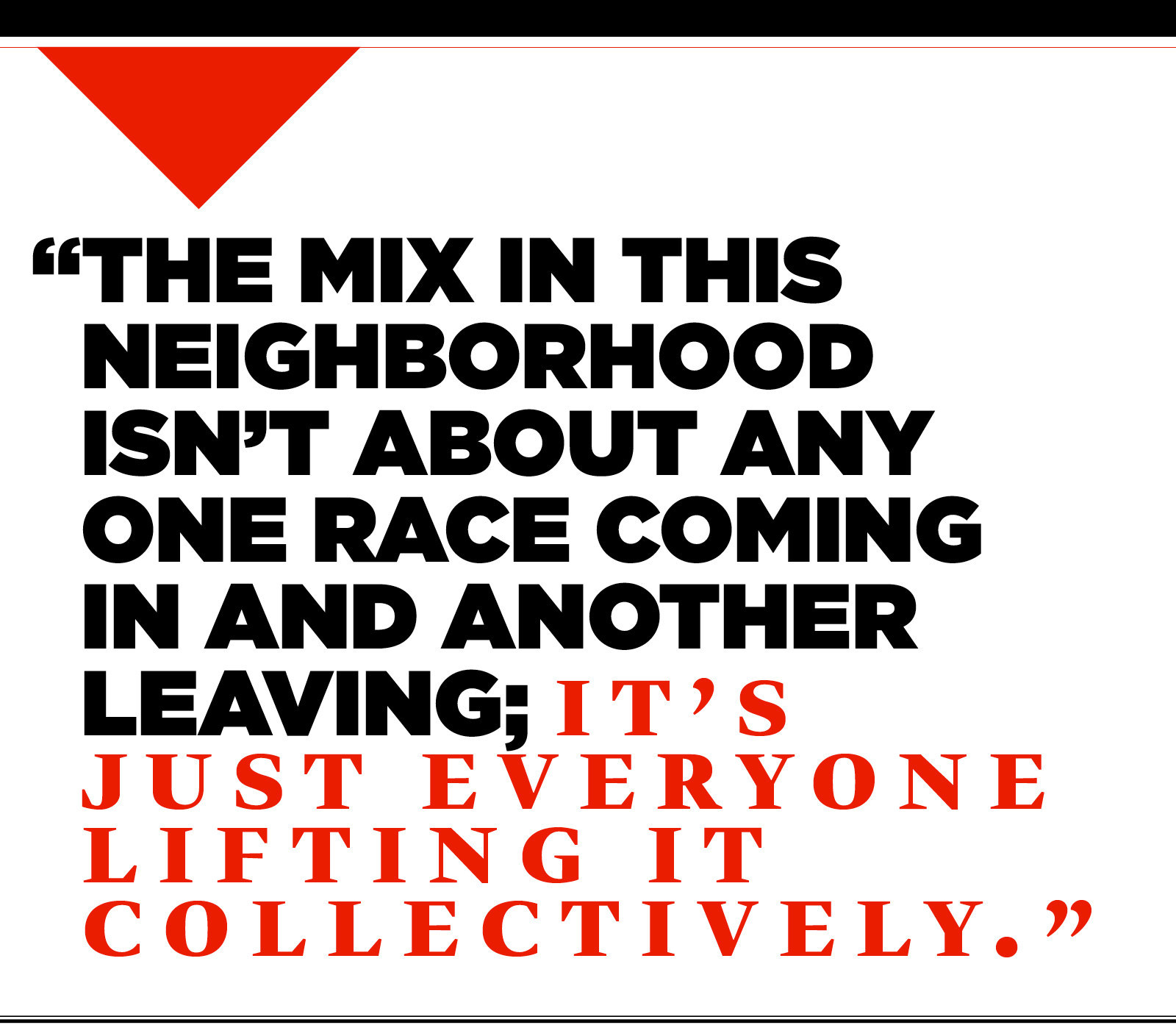 Meyers was born in New Orleans in 1986 and grew up a few doors down from the White House with his parents and three younger siblings. For years, his grandparents lived in that house, anchoring a block made up almost entirely of their children, grandchildren, and other relatives. "My uncle stayed next door, we stayed next door to my uncle, my aunt stayed in the other house," he says. "It's like one big family, you know?"

Like many of the black sections of Mid-City, his neighborhood was relatively poor and saw its fair share of violence. But it was also a tight-knit community, he says, as even unrelated neighbors became de facto extended family, with parents watching out for one another's children as if they were their own. "I used to be able to get lost in this community and my parents would know where I was at. Because the parents down the street would be like, 'Domonique's down here,'" he says.
With a mother who was in the church choir and a father who'd once had dreams of an R&B career, music was a natural interest for Meyers. "I was born doing something with music," he says. But it was the sounds of the neighborhood that compelled him to pursue it as a passion. At McDonogh 28, the elementary school down the street, he joined the marching band after watching second lines parade through his neighborhood. "I was like, how you can march and play a tune and be on rhythm at the same time?"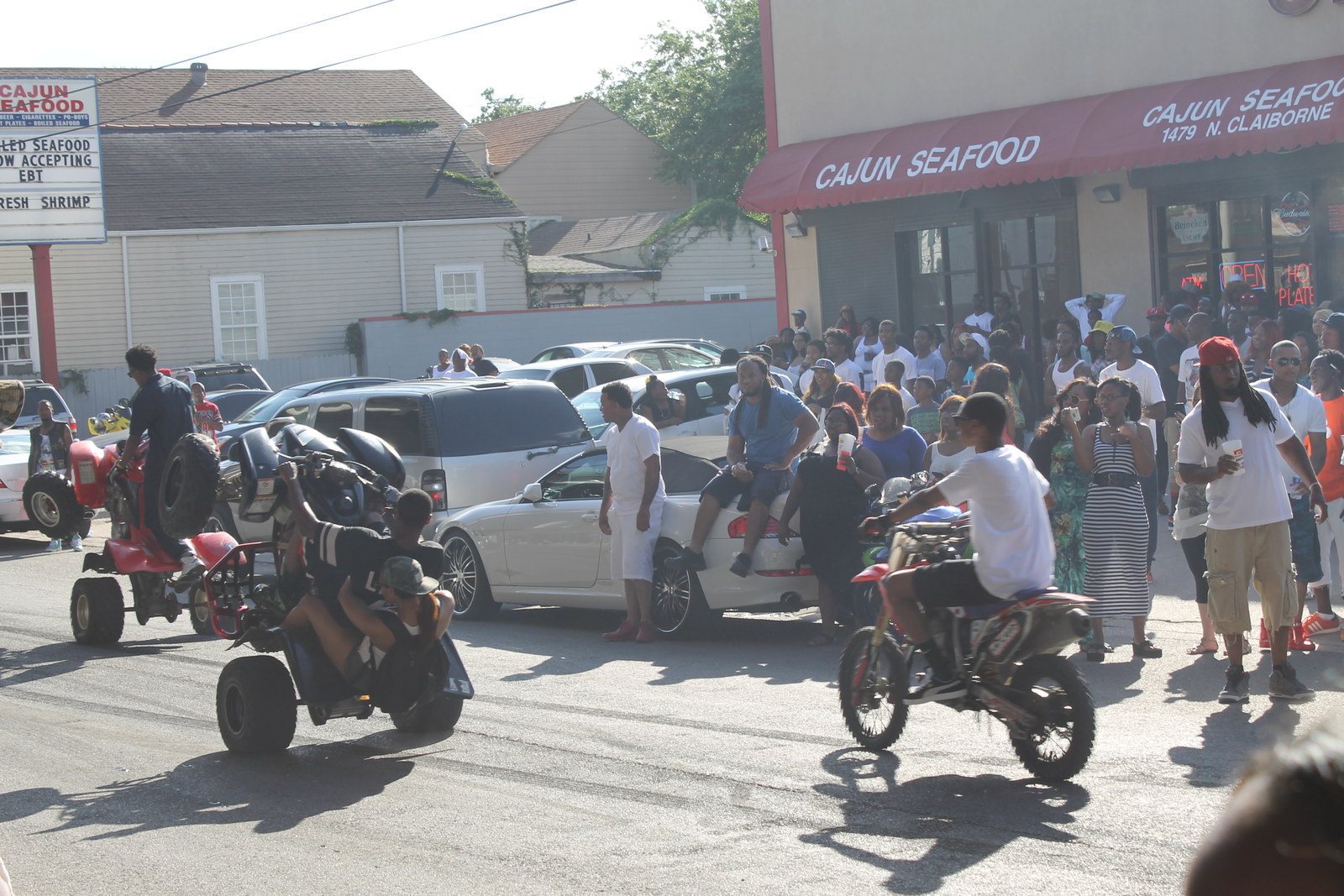 Pride in your neighborhood and ward is also an integral part of being a New Orleanian, and brass bands were often named after their neighborhoods. Early bounce artists like DJ Jimi and DJ Jubilee made local pride a central part of their music, calling "Where ya at?" at the raucous crowds of sweaty, dancing black youths who would respond loudly with the name of their ward or neighborhood.
"You reppin' 5th Ward, in the club, in school, you rep your ward," Meyers explains. "So it was like, y'all got a small hood. So we always had a big chip on our shoulder."
Eventually, his aspirations turned to hip-hop, and he became an MC in New Orleans' thriving underground scene under the name Dinero. Early on, his lyrics took a decidedly socially conscious bent. Although Meyers says his parents raised him to stay out of trouble, it was still all around him in the 5th Ward. "Just comin' home from getting a snack at the store, I'd see a dead body in the street," he explains. "I was able to be in it, without being in it, you know what I mean? That's why my lyrics are that way."
On Aug. 28, 2005, the day before Hurricane Katrina hit the city, Meyers was 18 and just beginning to make a name for himself in the hip-hop scene — including, he says, a spot on the 2004 From Da Block to Da Booth mixtape hosted by Tony Yayo, a member of 50 Cent's G Unit. At the time, his family was finishing preparations to move into the White House, which his father had come to own, but they quickly changed course and packed instead to go to Baton Rouge, where Meyers' uncle lived.
His neighborhood would be spared the worst of the flooding after a series of levee breaks engulfed the city in the days following the storm — "We got, like, 3, 4 feet of water here," Meyers says — but the consequences were still devastating.
The floodwaters had done significant damage to the White House. The roof was destroyed, and, as it sat for months, mold began to grow in the walls, all of which would have to be gutted. Meyers enrolled in Southern University, and the family stayed in Baton Rouge as they struggled to rebuild the house from afar.
There was state and federal assistance to be had, including $150,000 from the Road Home Program, but the program was plagued by corruption and delays, and the family didn't receive the funds until three or four years ago. Then, Meyers' father, who worked in hotels in the city and made the hour-plus commute every day from Baton Rouge, had a heart attack and was subsequently fired from his job in the hotel industry. With his father unable to work and his younger brother still in high school, Meyers — who was in and out of college — and his mother labored to keep the family afloat in Baton Rouge. But while they were away, more changes were happening in the neighborhood than Meyers had anticipated.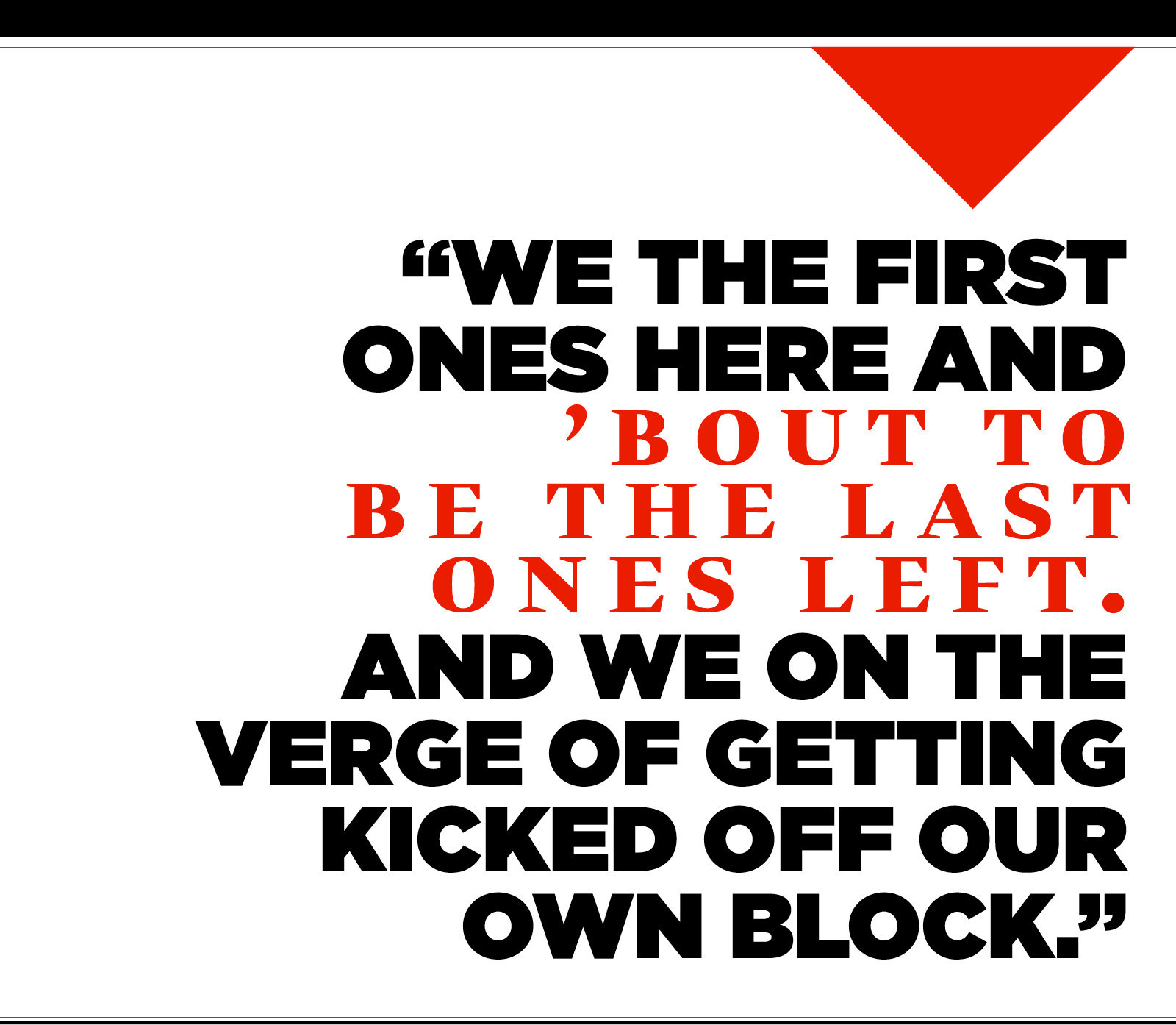 As Meyers' family was struggling to come home, city officials were intent on making Mid-City a core part of their reconstruction plans. A sprawling section of New Orleans that stretches across multiple smaller neighborhoods and wards — including the bottom portion of the 5th Ward, where Meyers lives — Mid-City constitutes the closest thing to a geographic heart of the city.

The centerpiece of those efforts is a 70-acre, multibillion-dollar hospital complex that will begin opening this year and will include a new veterans hospital, a public hospital, medical research facilities, and gleaming new office buildings.
But other changes have come to the area as well, as Landrieu has used millions in federal transportation dollars to rehabilitate roads, install bike lanes, and build a "greenway" — essentially a park designed to link different neighborhoods together — that will run through the heart of Mid-City. A new charter school has opened, featuring state-of-the-art equipment, and the city has used tax credits and other inducements to lure small businesses into the area.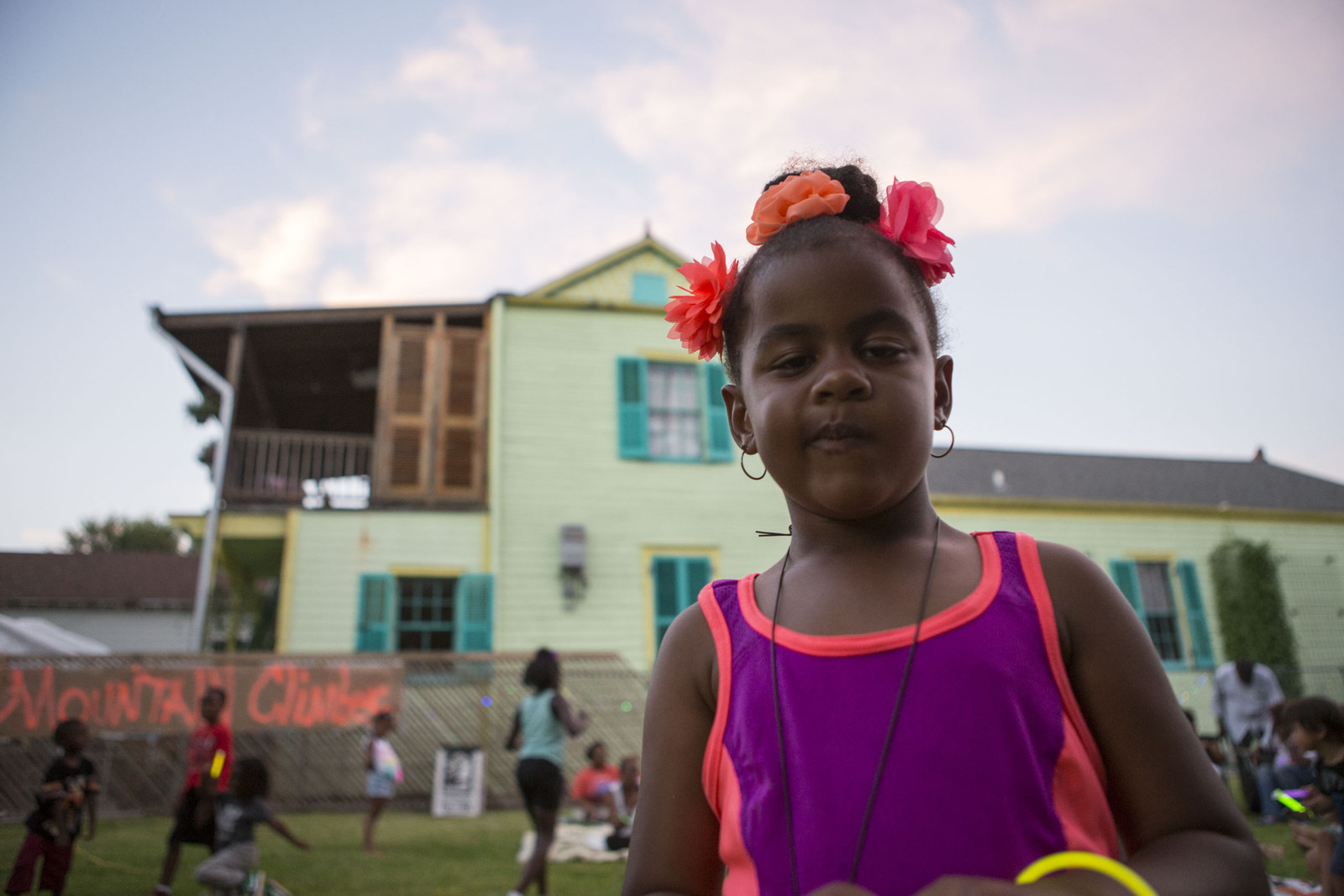 On the residential side, the redevelopment has attracted hundreds of people. On virtually every block there's construction going on at one house or another.
"I interviewed this neighborhood for two months before I bought this house. Just talking to people, hanging out," says Eddie McDonald, a 45-year-old IT professional who moved to New Orleans a year and a half ago from the Dallas suburbs, initially living in the Garden District section of town before eventually settling into the house across the street from the White House.
McDonald, who has roots in New Orleans and went to college here, is like many of the new residents. He has a well-paying job and disposable income, and, when he moved in, he was able to qualify for the type of loans needed to buy — and refurbish — a home. He was drawn not only by the economic opportunities of New Orleans, but also the cultural ones. "I got to handpick a city because I work remotely," he says. "I picked New Orleans because I had the fondest of memories of living here. It's just everything. It's the community, it's the crawfish boils."
McDonald ultimately settled on Meyers' neighborhood when his house, which was still being remodeled by the previous owner, finally came on the market. "I wanted a double [duplex], and I wanted off-street parking. There's not a lot of neighborhoods that have these doubles," McDonald says.
But he also chose the neighborhood because he'd like to expose his son to a socioeconomically diverse group of people, which he hopes the 5th Ward will provide. Although his son was in one of the country's best school districts back in Dallas, McDonald worried about the lack of diversity in their suburb. "Where we lived was predominantly white … I couldn't in good conscience raise him in that environment in the world we live in, and set him up for success," he says. "It was a conscious effort … to put him in an area where at 10 years old, race, economic status, none of that matters."
He quickly bristles, however, at mention of the word "gentrification."

"The mix in this neighborhood isn't about any one race coming in and another leaving; it's just everyone lifting it collectively," he says. "When you say 'gentrification,' it has a negative overtone."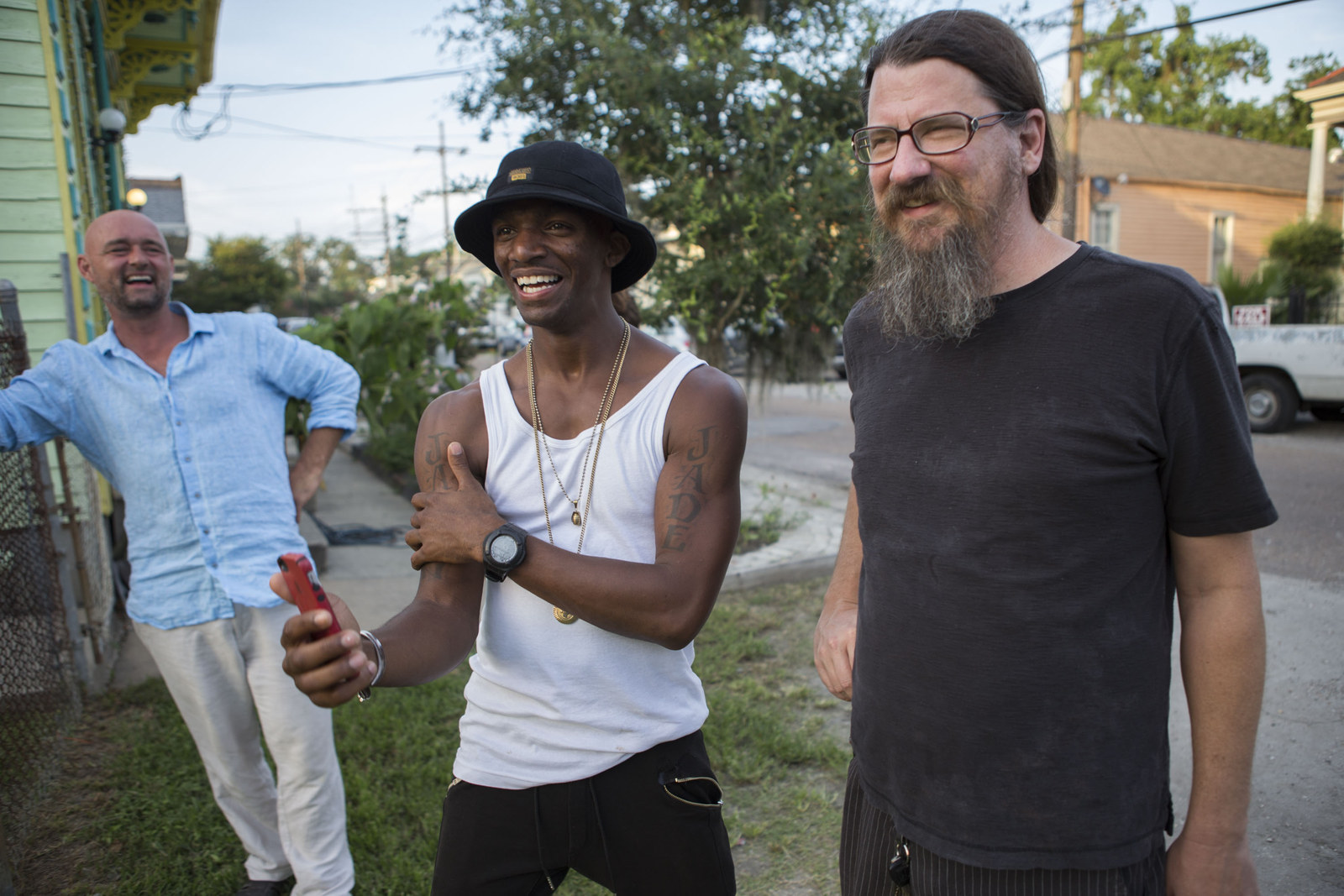 But the racial makeup of Mid-City has indeed changed since 2000. According to The Data Center, which tracks population information in Southern Louisiana, in 2000 black residents accounted for 64.3% of Mid-City's population, while whites accounted for 23.2%. In 2010, the last year that official census data is available, blacks accounted for 55% of the neighborhood's population, while white residents had risen to 27.3%. And while hard data isn't available for the last five years, residents say the shift has accelerated as the city's efforts to redevelop the neighborhood have ramped up.
McDonald, however, argues that changes to the neighborhood are inevitable, regardless of the new residents' race. "Let's say you've got a group of 100 young black professionals [and] you've got a bunch of houses on this block that are ready to be remodeled. Now you've got these young black men, who are making 80, 90 thousand dollars a year, they're starting out … they come in. Do you not think that would change the vibe of this neighborhood? It doesn't matter who's moving in. What they're saying is, 'Unless we keep it exactly what it is, it's going to change [for worse].' And that's not realistic."
McDonald isn't alone in feeling defensive when the word "gentrification" comes up. In his interview, Landrieu also pushed back against the idea that the term is often synonymous with a sense of cultural erosion.
"There's some people who have this sick mentality that all the bad things kind of help make the good things," Landrieu says. "That's wrong. I think that's wrong. I don't believe you need poverty to make culture. … Lots of people conflate good things and bad things."
"I'm not obtuse, I can understand, people don't like change. You know, they're comfortable. But it's also life. Life happens," McDonald also says. "It's going to change. The fact that somebody is concerned with the color of skin of somebody moving in? That's their issue. Because that might be an issue in another town, but that's not an issue in New Orleans."
Sitting one morning with him on his family's stoop, it's easy to see Meyers' connections to his neighborhood — and the disconnect between longtime and new residents. Every few minutes, a car ambles past, slowing when the driver sees him. Windows roll down, horns honk, and greetings are hollered. Meyers responds in kind, a smile on his face. "She lives down the block from here," he says of one young black woman. "Yeah, he just got out [of prison]," he says of a twentysomething black man who circles the block twice.

Meyers' new white neighbors are also friendly: One young mother pushing a stroller waves hello as she hurries past, and others smile as they go about their lives. But there's a distance to their interactions, and they feel more perfunctory than his almost familial exchanges with people who grew up here.
"When Katrina happened, I knew something was gonna change — I just didn't know how," Meyers says. "But now I see it. It's a lot of people who are not from here who stay right next door to us. People from South Carolina, all over the world, New York, California. So you felt a sense of well, my neighborhood's 'bout to be gone."

He hops off the stoop and looks down the street into the sun, eyeing the houses. "I probably know 2 out of 15 who stay here right now. And everybody knew everybody before that. We the first ones here and 'bout to be the last ones left. And we on the verge of getting kicked off our own block."
A woman pulls her car over just down the street. "Oh, you should talk to her," he says. "She knows everything about this block."
Deborah Chapman steps out of her car onto the broken sidewalk, smiling as the bright sun gleams off her sunglasses. Impeccably dressed, even for a Saturday, she is the classic neighborhood matriarch, commanding the attention — and respect — of anyone she turns her gaze upon.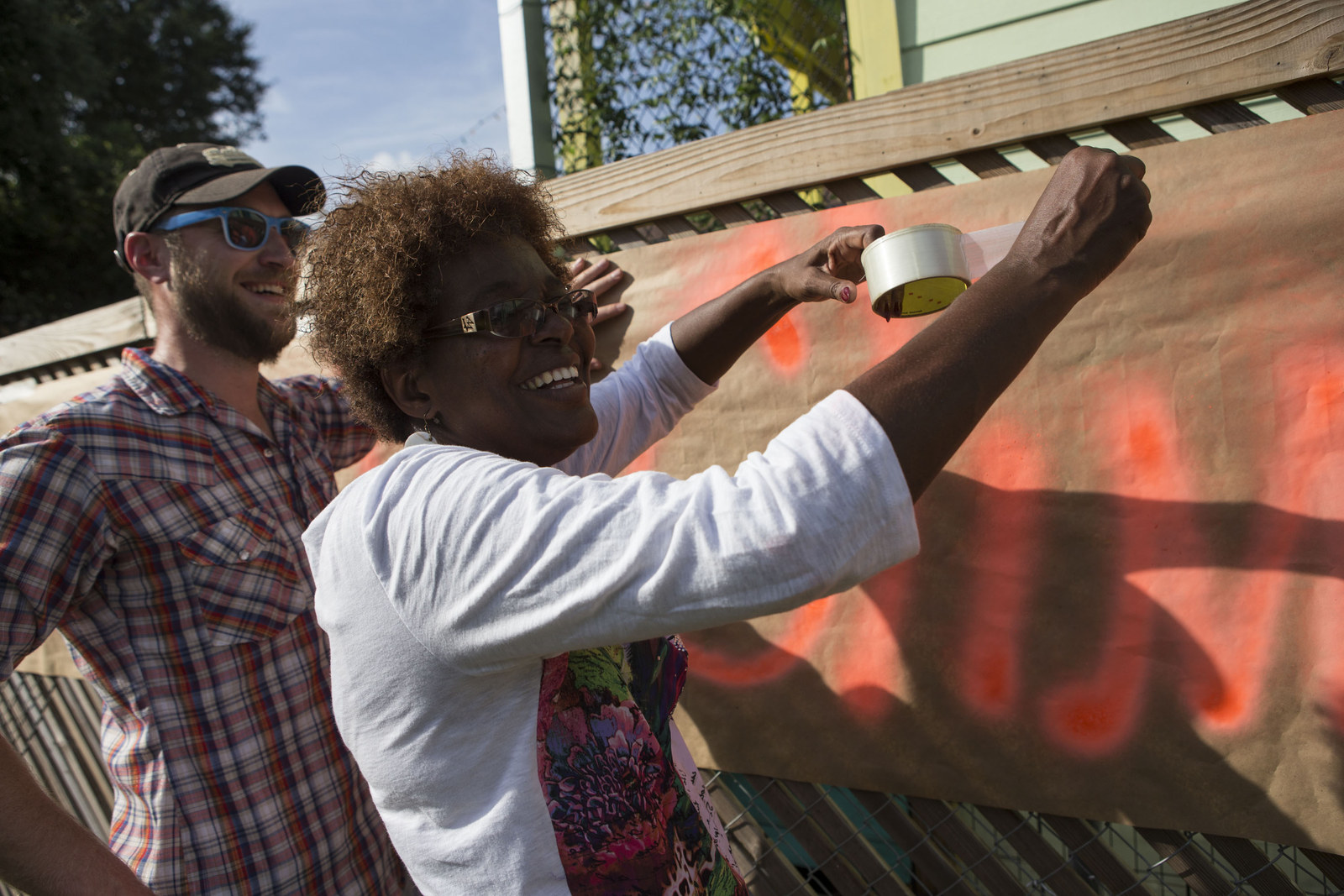 Chapman, a lifelong New Orleanian who has worked for many community organizations in the city, as well as FEMA in the years after Katrina, owns a number of properties in the neighborhood. Like Meyers, she worries that while her new neighbors may want to live in New Orleans because of its culture and history, they only want them on their terms.
Transplants "don't value the culture, because [they] don't really know it," she says. "You just see the party; you don't know the history. You wanna be with the Mardi Gras Indians, but you don't know the history of the Mardi Gras Indians. You don't know how the second line originated and what that means. You don't know about the block parties and what that means."
Meyers echoes her, noting that changes are also being felt in the city's music scene. Many MCs, producers, and bounce artists left New Orleans after the storm, never to return.
Before Katrina "you had more crews, there was more of a groundwork, and networking. And you had more artists who were living here," Meyers says. "Now it's slim to none. Hip-hop has fallen off in New Orleans." His younger brother, L.G., went to New York and then Atlanta to work on his new record, Tunnel Vision, this spring. Set to be released this year on the anniversary of Katrina, much of the record will focus on growing up in a post-storm world.
"We were influenced by what we grew up around. By us hanging on the block," Meyers laments, noting that he hasn't seen kids experimenting on the corner like he and his friends used to. "I have yet to see a child come up right now, being inspired [by] seeing a second line band or having six friends on the corner beating on the house and making a lyric."
"It's not that people are resistant to change, it's that they include us in their change in our community," Chapman continues. "People who have gone to school here and stayed here and adopted the culture, and not tried to change it, we accept them."
Meyers is somewhat ambivalent about his new neighbor. On the one hand, he thinks the effort McDonald has put into renovating his own home is good, and he doesn't believe people shouldn't move into the neighborhood just because they're from Dallas, or white, or have more money than existing residents.
McDonald is also clearly invested in his neighborhood, even if his relations with existing residents may be awkward. He wants to rebuild the curbs along his corner and eventually hopes to use his backyard to host barbecues for the block. He and Chapman have also discussed the idea of turning an empty lot owned by Chapman into a park of sorts, including the possibility of putting a lock on it and asking residents to pay a monthly fee to access it and keep it maintained. He even considered making an offer on the White House until realizing it would be a half-million-dollar project.
But Meyers makes clear there's still a divide, one that McDonald and other newcomers may not even see. Combined with the feeling of being pushed out, the dynamic of having only superficial interactions can be incredibly isolating, especially in the South where knowing your neighbors is a point of cultural pride.
"We don't know each other. So it's always gonna be tension," Meyers says. "I chuck a deuce up at him and go in my car and live my life. It could be so much greater than that."
Later, at a Sunday block party where people from all across the city have gathered, the changes that are threatening the world Meyers knows seem to fade, at least for the moment.
"This is it right here. A true New Orleans second line," Meyers says as he steps out of the way of a young woman guiding her neon green motorcycle through the thick crowd. The brass brand, having already finished its march, has taken a backseat to the inevitable party that follows under the I-10 overpass, a border between the historic Tremé neighborhood and the rest of the 5th Ward, turning the street into an outdoor club and providing merciful shade from the hot Southern sun.
Meyers weaves through the crowd as thick clouds of tire smoke mingle with the smell of weed and cigarettes and slowly dissipate up around the concrete pillars into the hazy air. A dozen different songs blare out of a dozen car sound systems as the heavy bass line of bounce sets heads to involuntary nodding.
"See that dude in the truck? He's like a bartender," Meyers says, motioning to a man standing in the bed of a raised pickup that is pulled up at a corner onto the sidewalk. Bottles of vodka, whiskey, and rum are lined up on top of the cab and gleam in the sunshine, an effective advertisement of his wares.
Outside of a reporter and a family of tourists that scurry through the crowd on their way to jazz legend Kermit Ruffins' new bar, there is, noticeably, not a white person in sight.
"This is it," Meyers repeats.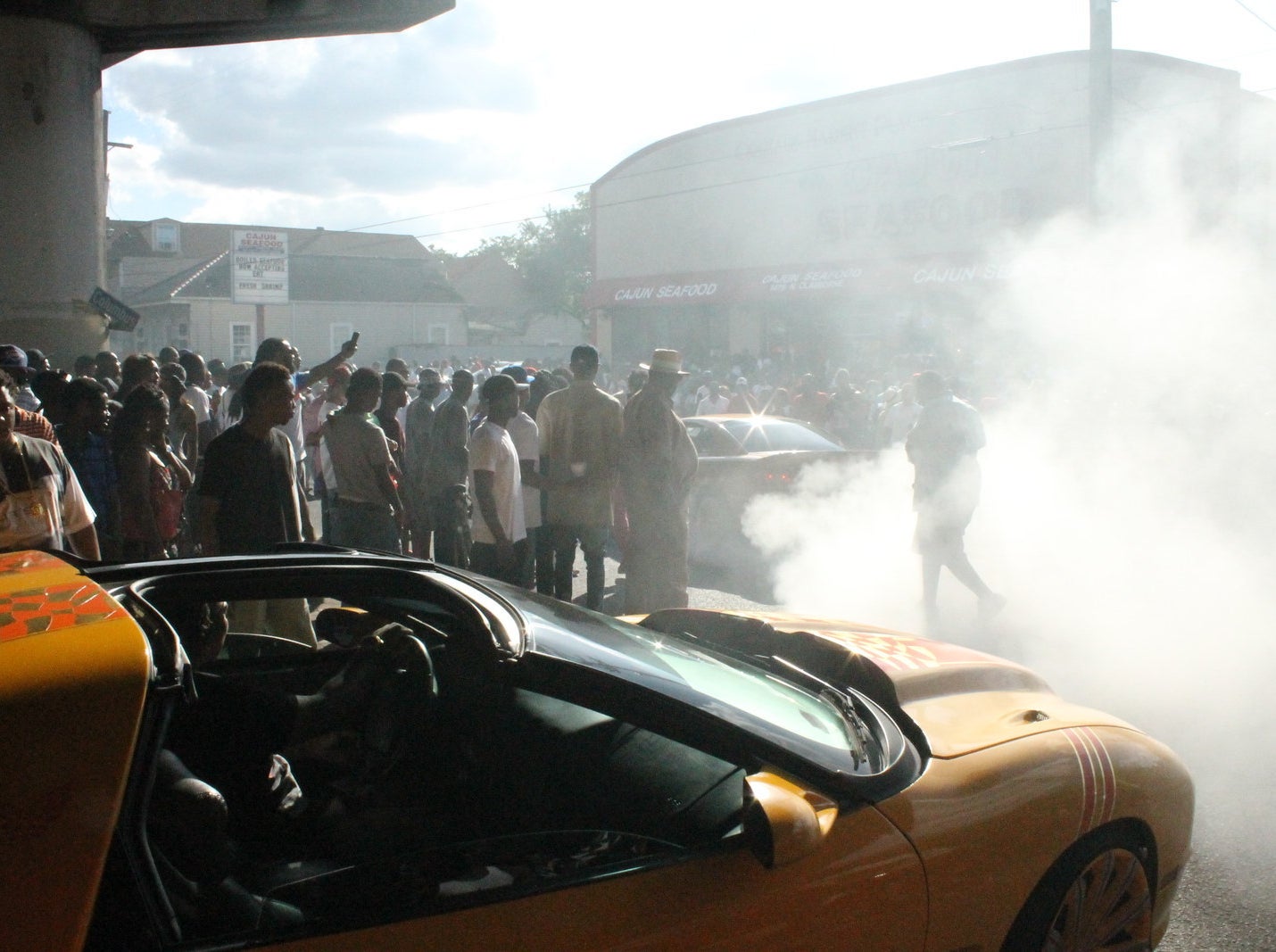 In recent years, efforts have been made in Mid-City to bridge the gap between longtime residents and new ones. One of the most notable is the ReFresh Project, a network of businesses and organizations that offer healthy eating options, wellness education, and community engagement programs that was launched last year specifically to help minority and low-income residents, who still represent a majority of many neighborhoods.

Tulane University, for instance, opened the Goldring Center for Culinary Medicine, designed to help residents develop diets that promote healthy eating and to address specific medical problems. There's Liberty Kitchen, which does culinary job training programs, and a number of community gardens and children's groups.
And of course, there's the institution that seems to have become the defining harbinger of gentrification in cities across the country: Whole Foods, which, as part of a deal with the city, agreed to keep prices affordable so low-income and working-class residents could shop there.
Yet despite the ReFresh Project's efforts to introduce services that are accessible to everyone in the ward, many longtime residents have been slow to take advantage of them.
Meyers recalls one instance from earlier this spring, when he took an old friend from his neighborhood to Whole Foods. "This guy was like, 'I've never been in here before.' He stays six blocks away from there!" Meyers exclaims. "That shouldn't be happening. So what causes that?"
Ultimately, Meyers says, the fault lies with both sides: The new businesses and groups in the area aren't communicating effectively with the community, while people from the neighborhood are resisting taking advantage of these opportunities on their own because they believe they're for the newer, white residents. "You didn't initially feel like Whole Foods was for the community," Meyers explains. "Just the whole flow of this place, you felt this isn't really for us."
Meyers, frustrated with the lack of engagement between the old and the new, sought out the ReFresh organizers this winter, and began attending monthly, and then weekly, meetings. "They asked me, 'What type of things can be done to build the relationship?'" he remembers. "'We're here now, what can we do to help the community?'"
"When the doors opened, that's when the work started," says Jeff Schwartz, a 33-year-old New Orleans native who runs Broad Community Connections, ReFresh's parent organization. Although BCC's board is made up of community members, a lacking marketing budget has made bringing ReFresh's services to the attention of the broader community a challenge. "We really have our work cut out for us," he says.

Seated at a large table in the conference room in ReFresh's offices — in the old Broad Street Schwegmann's grocery store building that now houses Whole Foods — Meyers leans back, as comfortable here as on the stoop of the White House. He and the five white, young activists, all but one of whom are women, are hashing out the details for a "food and film night" on the block designed to introduce the various programs the group's member organizations have to offer residents.
The event is a redo of sorts. ReFresh tried last winter to hold a community movie night at their building, hoping to use it as an opportunity to engage people. But it didn't work out, in large part because with no clear lines of communication to the community, most residents didn't even know it happened. A recurring point for Meyers is that organizers need to walk a fine line between making a pitch to residents and simply hosting a community gathering: Too much preaching and it'll turn people off, too little and they may interpret events like the movie night as just parties. "You've got to talk to them on their level, ya know?"
After the meeting, Emily Mickley-Doyle, who runs the ReFresh Projects Community Farm in the 5th Ward, praises Meyers' help, saying, "We couldn't do this without him."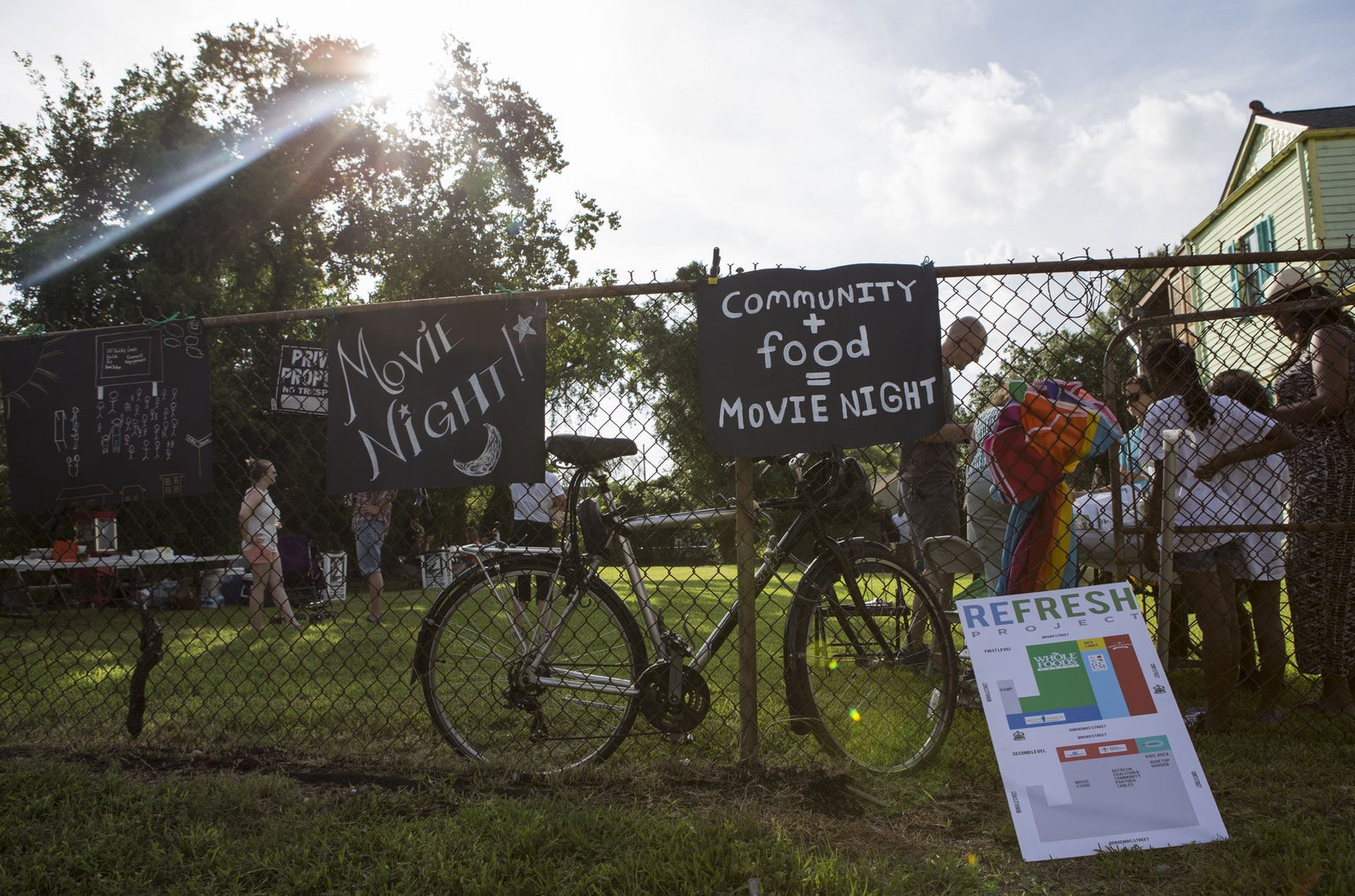 More than 100 people ended up coming to the next event, which was held in June in Chapman's lot. There was a showing of Cloudy With a Chance of Meatballs, healthy cooking demonstrations, exhibits from groups that work out of the ReFresh space, a "popcorn station" where people could make flavored popcorn, and a presentation by Meyers on the work of ReFresh. As the sun went down and the movie began, white and black children wearing glow-in-the-dark bracelets "were playing, chasing each other in front of the screen," Chapman says. "It was so sweet. They felt so safe."
"I was like, Wow, this is how it should be," she continues. As a result of the movie night, "everybody is getting to know everybody … and so everybody is looking out for everybody else, like back in the day, bringing back that old community."
And it wasn't just people from the immediate neighborhood who came. Chapman says people drove from New Orleans East — one of the most troubled parts of the city that has largely been forgotten during the rebuilding process — as well as uptown neighborhoods that are also grappling with gentrification.
The event was a success on multiple fronts. While Chapman and Meyers were both skeptical of their new neighbors before the event, afterward it was clear it had helped in building connections the fleeting interactions on the street were unable to foster. "It was the start of a conversation," Chapman says, adding that it was the first time that she knows of when someone was able to bring "the pre-Katrina community and the post-Katrina community together."
Meyers agrees. "This is the first initial step to getting people to be engaged." He hopes to help ReFresh do more outreach in the neighborhood, including music-based programs and a mural painting event at the rooftop parking garage of the ReFresh building.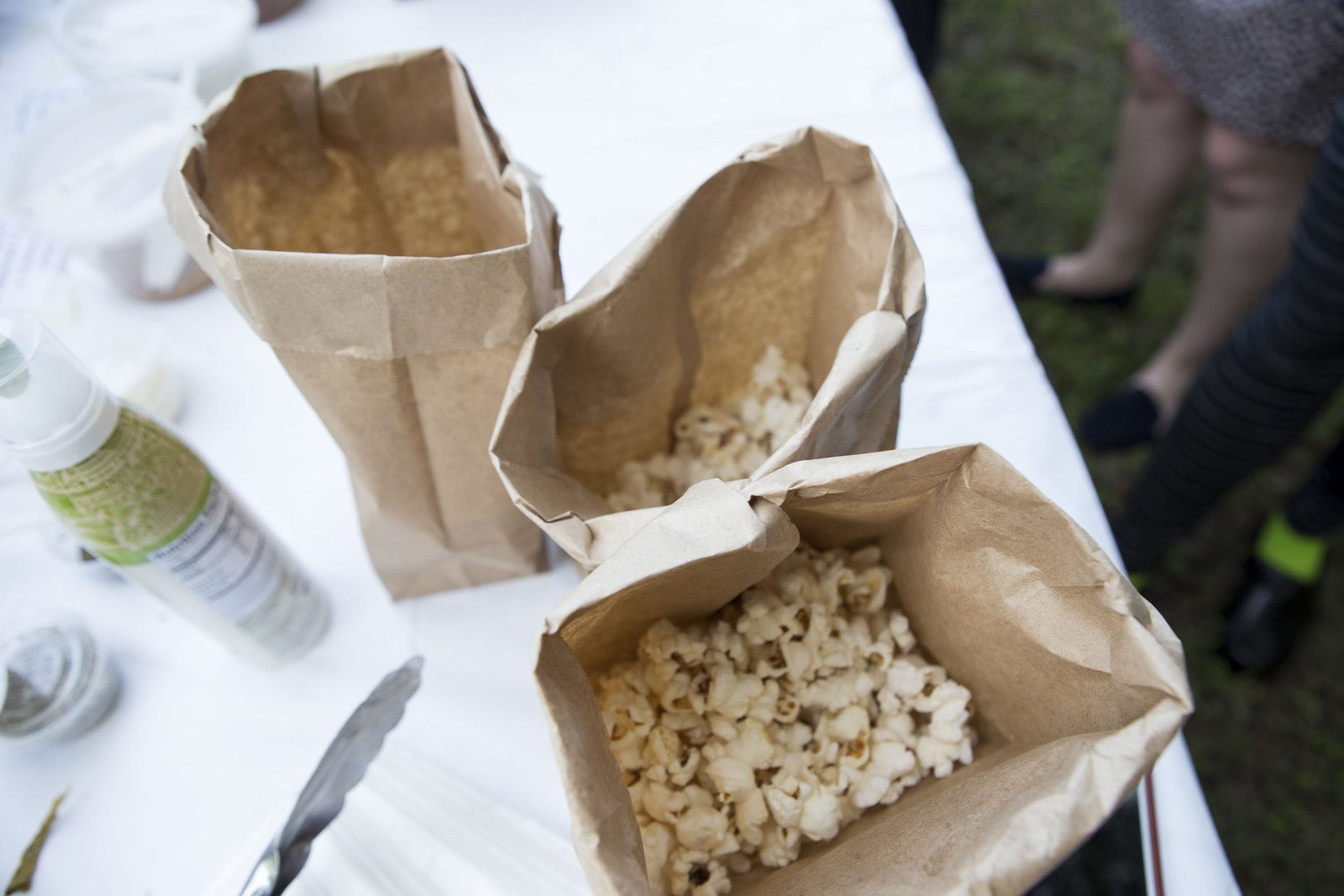 Afterward, local business owners who attended offered to sponsor future food and film nights in the community, Chapman says, and she hopes in the future police and first responders who operate in the neighborhood can be involved to "help build those relationships."
New residents also seemed to come away changed. "It was great … everybody was out on chairs and blankets. I met a lot of people I haven't met before," McDonald says.
While Chapman praised the efforts of ReFresh and its parent organization, Broad Community Connections, she cautioned that continuing to engage the community and directly involving them in making decisions will be critical. "Don't just give me the appetizer, but then the main course is served another day, you know what I'm sayin'?"
Schwartz, for his part, says he and other community organizers are keenly aware of what he calls the "downside of investment" — that is, when existing residents are pushed out of their own communities after new developments have taken hold. He adds that ReFresh is committed to bringing new services to existing communities that "haven't had a lot of investment in probably two decades."
"The last thing we'd want to see," he says, "is opening a grocery store and then somebody down the street can't afford to live in their house."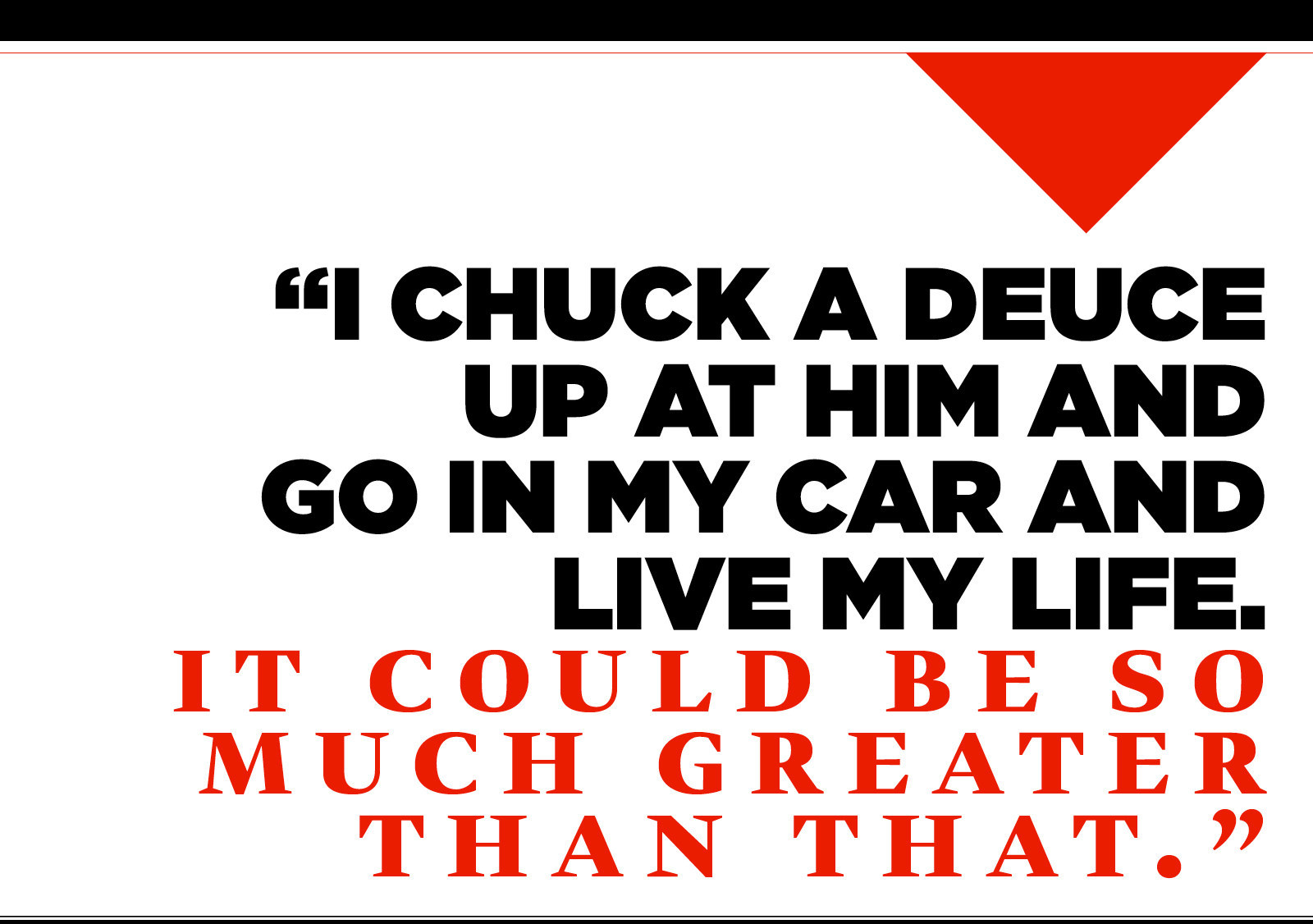 A month after the movie night, in July, Meyers is working outside of Baton Rouge doing location scouting for an upcoming Denzel Washington movie. He's been spending five days a week away from New Orleans, and says he's struggling to find a way to balance his desire to help his community with his economic realities. With the White House still in need of hundreds of thousands of dollars in repairs before the Meyers can move back in and no clear indication of where — or when — they'll get the money, Meyers' parents have remained in Baton Rouge, while he's been shuttling back and forth, staying with girlfriends or family members for stretches of time.

Meyers also admits that in terms of his own music career, Hurricane Katrina "was kind of a blessing." He has connected with a number of other MCs who had evacuated New Orleans, and they used their extended absence as a reason to hit the road, doing shows as far away as Miami and New York.
This spring, he released a video for his single "Happen That Way," a bleak look at the violence that engulfed much of New Orleans in years following the storm. "The last two years have been rough, man. Lotta people I know are gone," Meyers says quietly. He also spent several weeks in Los Angeles visiting his sister, who works for BET. He'd just returned when we first met in April, and the trip had clearly energized him.
"I took a liking to L.A., the pace was my pace," he says, adding that in a matter of a few days he'd made more contacts there in the music industry than over the last several years in New Orleans. "You feel like there's nowhere to go in this city as a young, black entrepreneur," he goes on. "Don't get it twisted, New Orleans is a great city ... [but] I feel like I'm doing a hamster thing, just runnin' in place. I guess that's why I want to get away for a while."
Meyers is keenly aware that if he moves, he could end up being just another person who left, taking the culture with him. But, he says, he hopes that by leaving he can reverse-engineer the ability of transplants to take advantage of the opportunities in New Orleans he feels are out of his grasp. And that, he says, will take returning to the city with money in hand.
"Like they do."