Inside The Democrats' Convention Media Plan
Surrogates and handlers, even for Lifetime! And the biggest surrogate of all: "Obama can't say what Bill Clinton can."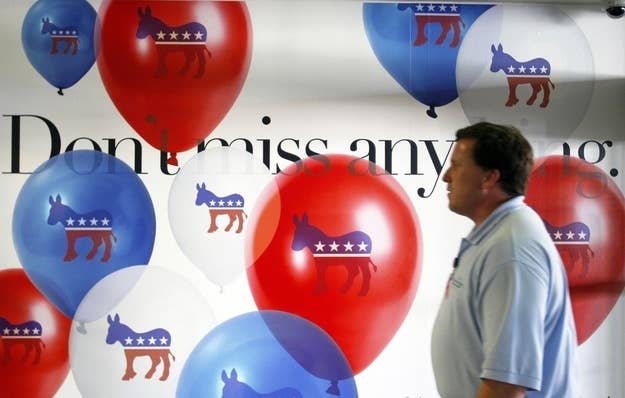 CHARLOTTE, NC – When President Barack Obama takes the stage Thursday night here at the Democratic National Convention he'll not only be following Vice President Joe Biden, but a highly orchestrated three day messaging ballet designed to carefully manage the public's view of his image and vision for the country.
Convention organizers have shipped in dozens of "hand picked" volunteer communicators with backgrounds in campaigns, on the hill or with PR agencies, one source said.
Volunteers are being given specific sets of media outlets that they will be responsible for – in addition to helping the big networks book surrogates each day, for instance, they will also act as concierges of sorts helping with even mundane logistic needs like internet access.
Booking of surrogates is being "tightly controlled," a second Democrat said: each surrogate has been given an approved list of states whose media outlets they can do interviews with.
And each morning, top level campaign and party officials will be conducting one-on-one briefings with the big outlets to frame the day's coverage.
And it's not just the "lame stream media" and lefty outlets that Obama's team is prepping for. According to one source, convention organizers have specific liaisons for entertainment outlets – including, among others, the Lifetime Network.
And unlike 2008 when celebrities were a major part of Obama's convention push, don't look for Kanye West or Matt Damon to be saturating political coverage.
"We're pushing our soft message to them" but organizers are not making a big push for celebrity surrogates.
The goal for Obama and organizers of the convention is to make their case not to base voters – whom they believe have been sufficiently placated over the last 18 months – but rather the independent voters Obama needs to win back before election day.
"Unlike [Mitt] Romney, who I think in many ways needed to prove himself … the president has over these last 18 months gotten his base to a good place," said Rodell Mollineau, President of the American Bridge 21st Century Super Pac.
Mollineau acknowledged that Democrats spent much of Obama's first term complaining about a lack of action on top tier issues to progressives – or in some cases "compromising" too much with Republicans.
But over the last year and half his battles with the GOP over spending, executive actions on gay issues like Don't Ask Don't Tell and this spring's contraception fight have "shown he's a fighter politically. I think he needs to go in to over his base … when he's speaking, I think he's speaking more to the independent s at home more than the Democrats in the audience" Thursday, Mollineau said.
So what can you expect to hear this week? On Friday, Obama advisors outlined the top line arguments Democrats will be making. The convention "will tell the story of the last four years, how the president made some tough choices to help the country," Stephanie Cutter told reporters. "It will tell the story of how we laid the foundation for a path forward to restoring middle-class security and a clear contrast to the Republican Convention."
As part of that, Democrats said to expect Obama to not shy away from some of his more controversial efforts, most notably his divisive reform of the nation's health care system. Democrats hope to contrast the president's directness with Republicans unwillingness to dwell on the details of their proposed Medicare reform. Mollineau argues addressing Obamacare is a must. "If he didn't at least in the realm of the economy … then every story is going to be about how he didn't talk about it."
Also, while Democrats said they expect Obama to be careful in how he handles the death of Osama Bin Laden, they fully expect he will make it and national security a key part of his speak, particularly since Romney almost completely ignored the issue in his acceptance speech.
"He has to. There's a great opportunity here since the Republicans shied away from it," one Democrat said.
One thing you may not hear much from Obama, at least, are backward looking attacks on Republicans and complaints about the economic situation he inherited. Democratic surrogates have been spinning overtime to cast Romney as looking to the past since the end of the GOP convention, and to have Obama look backwards, even to the beginning of his term, would be jarring.
That said, there is at least one Democrat who could successfully pull off an attack on Republicans from the main stage – former President Bill Clinton. Clinton has the Wednesday headlining gig, and Democrats said he could unload on the GOP in a way Obama simply can't.
"Obama can't say what Bill Clinton can, which is 'I got screwed. I got this job and every Republican made a blood pact to screw me.' He can't say that. It may be true, but he can't. But Bill Clinton can," one veteran operative said Sunday.