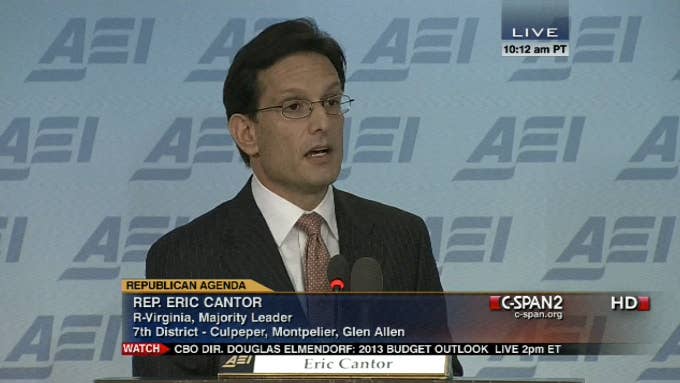 WASHINGTON — With his party still struggling to come to terms with last November's electoral defeat, House Majority Leader Eric Cantor Tuesday slapped a new coat of paint on his party's core agenda items as part of the GOP's first efforts to repackage itself for voters.
Cantor's speech, hailed by Republican leaders as a relaunch of sorts for the GOP brand, didn't break any new ground: Issues like gun control, gay rights, and climate change weren't mentioned at all.
But from school vouchers to repeal of Obamacare to limiting the size of government, most of Cantor's speech largely steered clear of Republicans' primary preoccupation: spending.
"There is no greater moral imperative than to reduce the mountain of debt facing us, our children, and theirs," Cantor acknowledged before noting that "today, I'd like to focus our attention on what lies beyond these fiscal debates. Over the next two years, the House Majority will pursue an agenda based on a shared vision of creating the conditions for health, happiness, and prosperity for more Americans and their families. And to restrain Washington from interfering in those pursuits."
Cantor's approach is consistent with the general view of top Republicans regarding November's losses, namely that it was a matter of their messengers and rhetoric and not a fundamental failure of the party's overall platform.
"Our solutions will be based on the conservative principles of self-reliance, faith in the individual, trust in the family, and accountability in government. Our goal: to ensure every American has a fair shot at earning their success and achieving their dreams," Cantor argued.
Still, it is the first time a Republican official has laid out an actual governing agenda since the party took control of the House in 2010, and this represents a significant shift for Republicans.
For instance, Cantor vowed, "One of our priorities this year will be to move heaven and earth to fix our education system for the most vulnerable," outlining a host of areas the party will focus on, including student loans, higher education, and support for for-profit schools.
Likewise, on health care, Cantor stuck closely to the party's traditional script, urging cost-cutting measures and reforms and arguing for repeal of parts of Obama's signature health-care reform law.
"President Obama's health-care law resulted in higher premiums and costs for families, and has made access to quality health care and innovation tougher. If we want to reverse this trend, we should start by choosing to repeal the new taxes that are increasing the costs of health care and health insurance, like the medical device tax," Cantor said.
On immigration, Cantor acknowledged, "It's no secret that there are more than 11 million people here illegally, many of whom have become part of the fabric of our country," and that Congress must take steps to address them, though he steered clear of any mention of a pathway to citizenship for undocumented workers.
Even when Cantor seemed to be striking out into new territory, most notably about the need for greater government spending on research and "innovation," the Virginia Republican was careful to make the case that it was a matter of shifting priorities and not new spending.
"There is an appropriate and necessary role for the federal government to ensure funding for basic medical research. Doing all we can to facilitate medical breakthroughs for people … should be a priority. We can and must do better," Cantor said.
"This includes cutting unnecessary red tape in order to speed up the availability of life-saving drugs and treatments and reprioritizing existing federal research spending. Funds currently spent by the government on social science — including on politics of all things — would be better spent helping find cures to diseases," he added.