House Republican Holds Out Hope For Bipartisan Farm Bill
Despite pressure from leadership, Agriculture Chairman Frank Lucas isn't giving up on a bipartisan approach.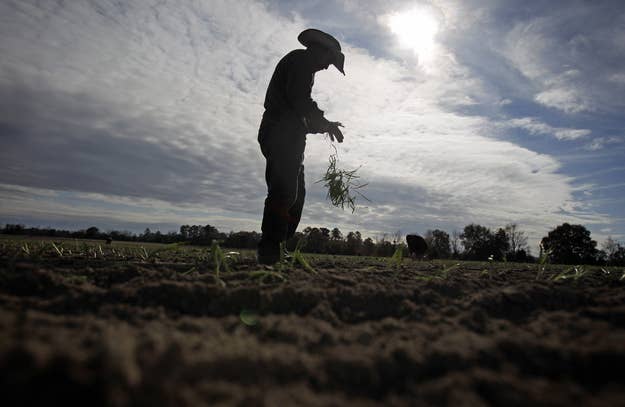 WASHINGTON — His leadership may not like it, but Agriculture Committee Chairman Frank Lucas isn't giving up on the idea of bipartisanship when it comes to a five-year, multi-billion-dollar farm bill measure.
In a meeting with House Majority Leader Eric Cantor Thursday, Lucas said that despite leadership's desire for a partisan minded approach, he was sticking to his plan to mark up bipartisan legislation.
"Chairman Lucas did meet with Majority Leader Cantor today to discuss his plans to move forward with a May 15 markup date for the farm bill. Chairman Lucas also told him that in the interim he would be happy to hold listening sessions to gather input from his Republican colleagues," Lucas' spokeswoman Tamara Hinton said Thursday.
Multiple Republicans Thursday said Lucas and Cantor have been at odds over how to move on the farm bill, with Cantor wanting his chairman to craft a bill that would garner broad Republican support, while Lucas wanted to take a more bipartisan approach.
A spokesman for Cantor dismissed talk of a split between the two lawmakers, noting Wednesday's meeting was the first discussion the two have had on the direction the Agriculture Committee is taking.
"The Leader and Chairman Lucas are discussing the timing for House consideration of the Chairman's proposal for a multi-year farm bill that reforms our agriculture and nutrition programs and contributes significantly to deficit reduction," Cantor spokesman Rory Cooper said.
Traditionally, farm bills have been a bipartisan affair, with coalitions for and against a bill breaking along either regional lines, with suburban lawmakers opposing them while rural and urban members support the bills, which include food stamps and other assistance.
Although the Senate was able to pass a strong bipartisan measure last year, the House was never able to move it's own version. That has left programs ranging from food stamps to conservation efforts and farm subsidies in limbo.
Lucas had originally hoped to resume work earlier this year, but with the sequester, continuing resolution and other major issues crowding the schedule, he put bringing a bill before his committee for months.
But with the House's schedule suddenly free of controversial legislation, Lucas is now moving forward on the measure. According to aides, the May markup will likely mirror last year's, which was a rare model of bipartisanship as the committee spent 15 hours working its way through a nearly 100 amendments to Lucas's underlying bill.