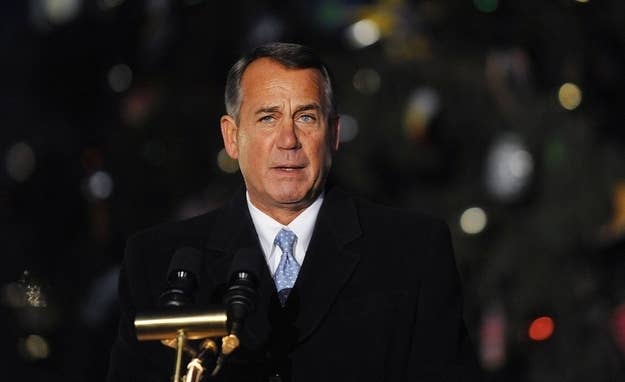 WASHINGTON — House Speaker John Boehner will include provisions addressing the fate of more than 11 million undocumented immigrants living in the United States as part of a draft immigration proposal he'll circulate to members later this month.
Although GOP leadership aides stressed no formal decisions have been made on what will be included in the recommendations, the fact that Boehner will include provisions to deal with undocumented immigrants is a significant departure for House Republicans.
Boehner, along with House Judiciary Chairman Bob Goodlatte and a small group of Republicans, has been drafting a set of principles that will ultimately guide House Republicans when the issue comes to the fore likely in the late spring. Boehner is expected to circulate the principles to members of the Republican conference at a retreat in rural Maryland at the end of January.
One Republican noted that given how far the debate over immigration has shifted, the draft recommendations "can't not mention the 11 million," even if that means conservatives will attack leaders, a reality leadership is prepared for.
"There's no way we don't catch shit," one senior aide said.
Although Democrats and moderate Republicans in the Senate have embraced providing undocumented immigrants with a path to citizenship, what to do about them has been the most divisive aspect of reform for House Republicans.
While a small knot of 18 to 20 House conservatives continue to insist mass deportations are the only appropriate response, their influence over the conference continues to wane dramatically.
For instance, late last year members of the so-called "No Caucus" circulated a draft letter to Boehner opposing talks with the Senate over comprehensive immigration reform. But that effort appears to have been dropped in large part because only 19 Republicans would commit to signing the letter, far too few for it to be used as leverage against the Republican leader, GOP aides familiar with the situation said.
Indeed, the vast majority of Boehner's conference appears at least resigned to the idea that some sort of legalization or normalization for the 11 million is needed as part of any concerted effort to change immigration law. But the problem for Boehner continues to be how to craft something that deals with undocumented immigrants but which conservatives can't easily paint as amnesty.
Rep. Cory Gardner, a Colorado Republican, said dealing with undocumented immigrants must be part of the broader set of proposals. "I think that's going to have to be part of a solution once you have border security and enforcement in place. The last thing we're going to want is a repeat of the 1986 legislation," Gardner said.
"So how do we avoid doing this all over again? By creating a long-term solution for the American people. Look, no one in that chamber, nobody in this country, can imagine a world where they wouldn't do everything they could to get to the United States, and we need to make a system that works," he added. "[Republicans] recognize if we do nothing, it's a de facto broken system."
Even if Boehner is able to thread that exceedingly tight needle, however, the chances reform passes this year remain slim: While most of his members may see the need for legal changes, a majority appear to have little desire to be the ones who pass them and end up holding the political bag.