Former President George Bush was greeted by a standing ovation at a Hurricane Katrina 10-year commemoration in New Orleans Friday, marked more by its low-key nature than the protests that one would have expected in the weeks after the storm.

Bush, who was on vacation in Texas when the storm struck in 2005, infamously ordered Air Force One to fly over New Orleans on his way back to Washington in order to survey the damage. An image of him peering out of the plane window became an iconic symbol of his administration's botched handling of the disaster, which killed nearly 2,000 people and displaced one million.
For years, Bush ranked alongside former New Orleans Mayor Ray Nagin — who is now in federal prison for corruption charges related to Katrina recovery contracts — as one of the least popular politicians in the region.
But at his speech Friday at Warren Easton Charter School — which his wife Laura's foundation helped rebuild — there were almost no signs of that anger.
Aaron Grant, a 35-year-old river boat manager, was the only protester for most of the event, holding a simple placard with the picture of Bush on Air Force One that said "You're Early Come Back In A Week."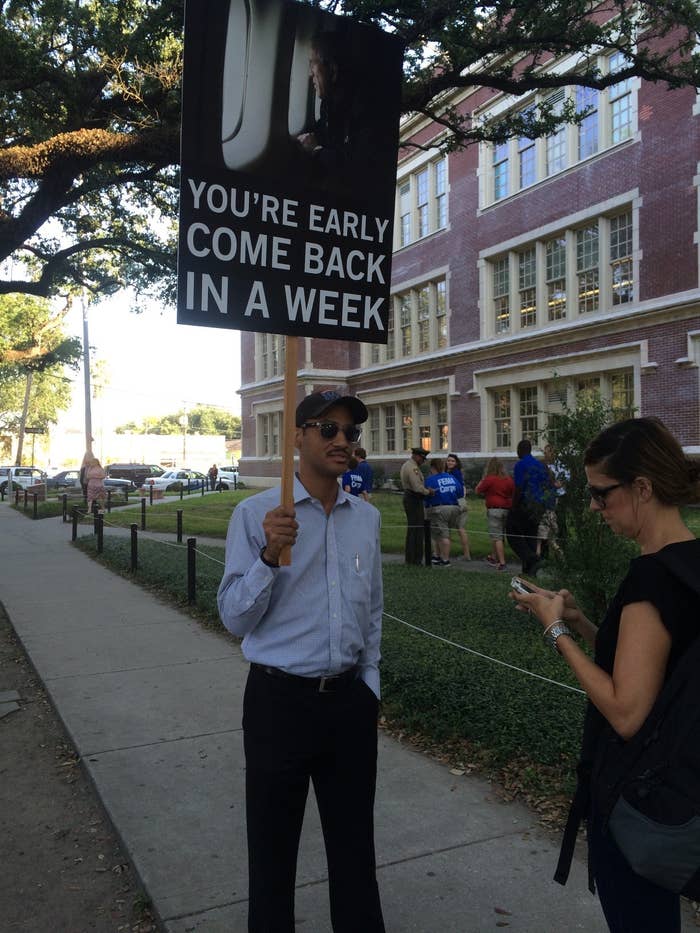 "I wanted to let the president know, we still remember," said Grant. "At the time he did his fly-by, there were people dying in their attics. It was upsetting to me. It's still upsetting to me 10 years later," the New Orleans native said.
Grant said he wasn't entirely surprised by a lack of protesters. "Based on my Facebook page, a lot of people just want this weekend to end," he said, echoing a sentiment about the Katrina commemorations common among many residents.
James Carville, a Democratic operative known for his acerbic tongue — which he used routinely against Bush while he was in office — said that while the administration's initial response to Katrina was bad, they ultimately did positive things for the city, including rebuilding its ancient levee system that failed during the storm.
Carville also was unsurprised by the lack of protesters, saying it was "because of the nature of this city. He was the president, he's coming, and we'll be hospitable."
The speech comes a day after President Obama spoke from the Lower Ninth Ward, a predominantly black and impoverished neighborhood that was and remains the part of the city most affected by the storm.
"What started out as a natural disaster became a man-made disaster," Obama said on Thursday, criticizing his predecessor's handling of the catastrophe, "a failure of government to look out for its own citizens."
This was Obama's ninth visit to New Orleans since Hurricane Katrina.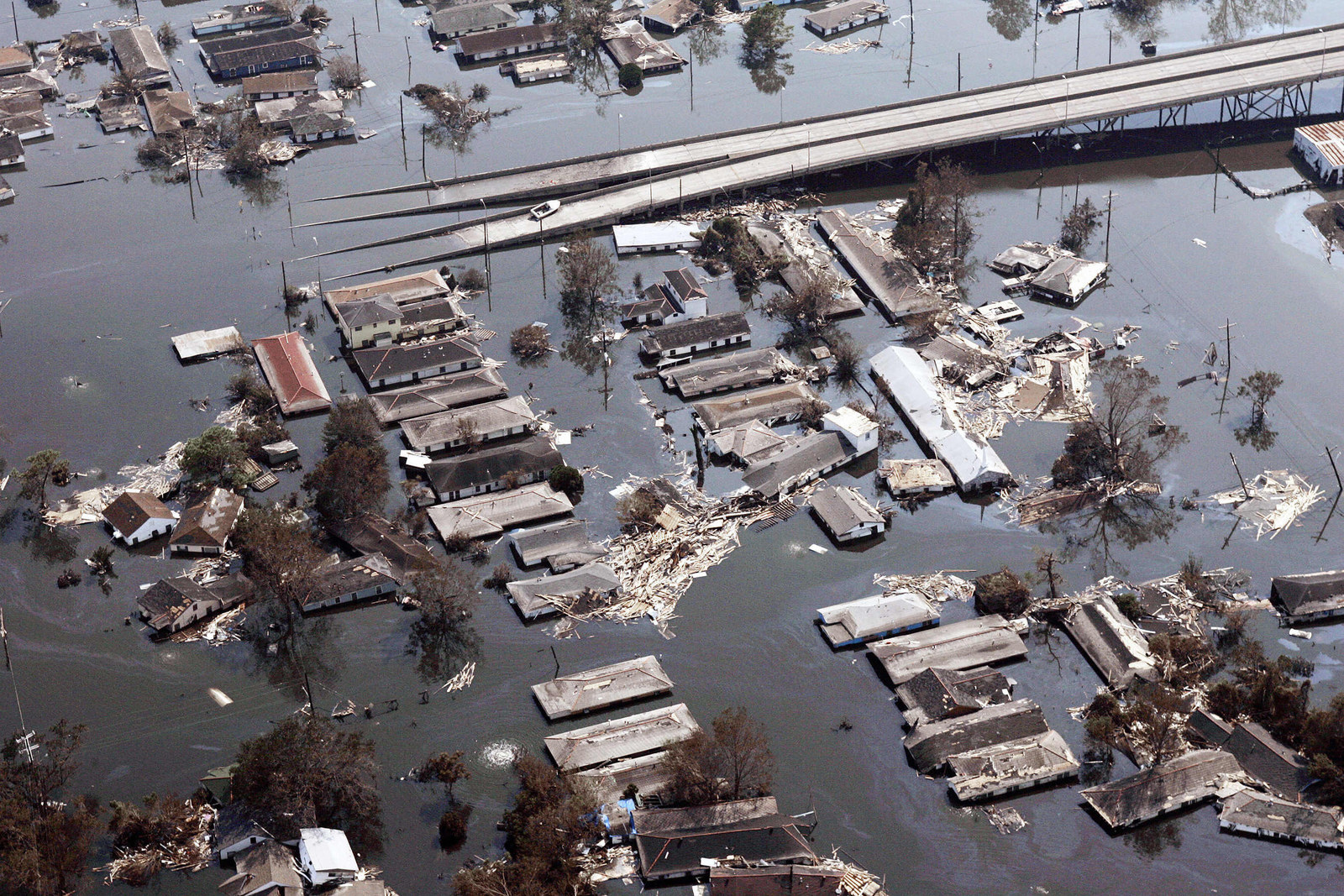 "Hurricane Katrina is a story of loss beyond measure," President Bush said during his speech. "It is also a story of strength and compassion." He discussed the educators present and not present, saying, "Though some of [you] had lost everything you owned, you let nothing stand in your way."
"Isn't it amazing?" Bush said to a few cheers from the crowd. "The storm nearly destroys New Orleans, and now New Orleans is the beacon of school reform."
The former president concluded his speech by honoring the principal of Warren Easton Charter High School, Lexi Medley, and thanking the school's students for being there and for "not falling asleep."

Historians and political experts contend that the Bush administration's response to the catastrophe, its handling of recovery efforts, and his own personal reaction to the storm marked perhaps the lowest point in his presidency.
Particularly raw moments came when Bush first flew over the wreckage and when he congratulated then-Federal Emergency Management Agency Director Michael Brown by saying, "Heckuva job, Brownie."
"That's when I think his presidency started on a downward trend," Douglas Brinkley, a presidential historian at Rice University and author of The Great Deluge, told the Associated Press.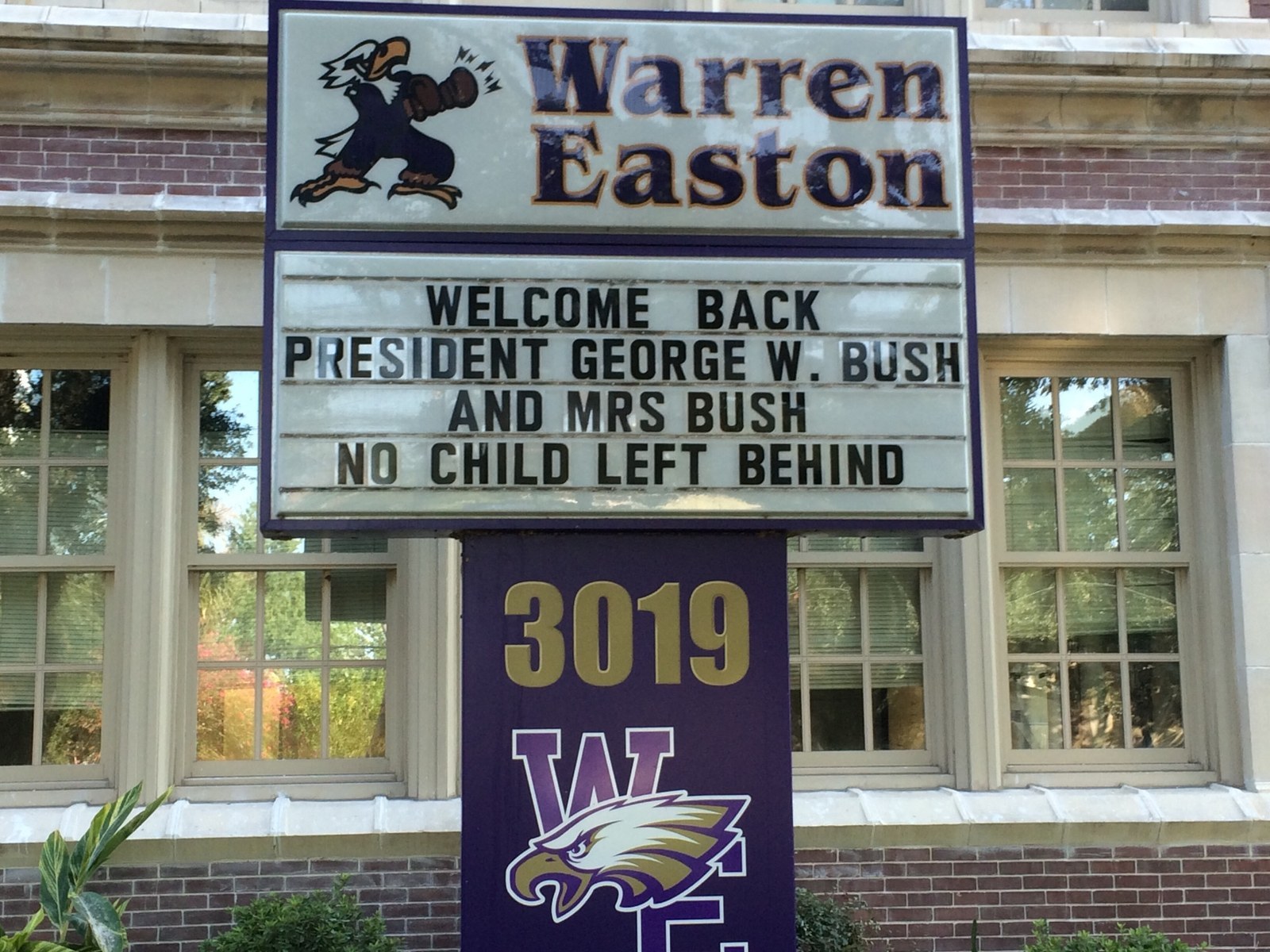 The event came to an odd end, as Bush began to leave, only to be stopped by school officials who presented him with a T-shirt.
As they awkwardly regrouped on the stage, a brass band emerged behind them and began to tentatively play, clearly unsure of what, exactly, was happening.
Students, many of whom had stood for more than hour in the back of the auditorium, shuffled their feet, and teachers began ushering them out as the former president, Laura Bush, and Mayor Mitch Landrieu moved into the front rows of the crowd, where dignitaries such as former Sen. Mary Landrieu and old White House aides to Bush were seated.
As the crowd finally dispersed, three Black Lives Matter protesters took up position outside the school. Holding signs that read "Black Lives Matter" and "We Charge Genocide," they chanted "You let New Orleans drown!" as reporters gathered around them.
Another sign said "George Bush still hates black people," in reference to Kanye West's famous televised outburst.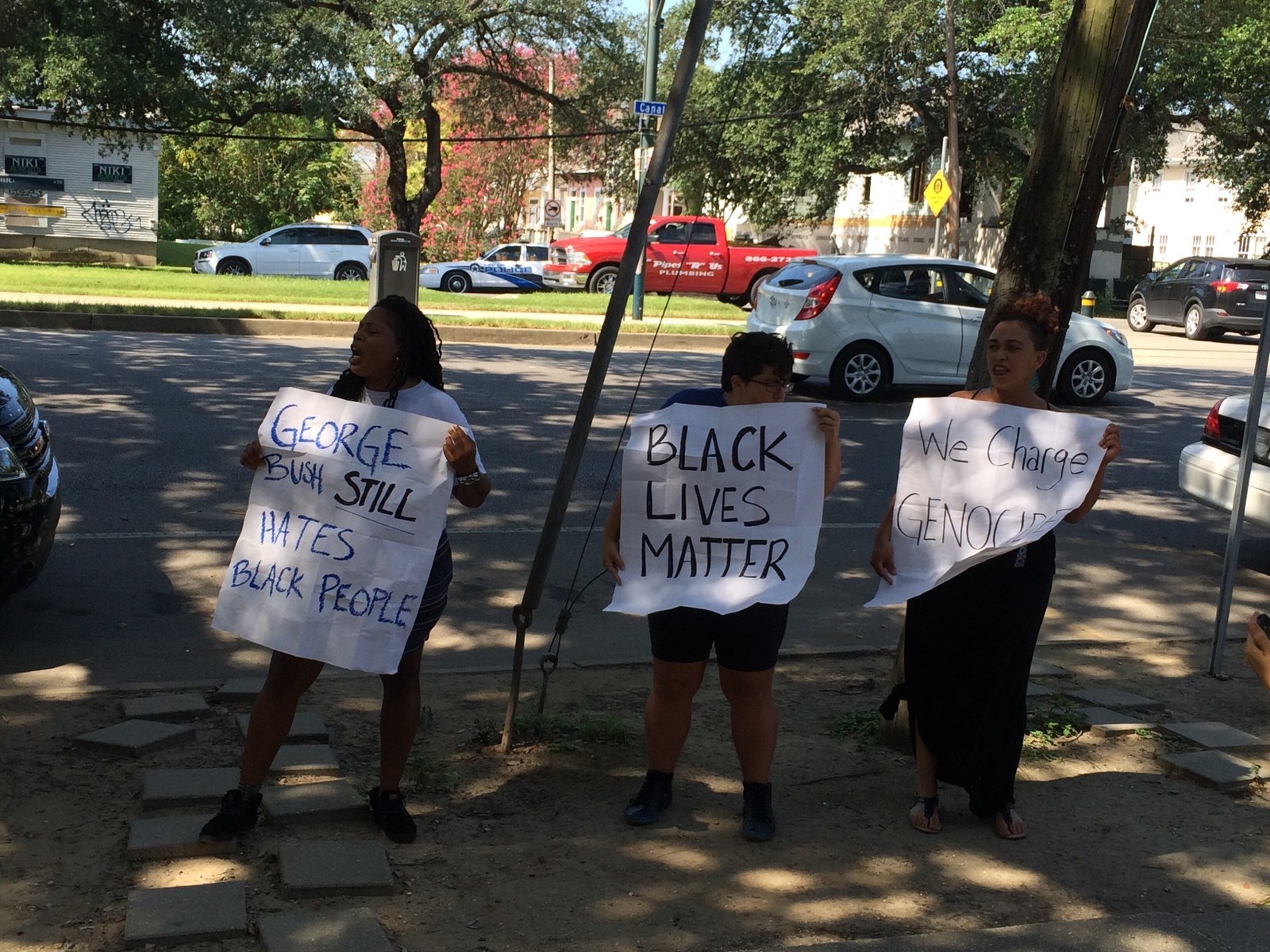 This is a developing story. Check back for updates and follow BuzzFeed News on Twitter.
Read BuzzFeed News's ongoing coverage of the Katrina 10-Year Anniversary:
Correction: As of publication time, there was one protester outside the school. The story initially said there were multiple.