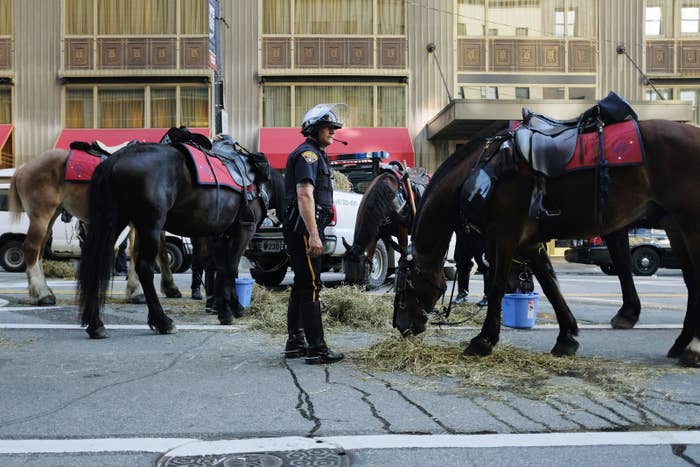 CLEVELAND — The thousands of gas masks, helmets, and sets of body armor that were shipped to Cleveland last week in anticipation of massive, violent protests went unused during the Republican National Convention. And that was just what the media had brought to town.
Instead of the rolling battles among activists from Black Lives Matter, white supremacist bikers, police, and anarchists, the protest scene this week was decidedly low key.
There were the dogged communists, of course, who held daily marches and rallies at Public Square, a sprawling park in downtown that police had designated as a free speech zone. The Westboro Baptist Church was on hand, angering virtually everyone.
A group of plucky young anarchists used their fast feet and police scanner apps to harass the ill-prepared army of law enforcement officials from across the country — leading them on chases throughout downtown — while a handful of "Bikers for Trump" were on hand to provide law enforcement "support."
There was even a chicken.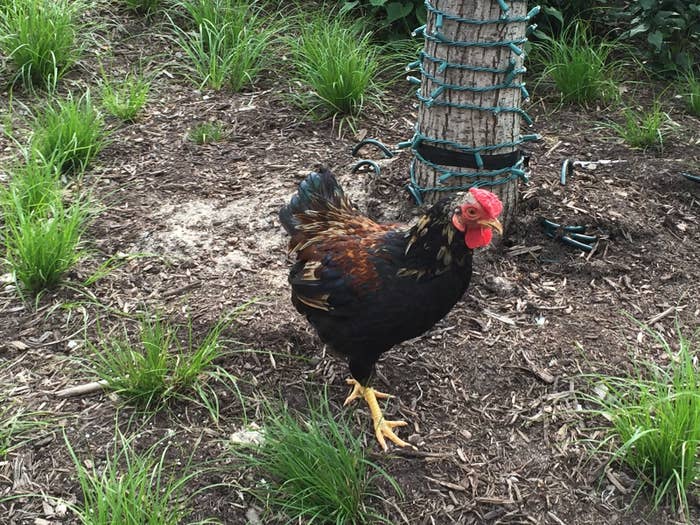 But what didn't materialize were the sort of violent protests and riots that have become a hallmark of much of Donald Trump's presidential campaign. After months of violence at his campaign rallies, Cleveland officials, the media, and the general public were braced. Many businesses closed for the week, the Cleveland Police Department brought in thousands of officers from other jurisdictions to help, and everyone came into the convention on edge.
There seem to be a variety of reasons for the lack of massive protests or unrest. For one, Black Lives Matter activists decided to stay away from Cleveland this week, preferring to focus on Democrats' convention in Philadelphia next week, some activists told BuzzFeed News.
Some BLM activists said were also leery of coming to Cleveland given the large police presence, while others told BuzzFeed News were concerned police in the city could be targeted like in Dallas and Baton Rouge and worried what that could mean for the movement.
Cindy Wiesner, the national coordinator of Grassroots Global Justice, is a veteran of political conventions and told BuzzFeed News she has attended eight before this week's in Cleveland.
"This is by far the smallest and most peaceful," she said. "It's the fewest number of protesters I've seen."
Wiesner's group participated in several demonstrations this week, including one that involved erecting a fabric "wall" around the convention entrance. All of the protests ended peacefully, which Wiesner said could have been a result of fear.
"This is an open carry state," she added.
Jeanette Millard also thought fear kept people away. The Massachusetts native arrived in Cleveland Saturday — shortly after her friends promised to bail her out of jail and advised her how to deal with teargas.
"My friends were scared out of their minds that I was here," she said during Thursday's march.
"I think all this press, and the city and the police, scared people away," Millard said. "It had a chilling effect."
The convention's first day was the most notable for widespread but peaceful demonstrations: while white supremacists rallied at the picturesque Settlers Park on the Cuyahoga River, anti-poverty activists were enjoying a concert by super group Prophets of Rage across town in an empty lot. In Public Square, convention goers and the public mingled with pro- and anti-Trump protesters, while a steady stream of speakers took to a public PA system to air grievances ranging from police brutality to immigration and the environment.
"I think all this press, and the city and the police, scared people away."
Although officials had set up a number of "free speech" zones around town, by Tuesday afternoon the action was centering on Public Square. As hundreds — and occasionally thousands — of police and journalists milled about, competing groups set up shop on opposing sides of the square. As members of Westboro Baptist used bullhorns to lament the nation's moral state, communists from 30 yards away chanted "America Was Never Great."
As their ranks swelled, police surrounded the square and scores of police officers used their heavy mountain bikes as battering rams and forced the crowd into smaller groups. With the sun blazing, tempers on both sides flared, and after an hour-long staring contest with police, the communists and a group of anarchists broke off and began marching through downtown.
With dozens of reporters in tow, the march eventually dwindled to a group of a dozen anarchists who happily led police on an hours-long wild goose chase through streets, alleys, and parking garages. It was a largely peaceful if exhausting affair.
Wednesday was the most tense day due to an flag burning by communists at the entrance to the convention. Just after 4 p.m., the group gathered at the entrance and were immediately surrounded by the press corps and police force. As cameras and cell phones rolled, an activist knelt in the street to light the flag. As it went up in flames, police pushed forward, attempting to extinguish it. At one point one of the protesters was also lit on fire — leading police to train their hand held water cannons on him while screaming, "stop moving you're on fucking fire!"
But within minutes the police, led by Cleveland Police Chief Calvin Williams, had again used their bikes to push back the media and other gawkers.
Wednesday was also the biggest day for arrests — most of the 18 people taken into custody were arrested during the flag burning protest.
By Thursday, the energy seemed to have been sucked out of the protesters.
The police, apparently bored by the lack of action in the streets, became seemingly obsessed with the movements of individual anarchists, and the police scanner became a running commentary on their hygiene and how long they were in the port-a-potties set up at Public Square. This seemed to prompt the anarchists, who were also monitoring the scanner, to spend increasing time in the bathrooms and take occasional strolls through downtown with their police detail dutifully following along.
As sun set Thursday and Trump prepared to formally accept his party's nomination, police gathered at East 4th and Prospect, the entrance to the convention where communists had burned the flag Wednesday. Although there were no planned protests, authorities were there for any last minute flare ups.

But as conventioneers entered the security perimeter, the police stopped a young woman and searched her bag. As she exclaimed "what the fuck," police pulled a jar of pickles from her purse. She was advised she could keep them if she moved on.
Darren Sands contributed to this report.