Even In The South, Bernie Sanders Sticks To Economics, All Economics
Many thought the Vermont senator's two-day swing through Louisiana would feature a significant emphasis on criminal justice. He did talk about it — but he mostly stuck to his bread and butter: economic inequality.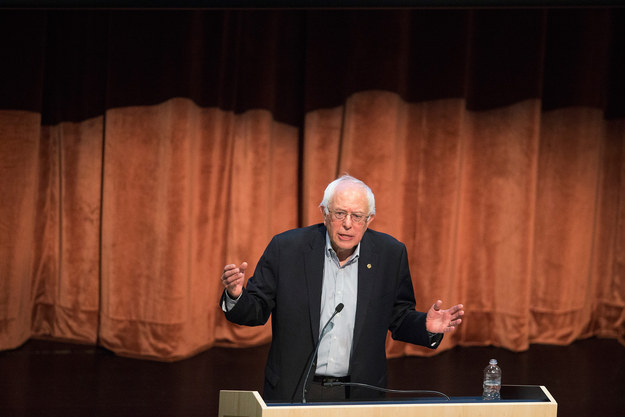 KENNER, LOUISIANA — Sen. Bernie Sanders' campaign speech in this suburb of New Orleans felt more like a union organizing rally from 1915 than a modern American presidential campaign pitch in 2015.
Sanders told the crowd of 4,500 supporters that his surprising success on the campaign trail is a result of "people are catching on that there's something fundamentally wrong with how we do economics and politics" before launching into an attack on the "transfer of wealth" from "the heart of the middle class and working class families right up to the top the one percent."
Sanders himself even name checked the early 20th century labor organizers, noting that in protests in the early years of the last century striking workers "held these huge placards and banners … that said 'we are not beasts of burden.'"
It's a tactic that plays well to the kind of heavily union, white, working class progressive audience that Sanders would be expected to find here.
"I really like Bernie," Kevin Millet, a member of the pipewelder's union local 198, said before the speech. Sanders "wants to get us our jobs back … we've lost a lot of our work here."
Sanders made clear he thought Democrats were wrong for abandoning labor Democrats in the South and other areas of the country.
"I think my colleagues in the Democratic Party have made a very serious, serious, serous mistake. And this is they've kind of written off half of America, and that includes Louisiana," he said. "And I'm here to tell you its time that we fight in all 50 states."
Many had expected Sanders' two-day swing through Louisiana, and particularly his visit to the New Orleans area, as a way to try and mollify civil rights activists upset over his reaction to Black Lives Matter protesters during his speech last week at Netroots Nation.
Instead, Sanders largely stuck to his economics-based philosophy linking social ills to economic causes.
"At the top of my list is the issue of income and wealth inequality … it's the great moral issue of our time, it's the great economic issue of our time, and it is the great political issue of our time," he said at the top of his speech, before spending most of his hour-plus time on stage repeatedly hammering away at progressive economic issues.
There were nods to social issues, though Sanders rarely spoke about them separate from economic concerns, instead repeatedly linking social concerns to fundamental economic issues.
"For kids who graduated high school, who are between the ages of 17 and 20 if those kids are white their real unemployment is 36 percent. If they are Hispanic, 37 percent. If they are African American … the real unemployment rate is 51 percent," Sanders said to boos.
Similarly, on women's issues, Sanders said, "Speaking to my brothers here today, you've got to stand with us on this issue … when women earn nothing more than the same level as men, we're going to take a huge chunk out of poverty."
Even when attacking Republicans over "family values" issues, Sanders' critique ultimately came down to economics.
"I believe in family values that are just a little bit different than my republican colleagues," Sanders said, arguing that first and foremost, "The United States of America must end the international embarrassment of being the only major country on earth that does not guarantee workers paid medical and family leave."
On climate issues, Sanders argued that while be believes the United States has "a moral responsibility to lead the world in transferring our energy system … I am more than aware that there will be economy dislocation. And as part of any climate change legislation we must protect those people who will lose their jobs and help them get new jobs."
But Sanders seemed to have heard the concerns of social activists — particularly those that will directly confront politicians in public spaces like the Black Lives Matter and DREAMer movements.
Towards the end of his speech, Sanders said that while the country had made significant progress on civil rights, women's rights and LGBT rights, "all of us know, the struggle continues. When an African-American woman gets yanked out her car, when that happens when we all know that wouldn't happen to a middle-class white woman, we all know we need some serious change to the criminal justice system in this country."
"What we have got to do is make sure our police departments are part of the community and are not seen as oppressors in the community," Sanders' added before pivoting to immigration.
"We've also got to recognize that there are 11 million undocumented people in this country. Our job is not to demonize them, not to make racist comments about them, but to provide them with a path towards citizenship," Sanders said.