Democrats Crow Over WWE Exec Linda McMahon's Defeat
After spending $90 million of her own fortune, the two-time candidate comes up short.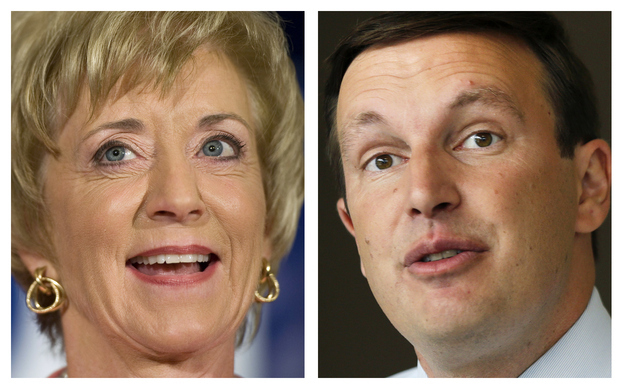 WASHINGTON, DC — Democrats Tuesday evening were crowing over the second defeat in as many cycles of Republican Linda McMahon in Connecticut's closely contested Senate race.
McMahon's loss is one of a series of defeats that National Republican Senatorial Campaign Committee Chairman John Cornyn was suffering Tuesday night in states that had seemed like solid pick ups or safe seats for Democrats just a few weeks ago.
Over the last two election cycles, McMahon has spent more than $90 million in her own money in two quixotic attempts at public office. While her first run in 2010 against Sen. Richard Blumenthal turned out to be not much of a race, thanks to the sexism and violence of the WWE, her wrestling empire.
But this year was markedly different — McMahon transformed herself public image from a hard-as-nails wrestling executive into the epitome of an everywoman working mom.
That makeover proved extremely successful, pushing Democratic Rep. Chris Murphy against the ropes and becoming a favorite in the race.
But in the end, it wasn't to be — and Democrats were cheering on her loss.
"Linda McMahon has had the smack down put on her twice in the last two elections. I think it's time for her to put aside her political ambitions and go back to making the trashy exploitative television we all know and love," said Rodell Moillneau, who is an avid wrestling fan and President of American Bridge 21st Century, a Democratic SuperPAC.
In addition to Connecticut, Cornyn was weathering a difficult night across the country, including in Massachussetts where Sen. Scott Brown was ousted by controversial Democrat Elizabeth Warren, the loss of an historic Republican seat in Indiana to Joe Donnelly and Claire McCaskill's come from behind victory against Rep. Todd Akin in Missouri.
Combined with a potential loss in Wisconsin and a tight race in Virginia, and Republicans were suffering a particularly hard night.
Ironically, when the cycle started two years ago, Republicans were bullish on their chances of not only big gains in the Senate, but potentially taking control of the Senate by a comfortable margin.
The lackluster performance is sure to set off a round of serious soul-searching for Republicans in the Senate — a fact that Democrats were more than willing to point out.
The election "says a lot about [Senate Minority Leader Mitch McConnell's] leadership and the leadership of John Cornyn and whether [they] should be doing more to pick they're candidates" before the primaries, Mollineau argued.