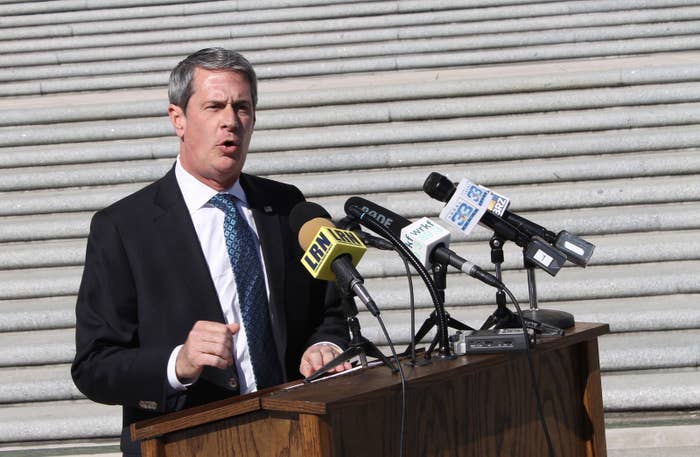 BATON ROUGE — Sen. David Vitter Thursday said as governor he would consider all "legitimate" measures to halt the resettlement of Syrian refugees in Louisiana, including stepped up monitoring of refugees in the state as well as eliminating state funding to Catholic Charities, which helps in the resettlement process.
Vitter, who has injected the Syrian refugee situation into the governor race in an 11th hour bid to take beat State House Minority Leader John Bel Edwards, also harshly criticized the Obama administration's supervision of refugees already in the United States.
"We have a case from Baton Rouge, a case that's pretty close to home. A Syrian refugee that settled here last week, is gone. Allegedly traveling to Washington, D.C., I guess. No one really knows. According to the briefings I've gotten he hasn't checked in with any federal authorities," Vitter said, arguing that the incident highlights the "wildly irresponsible nature of this program."
Vitter also indicated that as governor he would consider creating some mechanism to track the movements of the handful of refugees already in the state. "They come here and that there is no adequate tracking and contact with these individuals. The fact that one could up and leave … proves that. Yes, we need much better protection to anyone who is already here," Vitter said.
Asked if he would cut state funding of Catholic Charities and other non-profits assisting refugees in the resettlement process, Vitter said, "We're looking at every tool at a governor's and state legislature's disposal. And certainly I'd be very serious about using every legitimate tool to assert our responsibility, not just our right but our responsibility, to protect the state of Louisiana."
Whether the refugee issue can lift Vitter over Edwards is, at best, unclear: Polls show Edwards leading Vitter going into Saturday's vote, and early voting in the state seems to favor the Democrat, with substantial numbers of black and registered Democratic voters voting early.
And then there's Gov. Bobby Jindal, whose relationship with Vitter is worse than it is with Democrats in the sate. Jindal announced he was abandoning his quixotic presidential race just as Vitter was going on the air with an ad highlighting the Paris terrorist attacks. Observers in the state see the abrupt decision as not-so-subtle pay back for Vitter's decision to hold a press conference admitting to visiting prostitutes the same day Jindal announced his bid for governor in 2007.
Then on Wednesday afternoon, Jindal floated a new budget plan, a move that further sucked up the political oxygen Vitter's campaign desperately needs. A press conference on the refugee crisis originally planned to be held in front of the Catholic Charities' refugee assistance office was scraped at the last minute in favor of one focused on the budget on the state capitol's front steps.
Vitter may have been seeing a shift in voter sentiments, "but then Bobby Jindal parachuted in," said Edward Chervenak, director of the Survey Research Center at the University of New Orleans.
"It's hard for me to see him reversing the trends we're seeing in polls and early voting," Chervenak added, noting "there's just not a lot of time left … people just don't shift that abruptly, outside of an actual attack."
Still, Vitter aides insist the campaign is in a good position to win Saturday. They argue their polling shows the race tightening, and noted that former Sen. Mary Landrieu saw similar early voting levels in 2014 before ultimately losing her reelection.
"We're feeling good," the aide said.