Chuck Grassley Blasts Obama For "Socialist" Agenda, Refusal To Work With Congress
"You'd think [because] he served in the Senate, it'd be different. But he evidently doesn't like to interact with members of Congress," the Senator tells BuzzFeed.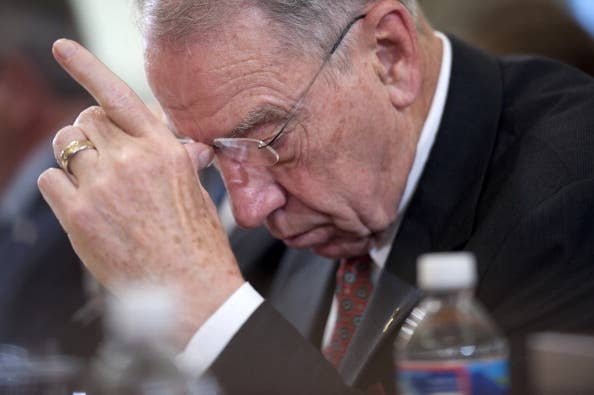 WASHINGTON — The top Republican on the Senate Judiciary Committee Monday admonished President Obama for his poor relationship with Congress and questioned the White House's ideological motives in pursuing its economic agenda.
"You know, I served with this guy in the Senate and had a few interactions with him as president, and I don't understand him," Sen. Chuck Grassley told BuzzFeed in an interview, adding, "I think his policies are leading towards the Europeanization of our economy. But I don't know if that's coming because it's his over all goal and he really wants us to become more socialist, or just the cumulative effect of a policy here and a policy there. But he's sure heading in that direction."
Grassley, one of the Senate's old bulls and a 22-year veteran of the chamber, became clearly frustrated when discussing the sequester, and harshly criticized Obama.
"You'd think [because] he served in the Senate, it'd be different. But he evidently doesn't like to interact with members of Congress," Grassley, said, questioning "why should he be travelling around the country for three months on this sequester thing, when he had 18 months to offer an alternative? If you wanted to fly around and waste a lot of time flying around, you could have put a few republicans on the plane with him and negotiate with all those lost hours on that airplane."
Grassley also dismissed Obama's Friday morning summit with congressional leaders. "If you were really serious about doing something about the sequester, why would you wait until it goes into effect to call Republican leaders over to the White House, the first time you've talked to them in two months?"
In the interview, Grassley also warned that should Obama nominate one or more people to the Supreme Court, he needs to stick to the middle of the political spectrum if he hopes to avoid a major political fight.
Noting that nominees during the Clinton era saw relatively high levels of support in the Senate, Democrats made clear at the start of the Bush administration that
"'it's a whole new ball game, and these judges are going to get a whole new review and ideology is a legitimate thing.' Well that's the environment we're in," Grassley said.
If Obama wants to avoid a fight with Senate Republicans, he'll need to be moderate in his court choices, Grassley argued.
"It's what Democrats demanded of Republican presidents. Are you going to nominate middle of the road people or are you going to nominate extremists. If they fall their own admonitions and nominate people in the middle of the road, I think you won't have as much opposition," he said.