Boehner Won't Say If Texas Should Have An Ebola Travel Ban, Too
The nation's top elected Republican said Wednesday that travel should be halted from West African nations suffering from the Ebola outbreak.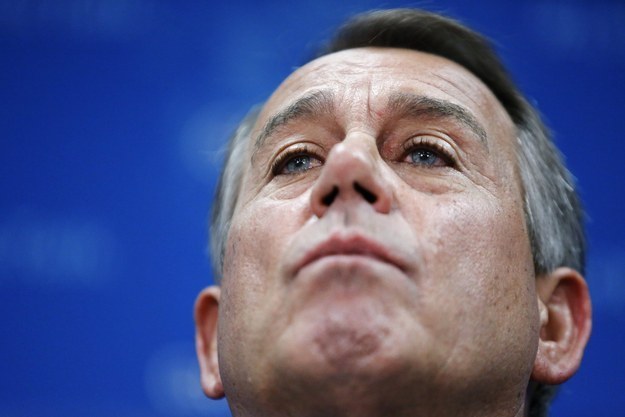 WASHINGTON — House Speaker John Boehner Wednesday called for a "temporary" ban on flights from countries with Ebola outbreaks, but stopped short of calling for a travel ban for Texas, despite the fact that an Ebola-infected nurse flew to his home state of Ohio from Dallas earlier this month.
In a statement released by his office Wednesday evening, Boehner joined a growing chorus of Republicans insisting the Obama administration impose a travel ban on West African countries suffering from the Ebola conference.
Boehner invoked the Texas Ebola patient in calling for a ban on other parts of the world, saying, "Today we learned that one individual who has contracted the virus flew to Ohio through the Cleveland airport in the last few days. A temporary ban on travel to the United States from countries afflicted with the virus is something that the president should absolutely consider."
Asked if Boehner also believes flights from Texas to other parts of the country should be halted, Boehner spokesman Kevin Smith said by email Boehner "said [Obama] should consider a temporary ban on travel to the United States from countries afflicted with the virus along with any other appropriate actions. That's where we are right now. Don't have anything more."
The concept of banning travel from West African countries at the epicenter of the Ebola pandemic has gained traction since Dallas resident Thomas Eric Duncan contracted the virus during a trip to Liberia. Duncan subsequently died from virus.
On Wednesday, health officials acknowledged that a second nurse in Dallas who treated Duncan, Amber Vinson, had also tested positive for Ebola. On Wednesday morning, officials said Vinson had traveled to Ohio on a commercial airplane while she was potentially symptomatic.
U.S. and international officials heading up the response to the Ebola pandemic have long argued against a travel ban to affected areas, warning a ban would limit their ability to effectively combat the outbreak.
Iowa Senate candidate Joni Ernst Wednesday called for a limited travel ban to West Africa. Also on Wednesday, Senate Republican Conference Chairman John Thune became the first member of the Senate leadership to call for a temporary travel ban.