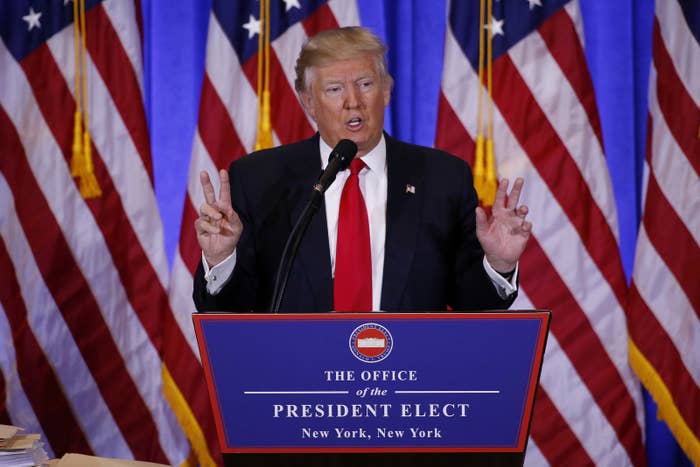 WASHINGTON — The Latino Victory Project is abandoning its middle of the road ways and will actively work to elect progressive Latino candidates and build a "defense" against the Trump administration's policies.

Although the group has largely backed Democrats, it has occasionally supported Republican candidates as well, oftentimes to the chagrin of other Latino groups. But with the election of Donald Trump and what leaders see as open hostility from the broader Republican Party, the group is refocusing itself to solely support candidates with a decidedly progressive agenda.
"Given the political climate and the policy priorities of our community, we've got to change. Because the Republican Party turned it's back on us," Latino Victory Project President Cristóbal Alex told BuzzFeed News Wednesday.
"We can't negotiate with the white nationalists and racists that Trump has brought in," Alex added, warning other groups to be careful of being used as cover by the administration.
In the 2016 election, Latino Victory Project raised $4.2 million to back Latino candidates. The group had a fair amount of success last year, even in a tough election cycle for Democrats, with nine of 11 primary candidates winning their races and nine of their 13 general election candidates proving victorious.
The group hopes to build on that success. Like many progressive groups, Latino Victory also learned hard lessons from the 2016 election, most notably that Democrats' nearly non-existent bench in many states makes it almost impossible to effectively challenge Republicans' stranglehold on state legislatures and Congress.
But, with victories in both Nebraska and Colorado — where the first Latina Speaker of the state House was elected this year — Latino Victory believes it's possible to reverse that trend, and will be paying particular attention to building a bench of state and local-level Latino politicians that can be brought up in the 2018 and 2020 election cycles.
According to Alex, the group views this effort as the "tip of the spear," and will be working to "aggressively recruit top Latino, progressive candidates at the local level … to build the bulwark of defense against Trump."
Alex said that while "core Latino values" on issues like immigration will remain a priority, the group will also recruit candidates that adhere to an array of progressive positions on the environment, women's health, and the minimum wage, and will work closely with other interest groups.
Alex also warned that other "leaders who are beginning to get closer to the administration have to be careful" that they do not end up being co-opted or used to promote what many in their community view as a hostile agenda. "While some are trying to appease Trump, we are working with our community to protect our progressive ideals," he said.
"If you don't stand for something, you'll fall for anything," he added.
UPDATE
A spokesperson clarified that Latino Victory Project will not be creating a new super PAC, but will recruit new candidates through its existing organization.