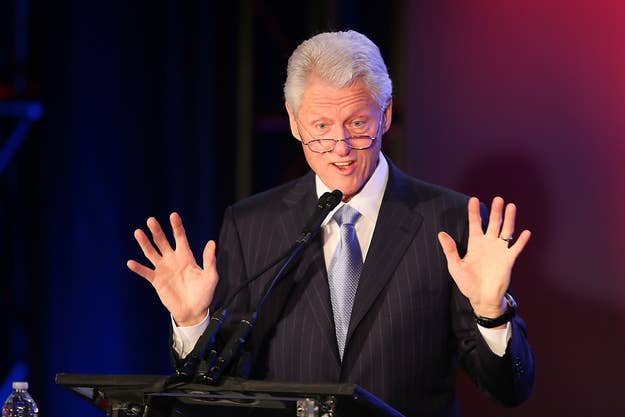 LEESBURG, Virginia — Former President Bill Clinton bluntly warned House Democrats they must pivot from a defensive footing against Republicans and express their own positive agenda if they are going to compete with the GOP next year.
"Make no mistake, the Republicans are going to try very hard to make it not as easy for you to win [on negativity] … we are now going to have to have an affirmative agenda for jobs and innovation," Clinton said, adding that the party must also take a careful approach to immigration reform and gun violence.
"I believe you will get immigration reform … I would be as forward leaning as I could on this issue," Clinton said, arguing that the nation's broken immigration system has become a drag on the economy.
While Clinton praised Obamacare, he cautioned that Democrats need to be careful with how it is implemented and ensure the public knows they are still working on it. "We Democrats own the health reform issue now … [and] it really matters how it's implemented. And if certain problems come up that need changing, you need to get caught trying to change it even if you can't pass it."
During a more than 30-minute-long speech to a gathering of House Democrats, the popular ex-president — and potential future First Husband — added, "The most important thing I can say to you is, this is a job. It is a job. And keeping it requires you to do it and sell it simultaneously … [but] midterms are more difficult to draw the contrasts more favorable to you, and the turnout goes down."
Clinton also warned his fellow Democrats that they must look to the past in mapping out plans as they proceed.
"I did 133 events in 2010, and I remember I told Hillary somewhere in the process of it, 'You know, we're going to take a terrible lickin'.' And she said, 'Why do you keep doing more events?' And I said, 'I don't want them on my conscience … I went through this in '94 and I don't want to go through that again,'" Clinton said, explaining that the 1994 midterm election weighed heavily on him during the rest of his presidency.
Following that midterm defeat, "I thought about the people who were defeated … and I thought a lot about those that survived and why they did it," he said, for voting for his agenda items, including an assault weapons ban.
Significantly, Clinton also said that while "it's obvious as a political strategy that it is very much in the interest of our party … to get the midterm electoral to look more like the president electorate," the party should also look for ways to appeal to white, middle-of-the-road Republicans and independents.
"I also think that we should rely on demography alone … you need to turn into them, not away from them," he said, arguing, "I see this whole gun issue as an opportunity and not a toxic landmine. But it really depends on how you do it."
"It's important not to give up on anybody, to talk to them. The worst thing that can happen is they can see we're not crazy," he said.
Clinton's somber speech to House Democrats came at the end of the conference's annual three-day retreat at the exclusive Lansdowne resort during which Democrats mapped out their legislative and political strategies for the coming year.
Earlier in the day, Comedy Central's Stephen Colbert interviewed Minority Leader Nancy Pelosi during a closed-door session. Although the press was not allowed to view Colbert's interview, Rep. Steve Cohen tweeted that at one point the comedian quipped, "Republicans must embrace Hispanics unless science finds way for Hispanic women to give birth to old white men!"
On the "war on women," a Democratic source said Colbert noted, "Some of my best friends are women. I spent nine months in one." The source added Colbert said he believes his sister Lulu will win her election to the House in South Carolina's special election this spring.
President Obama and Vice President Joe Biden also addressed the conference earlier in the week.