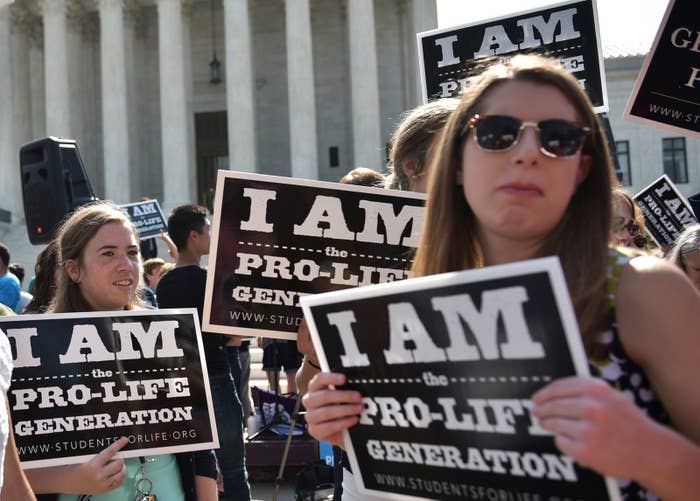 CLEVELAND — Once the most powerful issue in presidential politics, abortion has barely been an issue in the 2016 presidential race.
Despite critical Supreme Court cases over state-level restrictions on abortion, the issue hasn't had the sort of front and center position this year that it has in past presidential elections.
And nowhere is the lack of focus on the once top tier issue more obvious than the Buckeye State, where its critical 18 electoral votes are being hotly contested by both campaigns in the closing days of the election.
"It's not even an issue here. People are not talking about abortion," said David Cohen, a political science professor at the University of Akron. "It's barely registering on the radar."
For decades, abortion has been one of the most divisive issues in American politics. It has also played a central role in nearly every presidential election since Roe v. Wade, with anti-abortion and pro-abortion rights groups pouring billions of dollars over the years into advertising and get out the vote efforts.
In 2004, George W. Bush and anti-abortion organizations campaigned heavily on the issue, particularly in in the Ohio's large Catholic community.
Although Catholics were largely aligned with then Sen. John Kerry on most social and economic issues and were a traditional Democratic constituency, his strong abortion rights positions turned off many voters, so much so that Bush was able to peel off significant Catholic support. That, in turn helped swing the election to Republicans. "If Kerry had won the Catholic vote, he'd have won the election. But Catholics were conflicted," Cohen said.
But this year is different. The issue wasn't raised much during the primary debates, and only specifically during the final debate where the contrast between them could not have been more stark. While it made for a dramatic moment — where Trump said that Clinton supported abortion in the ninth month and Clinton defended her stance on late-term abortions — the headlines the following day focused on Trump refusing to commit to the accepting the election's results.
That's in contrast to down ballot races across the country, particularly tight Senate campaigns, where abortion is playing a major role and candidates are eager to talk about it. In states like New Hampshire, Nevada, Pennsylvania, and North Carolina, conservative and liberal groups remain squarely focused on the issue as part of their efforts on these key Senate races, which could end up determining who will control the chamber come January.
Groups like Emily's List are spending millions on Senate campaigns, and Planned Parenthood has also been aggressively spending on in states in battleground states with close Senate races. By Tuesday, its PAC will have spent some $30 million in ads and get-out-the-vote activities in Pennsylvania, Nevada, Ohio, Wisconsin, North Carolina, and New Hampshire, and volunteers will have made direct contact with some 3 million "low turn out voters who care about women's issues," said Deirdre Schifeling, Planned Parenthood Action Fund's Executive Director.
At the presidential level, abortion has undoubtedly not been as potent as it used to be. It hasn't gone away entirely and remains a priority for many voters. Trump has made defunding Planned Parenthood a part of his platform, while Clinton has made it a point to question the "Hyde Amendment," which bars federal funding of abortion. "She's led the way on the Hyde Amendment, allowing some of these other [down ballot] candidates to come out" against it, Schifeling said.
Nevertheless, Schifeling acknowledged that abortion hasn't been as front and center on the national level this year as in previous years, which she argued is a symptom of Trump's attitude towards women. "Because he's said and done so many terrible things to women, and his many hot mic moments … that's become a proxy for all these other issues."
Anti-abortion activists have also been surprised by the lack of attention abortion has received on the campaign trail this year, especially compared to past cycles when it has played a central role.
"In this wild election, there's been so much noise. It hasn't been a policy discussion," said Maureen Ferguson, Senior Policy advisor for The Catholic Association, an anti-abortion organization. "It's a tragedy that it's not discussed more widely discussed."
Ferguson said she is particularly frustrated because anti-abortion groups see an opportunity to build momentum for controls on late-term abortions. But this year "we're not even considering or debating that."
Ferguson also argued Republicans are missing an opportunity to reach undecided voters who, unlike single issue voters, may not have a firm opinion on the abortion question. "I think a lot of people don't have firm opinions on this. A large number of people in the middle either don't think that much about it, or aren't that well informed about it," she said.
Cohen pointed to a Suffolk University poll earlier in October showed that abortion policy ranked near the bottom of Ohio voters' concerns this year, with only 2.4% of respondents saying it was a top priority.
However, Supreme Court nominations ranked third in the poll in the Suffolk poll. And while in past elections conservatives have made overturning Roe v. Wade a central component of the Supreme Court nomination argument to voters, this year Republicans, and Trump in particular, have leaned heavily on allegations of executive overreach by President Obama, Second Amendment issues, and overturning his immigration policies when talking about the court's future.
According to Cohen, the lack of emphasis on abortion is at least partially a result of a hardening of opinion amongst voters. "People have already decided on that issue, they've chosen sides," he said, arguing that what little the Republican nominee has said about the issue has been enough to ease any concerns evangelical, anti-abortion voters have.
Kelly Yurko, drove from Greenville, Pennsylvania, to attend Trump's rally recently with her daughter Crystal. For both women, abortion is a key issue in this election.
"This is why we're here. I think everything else plays second, and abortion is the number one issue, and I think it's pure evilness and pure wickedness," Yurko said.
Yurko acknowledged that the issue hasn't been a big part of the either campaign's rhetoric, though like many Christian voters, she insisted Trump has made his position clear. "I think that if people are really listening, the Christians heard. I think he's preaching a pretty good word, I think as far as getting it out there, especially during the one debate," she said.
Yurko also said that when it comes to the issue of abortion, most people have already made up their minds. "Unfortunately, some people are firm, I'm voting for Hillary, and even if their own mum was running as a Republican, they're, 'I'm voting for the Democrat.' So I think some people are just blinded," she said.
But another key factor is Trump himself. While in most elections candidates' positions on specific issues take center stage, much of the debate this year has been about Trump's incendiary comments about race, religion, and women, and whether the Republican nominee is fit to be president. Trump has also been all over the map when it comes to abortion, and while evangelicals have been quick to take him at his word that he is now stridently anti-abortion, he's only come to it relatively recently — and is not something he's seemed particularly comfortable discussing.
Kathleen Vervick, who had come to Hillary Clinton's early voting event in October, said abortion and women's issues more broadly are critically important to them. But despite that importance, they acknowledged abortion simply hasn't been a focus of the campaign because it's been overshadowed by Trump.
"There's been so much strange behavior, the focus has been on that and not the real important issues, getting rid of Roe v. Wade is the most ridiculous thing," Vervick said. "It's just wrong, it shouldn't be. We have some real life issues we're trying to face. This is the most ridiculous thing I've seen in my life, and I've been following campaigns since McGovern."
Her daughter, April agreed, saying the lack of focus on abortion is concerning. "I'm a little surprised [since] it always seems to be a big issue. I mean, I think women in general have been a huge issue in this election."