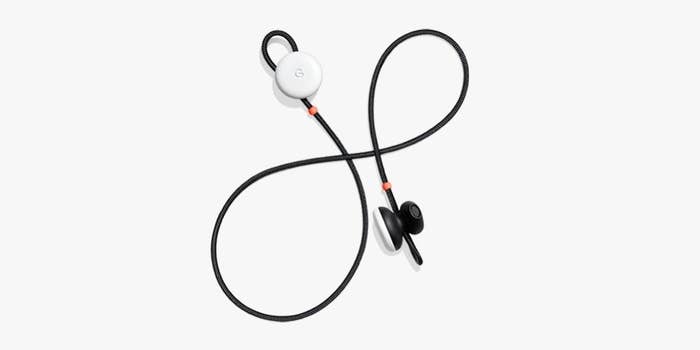 There's a new and formidable presence in the smart headphone market — Google.

On Wednesday morning the company revealed Google Pixel Buds, intelligent wireless earbuds linked by a cloth cord that run Google Assistant. Touch controls on the right earbud to activate Google Assistant and control audio. Google says Pixel Buds are optimized for audio (obviously), but the slickest feature by far is translation. Tethered to an Android phone, the buds can do nearly real-time translation in 40 languages. An onstage demo at the company's Oct. 4 event was simple but impressive: an English/Swedish conversation translated in real time.
Pixel Buds offer about five hours of listening time on a single charge, and they ship with a charging case that can ratchet that up to about 24 hours. Google's offering them in three colors — Kinda Blue, Just Black, and Clearly White — for $159. Pre-orders start today, and the devices ship in November.
The smart headphone market is already well populated — Doppler Labs' Here One, Bragi's Dash and Headphone, Samsung's Gear IconX, and Bang & Olufsen's Beoplay E8, to name a few. But the largest player seems to be Apple's AirPods. Unveiled in September of 2016 and officially launched in December, the cigarette-shaped wireless buds have carved out a sizable portion of the wireless headphone market. Apple hasn't provided actual sales numbers for them, but NPD reports that about 85% of all money spent on completely wireless headphones in the US is spent on AirPods.

It's impossible to predict how Google Pixel Buds will be received when they arrive at market, but their real-time translation feature is certainly a powerful differentiator if it works as smoothly as it appeared to onstage today. That may not be an easy feat in the wild — a busy street or night market is a very different scenario from the controlled onstage one we saw today.