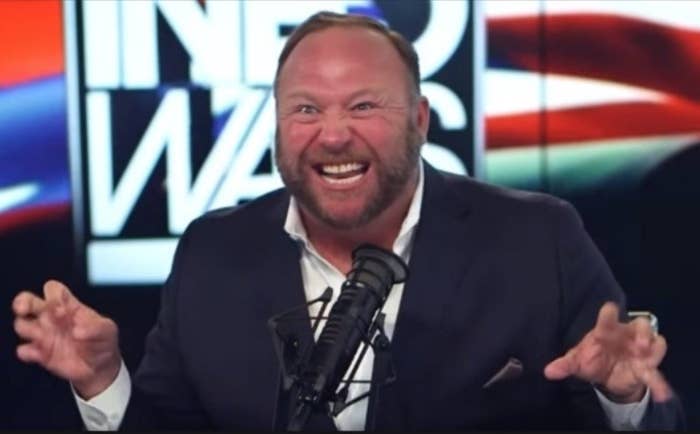 Apple will continue to allow the Infowars Official mobile application in its App Store, the company confirmed to BuzzFeed News on Wednesday, just days after banning several podcasts associated with the conspiracy site.
On Sunday, as first reported by BuzzFeed News, Apple took down the entire library of five of the six Infowars podcasts from its iTunes and Podcasts apps. The action was decisive, with Apple laying out a clear reason for removal: The podcast content violated the company's hate speech guidelines.

Less clear, though, is why Apple has chosen to keep the Infowars app up — which allows users to livestream in high definition the very same programs that it deemed hateful in podcast form. In its response to questions from BuzzFeed News, the iPhone maker suggested that the Infowars Official app had not violated the company's guidelines.
"We strongly support all points of view being represented on the App Store, as long as the apps are respectful to users with differing opinions, and follow our clear guidelines, ensuring the App Store is a safe marketplace for all," the company said in a statement. "We continue to monitor apps for violations of our guidelines and if we find content that violates our guidelines and is harmful to users we will remove those apps from the store as we have done previously."
Infowars Official rose from 47th to 3rd in the News category of the App Store in just two days.
Apple's removal of Infowars' podcasts on Sunday was followed by a cascade of similar actions from other tech companies, including Facebook and YouTube, which also hosted content associated with the site and its founder, Alex Jones. Still, many critics were perplexed as to why Apple, which had taken decisive action to remove offending podcasts, still allowed the same company to distribute its app through its App Store.
And while Apple's removal of Infowars from its Podcasts and iTunes platforms encouraged other tech companies to do the same, it also energized Infowars viewers in their quests to find other ways to obtain the conspiracy site's content. The popularity of Jones' app has increased dramatically, with Infowars Official rising from 47th to 3rd in the News category of the App Store in just two days.
An Android version of the app also remains in Google's app store. "We carefully review content on our platforms and products for violations of our terms and conditions, or our content policies," a Google spokesperson told BuzzFeed News. "If an app or user violates these, we take action."

Apple's App Store review guidelines for developers forbids apps that include "content that is offensive, insensitive, upsetting, intended to disgust, or in exceptionally poor taste." Banned content includes that which is "defamatory, discriminatory, or mean-spirited content, including references or commentary about religion, race, sexual orientation, gender, national/ethnic origin, or other targeted groups, particularly if the app is likely to humiliate, intimidate, or place a targeted individual or group in harm's way."
Based on Apple's statement, the company has decided that Infowars Official app has yet to violate any of those standards. Or, at least, it hasn't been caught doing so.
Apple's enforcement was something of a content moderation sleight of hand — a cosmetic change rather than an actual deletion.
On Apple's podcast platform, Infowars was presented with an easily reviewed episode list — a concrete thing that could be used to support a determination that its content was/wasn't in violation of the company's policies. The Infowars app is different. It streams video broadcasts, which means they are ephemeral in the app and on Apple's platform. That the same episodes are readily available on the Infowars site doesn't matter. In order for Apple to act on a violation, there needs to be evidence that one occurred on its platform. Simply put: If Jones has violated the company's rules, it has yet to catch him in the act.
This distinction could explain why Apple was so quick to remove almost all of Infowars' podcasts in the first place. Given that the company didn't host the podcasts to begin with, the removal was technically not a content purge and something more akin to removing a link. In other words, Apple's enforcement, which caused tech's biggest platforms to follow suit, was something of a content moderation sleight of hand — a cosmetic change rather than an actual deletion.

Listen to Charlie cover Alex Jones and Infowars on this week's episode of The News.