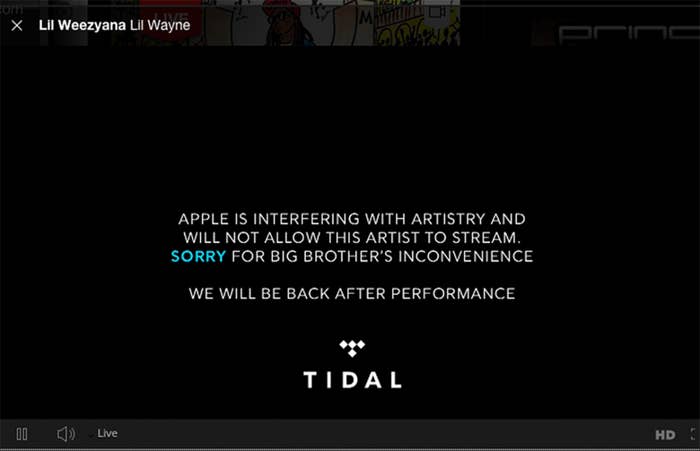 If New Orleans became the frontline of the battle for streaming music supremacy this week, it had very little to do with Apple. The Cupertino company did not threaten to sue Jay Z's Tidal over Drake's appearance at Lil Wayne's Lil WeezyAna Fest, a charity concert to benefit kids affected by Hurricane Katrina. And it played no apparent role in Drake's exclusion from Tidal's livestream of the event — despite Tidal's claims that it did.
Drake's decision not to participate in Tidal's live stream of the Lil Weezyana Festival was precisely that — Drake's decision. And sources familiar with the situation tell BuzzFeed News that Apple did not threaten Tidal with any legal action whatsoever — let alone one with $20 million in liabilities attached to it. "No one even knew this was going on until the Post piece hit," one of the sources said, adding that it's not even within Apple's power to file such a suit.
And while it's difficult not to look askance at such claims given Apple's recent move into the streaming music space with Apple Music and its $19 million exclusivity deal with Drake, the singer's management says it's the truth. And it's not at all happy with Tidal or what it says is a mischaracterization of last night's events.
"The decision to not have Drake participate in the Tidal steam has nothing to do with Apple or Drake's deal," Drake's manager Future the Prince told BuzzFeed News. "Point blank, 100%. I made a business decision. Apple doesn't have the power to stop us from being part of a live stream. The only people that have the power to do that are Cash Money and Universal, and they're our partners."
So why is Tidal very publicly saying otherwise? Not only did the company take to Twitter to lambaste Apple for interfering with its stream, but it also blacked out what would have been Drake's portion of the stream with a slide lambasting Apple as a Big Brother "interfering with artistry."
"I don't understand," Future said. "If you're going to say something about the situation publicly, you should tell the truth. They saw the opportunity to take a situation and spin it in their favor as a publicity stunt."
As for the rationale for withholding Drake's performance from the live stream of a benefit concert, Future insisted it was related to Drake's image — not his business deals. "We wanted to make sure the stream represented us in the right way, and we didn't have much insight into what they were doing," he said. "Aesthetics and quality are important to us and we didn't have any control over that or time to investigate it. We were just there to participate in the benefit."
Apple declined comment. Tidal has not yet responded to a request for one.
Thumbnail by Getty
Update
Reached for comment a spokesperson for Tidal provided the following comment:
_____
We have all the email receipts and written correspondence that took place with said, blocked performance. That being said we choose to keep it classy.
Great show to all the performers
Great performance Wayne.
God Bless New Orleans. 10 years stronger.
_____
Tidal did not provide copies of the email and correspondence in question, and did not respond to BuzzFeed's request to view them.