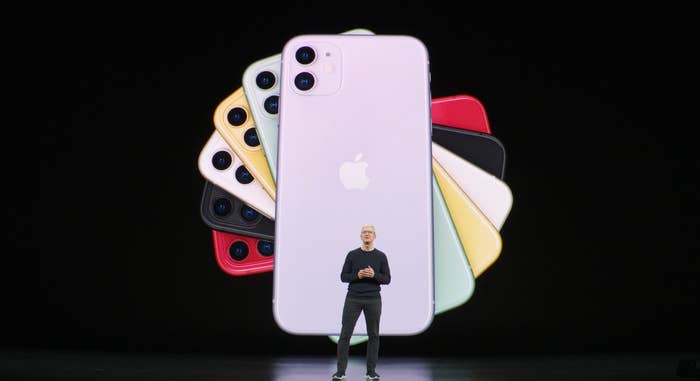 Apple's ability to generate attention around a launch event remains unparalleled, and Tuesday morning's gathering at its 1,000-seat Steve Jobs Theater in Cupertino, California, was no different. Its event went just about as expected: new phones, new tablets, new watches. New!
At this year's annual fall media gathering, the device maker unveiled three versions of the new iPhone 11, including new "Pro" lines that feature three camera lenses.
Also launched: a refreshed Apple Watch with ceramic and titanium chassis options, a new iPad, and Apple Arcade, a game subscription service for $4.99 a month. Apple TV+, the company's new service for original movies and music, is also set for release on Nov. 1.
The iPhone 11 Pro will be available for preorder Friday starting at $999.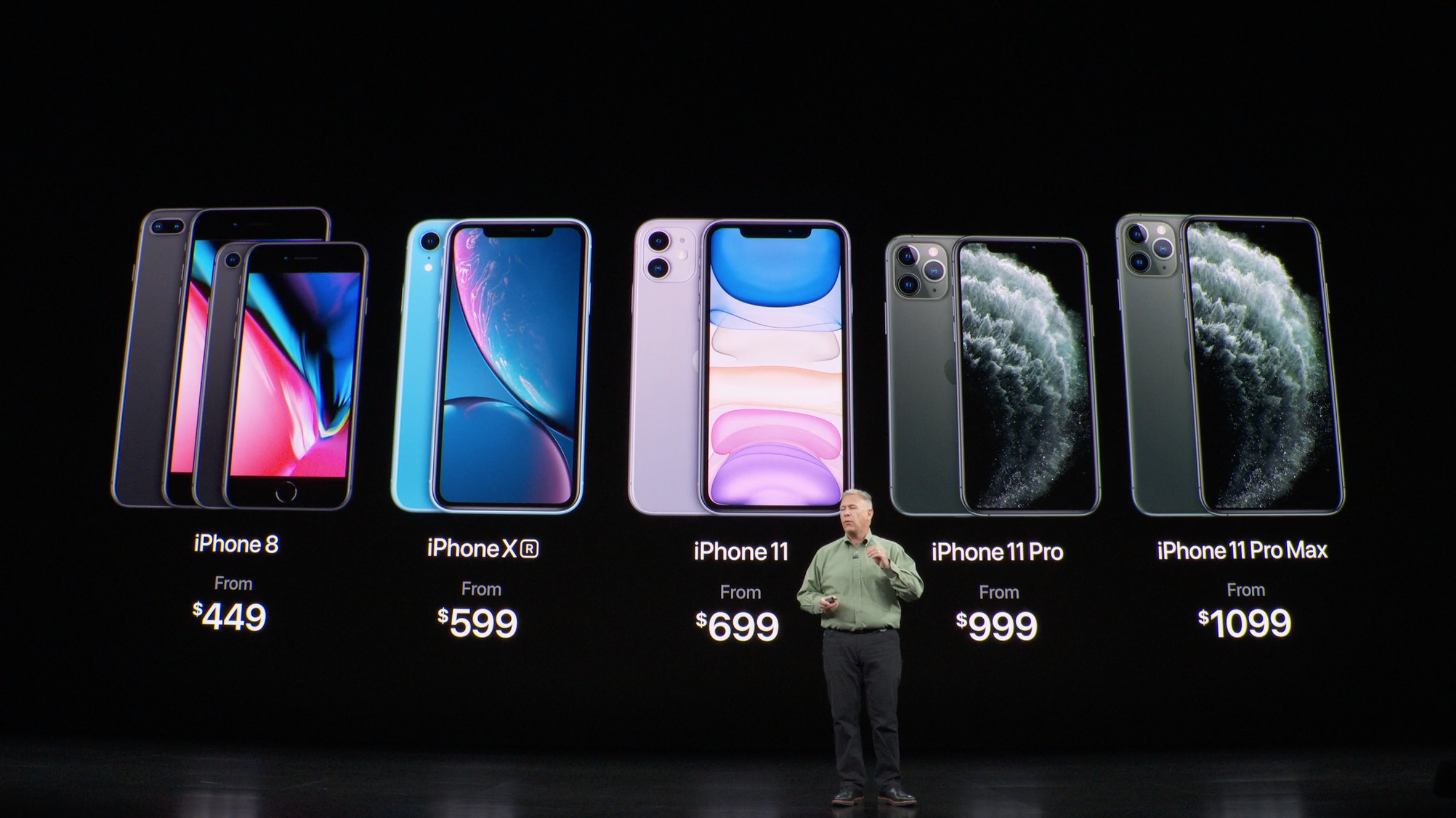 Apple is saying the iPhone 11 Pro is the highest-performing design yet. It comes with a bevy of upgrades including an OLED panel, HDR 10, stronger glass, and better water resistance. It's 15% more energy-efficient and its display is being called the Super Retina XDR. It has an A13 bionic chip.
The iPhone Pro has a battery that will last at least four hours longer and comes with a fast charge.
The camera on the iPhone Pro has a new wide camera, a new telephoto camera, and a new ultrawide camera. The phone's image signal process will allow all kinds of new photo options, including a 4x optical zoom range. Also, after a software update this fall, the iPhone Pro will support something called "Deep Fusion," which uses a neural engine to shoot nine images, analyze them, and then optimize pixel-by-pixel for detail and low noise.
The phone also shoots 4K and 60 frames-per-second video. iOS 13 has more video editing options built into the Photos app.
Pricing for the iPhone 11 Pro starts at $999, and the iPhone 11 Pro Max starts at $1,099. They are available for preorder on Friday.
New iPhone, new colors.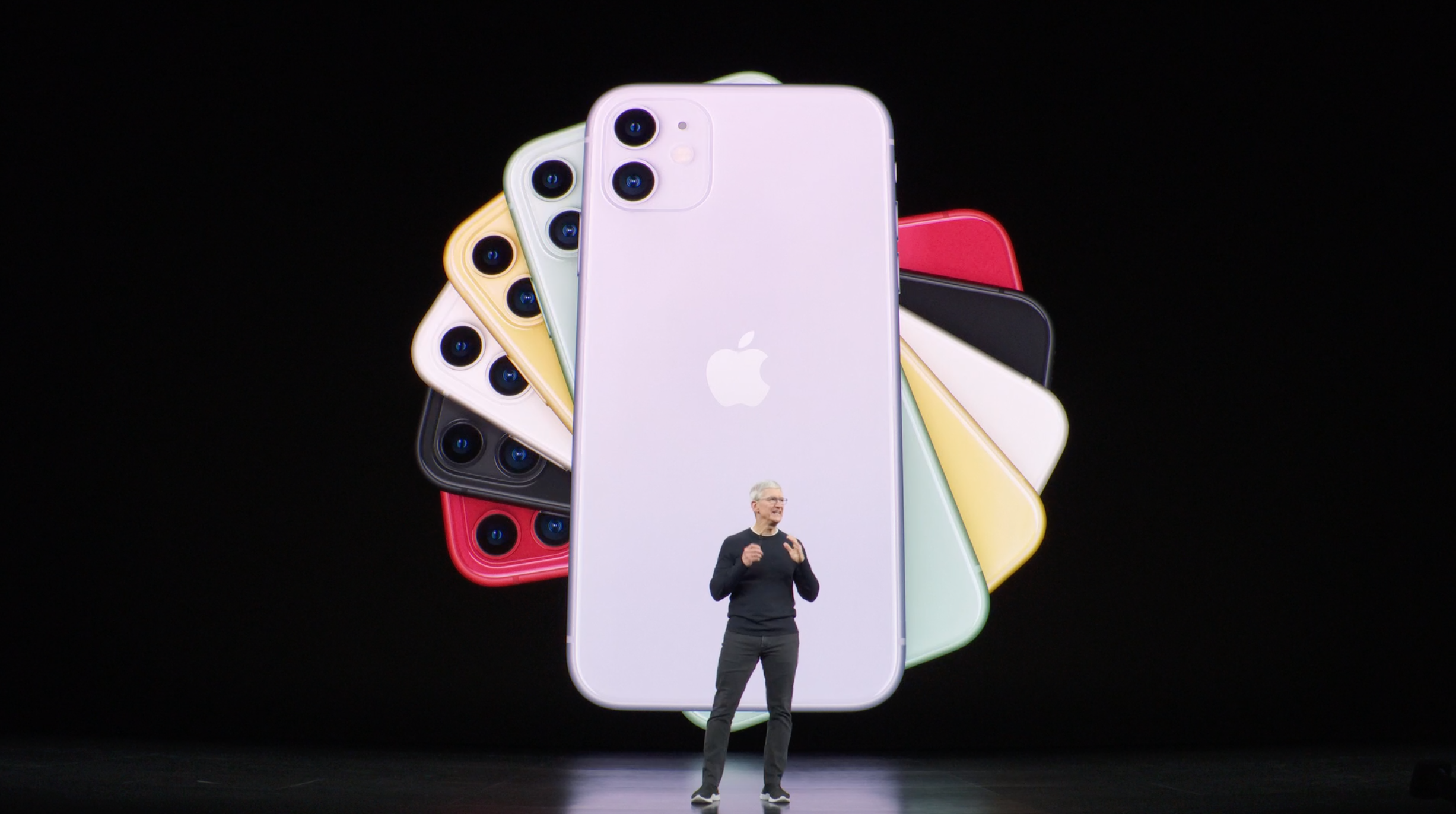 The Phone 11 is Apple's successor to the iPhone XR. It has a faster A13 Bionic processor, which Apple claims is the fastest graphics processor in a mobile phone, and a dual camera system. The iPhone 11 starts at $699.
Read more about the new iPhone here.
The new Apple Watch Series 5 has an "always-on display" so you can check the time while you're in the middle of a plank.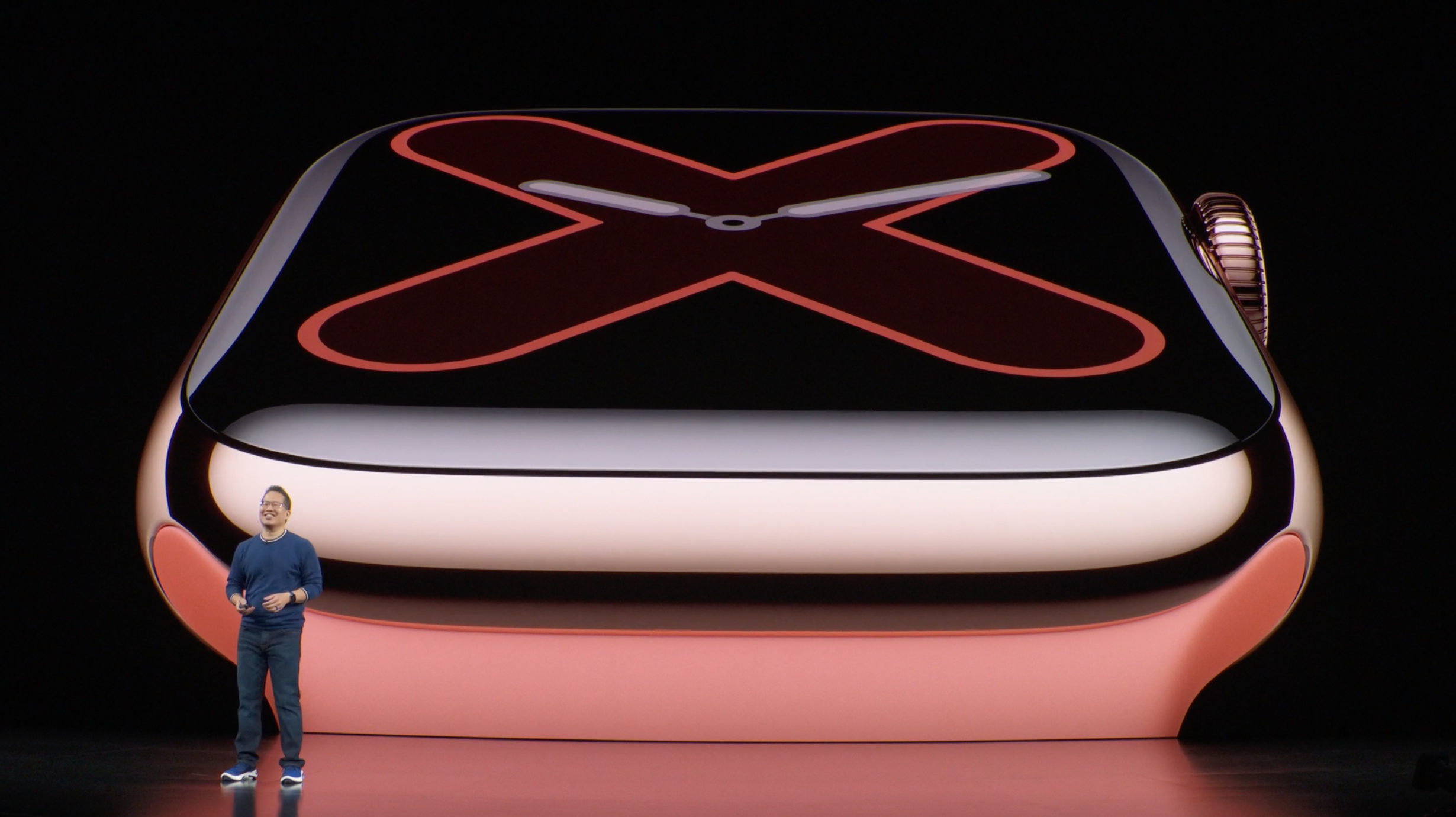 The new smartwatch, which can be ordered today and ships Sept. 20, starts at $399. It has an always-on display that turns up its brightness when the watch is raised.
Other new features include a built-in compass (sexy!) and international emergency calling for cellular models. There's a new ~titanium~ model that comes in a silver and black color.
The new iPad is 10.2 inches and starts at $329.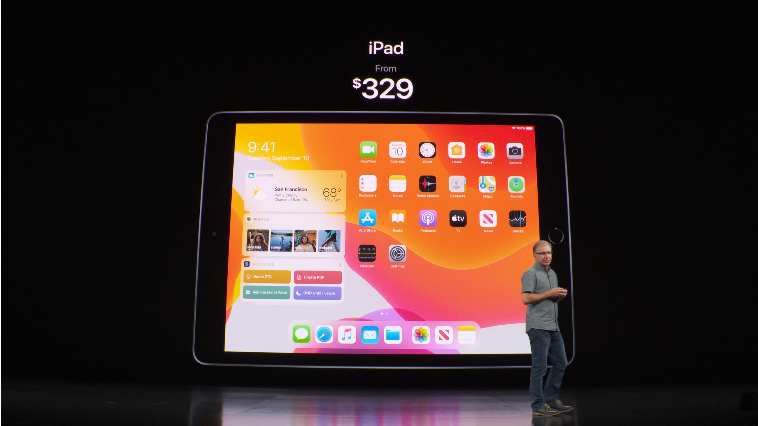 The new seventh-generation iPad will have a 10.2-inch retina display. It comes with an A10 fusion chip. And for the very first time, it will come with a smart connector that supports a keyboard.
The new iPad will also run on iPadOS, which supports multitasking. The device also has a floating keyboard and the ability to swipe between spaces and apps.
It supports SD cards, thumb drives, and the Apple pencil. It weighs about a pound and its enclosure is made from 100% recycled aluminum. Available for order today, it starts at $329, and it ships at the end of the month.
Apple TV+, Apple's new service for original movies and music, is coming Nov. 1.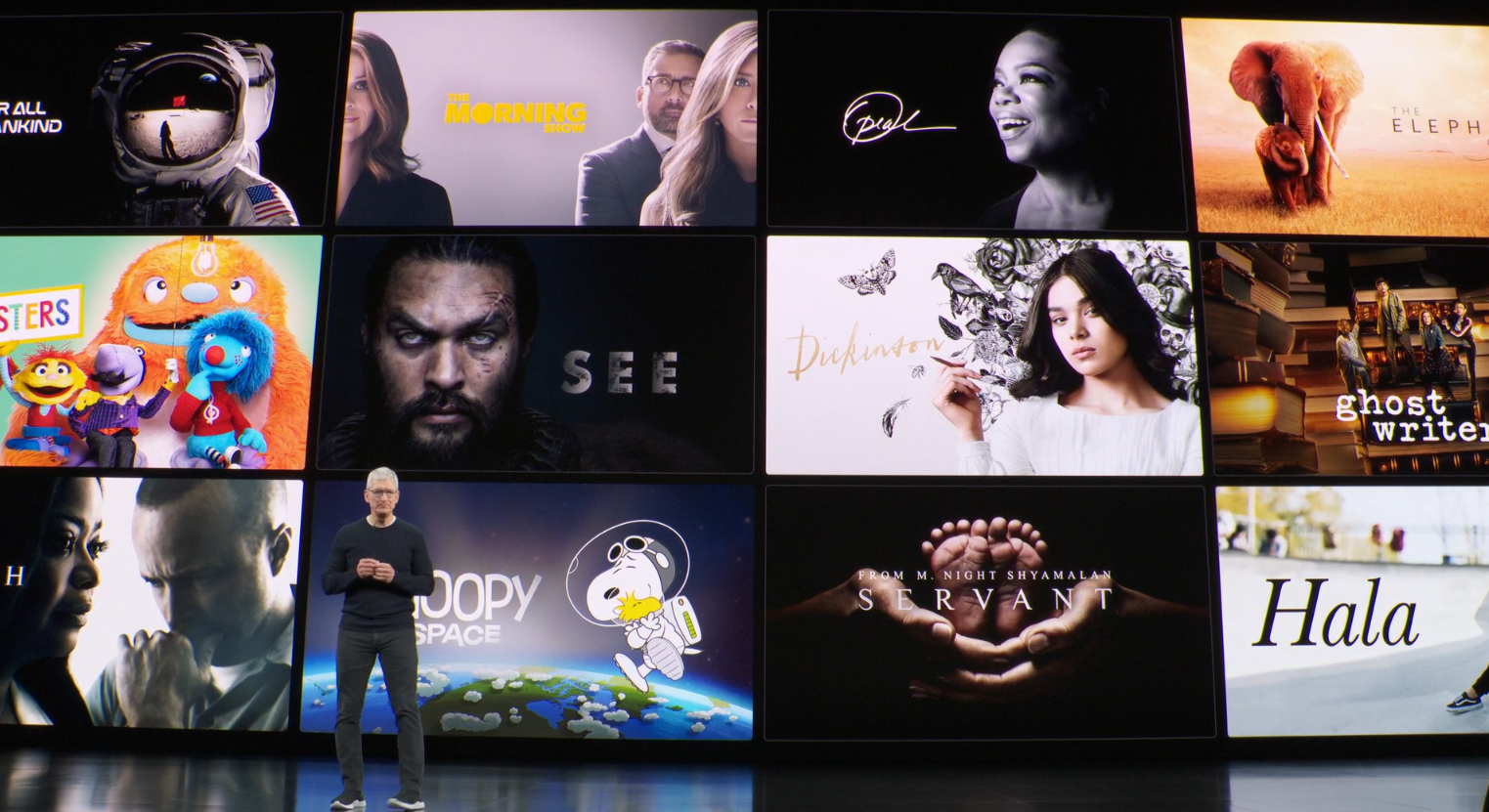 Apple TV+ will include Apple originals featuring stars like Jennifer Aniston, Reese Witherspoon, Steve Carell, Jason Momoa, and more. It will cost $4.99 a month for a family plan — substantially lower than a monthly Netflix subscription — and you'll get a free year each time you buy a new iPhone, iPad, or a Mac.
Apple CEO Tim Cook said that the service will launch Nov. 1 in over 100 countries with a limited number of shows, and more will be added each month.
Correction Steve Carell's name was misspelled in an earlier version of this post.
Apple Arcade, a subscription service for games, is launching on the App Store for $4.99 per month.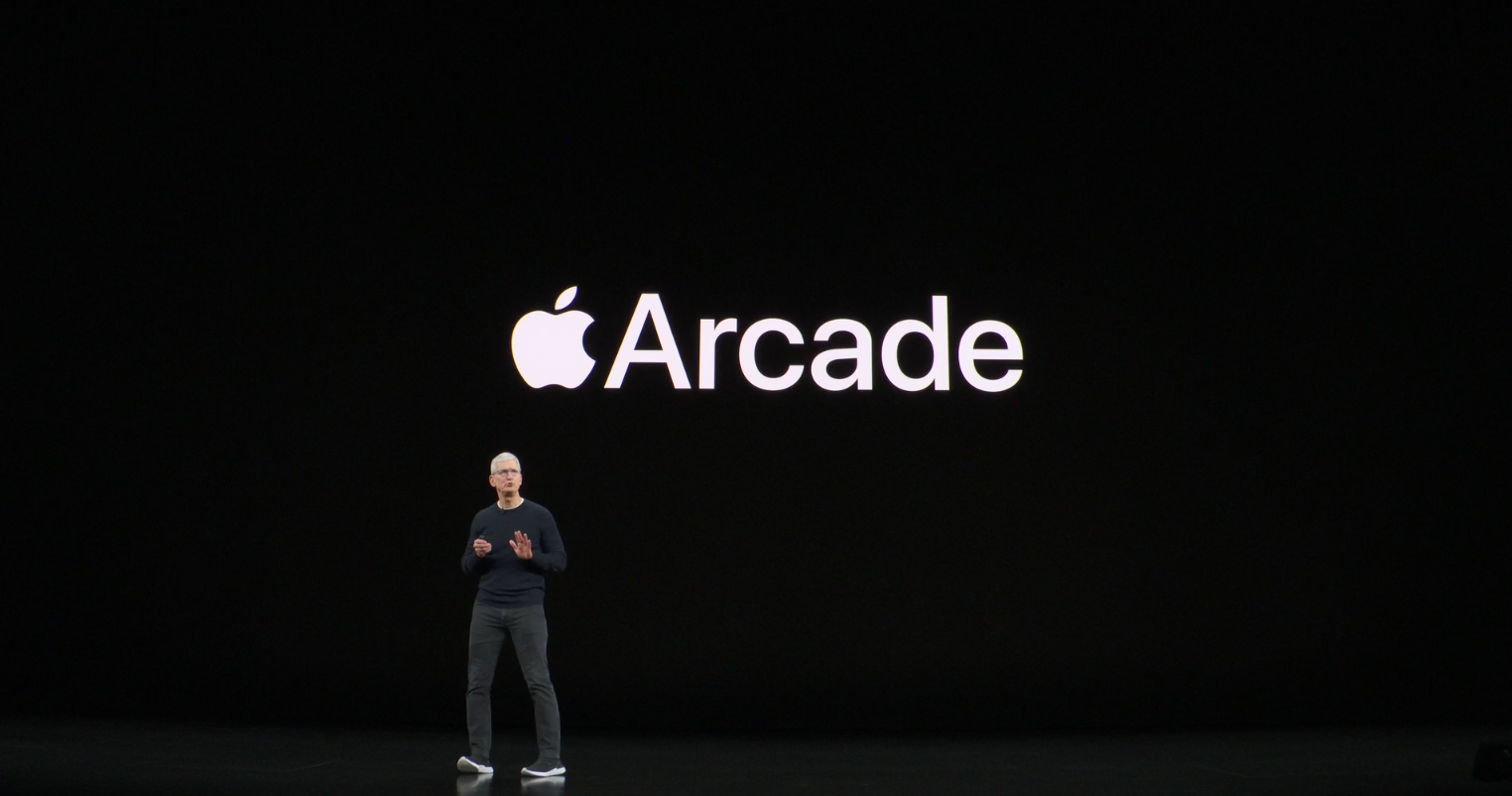 Apple is hoping to get you hooked on the next Candy Crush. The new subscription service, which costs $4.99 per month, is launching Sept. 19 with 100 exclusive games that can be played on the iPhone, Mac, or Apple TV. People can access Apple Arcade through a new tab in the App Store.
Onstage, the company showed off demos of three games: the classic Frogger; Shinseki: Into the Depths, a new game from Capcom, the studio behind Street Fighter and Mega Man; and Sayonara Wild Hearts, a "euphoric music video dream" from Annapurna Interactive.
To start off, Apple is offering users a one-month free trial of Apple Arcade.