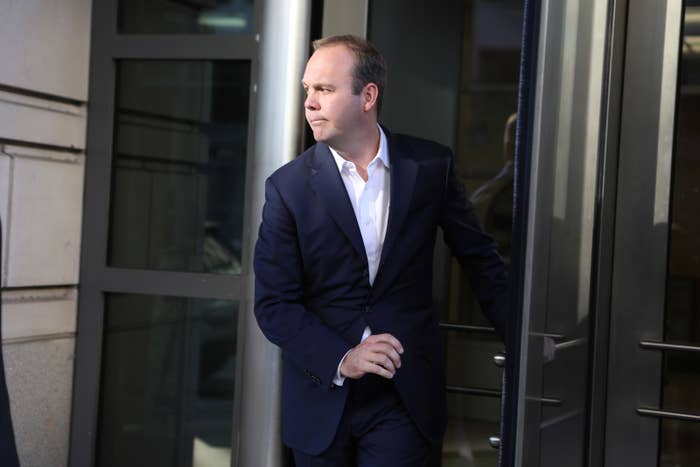 WASHINGTON – The threat of serving hard time for failing to disclose foreign lobbying work is rattling Washington's multi-billion dollar influence industry following Monday's 12-count indictment against Donald Trump's former campaign chairman Paul Manafort and his deputy, Rick Gates.
And although the charges have largely been seen as a blow to the White House, Monday's actions by special prosecutor Robert Mueller also sent shivers down the spines of Washington's lobbyists, both Democrats and Repulicans.
"It's a swampy place, and the swampy stink knows no partisan allegiance," said one senior Democratic congressional aide.
Manafort and Gates, who allegedly failed to disclose the full extent of their work on behalf of the pro-Russian Ukrainian Party of Regions, are now being charged under the Foreign Agents Registration Act, a 1930s era law aimed at curbing the influence of pro-German propaganda ahead of World War II.
In the last half century, the Justice Department has brought only a handful of enforcement actions against lobbyists for violations of FARA. That lack of prosecution resulted in a proliferation of under-the-radar lobbying. Now Washington's cottage industry of consultants and public affairs specialists are nervously wondering if that era is coming to an end.
"The indictment of Manafort is sending shockwaves through K Street and the FARA Unit at the Department of Justice," said Craig Holman, a government affairs lobbyist at Public Citizen, a group that supports government transparency. "The Justice Department largely neglected its role in the administration of FARA, which emboldened many lobbyists to ignore the law and opt to register under the weaker disclosure regime of the Lobbying Disclosure Act, if at all."
Brett Kappel, an attorney at Akerman who specializes in lobbying compliance, said lobbying firms are re-examining how they vet the money they take from nonprofit organizations that may be acting on behalf of a foreign government.
The Manafort charges "absolutely" change the risk calculus, Kappel said. "I would expect that lobbyists who aren't already doing so to require written assurances from any potential nonprofit client whose mission includes improving relations with a specific country that the nonprofit does not receive any funding, directly or indirectly, from that country or from any foreign national from that country."
Monday's indictment cites two lobbying firms hired by Manafort and Gates to lobby on behalf of a Ukrainian party. Though it only refers to the firms as "Company A" and "Company B," news outlets have identified them as Mercury Public Affairs, a Republican-leaning firm, and the Podesta Group, a Democratic lobbying powerhouse run by Tony Podesta, the brother of Hillary Clinton's campaign chairman, John Podesta.
The indictment says the two firms received more than $2 million through offshore accounts linked to Manafort and Gates for former Ukrainian President Viktor Yanukovych.
"At the direction of Manafort and Gates, Company A and Company B engaged in extensive lobbying," the indictment charges. "They lobbied multiple members of Congress and their staffs about Ukraine sanctions, the validity of Ukraine elections, and the propriety of Yanukovych's imprisoning his presidential rival."
On Monday, Tony Podesta resigned from his firm and relinquished control of the company to CEO Kimberley Fritts, Politico reported.
It's unclear if a similar shakeup will occur at Mercury. A senior lobbyist at the firm did not respond to a request for comment. Michael McKeon, a partner at the firm, told Reuters that "Mercury takes its obligations to follow all laws, rules and regulations very seriously. Mercury has and will continue to fully cooperate with the Office of the Special Counsel in its investigation."
Earlier this summer, Mercury came under criticism for submitting unusually vague FARA filings to the Justice Department for work related to Eastern Europe that critics said, at the very least, violated the spirit of FARA.
One outcome of Mueller's charges could be better compliance by Washington lobbying firms on FARA issues, said the Democratic congressional aide. "The irony is that Trump may inadvertently help drain the swamp," the aide said. "I hope it strikes fear into folks because this has become absurd, and it's an equal opportunity problem in terms of political parties."
But some legal experts cautioned that while some of Manafort's alleged crimes are fairly commonplace in Washington, others are not.
Manafort and Gates are facing two charges under FARA: First, that they acted as agents for Ukrainian political interests without registering with the Justice Department; and, second, that when they did file statements under FARA in 2016 and 2017, they submitted false information about the extent of their work. Manafort and Gates pleaded not guilty on Monday to all charges.
FARA prosecutions are rare, a fact that Manafort's lawyer, Kevin Downing, pointed out when he spoke to reporters outside the federal courthouse in Washington, DC, after Monday's arraignment. Downing claimed the government was using a "novel theory" to prosecute Manafort, and noted that similar charges under the registration law had been brought in only a handful of cases since the 1960s.
But Steve Vladeck, a professor at University of Texas School of Law who has written about FARA, said that although Downing is correct that there have been few FARA prosecutions, Manafort and Gates' case is also unusual in a few respects. Vladeck said the Justice Department historically has given individuals who failed to register an opportunity to do so without facing charges. What's different here, he said, is that Manafort and Gates allegedly provided false information to the Justice Department, which made things worse.
"It's almost unheard of for the government to bring a pure failure-to-file case. And most folks, understandably, when curing a failure-to-file don't commit another felony," Vladeck said.
Any defense that Manafort and Gates' lawyers may present to try to counter the FARA charges already took a hit earlier this month, according to a court opinion that was partially unsealed on Monday. On Oct. 2, a federal judge in Washington ordered an attorney for Manafort — the lawyer's name is redacted — to testify before the grand jury convened by the special counsel's office about the FARA submissions. US District Chief Judge Beryl Howell found that there was an exception to the privilege that would normally protect a lawyer's communications with a client because criminal activity was involved.
The evidence presented by Mueller's team established that Manafort and Gates "likely violated federal law by making, or conspiring to make, materially false statements and misleading omissions in their FARA submissions," the judge wrote.
Manafort and Gates' case is also unique in that Mueller's team isn't bound by the same structure and hierarchy within the Justice Department that federal prosecutors normally face when they pursue FARA cases. The lawyers on the special counsel team report to Mueller, and Mueller answers solely to Deputy Attorney General Rod Rosenstein, who is supposed to take a hands-off approach to the probe.
A September 2016 report by the Justice Department's inspector general identified a series of problems with how DOJ had handled FARA cases in the past. There was disagreement within the department about what types of cases should be prosecuted, the inspector general's office found, and the FBI felt DOJ attorneys were slow in reviewing FARA cases and reluctant to sign off on criminal charges. The report also found that the FBI and local federal prosecutors reported feeling frustrated at being overruled by attorneys from the National Security Division about cases that they believed were worth pursuing.
Between 1966 and 2015, there were just seven criminal prosecutions under the law. One defendant was convicted at trial, two defendants pleaded guilty, two more pleaded guilty to non-FARA charges, and the final two cases were dismissed.
Even if the Manafort and Gates indictment doesn't directly speak to how the Justice Department generally handles foreign agent registration cases, there are signs that the department has ramped up activity in that area, Daniel Pickard, a partner at the law firm Wiley Rein who advises clients on FARA compliance, told BuzzFeed News in an email.
"There is certainly an increased awareness of FARA and there is a perception among many in Washington that we are in a heightened period of enforcement," Pickard wrote. "Unlike in years past, there are now regular stories in the media regarding FARA-related issues."