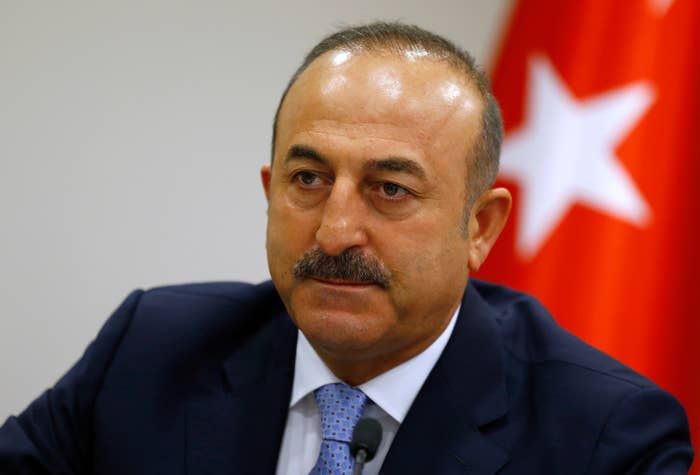 In a conspiratorial rebuke of Western governments, Turkish Foreign Minister Mevlut Cavusoglu accused European intelligence agencies of co-opting members of the Turkish press to undermine President Recep Tayyip Erdogan.

Cavusoglu's remarks came after French and German leaders criticized the detention of European journalists in Turkey at a meeting of NATO leaders in Brussels on Thursday. It is the latest example of plunging relations between Erdogan and Western leaders following last year's failed coup attempt.
"This is the new trend in Europe," Cavusoglu told BuzzFeed News in an interview. "The secret services of those countries are using journalists and also bloggers in Turkey."
He said that when journalists working for European security services are detained by Turkish authorities, the Europeans "make a lot of noise."
"They know when they are journalists, it becomes a big issue," he said.
Cavusoglu said he specifically raised this complaint with Germany, which is contesting the arrest of Deniz Yucel, a German-Turkish journalist who was detained more than 100 days ago and imprisoned without trial.
"I shared this information with Germans that he was working for the Secret Service of Germany," Cavusoglu said.
Yucel was arrested on February 14 on charges of publishing terrorist propaganda and inciting the public to violence. Yucel, a reporter for Die Welt, reported on emails that a left-wing hacker collective apparently obtained from the email account of Berat Albayrak, the son-in-law of Erdogan and Turkey's minister of energy.
The allegations could have dire consequences for press freedoms in Turkey, where journalists critical of the government or linked to opposition movements have been forced from their jobs or tossed into prison.
Aaron Stein, a Turkey expert at the Atlantic Council, said Cavusoglu's claims about Yucel working for Germany's secret service contradicted previous assertions.
"The foreign minister's words are at odds with his country's police," said Stein. "Deniz Yucel, after 14 days of detainment, was formally arrested for terrorist propaganda and provoking the public to hatred and enmity. This seems to be based on the stories he wrote for Die Welt, and not for the reasons Cavusoglu enumerated."
Yucel's arrest has further worsened relations between Germany and Turkey, two NATO allies.
Merkel renewed her call for Yucel's release when she met with Erdogan on Thursday on the sidelines of the NATO summit, government spokesperson Steffen Seibert said in a statement. "In addition, the chancellor again demanded that imprisoned German citizens receive fair treatment," Seibert said.
French President Emmanuel Macron also reportedly raised the issue of a French photojournalist arrested in Turkey in May who was on assignment for National Geographic.
Despite public reports and statements from the Europeans on that disagreement, Cavusoglu denied that any complaints were leveled at Turkey during the NATO gathering.
"At the summit, no such issues [were] mentioned," he said.
A German official pushed back against Cavusoglu's charges, telling BuzzFeed News that it is "incomprehensible Deniz Yücel is still in custody."
"Yücel is a journalist. What he did in Turkey, he did in his capacity as a journalist working for a German daily newspaper," the official said.
The spat between the two countries came as NATO officials desperately sought to project unity as the 28-member alliance faced strains from President Donald Trump's demands that European officials pay their fair share for the costs of protecting Europe.
NATO Deputy Secretary General Rose Gottemoeller downplayed differences between the two NATO allies as a surmountable obstacle.
"Allies speak plainly to each other when they are concerned about matters, that is something that can and will continue," she told BuzzFeed News in an interview at the GLOBSEC forum in Bratislava. "Turkey is a valued ally. But at the same time … individual members will have some differences with Turkey and as an alliance matter we will have differences with Turkey. "
Gottemoeller also put a positive spin on the anxiety between Trump and European officials over burden sharing, saying the NATO leaders partook in a "blunt" and "serious" conversation on Thursday that helped advance the alliance's collective security goals.
Tensions between Turkey and the United States also flared earlier this month after Turkish security guards violently suppressed a group of protesters outside the Turkish ambassador's residence in Washington. The actions of the guards was meticulously documented by the New York Times this week, in a report Cavusoglu dismissed.
"I saw [the report in the] New York Times," Cavusoglu said. "I know why they are doing this."
"They have been attacking Turkey and Erdogan for two years and we know who is behind this," he said. He charged that Fethullah Gulen, a Pennsylvania-based cleric that Turkey has accused of planning last year's coup, and his "terrorist" acolytes are "sponsoring this kind of anti-Turkey and anti-Erdogan coverage."