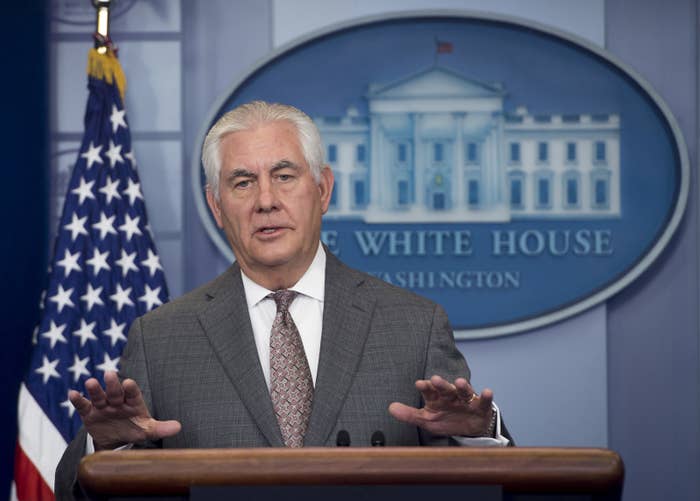 The senior US official in charge of leading the Trump administration's ambitious overhaul of the State Department is out of a job after three months in the position, a State Department spokesman confirmed to BuzzFeed News.
The departure of Maliz Beams, who entered the Trump administration in August boasting a resumé of private sector experience, removes a key leader of a "redesign" effort that Secretary of State Rex TIllerson has identified as a chief priority of his tenure.
"Maliz Beams is stepping away from her role here at the Department of State and is returning to her home in Boston," a State Department spokesman told BuzzFeed News. "Effective immediately, Christine Ciccone will step in to lead the redesign effort and manage its daily activities."
The relationship between Beams and Tillerson was strained by strong differences over the redesign plan itself and the parameters for implementing it, according to individuals familiar with the matter.
Some experts said the exit of Beams, who was the CEO of VOYA, the largest publicly traded retirement company, marks another major setback for the State Department's seventh floor, which doesn't have a successor with comparable executive or diplomatic experience.
"Beams' departure is disappointing because she did at least have private sector experience in redesigning major organizations," said Thomas Hill, a scholar at the Brookings Institution and a former Republican staffer on the House Foreign Affairs Committee. "Now she's being replaced by someone with very little experience with agency reform or the State Department."
Tillerson's overhaul effort has often resembled a game of musical chairs, with new senior officials stepping in to lead the effort from one month to the next. An early leader of the overhaul was William Inglee, a former Lockheed Martin executive, who quickly moved on. Then came Deputy Secretary of State John Sullivan, who was confirmed by Congress in May but stopped leading the effort after a listening tour involving 300 interviews of diplomats and civil servants. Then Beams stepped in to begin distilling the various ideas and recommendations of the overhaul into a workable concept, but in her three-month tenure, she never finished the job — a responsibility that now shifts to Ciccone. Another cook in the kitchen has been Brian Hook, the director of Policy Planning, who has inserted himself into the overhaul process at different times over the last several months.
"It's hard to keep track of who's actually leading this effort from one week to the next," said Hill.
In acknowledging the State Department's need for senior leaders who can help implement Tillerson's redesign plan, the State Department spokesman said Tillerson "will be making a request of Congress to expedite the approval of the administration's nominees for both undersecretary for management and legal adviser."
Those two positions, which have yet to be confirmed, traditionally play a key role in determining how personnel should be utilized and whether major changes to the department require congressional action.
"Congress is an important partner in our efforts, and it would be beneficial to have the undersecretary and legal adviser confirmed so that they can contribute to important projects like the redesign," the spokesman said.
In September, Tillerson identified the overhaul as historically important in a meeting with US Embassy staff in London. "If I accomplish that, that will go on forever, and you will create the State Department of the future," Tillerson said.
Congressional leaders, who will likely have a pivotal role in approving or rejecting key elements of the overhaul, have expressed disappointment in the effort during preliminary briefings.
"I don't think they're anywhere close to having a plan to present relative to the reforms that they want to make there," Bob Corker, the top Republican on the Senate Foreign Relations Committee, said earlier this month.

The details of the redesign that have leaked so far have included fairly conventional ideas that have been circulating in Foggy Bottom for years, such as longer tours for diplomats and modernizing the IT department.
Beams did not respond to a request for comment.