As the Trump administration widens its crackdown on unauthorized leaks to the press, Secretary of State Rex Tillerson has promoted a diplomat who provided classified information to an influential pro-Israel lobbying organization that resulted in espionage charges.

David Satterfield, a long time Middle East hand with extensive experience in the region, has been named acting assistant secretary of state for Near Eastern Affairs, a State Department official told BuzzFeed News.
In 2005, federal prosecutors said Satterfield provided classified national security secrets to a top lobbyist for the American Israel Public Affairs Committee, a powerful special interest group known simply as AIPAC. The accusation was included in an indictment that charged two former AIPAC employees, Steven Rosen and Keith Weissman, and a former Pentagon official, Lawrence Franklin, under the Espionage Act with illegally trafficking in classified information.
Satterfield avoided prosecution in the case after top State Department officials argued to the FBI that Satterfield had acted within his authority in sharing the information.
Franklin pleaded guilty to espionage-related charges in 2006, and prosecutors dropped the case against Rosen and Weissman in 2009.
In the 2005 indictment, prosecutors said an unnamed US government official provided Rosen with classified information during two meetings. The New York Times and other news outlets later identified Satterfield as the unnamed official listed as "USGO-2" who passed on information about Iran, al-Qaeda, and US-Israel intelligence sharing. Rosen then allegedly passed some of that information to an Israeli official.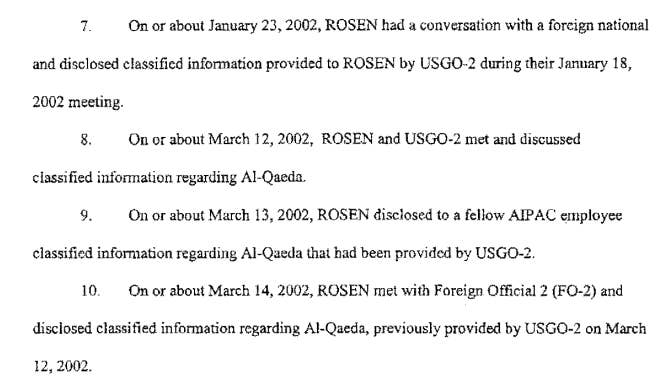 When asked about Satterfield's role in the incident, a State Department official said "we are not going to comment on any claims related to intelligence matters."

The decision to elevate Satterfield to the highest diplomatic position for the Middle East comes as critics charge that the Trump administration's campaign against leakers is motivated by concerns about politics rather than national security. Earlier this month, Attorney General Jeff Sessions said the number of criminal leak investigations had tripled in the initial months of the Trump administration.
"This is another indication that President Trump isn't so much concerned about hypothetical national security damage from leaks, as much as he is preoccupied with stifling journalism that is critical of his administration," said Trevor Timm, executive director of the Freedom of the Press Foundation, a group that advocates for press freedoms.
Others said the move revealed an untoward coziness with a pro-Israel lobbying organization known for advancing hardline policies that aren't always in step with US interests.
"Satterfield's appointment is a symptom of Washington's permissiveness to foreign government influence when the foreign government is a purported ally," said Robert Naiman, policy director at Just Foreign Policy, a pro-diplomacy advocacy group.
The case against the AIPAC officials remains controversial as it touched on the role of pro-Israel advocates and their close involvement with senior government officials in the crafting of US policy in the Middle East. It was also unusual for being the first prosecution under the espionage law in which the defendants were not government officials but private citizens who obtained classified information from conversations with officials. At the time, lobbyists and think tankers feared the case could criminalize the exchange of sensitive national security information.
Advocates of Satterfield note that he was never charged in the incident and that interacting with AIPAC officials was a normal part of being a diplomat given the lobby's outsize influence in shaping US policy. They also say his views were not always in lockstep with the organization's.
"I wouldn't describe him as an ardent Israel booster but I'd say he certainly believes it's in American national interest to be a friend with Israel," Rosen told BuzzFeed News in an interview.
A former State Department official said Satterfield maintains a good reputation in Foggy Bottom as a very knowledgeable, articulate, and experienced diplomat who worked in tough conditions in the Middle East with a high level of professionalism.

US officials declined to say why Satterfield was never charged at the time. But Richard Armitage, who was deputy secretary of state at the time, told BuzzFeed News on Wednesday that he and another senior State Department official, Bill Burns, defended Satterfield in conversations with the FBI. "We had a great deal of difficulty trying to explain to the FBI that David was a classifying authority and he could decide what he could give away," Armitage said.
Another casualty of the FBI's five-year investigation of Rosen and Weissman was former California Rep. Jane Harman, who was overheard on a government wiretap discussing the case. Harman reportedly made an agreement with an Israeli intelligence operative to interject with the Bush administration to allow leniency for Rosen and Weissman in exchange for help in convincing top Democrats to give her the chairmanship of the House Intelligence Committee. Harman denied that any such deal was made.

In the end, a series of pretrial rulings created problems for the government, including an appeals court decision that permitted the defense to use "national defense information" at trial and a judge's ruling that the defense could call in a star-studded witness list, including former secretary of state Condoleezza Rice, former national security adviser Stephen Hadley, and several other officials.
Government officials were uncomfortable with the prospect of top officials testifying in open court, and in 2009, prosecutors dropped their case against the two men, saying the government needed to consider the "likelihood that classified information will be revealed at trial" and whether they would prevail at trial.
It wasn't a total defeat for the government. Franklin, the former Pentagon official, pleaded guilty and was sentenced to more than 12 years in prison, although that was later reduced to 10 months of house arrest.
The case proved controversial inside the Justice Department. Some officials doubted the wisdom of bringing charges, saying Rosen and Weissman acted imprudently but not illegally. Some FBI officials argued that there was enough evidence to convince a jury to find Rosen and Weissman guilty. The top official at the FBI's Washington office, Joseph Persichini, said he was "disappointed" in the decision to drop the charges and commended the work of FBI agents.
CORRECTION
Lawrence Franklin's name was misspelled in a previous version of this post.