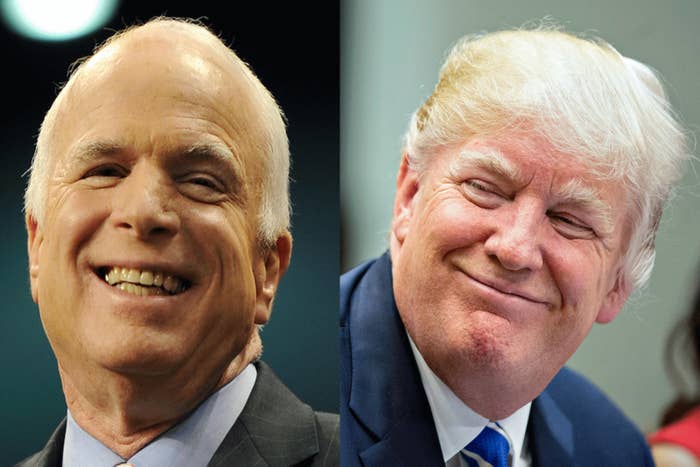 John McCain entered the Senate on Tuesday with a skip in his step as reporters asked him the question every senator hopes to hear: How was your dinner last night with the president?
"The food was terrible," McCain joked. The Arizona Republican then gave a resounding defense of Trump's foreign policy — a set of policies he said were bringing about a "disgraceful chapter in American history" just three weeks ago.
"From a national security standpoint, I'm very pleased with the team he's assembled. I'm glad he launched cruise missile strikes [in Syria] and I'm glad we have a radical departure from the failed last eight years," he said before entering an elevator to the Senate chamber.
McCain's dramatic reversal on Trump's foreign policy leadership isn't merely a result of his first dinner with the president on Monday night, which included his wife, Cindy McCain, and congressional sidekick, Lindsey Graham.
In recent days, McCain has taken delight in the Trump administration's threatening new rhetoric toward Iran and North Korea, renewed support for sanctions against Russia, about-face on NATO, and cruise missile strikes against a government air base in Syria. McCain has also enjoyed extensive access to two of Trump's top foreign policy advisers, Defense Secretary James Mattis and National Security Adviser H.R. McMaster, two important influencers of US policy he has known for decades. "I talk to them all the time," McCain told BuzzFeed News during a brief exchange at the Capitol.
But another recent development may give McCain more encouragement than any single policy decision or one-off missile strike: The White House is now considering two former McCain aides for important positions in the State Department and Pentagon.
Tom Goffus, who worked for McCain on the Senate Armed Services Committee since January 2015, is expected to be named deputy assistant secretary of defense for Europe and NATO policy, two congressional aides told BuzzFeed News. At the State Department, Kurt Volker, the executive director of the McCain Institute at Arizona State University and a former legislative fellow for McCain, could land one of two positions in Foggy Bottom. Volker is being considered closely for assistant secretary of state for European and Eurasian affairs, a Trump administration official confirmed to BuzzFeed News. The official cautioned that others are also in contention for the position. Another possibility, though less likely, is that Volker could land the job of under secretary of state for political affairs — the No. 3 position at the State Department.
McCain acknowledged the rising star of his two former aides with a pinch of sarcasm.
"It just shows how little talent there is remaining that they have to scrape the bottom of the barrel and take these guys that used to work for me," McCain joked.
The hiring of either man would give McCain even more access to the national security decisions he's responsible for overseeing as chairman of the Senate Armed Services Committee — a remarkable development for a senator whose pariah status in the Trump administration seemed all but assured after countless bitter battles with the president over Twitter and television.
The dinner date on Monday came almost two years after Trump famously belittled McCain's experience as a prisoner of war — a defining moment of Trump's primary campaign that seemed to seal the fate of their relationship
"He's not a war hero," Trump said at a 2015 campaign event in Iowa. "He was a war hero because he was captured. I like people who weren't captured."
Ever since that remark, McCain has barely contained his disgust for Trump's nationalist agenda that denounced needless foreign wars, vowed to rip up multilateral free trade deals and proposed closer relations with Russia.
McCain chose a write-in candidate for the 2016 general election despite pledging to support the party's nominee.
Since the election, McCain has opposed Trump's temporary refugee ban, criticized a raid involving Navy SEALs in Yemen and blasted the president's appeals for better relations with Moscow.
In return, Trump has shot back, accusing McCain of "looking to start WWIII" with Russia, emboldening terrorists and "losing so long he doesn't know how to win anymore."
But relations between the men have markedly improved since the ouster of former National Security Adviser Michael Flynn in February and the removal of Trump's chief strategist Stephen Bannon from the principals committee earlier this month. Both men had echoed Trump's calls for closer relations with Russia an idea that's anathema to McCain. Meanwhile, the hiring of McMaster, who McCain said he's known "for 20 years," has also improved the senator's outlook on the administration.
That sentiment is only likely to increase with the potential nomination of McCain's former aides who the senator called "outstanding individuals."
On various issues, the two will undoubtedly continue to clash as they nearly did on Wednesday night when Trump hinted that his administration will consider withdrawing from NAFTA if it can't get a better deal. But the mainstreaming of Trump's national security team and McCain's increasingly close ties to it, suggest smoother sailing on the horizon.
McCain particularly liked the idea of his phone calls to the Pentagon being answered more quickly once his acolytes are in office. "That'd be a refreshing change," he said.