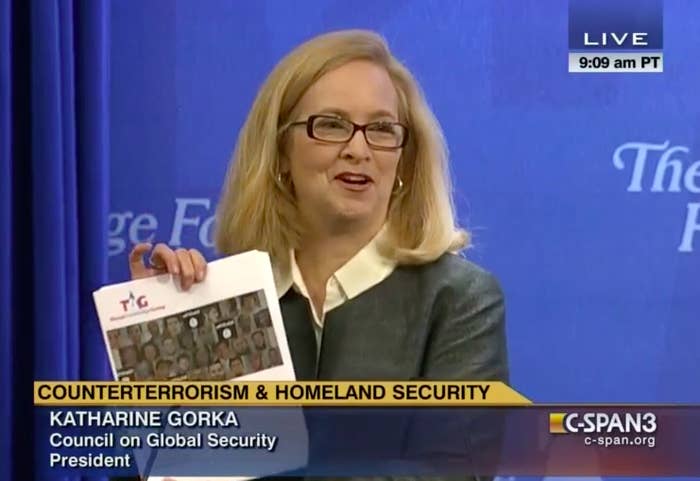 A wide array of progressive groups claimed victory on Friday following the dismissal of White House aide Sebastian Gorka, a staunch critic of Islam whose ties to anti-Semitic groups in Hungary made him the target of a public campaign dedicated to his ouster.

But the most effective advocate of Gorka's brand of hardline policies on Islam is still in the government: Katharine Gorka, his wife and the coauthor of scores of his policy papers. She's staying on in her role as an adviser to the secretary of homeland security, officials tell BuzzFeed News.
Though less high-profile than her husband, who regularly appeared on television to defend the president with his plummy British accent and distinctive half-beard, half-goatee, Katharine arguably has had a bigger impact on US policy.
Unlike Sebastian, whose failure to obtain a permanent security clearance barred him from some policy discussions, Katharine has dived into the weeds, advising top officials at DHS on counterterror policies, drafting the department's reports to Congress on terrorism recruitment, and trying to instill her anti-Islamist philosophy throughout the department.
To her supporters, she is the intellectual forebear of President Donald Trump's promise to call out radical Islam by name and shun political correctness. She is credited with convincing the department to claw back hundreds of thousands of dollars in grants for countering right-wing extremism and prioritizing the role of law enforcement in combating Islamic extremism. Her detractors accuse her of downplaying the threat of white nationalism and alienating Muslim communities who could be partners in US counter-extremism efforts.
"Katie is much more dangerous than Sebastian," said Eric Rosand, a former senior State Department official responsible for programs on Countering Violent Extremism, or CVE. "She played a significant role in denying CVE grant funding to groups that work to de-radicalize neo-Nazis and other far right extremists and Muslim-American groups that work to build resilience against violent extremism, but without the involvement of the police."
The grants in question include $400,000 to Life After Hate, a group that focuses on neo-Nazis, and $393,800 to the Muslim Public Affairs Council, a Muslim-American advocacy group involved in community-based violence prevention. (On Monday, the Muslim Public Affairs Council called on the government to release documents of internal deliberations on the decision to cancel the grant in a Freedom of Information Act request.)
Funding to those groups was part of a $10 million appropriation by Congress from December 2015 for countering violent extremism. The Obama administration had already announced the recipients of the grants, but in January, then-DHS Secretary John Kelly halted the disbursement of funds and ordered a review of the programs. Following the review, DHS terminated the grants for Life After Hate and the Muslim Public Affairs Council while awarding grants to 26 other organizations and police departments around the country.
The decision to revoke the grant came under fire earlier this month after a white supremacist rally in Charlottesville led to three deaths and 19 injuries.
Officially, the grants were rescinded because they did not meet Kelly's new three-point criteria, which emphasized support for law enforcement, sustainability and demonstrated effectiveness. But a second former US official familiar with the process said Gorka "definitely played a role in killing the grant to Life After Hate and MPAC."
A third former official cautioned that other Trump political appointees also may have played a role, including John Barsa, the acting assistant secretary of DHS's Office of Partnership and Engagement; Rev. Jamie Johnson, director of the Center for Faith-Based and Neighborhood Partnerships; Tom DiNanno, an assistant administrator involved in grant programs; and Frank Wuco, a former conservative radio host who now advises on homeland security issues.
Together, those political appointees have created a culture clash at DHS as career officials grapple with a new team of terror-prevention colleagues who harbor a distinctly darker view of Islam.
The infighting adds a new layer to the ongoing debate over the government's role in CVE. During the Obama administration, critics on the left said the government had no business running terror-prevention programs that disproportionately targeted Muslims. Critics on the right often viewed CVE as a waste of money that often amounted to anti-poverty programs masquerading as terrorism-prevention.
While those views are still held by many, the Trump era has ushered in a new class of "counter-jihadists" who see Islam as a unique threat to Western civilization, and view programs like CVE as hopelessly politically correct and lacking a tougher law enforcement component.
"Why are we not shutting down the radical mosques?" Katharine Gorka said in a 2015 interview about radicalization in the United States. Her husband shares a similar disdain for current counter-extremism programs.
"I predict with absolute certitude, the jettisoning of concepts such as CVE," Sebastian Gorka said in November, a day after Trump won the election.
In response to this array of competing opinions, the Trump administration is considering a middle road: Scrapping the name "CVE" and rebranding it as simply "Terrorism Prevention." The change would provide a small victory for anti-PC critics who loathed the term CVE while refraining from explicitly mentioning Islam in the program title — a move opposed by experts inside and outside the administration. The name change would be administration-wide — applying also to the State Department's CVE programs.
Defenders of Katharine Gorka inside DHS argue that the Trump administration's changes to CVE have been modest, and accusations that she only cares about Islamic extremism are overstated. "Katie's been helping us advance an all-forms-of-extremism approach," said a DHS official. He emphasized that of the 26 organizations that received funding, many do not solely focus on Islam so any claims that she's transformed the department in this regard are divorced from reality. "I'd push back against the argument that she's pushing the department toward an Islamist-only approach to terrorism," he said.
What current and former officials are all in agreement about is that the Gorkas came into public office with a determination to increase the government's focus on Islam and sow doubt about mainstream scholarship on radicalization.
The Gorkas, who met in Romania in 1994 during a symposium for young leaders, have coauthored numerous articles on terrorism — a subject they took an interest in professionally after the attacks of Sept. 11, 2001.
"Our pillow talk is the Islamic State and al-Qaeda," Gorka told an audience during a talk about his book last November.
Sebastian, who earned a PhD in political science at Corvinus University in Budapest, entered the Trump administration through his connections with ousted White House strategist Stephen Bannon, who employed him as an editor at Breitbart. Upon entering the administration, Sebastian came under almost immediate attack as mainstream counterterrorism experts questioned his qualifications and latched onto his past statements calling the acceptance of Muslim refugees "national suicide." Reports that he belonged to the Historical Vitézi Rend, a far-right Hungarian group that had ties to the Nazi party, also caused a PR headache. He vigorously denied belonging to the group or that he held anti-Semitic beliefs.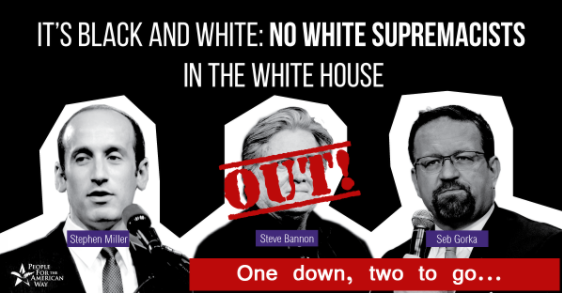 His failure to obtain a permanent security clearance, frequent TV appearances, and insistence that "Dr." be included in his title, fueled accusations that he overstated his influence.
"Sebastian was essentially just a talking head with lots of bluster, but little to no influence on actual counterterrorism or CVE policymaking," said Rosand.
In contrast to her husband, Katharine has been described by colleagues as professional and courteous and lacking in the bravado and theatrics that typify her husband's television persona. But ideologically, the two are on the same page.
"They've been working together as a research team for many years," said James Carafano, a vice president at the conservative Heritage Foundation who has known the Gorkas for more than 15 years.
"They're kind of like Kim and Fred Kagan," he said, referring to a well-known neoconservative power couple. "One brain and two bodies."
The grant issue isn't the only area where Gorka has had an impact, according to former officials. She has also been linked to the departure of career DHS officials who wanted the department to engage with a broader group of Muslim-American communities she viewed as too extreme.
"Her CVE 'worldview' was so at odds with George Selim, the head of the CVE task force, that it led to his resignation over the summer," said Rosand.
Selim, when contacted, declined to attribute his departure earlier this month to any one person or issue.
"It was time for me to leave, and I'm thrilled and excited to continue part of my mission at DHS at an amazing new platform at the Anti-Defamation League," he told BuzzFeed News. Selim joined the anti–hate speech group this month as a senior vice president in charge of law enforcement and community security issues.
In previous interviews about his departure from DHS, he expressed frustration that "there were clearly political appointees in this administration who didn't see the value of community partnerships with American Muslims."
Despite Katharine's ability to influence policy, it's unclear if she'll maintain the same sway following her husband's unceremonious ouster from the White House. One former DHS official said the knowledge that she had an ally in the West Wing gave her significant clout within DHS — something she clearly wouldn't enjoy with his departure.
When asked if there were any plan or expectation for she, too, to leave following her husband's ouster, Homeland Security Press Secretary David Lapan said, "there is not."
Moving forward, CVE experts say Katharine is currently working on the drafting of a DHS report to Congress on what the department is doing to counter the exploitation of the internet and social media as a recruitment tool for terrorists. An individual familiar with the process said Katharine "keeps putting in references to the internet being something millennials use." A DHS official acknowledged Gorka's input on the report but said it's only in an early draft form and is subject to change.
Sebastian, meanwhile, is returning to Breitbart where he compared his new life to that of a Jedi Master. "It's like the last scene from Star Wars," he said in a recent interview. "Do you remember what Obi-Wan Kenobi said to Darth [Vader]? 'If you strike me down, I will be more powerful than you can ever imagine.' The left thinks they're winning. They have no idea what's coming around the corner."