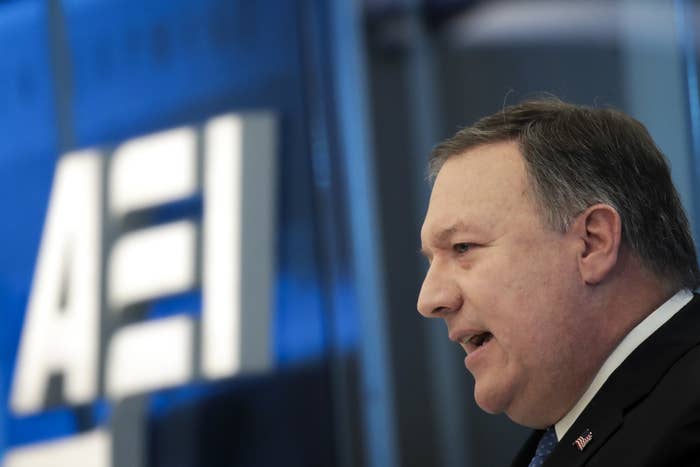 For all of Donald Trump's suspicion of Washington's entrenched bureaucracies, the president's CIA director appears to be quite comfortable with the career spies and analysts who serve him in Langley, Virginia.
On Tuesday, the first anniversary of his ascent to the top of the nation's premier spy agency, Mike Pompeo said he has delegated authority to lower-ranking career officials to such an extent that 40% of the decisions that used to be made by his predecessors are "no longer made by me."
"Bureaucracies just simply slow stuff down," Pompeo told an audience at the American Enterprise Institute, a conservative think tank in Washington. "You might say, 'wow, that's reckless.' I would tell you it's reckless to do it the other way."
Pompeo said the change is designed to create a more "nimble" CIA that can "steal secrets," disrupt terror plots and "crush our adversary" without the burden of needless red tape.
But for a US administration that popularized the phrase "deep state" — a term describing an alleged conspiracy of unelected civil servants and national security officials who surreptitiously steer US policy — the decision to delegate more authority to career officials is somewhat ironic.
Trump has used the term "deep state" in a handful of tweets since taking office and has repeatedly taken aim at the intelligence community – mistrusting its assessment that Russia interfered in the 2016 election and reviving criticisms of its failed assessment that Iraq had weapons of mass destruction 15 years ago.
"I remember when I was sitting back listening about Iraq, weapons of mass destruction," Trump said in July. "How everybody was 100% sure that Iraq had weapons of mass destruction. Guess what? That led to one big mess."
Trump's skepticism of the "deep state" has alarmed intelligence experts who say a working level of trust between the president and his top spies is crucial. But Pompeo's claim about delegating authority was met with mixed reviews from former spies who say the agency's lack of transparency requires strong accountability from political leaders.
The CIA's "operations are secret, its officers are consistently at the sharp end of the spear, and its actions can mean the difference between life and death," said Ned Price, a former CIA official who also served in Barack Obama's White House. "That's why internal oversight and accountability mechanisms are so important."
"To be sure, its officers have always been empowered, but devolving authority even further in certain key areas could make mistakes – and potentially tragic ones –more likely," he added.
Other former CIA officers, however, said devolving authorities could be beneficial in a White House that frequently calls on Pompeo to personally deliver the president's daily intelligence briefing.
"I think it is a good thing," said Bruce Riedel, a former CIA official and scholar at the Brookings Institution. "The director's top responsibility is interacting with the top consumer, the president, which must take up considerable time. The director should let his lieutenants manage the operations of the agency to provide him the time to work the first customer."
During his remarks, Pompeo said a general set of principles determine what decisions rise to his level.
"If it had significant risk, cost, political, military, risked the lives of officers, that's important for the director to have," he said. "If the director brought a special knowledge to bear, if I had an experience set, or if it needed full input from all of the intelligence community or the broader US government ... then I keep that decision."
"But if it was coming to me just because I was the next fella on the chain of command, then that's a mistake because I would inevitably slow it down and I would not be in a position to add any value to that decision-making process."
Pompeo also offered a different view from media reports that have said the president receives intelligence briefings "impatiently" and becomes upset about claims of Russian interference.
"He finds value," said Pompeo. "We're able to convince him that the facts that we are delivering impact his capacity to inform his mission."
The briefings occur "not daily," but "near daily," said Pompeo, and are scheduled to last a half hour, but often extend to 40 minutes.
Those typically in attendance include Pompeo, National Security Adviser H.R. McMaster, Director of National Intelligence Dan Coats, and a CIA briefer.
Pompeo, mindful that the president had previously expressed disinterest in hearing an intelligence briefing every day, said the CIA offers a mixture of topics during the briefing. He called the preparation for the briefing "elaborate" and said that reading over the materials before he goes to the White House is the first thing he does "nearly every day."
The briefing includes three general divisions, he said.
"Each day we try to do something that is of the moment," Pompeo said. "For instance, today, you can imagine we would have talked about what's happening in Afrin—the Turks moving south into Syria. Then we'll try also to talk about something that is coming up, so for instance preparing the president for his trip to Davos, or a foreign leader who is coming to visit."
The third division, he said, is for "things that won't be in the news tonight" but that "we know he is going to confront in the days or weeks ahead."
He said Trump often presses for more information on a topic, naming specifically humanitarian issues in Yemen, where a three-year bombing campaign by US ally Saudi Arabia has devastated the civilian population, and Venezuela, where he said the president "was dissatisfied with the information we presented him." When the agency provided additional information, it led to recent sanctions against Venezuelan officials, he said.
Pompeo also shared the agency's assessment that North Korean leader Kim Jong Un seeks an increasingly sophisticated nuclear capability not only for regime preservation, but for its coercive powers as well.
Pompeo said the regime was developing its program at a "very rapid clip," but said the CIA has been increasing its capacity to "interdict shipments" of cargo en route to North Korea that may hold materials related to nuclear weapon development.
He did not directly address the subject of Russia's alleged meddling in the 2016 election, which was the conclusion of a report that the CIA signed off on a year ago. But he said "our view of Vladimir Putin hasn't changed."
Pompeo also did not embrace the idea, expressed in a question, that adding new inmates to the US prison at Guantanamo Bay, Cuba, was needed to overcome US limitations in collecting both electronic intelligence on terrorist groups and interrogating terrorists captured on the battlefield.
Pompeo declined to say whether new prisoners might eventually be sent to Guantanamo. "One of the glories of being CIA director is you are out of the policy world," he said.
But he rejected the idea that the US ability to gather electronic intelligence had been severely damaged – "We're still doing pretty good collecting signals intelligence," he said – and he expressed no dissatisfaction with the US ability to interrogate captured terrorists. "There are lots of ways to collect human intelligence," he said.
Mark Seibel contributed reporting.