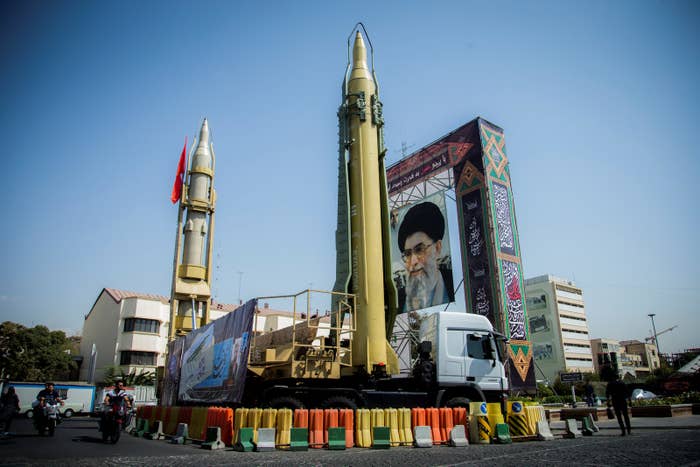 An anti-Iran bill passed in the House this month with the support of the powerful pro-Israel lobbying group the American Israel Public Affairs Committee (AIPAC) is unconstitutional, according to a Justice Department memo obtained by BuzzFeed News.
The determination is a setback for legislation Republicans hope will expose Democrats as soft on Iran and curry favor with pro-Israel donors. It also underscores the increasingly elaborate attempts by Iran hawks to toughen US policy toward Tehran under President Donald Trump.
The Iranian Leadership Asset Transparency Act, which would require the Treasury Department to publicly report on the assets of Iranian officials, including Ayatollah Ali Khamenei, passed in the House on Dec. 13 but faces uncertain prospects in the Senate, where some Democrats view it as a backdoor attempt to unravel the landmark 2015 nuclear deal.
The concerns raised by Assistant Attorney General Stephen Boyd in the Dec. 20 memo further jeopardize the bill's prospects by claiming that it risks leaking sensitive national security information.
"The bill would require the Secretary of the Treasury to report on individuals in certain identified positions in Iran. … The Secretary would be required to include, among other things, estimates of assets held by those individuals in accounts at U.S. and foreign financial institutions," Boyd wrote to Rep. Ed Royce, the chairman of the House Foreign Affairs Committee. "This requirement would unconstitutionally intrude on the President's authority to control the dissemination of national security information."
If the bill becomes law, Boyd, who previously served as communications director for then-senator Jeff Sessions before he became attorney general, said the executive branch would withhold information where necessary.
Almost every House Republican voted in favor of the bill, which was backed by AIPAC. "We support the legislation," an AIPAC official told BuzzFeed News on Friday.
The bill's sponsor, Republican Rep. Bruce Poliquin of Maine, did not respond to a request for comment on the memo.
In explaining his support for the bill, Poliquin has said previously that it would "allow the world to see how the top leadership in Iran facilitates human rights abuse through funding pilfered from the Iranian people. It will allow financial institutions to see in public form the type of assets associated with these individuals and hopefully better focus anti-money laundering efforts."
Rep. Maxine Waters, the top Democrat on the House Financial Services Committee, has said the bill's true purpose is to create reputational risks for companies that might do "legitimate business" with Iran. "For this reason, the bill would be a strategic mistake as its report would undoubtedly be seized upon by Iran as an international effort to discourage international investment," she said ahead of a committee vote.
The pro-Israel lobbying group J Street, a smaller liberal counterweight to AIPAC, opposed the bill, saying it would undermine the Iran deal and sap Treasury Department resources.
You can read the letter here: