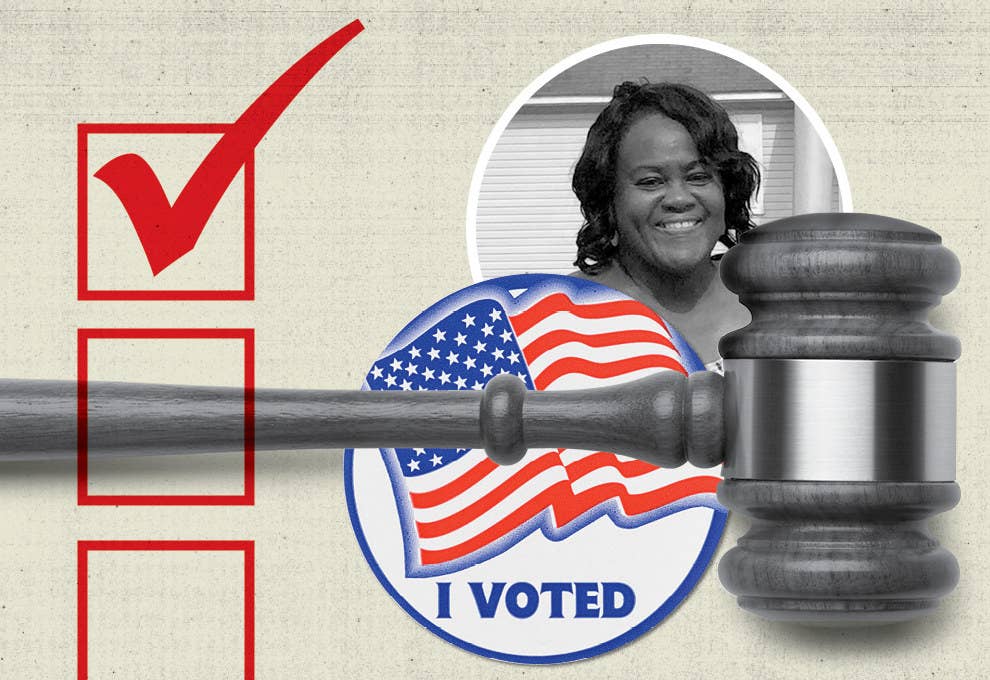 On October 15, 2012, the first day of early voting in the presidential election, a young black woman named Diewanna Robinson went to the local board of elections office in the country town of Douglas, Georgia, to vote. It was her first time, and after signing a few forms, Robinson found herself in front of a voting machine that she didn't know how to use.
She looked around for help and saw a towering middle-aged woman who was showing others how to vote. The woman came over and showed her how to use the machine.
That seemingly innocent exchange, now almost four and a half years old, was the crux of a criminal trial earlier this week in the one-time tobacco-producing capital of Georgia.
The woman who helped Robinson all those years ago was Olivia Pearson, a local civil rights activist and longtime city commissioner. And now, because of what she did, the 55-year-old grandmother is facing criminal charges that could put her in prison for five years.
The local district attorney's office, led by a Republican, decided to bring charges, and the prosecutor, a 30-year-old white man named Ian Sansot, said what Pearson did broke the law and was a sinister effort to violate the sanctity of the electoral process.
Pearson and her attorneys, and the black community in Douglas, say this case is not about the law. They say it's part of an obvious and well-orchestrated attempt to intimidate black voters, a campaign with a long history in Georgia — and throughout the South — to suppress the minority vote.
"This is supposed to cause fear in those who would dare stand up for themselves," said Nefertara Clark, Pearson's attorney.
"This is supposed to cause fear in those who would dare stand up for themselves," said Nefertara Clark, Pearson's attorney. The prosecutors, she said, "would like to take us backward."
Nationally, Republicans have frequently and loudly raised the specter of voter fraud. Just this year, President Donald Trump made repeated and false allegations about illegal voters in the November election.
Voters' rights advocates counter that claims of voter fraud are wildly overstated, and, indeed, most studies show that tampering with the vote is very rare in the US. Civil rights workers say that as the country has become steadily less white, Republicans have brandished unfounded claims of voter fraud as an excuse to pass laws and throw up other obstacles that make it harder for minority voters to cast their ballots.
Georgia is ground zero for this struggle. The GOP controls both legislative houses and all eight statewide elected offices, including the governorship. Georgia encourages ordinary citizens to lodge voter-fraud complaints through a dedicated website. Nationwide, Republican-led state legislatures have followed Georgia's lead by advancing dozens of bills tightening rules and requirements for voting and voter registration.
Yet actual prosecutions for voter fraud remain rare: Just 10 of the 154 investigations closed since 2014 in Georgia have been referred to a prosecutor; most are closed without a ruling or dismissed.
But that was of little solace to Pearson.
She would need to defend herself in court.
Outside the courthouse in Douglas is a soaring monument to the Confederacy, with a statue of a rebel soldier standing atop a marble pillar.

For the trial last week Pearson's supporters, all but a handful black, packed the second-floor courtroom. On Tuesday, Pearson hobbled over to the witness stand with her cane, put her hand on the Bible, swore to tell the whole truth and nothing but the truth, and sat down in the box.
Pearson was the first black woman elected to Douglas's city commission in 1999 and has run unopposed for her seat in every election since. Her supporters believe she has been a constant thorn in the side of the town's mostly white power-brokers.
She's a second-generation activist. Her mother — who had only an eighth-grade education — was a top local NAACP official and civil rights activist. In fact, her mother helped sue the city in the late 1970s to gain more black political representation.
In court, Pearson was charged with these crimes: one count of illegally helping a voter who did not need any assistance cast a vote, and one count, regarding a form she filled out about Robinson, of wrongfully attesting that the voter was illiterate. In the charges, significantly, there was no allegation that Robinson's vote was influenced in any way, nor that she was voting illegally.
The stocky, heavily bearded prosecutor used his cross-examination as an opportunity to mock Pearson's claims of a racist conspiracy, which she made on social media and in public appearances around town.
"Isn't it true," Sansot asked, "that you think everyone who disagrees with you on this matter is a racist hater?"
"No, sir," she said.
"Didn't you say that the sole reason you're being prosecuted is to get you out of office?"
"I don't think I said the sole reason," she responded. "I said it was part of the reason."
Without Pearson, Robinson testified, she wouldn't have been able to cast her ballot. "I didn't know how to use the machine," Robinson said. "It was my first time voting."
Pearson's defense was that after helping Robinson, she'd done what poll workers had asked her to do: sign a form that would allow her to help people who were having difficulty using the voting machines. Pearson said she didn't know turning in those forms meant she was vouching for whether someone was illiterate or disabled.
"It was my understanding that it was the poll workers' responsibility," Pearson said. "I was abiding by the instructions of the poll workers."
There were no allegations during the trial that Pearson had told Robinson — or anyone else — who to vote for, or that Pearson had even pressed any buttons on the machine for any of the voters.
Without Pearson, Robinson testified, she wouldn't have been able to cast her ballot.
"I didn't know how to use the machine," Robinson said. "It was my first time voting."
It was a well-intentioned mistake, Pearson's attorneys said, a technicality inflated into an absurd felony charge.
Sansot countered that Pearson and her attorneys concocted fanciful tales about a racist conspiracy to distract from her own wrongdoing, which they said amounted to rushing through voters who would support her preferred Democratic candidates.
"There are no witch hunts," he told the jurors. "But there are corrupt politicians who abuse their power. You can vote today to get people to stop messing with elections."
By Tuesday evening, the attorneys had completed their closing arguments and turned the case over to the jury.

The racial makeup of the jury would prove pivotal: six white women, three white men, two black women, and one Latino man. After only an hour of deliberations, the jury foreman — a tall, mustachioed middle-aged white man — returned to let the judge know that the jurors were having difficulty.
The judge sent them back to deliberate with orders to work through their disagreements. After another hour, with no decision imminent, they were released for the night and told to return in the morning.
But it was more of the same Wednesday, with Pearson's supporters nervously pacing around the halls of the rickety courthouse.
"I didn't want to get caught up in none of this," said James Curtis Hicks, one of three other local political activists charged with Pearson but who accepted plea deals that amounted to a year of probation. He nodded his head toward the then-empty jury box. "It's hard for us to get a fair shake in here."
After a lunch break and another half-hour of deliberations, the judge revealed that the jury was deadlocked. He declared a mistrial.
The crowd reflexively erupted into cheers before quickly shushing themselves. Pearson burst into tears, as had been her wont over the past few days. "I told you I wasn't going to run," she said in between hugs with family members.
On the lawn outside of the courthouse, one of the jurors claimed she was the lone obstacle to a conviction. Lenecia Armour, a 29-year-old black woman, said once deliberations started it was clear she was the only one who didn't believe Pearson was guilty. But she held out. "It was torture," Armour said. "But this is South Georgia: I knew I'd be dealing with these kind of people."
Sansot pledged to retry the case. "As soon as it's possible," he said. He declined further comment.
Politically, it's important for both sides. If Republicans could point to a criminal conviction, they could use it to vindicate their argument that voter fraud is a problem in the state. And for activists, it's not just about Pearson, it's about protecting hard-won rights.
Her prosecution is "just a method to suppress voter turnout and to quiet strong voices in the black community," said Fred McBride, an Atlanta-based consultant for the civil-rights organization Southern Coalition for Social Justice. "They're trying to advance the idea that there is widespread voter fraud, but these are outlandish ideas that they've never proven."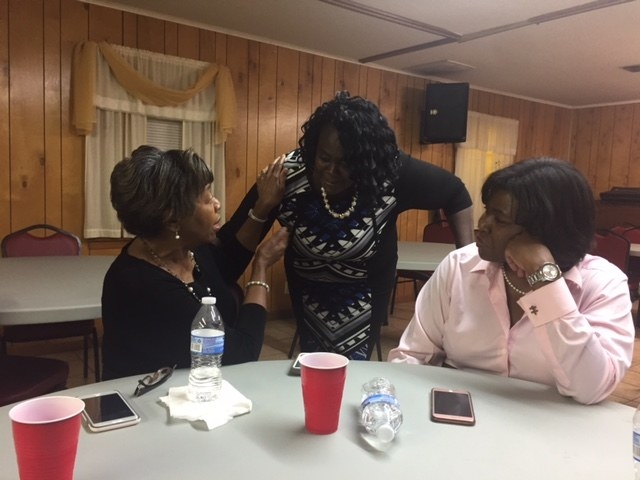 Hours later, in the darkened living room of Pearson's very modest brick house, her daughters were waiting impatiently to take her away for a few days to Macon, where they live. This was supposed to be the start of a celebration of sorts: lots of sleep, play time with the grandchildren, and dinner at her favorite seafood restaurant.

"I hate to see my mama stressed out," her oldest daughter, Aiyesha Coley, said. "She has a lot of medical issues that people don't know about and that kind of stress can kill you."
"I will never come back in Douglas. I hope I never have to," Pearson's youngest daughter, Antoineé Pearson, chimed in.
Pearson, who'd been leaning back into her favorite recliner between the girls, sat up in the chair a bit.
"It's sad that you feel that way," Pearson responded. "I came back home from college and I wanted to help build this city up and better this community.
"You grow up here all your life, you know the people's shortcomings, and you want to help them to get to where they need to. That was my desire."
As Pearson had anxiously waited for her trial over the last year, she had watched in November as black voters failed to build on previous get-out-the-vote efforts: The black turnout in the county was at its lowest level since 2004.
Pearson had grown upset at her daughters' obvious indifference, and her voice rose. "I have a passion for people," she said, throwing her hands up.
She started crying again, and the room fell silent. ●