DOUGLAS, Georgia — Olivia Pearson, known around town as Miss Libby, surged with pride when she ferried her 18-year-old nephew to the polls to cast his first-ever ballot for Barack Obama in 2012. But now the former parole officer, civil rights activist, and grandmother has been charged with improperly helping him to vote. If convicted, she faces up to five years in prison.

Her prosecution is one skirmish in the intense and increasingly bitter nationwide struggle between Democrats' efforts to mobilize voters — especially people of color — and Republicans' attempts to crack down on what they say is voter fraud in an election that Trump has repeatedly claimed is "rigged." Her case comes amid the pitched electoral battle for the state of Georgia, long a rock-solid Republican bastion where polls show Donald Trump holds only a slim lead over Hillary Clinton. Republican officials in Georgia have encouraged ordinary citizens to lodge voter-fraud complaints through, for example, a dedicated website. Prosecutions remain rare but, critics charge, can send a message so chilling it suppresses voter turnout.
That, they say, is what is happening here in Douglas, the charming but economically ailing seat of Coffee County. The black vote has surged here over the last two decades. Less than half the county's black registered voters actually cast ballots in the 1996 election between Bob Dole and Bill Clinton. In 2012, almost three quarters did, helping a Democratic candidate for sheriff topple the incumbent Republican, a lightning bolt in this deep-red county in a Deep South state.
This year, when small numbers of voters could tip the election in Georgia, the prosecution of Pearson and four others — including the wife of that Democratic sheriff and one of his cousins — has cast a pall over get out the vote efforts by making people "scared to help folks," said Johnnie Lee Roper, a 79-year-old black city commissioner and one of the town's best known civil rights leaders. "I call it voter suppression, where they're trying to put that fear into you."
Neither the prosecutor nor Georgia Secretary of State Brian Kemp responded to requests for comment. But Kemp has promised to "protect the ballot box" by vigorously investigating accusations of voter fraud. State Republicans such as Kemp argue that doing so is important in a time of declining trust in government.

Voters rights advocates in Georgia and across the South counter that the threat of voter fraud is wildly overstated — most studies show it's exceedingly rare.
"The threat of bringing those cases and starting an investigation is that it's really a coercive threat against voter registration drives," said Emmet Bondurant, an Atlanta-based attorney who filed a lawsuit in February against Kemp for allegedly dropping voters from the state's rolls ahead of the November election.
"And the people who really organize most of the voter registration drives are the NAACP, civil rights groups, because the African-American population is under-registered and under-represented. So they become targets."
In every election since returning from college in 1983, Pearson has spent hours making calls to family members and friends to make sure they are registered to vote. Then she's followed up to make sure they voted, if necessary by giving them a ride to the county elections office.

"I would carry them to the polls," said Pearson, who is 55 and serves as a city commissioner. "There would be challenges sometimes, especially from young people who don't really understand the value of it."
That was how Pearson ended up taking her nephew, Shelton Johnson, to the county elections office, where he registered on Oct. 15, 2012, according to court records. Pearson said she then did what she has done for so many others: offered to take him right then and there to cast his ballot in early voting.
Pearson would make several trips a day to the elections office, sometimes scooping up mere acquaintances walking along the street. "That's the way Douglas is Douglas," her attorney Nefertara Clark said. "Everybody knows everyone."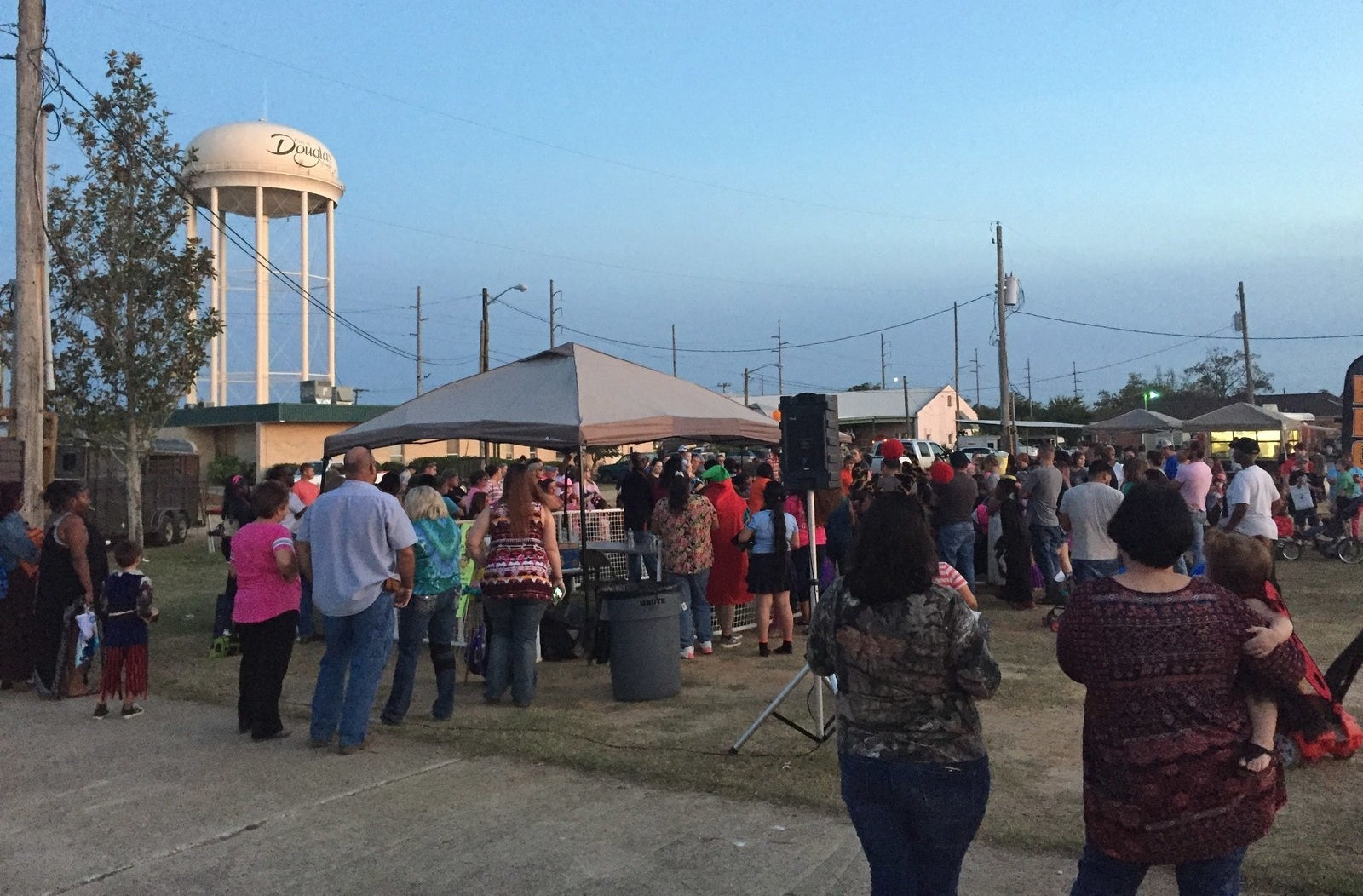 In a town where many black families live in clusters of trailer homes on the same dirt road, Pearson helped raise Johnson's mother and her siblings. She came to think of Johnson, the oldest of his mother's three children, as more of a grandson over the years. Pearson said she treated Johnson as she did her own three children, even taking him into her home for a number of years.
That also gave her an opportunity to pass on the importance of political engagement to the sort of kid who would've never gone to vote otherwise. Pearson hoped the resonance of casting his first vote for the nation's first black president would stay with him for life.

Pearson and Clark declined to specifically discuss what happened at the polls that day, citing the impending trial. But the secretary of state had investigated dozens of instances in which Pearson had driven people to the polls or otherwise urged them to vote — instances in which the county elections board chairman alleged her aid crossed the line into illegal voter assistance.
Before the State Elections Board in March, Pearson responded to some of those allegations, including that she had improperly helped her 64-year-old aunt, Evelyn Ross, to vote. Pearson testified her assistance at the polls was never coercive or illegal.
"At no time have I ever touched the screen or told them who to vote for," Pearson told the panel.
"I could only relay to them what the screen says or whatever and give them an option as to how they would want to proceed," she said.
Ross had been out walking one fall day in 2012 when she flagged down Pearson and asked for a ride. Pearson asked her aunt if she wanted to vote, and Ross said yes "but you will have to help me," she told the board. Ross "has difficulty seeing and she did not know how to operate the machine." Pearson signed a form required of anyone who provides assistance to a voter, then went over to the voting machine with her aunt.
"At no time have I ever touched the screen or told them who to vote for."
It's unclear if Pearson went through a similar process with her nephew, but she said Johnson — then a high school student — also had difficulty using the machine and called out to her for help.

"That was his first time voting. He didn't know what to do," she said. "He didn't know how to operate the machine and I had to help him."
Neither Johnson, who is now stationed on an Air Force base in Germany, nor his father responded to messages seeking comment.
But if Pearson's case makes it to trial in December, she will essentially face charges that she helped people who didn't need it, and lied about it by signing the voter assistance form.
There's little clue as to what Pearson and the other three defendants should expect in court since only a small number of cases heard by the state board make it this far: Just 10 of the 154 investigations closed since 2014 have been referred to a prosecutor; most are closed without a ruling or dismissed.
That has Pearson and her supporters suggesting something more insidious may be fueling her criminal charges. They note prosecutors waited more than three years to file the charges, doing so eight months before the expiration of the statute of limitations, in the midst of a pivotal election year.
"If it happened in 2012, why did they wait until 2016 for a hearing?" Pearson asked, pausing to answer her own question.
"Because it's a tactic to suppress the vote."
"What do I get out of suppressing a voter?" said Misty Hayes, the elections supervisor for Coffee County. "It's a joke." She declined to discuss any specific case but said that cracking down on voter fraud "is just common sense. It's the law."

Kemp, the state's top elections official, has made vigilance against voter fraud a top priority. During his successful re-election campaign in 2014, Kemp closed a 30-second TV ad with this pitch to voters: "Nobody," he said, standing in front of a row of voting machines, "will work harder to protect your vote."
Kemp has found a receptive audience in Georgia, which has been at the forefront of photo ID laws that have grown popular among Republican-controlled state legislatures that consider them a prudent measure to reduce voter fraud. In 2005, Georgia was one of the first two states to pass a photo ID law (Indiana was the other.) Georgia later passed laws requiring voters provide proof of citizenship (2009) and reducing early voting from 45 to 21 days (2011). The state also cut an early voting weekend before Election Day that year.
Three months after taking office in 2010, Kemp launched a Stop Voter Fraud website, encouraging anyone who witnessed "questionable election-related activity" to submit a complaint to the website or call a hotline.
Today Kemp remains insistent that elections are susceptible to chicanery, recently picking up on Trump's claims of a "rigged" election and "large-scale" voter fraud. On Oct. 19, Kemp tweeted, "Stand with me in opposition to the left's blatant attempts to disrupt Georgia's elections!"

Kemp's tweet was a response to a lawsuit filed against the state by the American Civil Liberties Union. The suit sought to extend the state's voter registration deadline following Hurricane Matthew, which forced state offices on the coast to close to prepare for the storm.

Cracking down on voter fraud "is just common sense."
It's one of several lawsuits filed against Kemp and the state ahead of the election, most challenging his office's methods of removing voters from the polls. Voters-rights advocates claim Kemp's policies violate the federal Voting Rights Act and the National Voter Registration Act. Kemp has repeatedly denied these allegations.

Kemp has support in Coffee County, where the local GOP is training volunteers to work at the polls on Election Day because "we are going to be proactive instead reactive," said Cathy Latham, a top official with the county GOP.
"I think the fact that voter fraud happened in such a tight-knit community opened our eyes a bit. Our party, as a whole, made sure to step up our game," she said.
Some old divisions still endure in Douglas, a dusty town of about 12,000 only two hours north of Jacksonville and three hours south of Atlanta. Once the tobacco-producing capital of Georgia, Douglas clings tightly to its more prosperous past.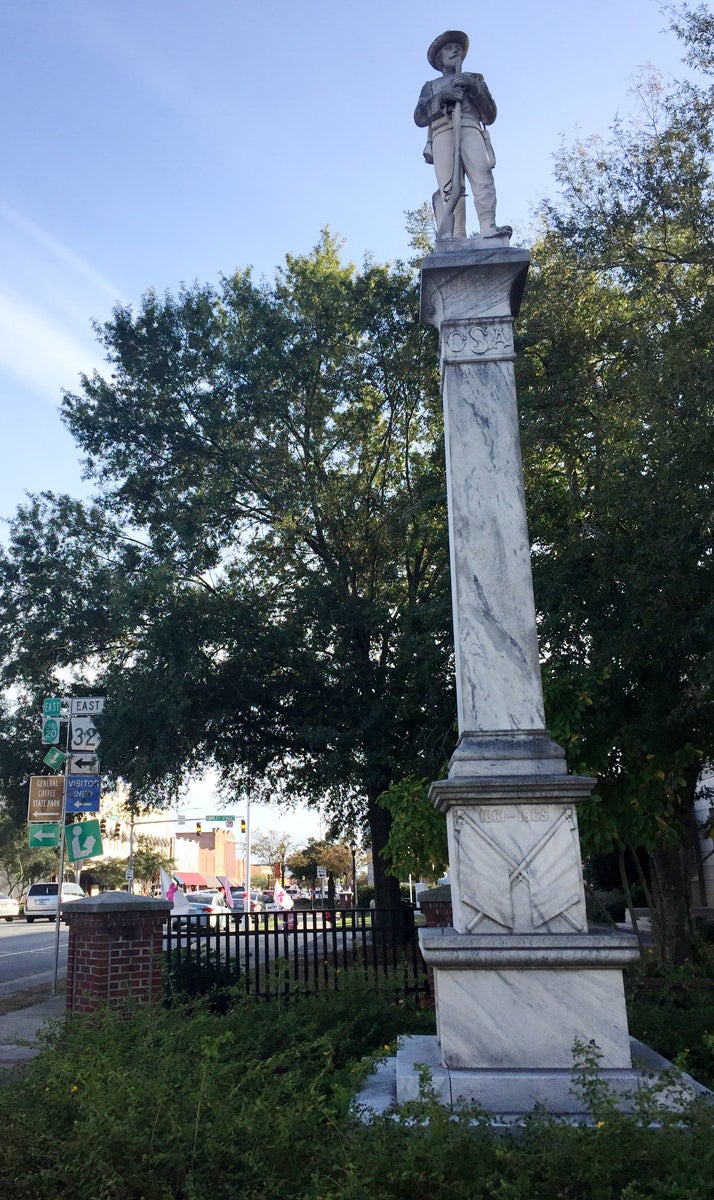 Named after the legendary political foil of Abraham Lincoln, Douglas has a bustling downtown of antique stores and thrift shops and government buildings, including a courthouse fronted by a soaring monument to Confederate soldiers. It's the kind of place where the most hotly contested local issue on the ballot is whether to allow the sale of alcohol on Sundays.
"This place is the epitome of the South," said Lee Cliett, a 34-year-old native who works for the state medical board.
The well-manicured downtown belies despair elsewhere: Nearly half of residents older than 16 don't have jobs, 53% of households earn less than $35,000 a year, and 25.6% of families had incomes below the poverty line. Black families have a poverty rate nearly twice that of white ones.
Born into that hardship was Pearson, the youngest of nine children. Her father worked at a cement factory; her mother had only an eighth-grade education but was a top NAACP official and civil rights activist. Pearson said it was her mother — who helped sue the city in the late 1970s to gain more black political representation — who instilled the value of the ballot.

"I knew she had suffered and fought for our rights," Pearson said. "That's why it's so important to me, and why I stay after people about it."
In 2012, Pearson helped to organize a challenge to the incumbent Republican sheriff. One of the volunteers she reeled in was James Curtis Hicks, a gregarious 53-year-old father and grandfather with family all over town.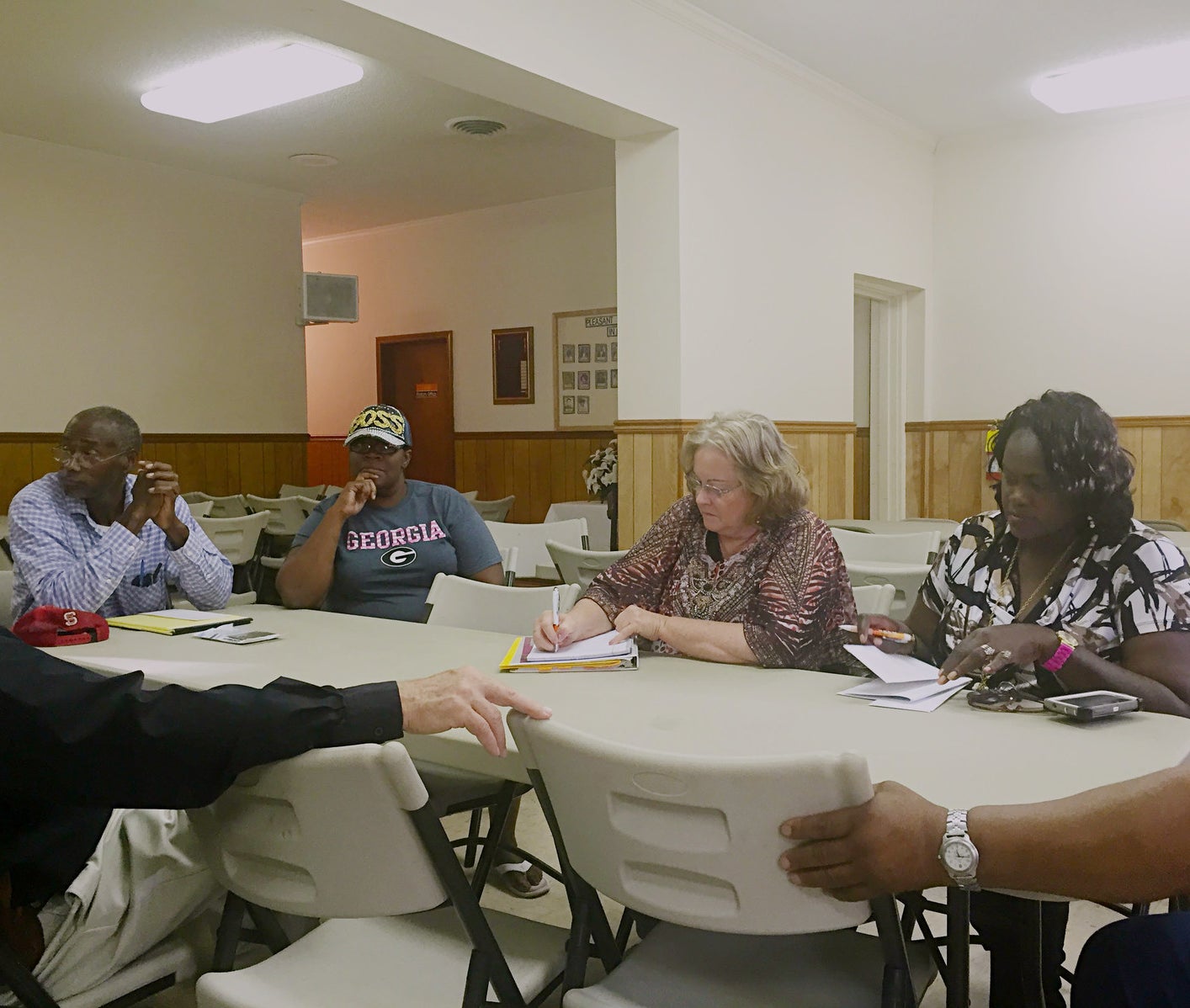 "A lot of blacks were frustrated" by how police treated black youth, said Hicks, who faces four counts of both improper voting assistance and false swearing. Hicks said he didn't break any voting laws but merely impressed upon his neighbors — especially the ones hanging out on the corners, the high school dropouts, the friends of his youngest sons — that they could make a change by going to the polls.

"I get the people that don't nobody else think about," Hicks said. "The little young gangbangers — those are the people you need to reach."
Such efforts paid dividends: Democratic sheriff candidate Doyle Wooten pulled out the victory, surely helped by record black turnout in Coffee County. It was a bombshell in a county President Obama lost by more than 30 points.

Holding that seat could prove difficult with surging enthusiasm locally for the Trump–Pence ticket — there is nary a Clinton–Kaine sign to be seen in Douglas — and a local GOP that believes talk about a tight race in Georgia energizes its base.
"I get the people that don't nobody else think about. The little young gangbangers — those are the people you need to reach."
"We have more people paying attention to us this year," said Latham, the county GOP official. "There is no question Coffee County is going red."
Meanwhile, voter-registration efforts in the black neighborhoods that once rallied support for Wooten have nearly disappeared without the leadership of Pearson and Hicks. "That's because those with a backbone were made an example of," said Roper, the local civil rights leader.
Indeed, Hicks has seen the toll his legal troubles have taken on his own recent scaled-down GOTV efforts. One recent afternoon, Hicks said he pulled up his black Cadillac sedan beside a group of his son's friends. He leaned out of the car and asked them if they'd registered to vote.
"One of them said, 'Mr. Curtis, I ain't messing with voting,'" he said. "They'll fuck with me like they got you fucked up.'" ●