The Battle For The #SoulOfOakland
In a city wrestling with fast-rising housing costs and demographic change, a security guard's attack of a poor black man at Whole Foods has come to represent what many black residents fear: Oakland wants them out.
OAKLAND — On the night of Sept. 3, sisters Zoe and Julia Marks were waiting in line to buy coffee and ice cream at the Whole Foods Market a few blocks away from home. This was supposed to be a quick post-dinner stop. Few customers were left, most of the registers were unmanned, and only one entrance to the store remained open. The day — and the store — was coming to a close.

A dispute a few aisles away punctured the quiet hum of the supermarket: A customer was arguing with a couple of Whole Foods employees about a problem with his welfare benefits card, more commonly known as an EBT card. The employees wanted the man to go to the customer service counter and let others through. The shopper kept arguing and wouldn't budge. One of the store's armed security guards moved in and tried to escort him away, the sisters said.
That's when the confrontation turned violent. The security guard twice swung the man into the concrete wall, pinched his nose, and put him in a headlock, the sisters said. "It's like the security guard was re-enacting a Mortal Kombat scene," Zoe said.
In only a few seconds, the shopper — a 27-year-old black male who hasn't been identified — was left sprawled on the pavement outside the store, unconscious and bleeding from the head and face. The security guard quickly closed the doors to the store, casting the man out into the darkness. The sisters watched in bewilderment, almost absentmindedly paying for their items.
"In the moment, I couldn't really fathom what had just happened," Julia said. "I feel bad that I finished the purchase."
When the sisters got outside, they were surprised to find the man still on the ground. He was motionless but still breathing. Someone called 911. Zoe took pictures while everyone waited for an ambulance.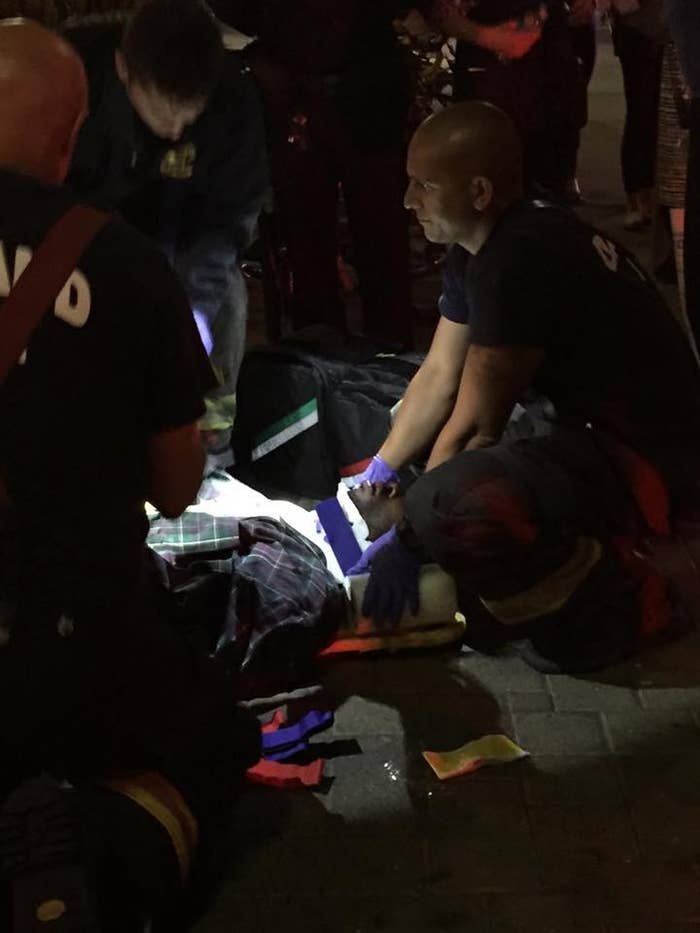 In her photos, the man's plaid boxers are exposed, his jeans pulled down around his knees. In another image, his arms are folded under his head as a pool of blood forms underneath him. Another shows him on a gurney, surrounded by three emergency responders with his neck in a brace. There are no pictures of his face. "I'm adamant about protecting his identity," said Zoe, a lecturer at Scotland's University of Edinburgh, who was in town for a conference.
When it opened in September 2007, this Whole Foods was celebrated as the first new grocery store in Oakland in 20 years. But in a city of about 414,000 where little affordable housing is being built, and poorer residents find themselves unable to find a home, the store has gone from a symbol of progress to one of exclusion.
More than a month later, little is known about the men involved in the commotion that prompted all of the renewed focus on the store. The city's police and fire departments haven't identified either of the men in their sparsely detailed and heavily redacted reports from the scene. Whole Foods wouldn't comment on whether cameras in the store had recorded footage of the alleged attack. No charges have been filed, and Oakland Police said the investigation is still ongoing.
After the sisters gave their statements to the police, they plopped down at one of the tables outside of the Whole Foods with a couple of other witnesses. They all tried, but failed, to make sense of what they had seen.
"It was definitely a shocking thing to see," said Adam Sussman, who arrived at the store just as the man was tossed onto the sidewalk. "There was a lot of anger at what the security guard had done."
Once the sisters were by themselves, on the short, brisk walk home in the dark, they debated whether to share their pictures on social media. "The shock and sorrow had passed and we were angry," Julia said. "It wasn't until we got home that we tried to be more … we thought about the next step."
Zoe spent the next hour crafting a 178-word Facebook post and attached her photos from the scene. "I'm sorry for more graphic images of violence against black citizens," she wrote. "Does anyone know with whom and how we can share this story most justly and effectively?"
Although she had only around 500 followers, Zoe tweeted the images at the Whole Foods account and by the next morning, they had been shared nearly 4,000 times on Facebook and viewed about 70,000 times on Twitter, thanks to a boost from anti–police brutality activists and community leaders. "We take this very serious," Whole Foods tweeted back to her. "We are investigating this immediately." But a week later, frustrated with perceived inaction on the store's part, protesters stormed the aisles of Whole Foods, forcing it to close early.
The timing, and symbolism, of the incident and the subsequent images weren't lost on those who live in this rapidly changing city. In the very emblem of gentrification — a retailer that has come to symbolize white bohemian affluence, the kind that enjoys the "grit" of an urban neighborhood but not the people already living there — a poor black man was assaulted, ejected, and left to bleed on the ground, personifying the fear of many black residents: Oakland wants them out.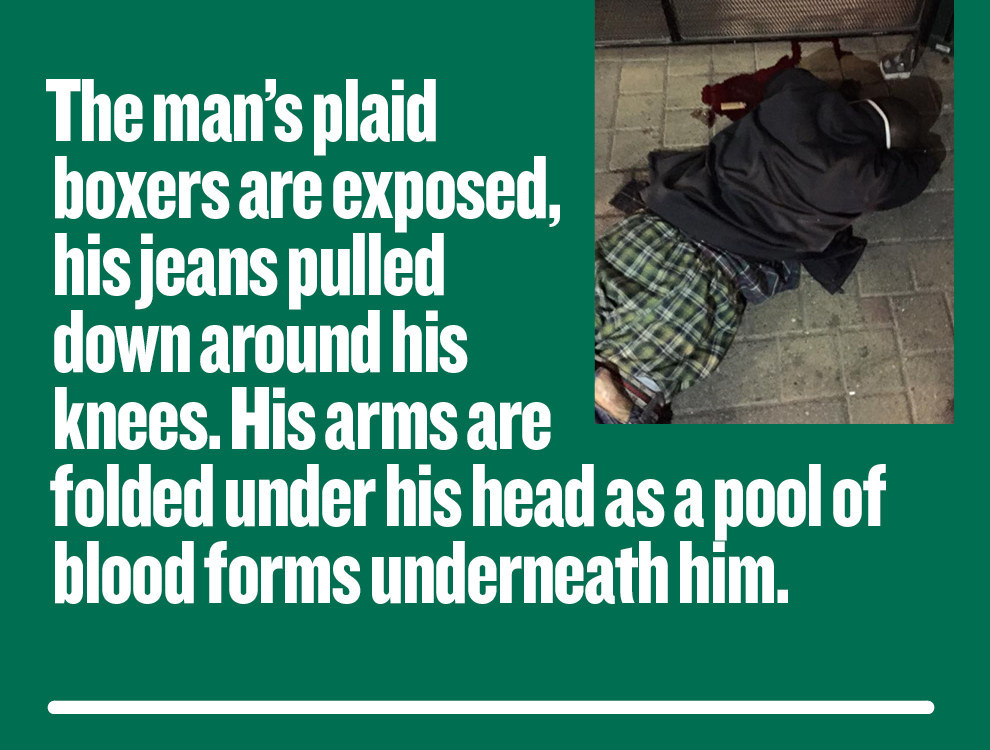 An old shipping and railroad town, Oakland has long beckoned to newcomers seeking steady work and a modest alternative to the cosmopolitan and bustling San Francisco. "It's strange to think of Oakland, with its 19 miles of coastal waterfront, as a rust-belt town, but that's exactly what it is," the New York Times wrote in 2012.

World War II dramatically increased the demands on Oakland's factories, shipyards, and canneries, providing thousands of jobs for workers from across the country — especially black migrants from the South. Thus commenced the city's pronounced demographic shift: Black residents went from 2.8% of the population in 1940 to 12.4% in 1950, 22.8% in 1960, 34.5% in 1970, and 46.9% in 1980. Then came another shift: White residents sought refuge in the surrounding suburbs and hills of the East Bay range.
The end of the war brought the city's boom to a close, and, by the 1950s, "giant companies such as GM and GE moved their plants out to bigger suburban tracts. While Oakland's surrounding Alameda County gained over 10,000 manufacturing jobs between 1958 and 1966, Oakland itself lost nearly 10,000 jobs — and 23,000 residents between 1950 and 1970," read a story in the City Journal in 1999.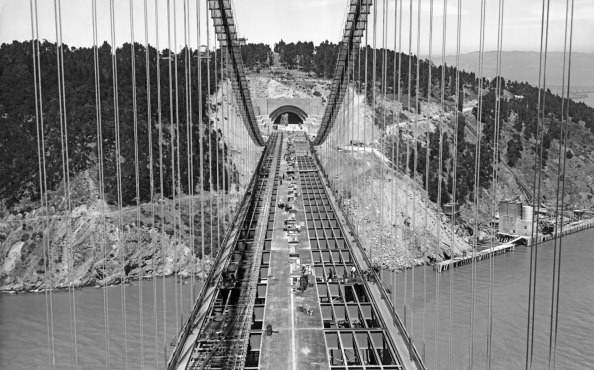 Accordingly, the local economy cratered and Oakland gradually became more poor, less safe, more black, and less white. Those early days of despair, dwindling job opportunities, and oppressive police presence birthed the Black Panthers, who subsequently launched a powerful political machine in the 1970s that turned Oakland into a black-controlled Democratic town.
"It was the Black Panthers who brought blacks to power in Oakland," said Ishmael Reed, a prominent black poet, writer, and playwright who's lived here since 1979. "When I moved here, Oakland was one of the few places where blacks had actually realized their own power."
Oakland became known as the home to black American icons as diverse and accomplished as Black Panther co-founders Huey Newton and Bobby Seale, NBA Hall of Famer Bill Russell, former Oakland Tribune owner Robert Maynard, and hip-hop pioneer Too $hort. Indeed, Oakland loomed large as one of the handful of bustling black capitals of America, joining a list of cities that included Washington, D.C., Atlanta, and Detroit.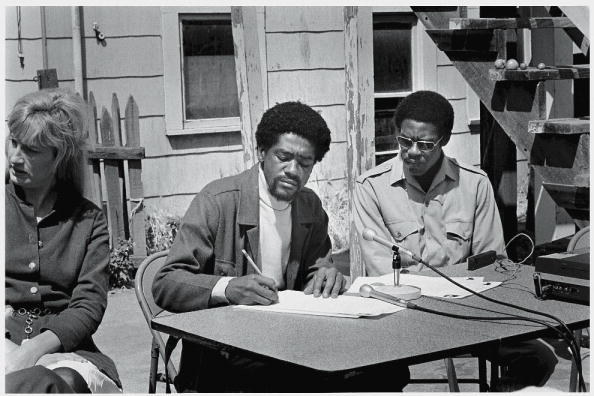 But like many of those cities, in the '70s and '80s, Oakland suffered through a precipitous — and steep — decline. Jobs remained scarce, nearly a fifth of residents lived below the poverty line, and the city's crime rate began to climb to record highs — Oakland's murder rate was once twice that of San Francisco's and New York's.
Oakland's descent was also marked by its embattled police force, which responded with, well, force — and what many, such as the Black Panthers, claimed was corruption and brutality — in its efforts to maintain order as the city collapsed around them. Those allegations extended to the city's housing authority police, which led to a federal probe that ended with convictions for four officers in 1991. Today, the Oakland Police Department remains under federal oversight stemming from a series of misconduct investigations.
The city's drug problem, exacerbated by notorious drug lord Felix Mitchell, even claimed Newton, who was shot to death in his old neighborhood in 1989. "His body was found lying in a pool of blood on a street in an Oakland neighborhood where residents say they fear they are losing the fight against drug dealing and poverty," read his obituary by the Associated Press.
"I was raised here and grew up in the Bay in the '80s," said Patricia Flores, a community organizer for a local nonprofit. "My whole life Oakland was the city that you don't want to go to. That always lingered for so long, that its bad reputation preceded it."
But for all of its urban ills, Oakland still had affordable rent, a temperate climate, a busy port, sweeping vistas of the East Bay, and close proximity to San Francisco and a world-renowned public research institution in nearby Berkeley.
"Everybody back in the day talked about 'The Plan,'" said Bil Banks, a professor emeritus in African-American studies at the University of California-Berkeley, "which was to make it safe for whites to move in."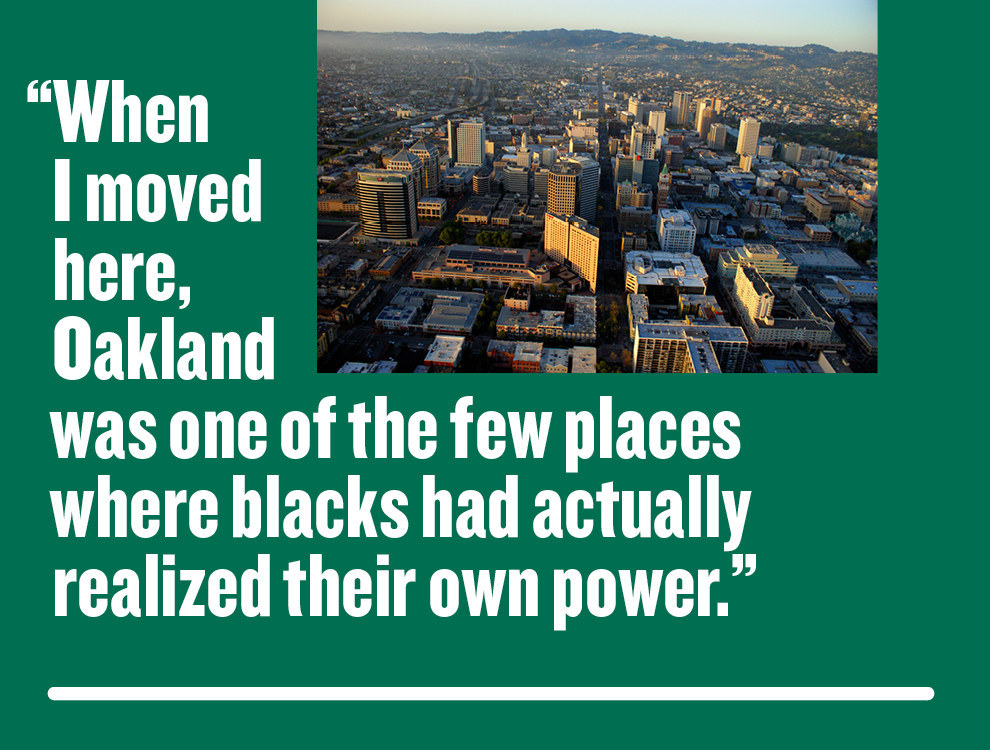 Oakland's population was nearly half black in 1990, according to the census. Today, blacks make up only 27% of the city's population. In just the past decade, Oakland has lost 24% of its black population while the city has seen gains in Latino (13%), white (7.8%), and Asian (7.8%) residents.

That demographic shift was triggered primarily by rising housing costs in Oakland and neighboring San Francisco, where skyrocketing housing prices forced residents there to look for housing across the Bay, squeezing out longtime residents. The emergence of local tech companies like Pandora and Ask.com, which generally employ a younger, whiter, wealthier workforce, also played a role in the city's change. New developments — luxury high-rises, taxidermy-festooned cocktail bars, chic vegan restaurants — were geared to the more well-heeled new arrivals, with affordable housing an afterthought at best.
"There's a question of how do we make a future in Oakland that is for everybody," said Rebecca Kaplan, an Oakland city councilmember who finished second in the 2014 mayoral race and recently convened a special hearing on the city's housing issues. "Especially those who've been here a long time, those who have less money, those being displaced — primarily black people."
The recent announcement that Uber, the rapidly growing San Francisco–based ride-hailing service, would expand its headquarters across the Bay in 2017 was greeted with nearly as much trepidation as triumph. People in Oakland fretted about whether the impending influx of white-collar workers would forever alter the city's working-class and counterculture roots, and escalate rent prices and income inequality in a city that already ranks fifth and seventh, respectively, nationally in those categories. Many took their concerns to social media, starting the #OaklandIsMyHome hashtag.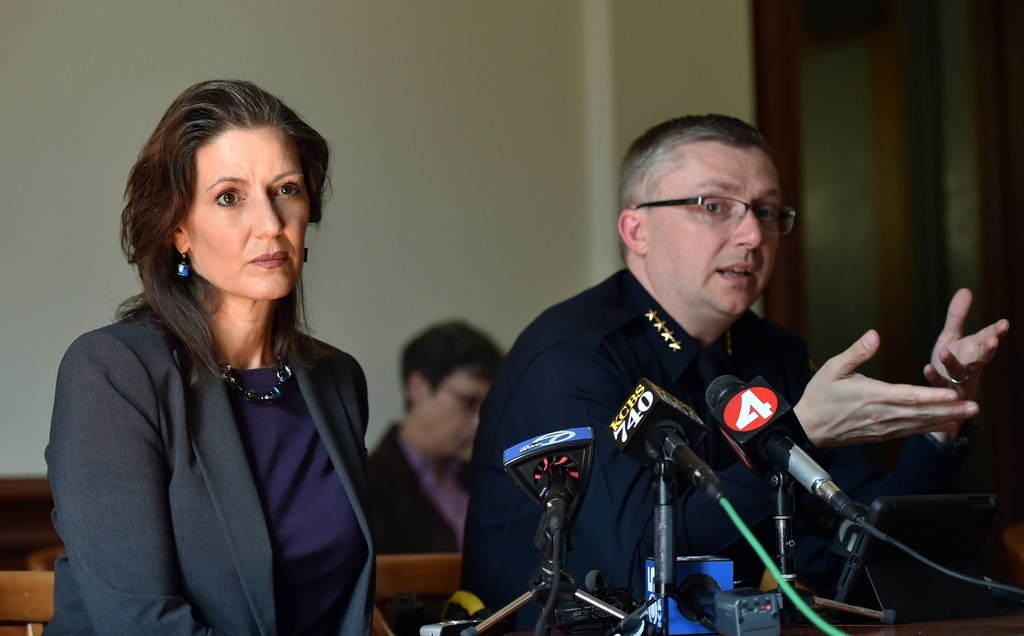 "We are in an affordability crisis," Oakland Mayor Libby Schaaf said during the news conference to announce the move, responding to a question about the city's rising cost of living. "That was the case before this announcement."
But in a city that has long celebrated its diversity — as the pluckier, more affordable cousin of San Francisco just across the bridge — the loss of black residents has nonetheless raised concerns that Oakland is on the precipice of losing, as Schaaf has euphemistically taken to calling it, its "soul" and "magic."
"They're doing it somewhat like San Francisco and moving us out," said Lee Hines, a 59-year-old former San Francisco city worker who lived in Oakland for 10 years before moving his family to nearby Antioch in 2004.
Hines, who is black, regularly returns to Oakland to meet with old friends, eat soul food, and stroll around picturesque Lake Merritt, which is only a couple of blocks from Whole Foods. On a recent fall afternoon, he was walking to a nearby restaurant, decked out in a black 2015 NBA champions Golden State Warriors T-shirt and cap.
For years, Hines said, he worked for the San Francisco Recreation and Parks Department but lived in Oakland because it was too pricey to live near his job. He sees the same thing happening in his old home.
"I'd be here if I could — I love it here," Hines said. "But they keep going up on rent, making it so you can't afford it. It seems like they want us gone. I can see it coming."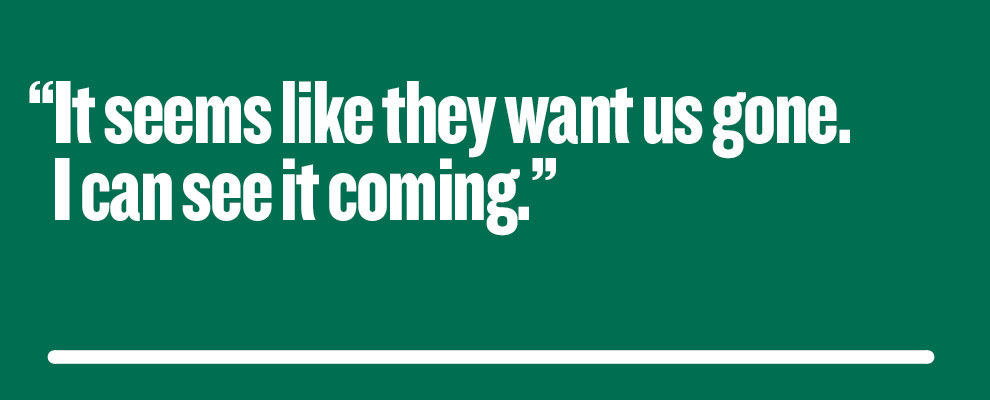 Making Oakland "safe" was a priority for former California Gov. Jerry Brown, who'd been out of politics for six years following a failed run for the Democratic presidential nomination in 1992. Oakland was where Brown made his political comeback. Once derisively referred to as "Gov. Moonbeam" because of his wildly progressive, 1970s-era politics, Brown re-emerged as a pro-business, political independent who pledged to reduce crime 20% a year. Brown ran for mayor in 1998, beating 10 other candidates with 59% of the vote.

First, Brown persuaded voters to adopt a "strong-mayor" form of government that gave him the power to veto legislation and hire and fire department heads. He then used his new clout to push his 10K Plan, which would lure 10,000 new residents to downtown Oakland with a range of upscale commercial and residential developments.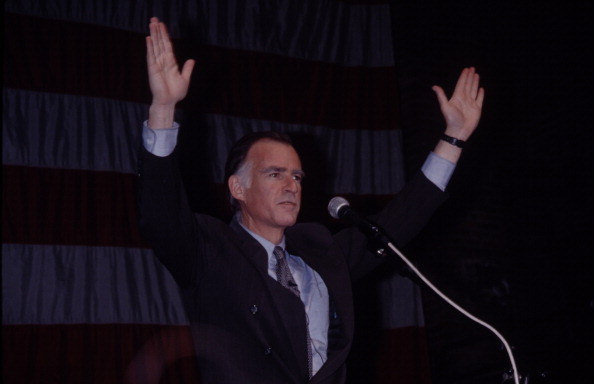 "The neighbors are friendly, the weather is great and downtown has come alive," Brown said in a statement at the time.
Critics derisively referred to Brown's 10K Plan as "Jerryfication," a charge he angrily swatted away a number of times. In a January 2000 interview with the San Francisco Chronicle, Brown took exception to the idea that his plan was merely paving a way for the return of whites back to Oakland. "How do you know what color they are going to be?" Brown asked. "Well, that's kind of a stigmatization of non-white people. There are African-Americans, Chinese, Filipinos and there are white people – and by the way, race is just kind of silly anyway because 99% of our DNA is the same."
That sort of rhetoric, along with accusations of police corruption that resulted in a nearly $11 million settlement against the city in 2003, confirmed fears that many black residents had about Brown's big, sweeping plans for Oakland.
"Oakland has been emptied out of black people and it began with the administration of Jerry Brown," said Reed. He called the mayor "Guiliani West," a reference to former New York Mayor Rudy Giuliani, who pushed for a crackdown on minor crimes that alienated and disproportionately affected black residents. Brown declined several requests from BuzzFeed News for an interview.
Nonetheless, hundreds of millions of dollars in inner-city investment led to more development and the rejuvenation of attractions like the Fox Theater, Jack London Square, and the Port of Oakland. Oakland's upswing came just as San Francisco was going through its own boom: The city gained 20,000 residents and 40,000 tech jobs from 2000 to 2012. The influx caused San Francisco's housing and rental prices to go through the roof.
Only six miles away, cheaper, and ripe for development, Oakland was the natural beneficiary. In only a few years, the conditions in the housing market have changed so quickly that Oakland has seemingly shed its reputation as an urban wasteland. Now, Oakland is a boomtown. Some have started likening its improbable popularity to Brooklyn's about a decade ago. But with the impending arrival of Uber, many Oakland residents fear the city is in danger of becoming the little brother tech town of San Francisco. Local housing prices had come to reflect that shift in perception: Home values had risen 15.2% in the previous 12 months and rents have gone up 69% in the past seven years, according to city officials.
"I used to be able to find almost anyone with a stable income and decent credit who came to me looking to buy a home something, at least somewhere within Oakland," local realtor Farrah Wilder said. "But I'm finding it a lot more difficult to find first-time buyers who make average incomes homes that won't be bid completely out of their price range in our market right now."
Things don't figure to get better anytime soon: City and county officials say economic growth and housing demand have far outstripped the current housing supply in the Bay Area.
For example, in Alameda County — home of Oakland — a city analysis says county officials have permitted only 44% of the housing units needed to accommodate the growth between 2007 and 2014, and only 27% of the affordable units needed for low-income residents.
Exacerbating that deficit is the rising cost of construction, a loss of state redevelopment funds that has reduced the city's annual affordable housing budget by as much as $20 million, and persistent income inequality.
Then-Mayor Brown's plan to revitalize Oakland seemed to pay dividends in November 2003, when Austin-based Whole Foods Market announced that it was going to open a 55,000-square-foot market in the Adams Point neighborhood. "The sure sign of an up-and-coming neighborhood is a proposal for a fancy, overpriced grocery store," the Chronicle wrote.
"We've identified Oakland as a vibrant, multicultured and diverse market that matches well with our product mix," Anthony Gilmore, the chain's president for 19 stores in Northern California, told the Contra Costa Times in 2005. The store opened in September 2007 — a few months after Brown left office — with the promise of more development to come.
"In a couple of years, all the hard work done by public officials is going to come to fruition," a local planning commissioner told the Chronicle at the store's opening.

The Whole Foods opened on a site that was a power station for the old Oakland Cable Railway Co. dating back to the 1890s and later was used as a showroom for Cadillacs. At the behest of local activists, the council had previously rejected calls to turn the site into a condo development and pressed Whole Foods to preserve the integrity of the site. In that way, the store is a link to the city's once-prosperous past and promising future. Whole Foods traditionally plants itself in only the most fertile urban soil and has been known to drive growth all by itself.

"Evidence suggests that Whole Foods can accelerate gentrification in particular ways," wrote urban-issues columnist Will Doig in 2012. "A new Whole Foods may not cause property values to shoot up on its own, but it can set into motion a series of events that change neighborhoods."
That's, in part, because the company — like many other successful retailers — looks to set down roots near a clientele that can keep its registers ringing. Whole Foods traditionally seeks areas with 200,000 mostly college-educated people within a 20-minute-drive radius, according to Architect magazine.
But in Oakland, Whole Foods made its home in the Adams Point neighborhood, which is "solidly middle and working-class," wrote councilwoman Lynette Gibson McElhaney, who represents the district, in an email to BuzzFeed News. "The average shopper was local residents who, from my demographic data as a candidate, shows a lot of single-parent, female-headed black households, along a number of highly educated (BAs and above) low-income seniors of various races that have been long-term renters in Adams Point."
Not long after opening in 2007, Whole Foods' careful gamble on Oakland seemed to pay off. Multiple news reports from that time boast of the crowded aisles, long checkout lines, and steady sales. "This store filled some weird need that Oakland didn't know that it needed," said Sophie Mirviss, a white family-practice physician and mother of two teenage daughters who lives mere blocks from the store. "It's not like it's a white person's store. Everyone shops here."
But with Brown out of office, it didn't take long for renewed complaints about crime following a string of armed robberies in the area. New Mayor Ron Dellums, who had previously served 13 terms as a congressional representative from Northern California, endured criticism for showing reluctance toward expanding the city's police force.
"Yet what could be worse than giving hoodlums free reign?" asked an October 2007 editorial in Inside Bay Area. "Until Oakland can assure residents and business people a basic level of safety, the dream of an economic revival will be little more than a mirage."
In August 2008, the Chronicle followed with a column that noted Whole Foods hired armed guards soon after it opened. "Given the recent series of armed robberies in Oakland, Whole Foods Market has stepped up security in our Oakland store so that Whole Foods Market remains a safe and welcoming place to shop for members of the community," a spokesperson wrote in an email to the Chronicle.
Yet even as it was being celebrated as a symbol of diversity, the Whole Foods became the center of the economic whirlwind pushing out low-income residents. For the three zip codes closest to the store, the median value of a single-family home has risen from $630,000 to $980,000 in the past five years while the median value for condos has gone from $191,000 to $432,000 over the same period, according to data provided by Oakland-based realtor Farrah Wilder.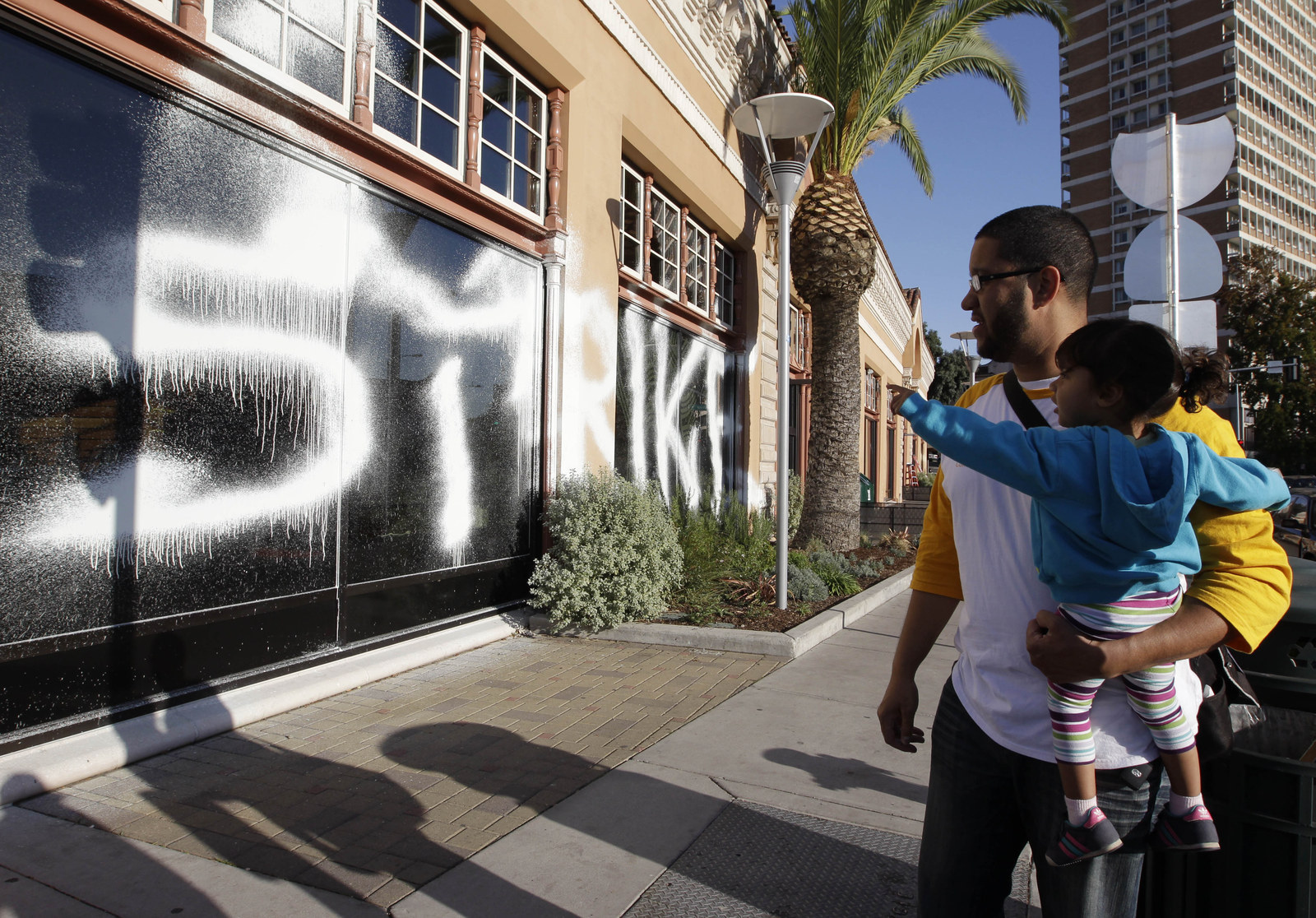 In November 2011, when Oakland was in the midst of some of the largest and most confrontational protests during the nationwide Occupy movement, the Whole Foods store became a target of local activists after management announced it would not allow employee absences for local Occupy events. In response, several protesters reportedly sprayed the store with graffiti and smashed the store's windows. Ultimately, the protests led to a city-commissioned review that criticized police response and damaged then-Mayor Jean Quan's standing in the city. The New York Times dubbed Oakland "The World Capital of Anti-Capitalism" in August 2012.
Up until this September, that was the extent of the issues between the store and the community. From city leaders, to low-wage workers, to even the city's most strident activists (in a city that has long prided itself on its radical protest roots), Whole Foods became just a convenient place in town to buy overpriced groceries.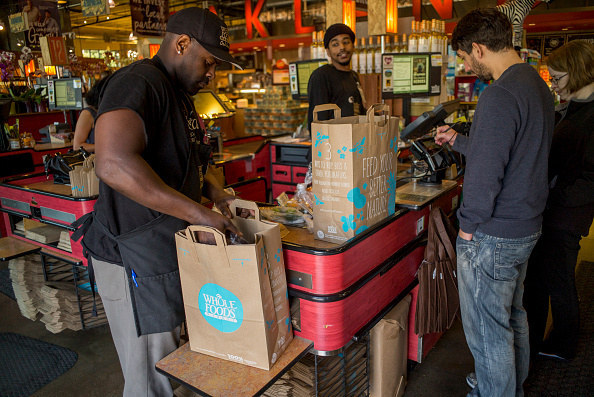 "I like going to that Whole Foods," said Flores. "I know that they have a lot issues — they're super anti-union — but it's like, Why shouldn't I be able to go there? It's a convenience factor."
"The Oakland Whole Foods is the most diverse Whole Foods you've ever seen," said Zoe Marks.
"To most who have lived here for more than three decades, Whole Foods ... was finally an acknowledgement that we too deserved access to high quality food and the dignity of a high quality environment," McElhaney wrote. "It was for many a source of pride, where people didn't have to feel a type of regional 2nd-classdom."
If Oakland fails to solve its housing and income inequality problems, city analysts have warned, there will be further displacement of low-wage earning residents, and middle-income residents will be forced to commute from farther distances. "If we don't plan for housing growth in these areas," read an 18-page report titled "The Housing Crisis in the San Francisco Bay Area" commissioned by the city, "we risk the displacement of our most vulnerable communities." In September, Mayor Schaaf announced the formation of a housing cabinet that would be tasked with solving Oakland's affordable housing problem.
If Oakland fails, however, it'll join a list that includes virtually every big American city that's faced the same challenge.
"No city has done it before," Schaaf admitted in an interview with BuzzFeed News. "We have lots of examples of what not to do. So we're very mindful that this is a tremendous challenge. … However, I took this job knowing it was hard and complicated." She paused. "I am hell-bent on making sure that Oakland can have it all."

When the Marks sisters woke up on the morning of Sept. 4, they discovered local media outlets had picked up on their social media posts about the violent confrontation at Whole Foods the night before.

Whole Foods released a public statement, saying, "While we move swiftly to gather the facts, we want to make it clear that Whole Foods Market takes a zero tolerance approach to violence." That evening, Zoe Marks said, Whole Foods' regional vice president called her.
"The first thing he said was, 'What can I do for you?'" Zoe said. "I was a bit taken aback, because I thought it was so clearly a question of what they could do for the young man and, then, for the community."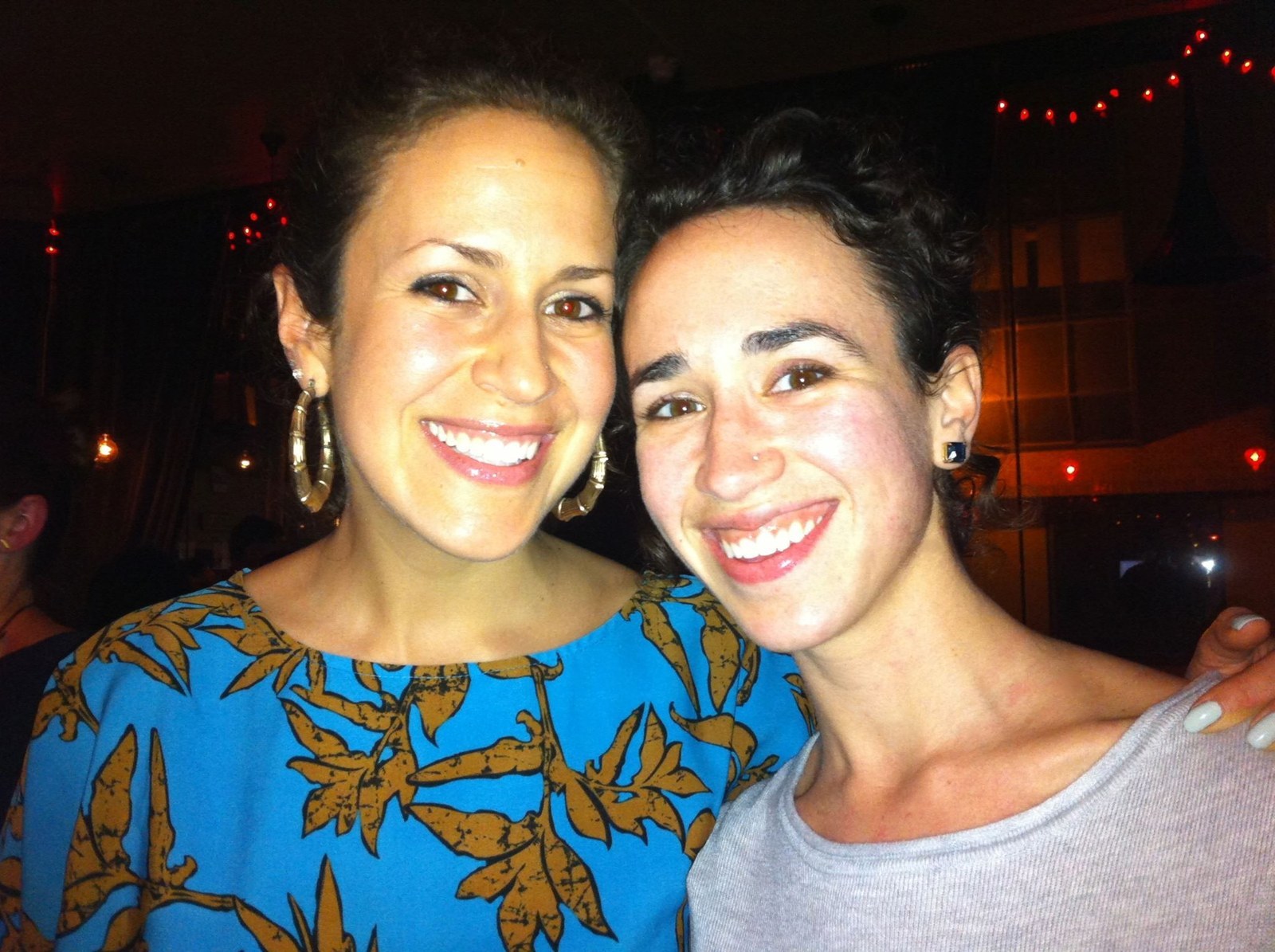 Zoe said she quickly came up with a list of suggestions, including firing the security guard, disarming future security guards, retraining employees on their response to similar incidents, and setting up a public forum with residents and community leaders. The Whole Foods official seemed responsive, she said.
In a Facebook post the next day, Whole Foods announced that it had fired the security guard and clarified that its stores did accept EBT cards as a form of payment. "We do have a ZERO TOLERANCE policy for violence," the post read.
Two days later, Whole Foods hired a new security firm for its Oakland store and announced that all guards in its Northern California stores would be unarmed and that it would require "enhanced" training for its guards and employees "to better support them and our shoppers in extreme situations should they occur."
Zoe, who lectures on African studies, said she was initially impressed with Whole Foods' response. She stayed in regular contact with Whole Foods for the first few days and continued to encourage the company to host a public forum with local residents. But gradually, she said, Whole Foods became more evasive.
"I thought they trusted me — I was not antagonistic," Zoe said. "I was trying to build bridges between them and the community. But by the start of the next week, they had iced us all out."
A Whole Foods spokesperson confirmed that its officials met with community leaders, but declined to identify them. "We're focusing our efforts on directly communicating with and answering to local partners," the spokesperson said in an email to BuzzFeed News. "So far, we have hosted one community meeting and met individually with several social justice organizations and local stakeholders."
That did little to quell the rising frustration with Whole Foods' response among local activists, many of whom were already sensitive to issues of police brutality and gentrification in the neighborhoods surrounding Lake Merritt.
A kidney-shaped, oak-dotted lagoon right in the center of the city, the 155-acre Lake Merritt has also been central to the conflict between old and new Oakland.
There's been two police-involved shooting deaths of black men near the lake since June, with protesters holding a vigil and demanding answers about the death of a 30-year-old man who was passed out in his car before allegedly reaching for a gun in his passenger seat. In recent months, police have issued warnings and threatened to crack down on residents who gather at the lake for cookouts and to drink a little booze. Last month, at the behest of residents in the nearby high-rises and condos, police cited drummers — most of them black and Latino — who regularly gather at the lake.
"They're making the have-nots feel like they've done something wrong because they don't make $300,000 or $400,000 a year," said Davey D, a local hip-hop journalist and DJ, "which is bullshit."
In a city renowned for its rebellious roots, what happened next was inevitable. On the evening of Sept. 10, dozens of protesters stormed into the store and blocked check stands for about an hour as customers, police, and store officials looked on. Whole Foods was eventually forced to close its store early for the day.
"I think it was a victory with how quickly that happened," said Cat Brooks, one of the protest organizers and a local Black Lives Matter leader. "For the first half hour, they were adamant that they were going to stay open."
Zoe Marks and John Burris, a prominent local attorney who's representing the alleged victim, have vigorously refused to release his identity. Burris, who's worked dozens of police brutality cases including the nearly $11 million "Rough Riders" suit against Oakland Police in 2003, described his client as "a young man who's getting food stamps. He's not a bad person by any stretch of the imagination." The man lives with his mother and two sisters in a house near both Whole Foods and Lake Merritt.
In a recent interview with BuzzFeed News, Burris said his client spent two weeks in the hospital being treated for injuries to his face and head. "He's also had a lot of equilibrium problems," Burris said. "And there's some issues with his teeth, which were loosened from being slammed."
The security guard has been described by several witnesses and regular Whole Foods shoppers as a large glowering black man who wears sunglasses, a point some have pointed to to defuse racial tensions around the incident. "My sense is this isn't a racial thing," said Mirviss, the physician.
But Brooks, who also founded the Anti-Police Terror Project group in Oakland, connected the security guard's alleged assault to broader patterns in and around her neighborhood. "It goes in line with the ways in which people of color are being pushed out of Oakland," she said. "I moved into a black neighborhood five years ago. I'd now I say I live in a white neighborhood with black folks with it."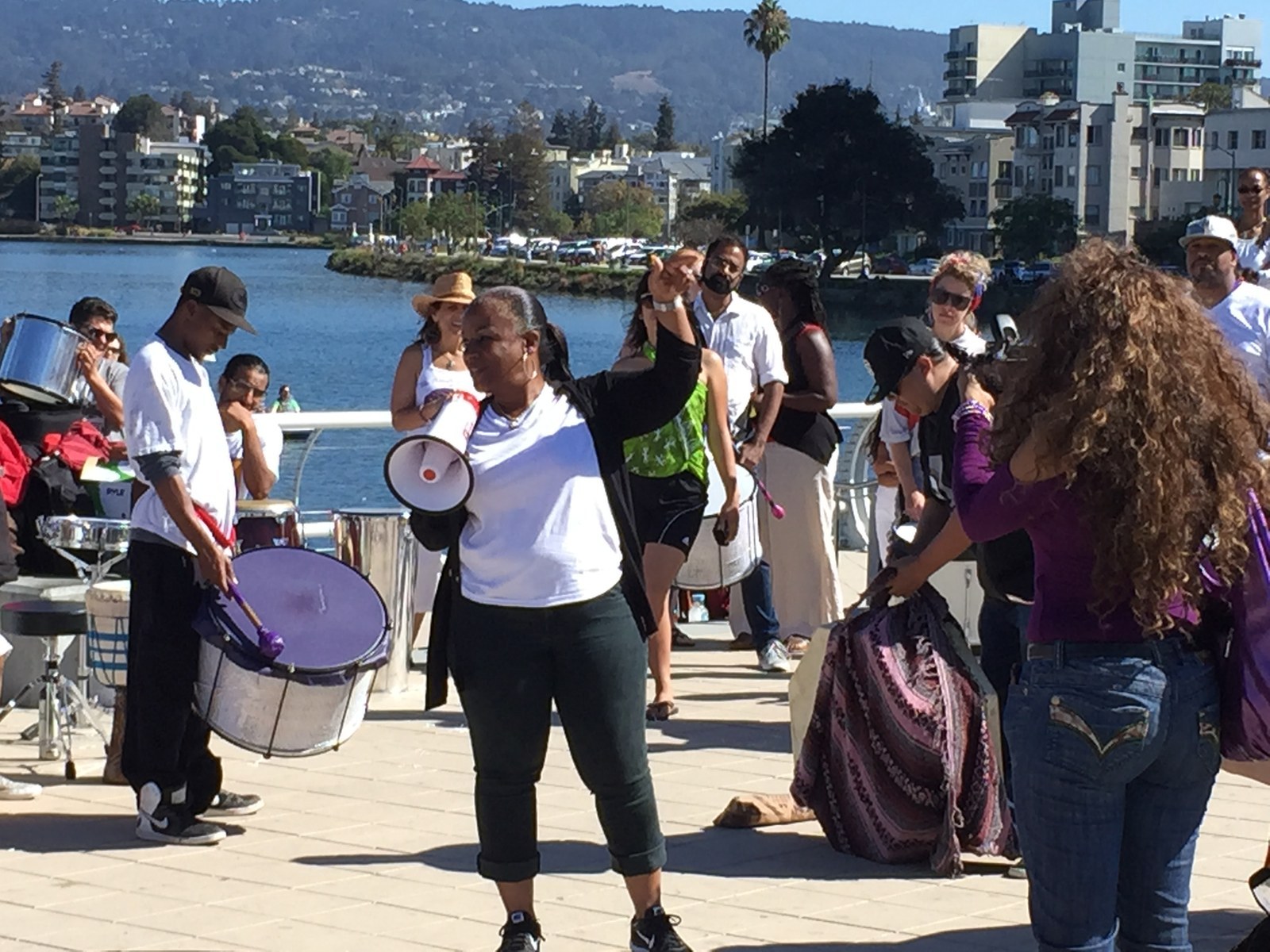 On a Sunday in October, just before noon, more than 200 people — many of them toting percussion instruments — gathered at the Lake Merritt amphitheater to show support for the drummers who've been told they're no longer welcome in the neighborhood.

The demonstration had been billed as a "Preserve the Soul of Oakland Rally and Community Drum Call." A #SoulOfOakland hashtag was used to promote the event on social media.
Old Oakland had come to rally at the newest Oakland playground: The amphitheater opened in 2013 as part of a nearly $120 million city-funded makeover that included a pedestrian bridge over the Lake Merritt Channel, a 4-acre park with plush greenways and flowers, and a widened walkway with benches and public telescopes for a view of the boats, kayaks, geese, and egrets on the water.
For more than two hours, the musicians led an affable, multihued crowd through a succession of songs and dances and speeches. There were performances by groups claiming to represent Native Americans, Korea, and West Africa, among others. Some members of the crowd joined in for some easygoing line dancing and chanting.
The sounds of the drums reverberated all the way to the edges of the park, and almost certainly into the windows of the new high-rise apartment complexes and condos that ring the lake.
"Being able to play our music in public places is important for our livelihood," said Shefali Shah, a local dance instructor and performing artist.
The performers and their supporters shared a sidewalk thick with joggers, cyclists, baby stroller–pushing parents, and dog-walking young couples — the sort of people who never would've spent much time at the park more than a decade ago.
"This lake was beautified with all of our money," said Desley Brooks, a black city councilwoman whose district includes some of the surrounding areas. "We need to make sure that all of Oakland knows this is all of Oakland's park."
"We're in a fight that's the fight of our lives," she continued. "We must fight if Oakland is to remain Oakland."
Update: A previous version of this post contained an archival photo with a caption from the photo agency that misidentified the bridge linking San Francisco and Oakland. The photo has been replaced.