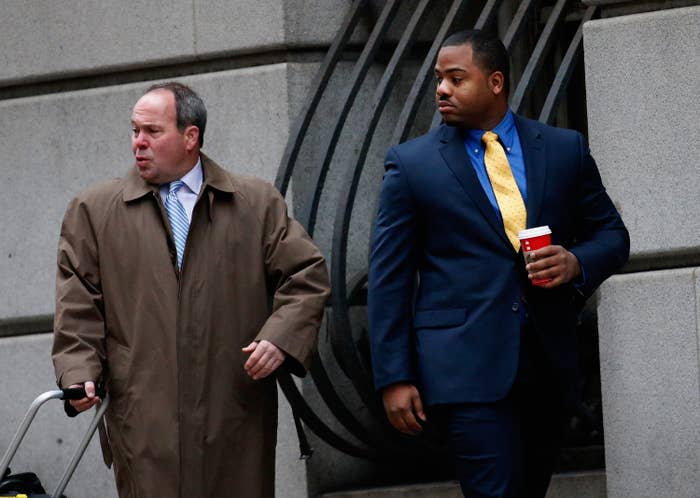 BALTIMORE — Defense attorneys for the first of six Baltimore police officers charged in the death of Freddie Gray wrapped up their case Friday, ending their defense after two days of testimony that included a procession of officers and experts who placed the blame for Gray's death elsewhere.
One of the last of these witnesses was a Baltimore police captain who said Officer William G. Porter "went beyond what many officers would have done" when he checked on Gray during his arrest April 12.
"Officer Porter was there as a backup officer," Baltimore police Capt. Justin Reynolds testified. "He went beyond what he could have done and kept within (department) policy."
Porter, 26, faces charges of involuntary manslaughter, second-degree assault, misconduct in office, and reckless endangerment in connection with Gray's death, which occurred April 19 after he suffered spinal injuries in police custody.
Gray's death set off protests and, ultimately, rioting across his West Baltimore neighborhood, thrusting the 25-year-old's name into a national movement concerned with police violence against young black people, including Michael Brown, Tamir Rice, and Sandra Bland.
That set the stage for heightened interest in his trial, which has gone 10 days, produced 28 witnesses, and involved more than 100 courtroom exhibits, including video of Gray's disputed arrest and Porter's recorded statements to detectives. Closing arguments are scheduled for Monday.
Over the last couple of days, defense attorneys have presented witness after witness — mostly Baltimore officers and policing experts — who pinned ultimate responsibility for Gray's failure to receive medical attention with other officers at the scene of the arrest, particularly Officer Caesar Goodson and Sgt. Alicia White.
Porter's attorneys continued that trend on Friday, the final day of testimony, when they brought Reynolds to the stand.
Reynolds, a decorated 16-year veteran who took the stand as an expert in police transport, testified once Porter checked on Gray and told Goodson and White — both among the officers charged in the case — that Gray would need medical attention, he'd exceeded his responsibility in that situation.
"It's absolutely reasonable that an officer expects when they tell a supervisor something," Reynolds said, referring to White, "that they supervisor is going to do something about it."
Reynolds also said department policy makes it clear who assumes responsibility for someone who's taken into custody by police.
"He or she remains the responsibility of the transporting officer until the detainee is transferred," Reynolds said. "It's very clear. There's no other way to put it."
Chief Deputy's State Attorney Michael Schatzow attempted to question Reynolds about whether Porter should have placed Gray in a seatbelt in the police van, per department policy, but the judge and defense attorneys thwarted his attempts with a series of objections.
Defeated, Schatzow told the judge," Your honor, you've exhausted my imagination." The judge, and then the courtroom, broke into laughter. That brought a close to Reynolds' time under cross-examination.
Also taking the stand Friday were four character witnesses, including Porter's mother Helena Porter.
"He's a nice guy, an honest guy," Helena Porter told jurors. "He likes to keep peace. He's the peacemaker in whatever situation he's in."
Prosecutors responded by asking Porter and the other witnesses if they'd ever worked with or accompanied him to work. They all said no.