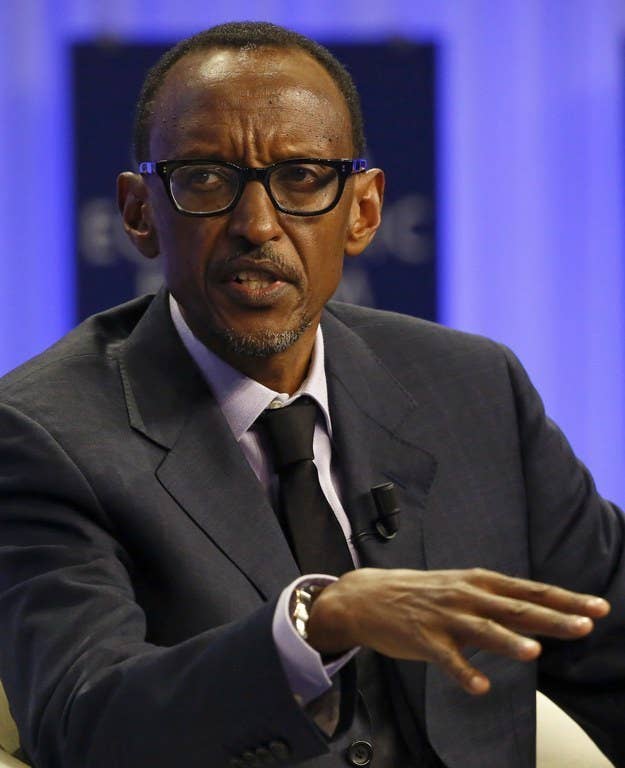 KIGALI, Rwanda -- Paul Kagame is not often portrayed as philosophical. He's usually more held up by the media and human rights groups as a quixotic man and hardened leader, an ex-rebel-cum-president whose country's achievements deliver on favorite goals of the international community's agenda, like health care and education, even as commentators, journalists, and dissidents outside the country call him a tyrant.
But his philosophical side was on display Monday, one week before Rwanda marks the 20th anniversary of the genocide that killed more than 800,000 Tutsis, in a wide-ranging discussion at his office with six journalists, from Uganda, Kenya, France, Japan, Canada, and from the United States, BuzzFeed.
Of interest to those in the room was, above all, Rwanda's progress in the last 20 years. Downtown Kigali, Rwanda's capital, boasts a cinema, major retail chains, numerous commercial banks, its first skyscraper. The country's GDP has grown 8 percent, on average, every year since 2001, and Rwanda has cut poverty by 14 percent in the same period, pushing more than a million people above the poverty line. Universal education has expanded through the 12th grade, and universal health care gives nearly every Rwandan access to medical help. Formal and informal reconciliation initiatives, and a local judicial process known as gacaca, have helped individuals and communities move forward after a genocide so up-close that, in many cases, neighbor killed neighbor.
One might expect so frequently embattled a leader as Kagame has been these last few years to laud Rwanda's achievements and remind an increasingly critical international community that he succeeded where it failed: at stopping the genocide.
Instead, Kagame seemed sobered, even beleaguered, by the reality of what the country is about to commemorate.
"There are things we have done, but there are things we haven't done. One thing we failed to do, we didn't do, therefore we cannot take any credit for it, was that we failed to prevent a genocide," he said.
And he conceded that, whatever work individuals and communities and national programs might do to overcome ethnic enmity and unify Rwandans, the memory of genocide still haunts his country.
"Let me say this, there is not a single family in Rwanda, not a single one, that will tell you it was never affected by genocide. Irrespective of which side you are, whether you are this or you are that, or you are this in our society, every single family has been affected, one way or the other," Kagame said. "There are moments when it is as fresh as you can have it … So you manage it, you bring it down to the minimum you can, but it is something that takes a very long time. You only manage it to a point where it allows you to move on …You never get rid of it completely."
"Managing it" has come with criticism from the international community, a subject about which Kagame says he has grown weary of speaking. It can also make for wearying reading: In the last year, The Independent, The Guardian, and theNew York Times have all published profiles, of sorts, of Kagame that cover essentially the same territory: Rwanda's social and economic progress, its alleged political repression (including allegations of political murders abroad), and the cycles of Rwanda's involvement in neighboring Democratic Republic of Congo.
Recent reports by the United Nations, alleging that Rwanda supported in myriad ways the DRC's latest rebel threat, have brought greater scrutiny on Kagame from the United States and Britain. From Rwanda has come a chorus of denials and counter-accusations of the international community's bias against the country.
It's a subject Kagame can't resist, however fatigued of the topic he may be, to call out the neo-colonial tendencies of the international discourse about his country.
"Out there, there are people who think they have the right to decide for others, or who think they know what is good for others. Others don't know what is good for them. So Rwandans, Africans, don't know what is good for them." He pauses, a bit, and laughs lightly at the premise. "It is known by those outside of Africa who have taken that as their preserve and sole responsibility to decide what is good for the world, for others, and the reverse cannot be true …They expect their criticism should be the point … and they don't expect somebody else to argue back. This is exactly where the problem lies."
His criticism might come up in Sierra Leone or Malawi or Uganda – indeed, Kagame himself is quick to universalize this as a matter of prejudice against Africans, not just Rwandans. And of course, it would resonate: Across the continent are people who have lived for more than a century under the thumb of others, first of allegedly benevolent white colonists and their charity, and later of Western governments and their aid.
But Kagame sees something especially pernicious in Western criticism of Rwanda — something that he suggests reflects the West's complicity in the genocide, and not just for its inaction in the 100 days, between April and July 1994, that the killings took place.
"Another ridiculous part of it — I see more criticism from out there against Rwanda in the last 20 years than before that. So which means, the outside prefers before genocide, the way things were, even in that history when things were happening building up genocide. Everything we know about that history ourselves as Rwandans, according to the outside, this is better than what we are having today. I mean, it's just ridiculous."
If that sounds vague, it's supposed to: "I'm putting it that way and leaving certain gaps for you to think, because you must think, really, and say, what is it?" But what lingered between the gaps is this: an accusation that critics of Rwanda prefer the earlier government, whose policies ended in genocide, to Kagame's Rwanda, which has overseen the longest stretch without war or ethnic violence in its borders since the country's independence.
In speaking about the death of Patrick Karegeya, a Rwandan ex-intelligence chief who died in South Africa in January, and who some have alleged was murdered by agents of Rwanda, Kagame criticized journalists for articulating theories without all the facts, and he argued forthrightly for his right and responsibility to defend the security of Rwandans. (Kagame spoke several times of "material evidence" that "link[s]" Karegeya and another exile, former army chief of staff Kayumba Nyamwasa, to grenade attacks that have killed Rwandans in the capital city of Kigali and in the northern region of the country.)
"Nobody has a right to go and enjoy protectional security somewhere else while he kills Rwandans," Kagame insisted. Whatever questions or criticism that may bring, "I don't give a damn."
Still, Kagame straightforwardly denied that the Rwandan government had any role in Karegaye's death. But he minced no words about his feelings. "I will tell you that actually he should be dead. I have no sympathies" for him, Kagame said. "I am not unhappy. I am not even supposed to be unhappy."
If Kagame has been genuinely irked by the willingness of media outlets and others to conclude that Rwanda killed the man — a charge he directly denied — the president also seemed genuinely exhausted by the "double standards" of the international community, and criticisms thereof came up in nearly every answer.
"There are many things of course I'm getting tired of" — in this case, answering questions about whether he would try to run for an unconstitutional third term — "but in any case, I can't run away from it. It keeps coming back to me. Maybe it is part of the misery one has to face in this job."
It's a job he left the door open to continuing to do, if asked. "It's not as if the decision of 2017 entirely 100 percent sits on me. No," he said.
The question has been batted about since mere weeks after his election to a second term in 2010. His strategy has been to demur from answering directly whether he intends to run, instead saying, as he did on Monday, that he will answer the question "when it comes to the time."