PARIS — It all started, as it so often does, on television.

Marine Le Pen was smooth, smiling, almost carefree — an unusual posture for a politician who's spent much of her life on the defensive. She's a woman who leads an anti-feminist far-right party; she's the daughter of a political pariah; and she's fought for a decade to turn a fascist fringe movement into a disciplined political machine — one that would give her a shot at the French presidency.
In October, Le Pen sat down for half an hour with Karine Le Marchand, a TV celebrity like France's would-be Oprah, for a kind of interview that hadn't been done before, at least in France. It was all soft-focus filters and softball questions, designed to peek behind the façade and reveal the "authentic" person inside the politician.
The interview was set up like a garden party at a dollhouse. "Marine Le Pen adores gardening, so I'm planting some flowers, " Le Marchand said by way of introduction, as she dropped a purple bellflower into a planter. As the host patted the soil, Le Pen strode in from the background, looking like a Brooks Brothers ad — navy blue suit, open jacket, light yellow top, simultaneously casual and commanding.
"Take a seat," Le Marchand said. "Feel at home."
The women sat on square faux-wicker chairs, wine and pastries on a coffee table between them. Flowers spilled from pots left, right, and center, and framed portraits of a blue-eyed, blonde-haired little Marine crowded the edges of the shot.
"So you like gardening?" Le Marchand asked.
"Yes! I am a total fan," Le Pen said.
More than anything else Le Pen had yet done — more than ditching her surname for the diminutive, unthreatening familiarity of her first name; more than "softening" the reputation of a political party otherwise known largely for its anti-Semitism; more than welcoming gay people and people of color into the fold of her National Front — this TV interview gave Le Pen her biggest opportunity to expand her voter base, and it set a new course for Le Pen's campaign.
"That program made a huge buzz. It completely changed her image," said Valérie Igounet, a historian who's been writing about the National Front for more than 20 years. "She was so relaxed, just sitting on the sofa having tea … showing she can be Mrs. Anybody."
Being the Mrs. is usually a problem for female politicians. Hillary Clinton was often overshadowed by her husband; some US newspapers even ran pictures of Bill Clinton with their lead stories announcing Hillary's official nomination as a presidential candidate. During France's 2007 presidential election, Ségolène Royal won attention largely for being a woman, rather than a serious politician, even though she became the first female candidate to make it to the final round of voting. All the talk about her skirts and her strut and her four out-of-wedlock children with François Hollande didn't help her win, although Hollande himself did win the next presidential vote, in 2012.
But Marine Le Pen is betting that, this year, being Mrs. Anybody is a winning strategy. The Mrs. is acceptably matriarchal, and the "anybody" is unthreatening.
Le Pen has transformed herself from the daughter of a racist into the mother of a nation.
More than that, being Mrs. Anybody means not being the daughter of Jean-Marie Le Pen, who is probably Europe's most famous living racist. In 1972, he started the National Front and peopled it with Nazi sympathizers — some just fascists at heart and some former SS officers and other collaborators with the pro-Hitler Vichy government of World War II. His political achievements amounted largely to provocation: He's been convicted, multiple times, of racism and Holocaust denial, and prosecuted for assaulting a female politician.
The elder Le Pen wanted to be a provocateur, but his daughter wanted to be president, and she knew her father's shenanigans were no way to win power. She became his deputy in 2007, took the reins from him in 2011, and cut personal ties with him not long after. Once in charge, she set about cleaning up the National Front's public image, a mission the party calls "de-demonizing" itself, although critics say its barely veiled Islamophobia and its pitiless stance on immigration and refugees leave it with plenty of demons.
Marine Le Pen booted the party's anti-Semites — including Jean-Marie, whom she formally kicked out of the party in 2015 — and toned down (but didn't eliminate) the Holocaust denial. She also boosted the National Front's populist credentials with downright socialist policy proposals.
She counted on these moves to make her party more palatable and to win new voters. But in an unexpectedly volatile election year, Le Pen has learned something she might not have expected.
This is the election when Marine Le Pen figured out it's good to be a woman.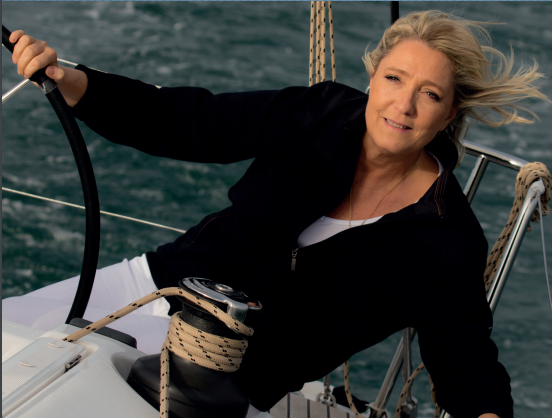 Hers isn't the usual belated discovery by candidates that — surprise! — women are a substantial voting bloc. For Le Pen, it's the next iteration of a game that began back in 2012, when the National Front accomplished something no other radical right party in Europe ever had: It won essentially the same number of votes from women as it did from men.

Far-right parties in Europe have always had more support from men. That's not a huge surprise: When it comes to women, their platforms are deeply conservative — feminists would say misogynistic, sympathizers would say "traditional." But the National Front's 2012 victory — so-called, anyway, because the party nearly doubled the percentage of votes it won, even though Le Pen came in third in the presidential race — was achieved partly by closing the gender gap among voters, according to Nonna Mayer, the research director at the Center for European Studies at Sciences Po, a top university in Paris. "Of course women vote for these parties, but [usually] it's five or six or seven points below the votes of men," Mayer said.
If Le Pen can repeat and expand on that success, she has a real shot at the presidency. "It's the core concern of Marine Le Pen this election — women voters," Igounet said.
Most of the first-time female National Front voters in 2012 were working low-wage jobs with long hours, and they appear to have been motivated in large part by the party's economic messages, not its stance on women's issues, according to Mayer. Indeed, the National Front of 2012 retained its conservatism on women's issues: Back then, Le Pen supported measures to limit reimbursements for abortion and pushed for a "parental salary," which would've paid a parent who chose not to work 80% of the minimum wage. Many feminists saw the plan as a way of bribing women out of the work force, where they face a 30% earnings gap compared to similarly qualified men.
"Marine Le Pen doesn't present herself as a woman, she presents herself as a mother."
The Le Pen of 2017 looks and sounds very different. She's dropped all talk of state money for stay-at-home moms or limiting funds for abortion. And since the Le Marchand interview, she's embraced her gender — or rather, a certain calculated femininity — as a political tool.
A few months after the interview, in February, Le Pen's propaganda machine turned being a woman into an all-out campaign strategy, publishing a three-page pamphlet that put Le Pen's gender at the center of her political identity. "A WOMAN AT HEART: Behind the political woman — a mother, a sister," the pamphlet blares. "To be a woman in politics is an asset, not a handicap."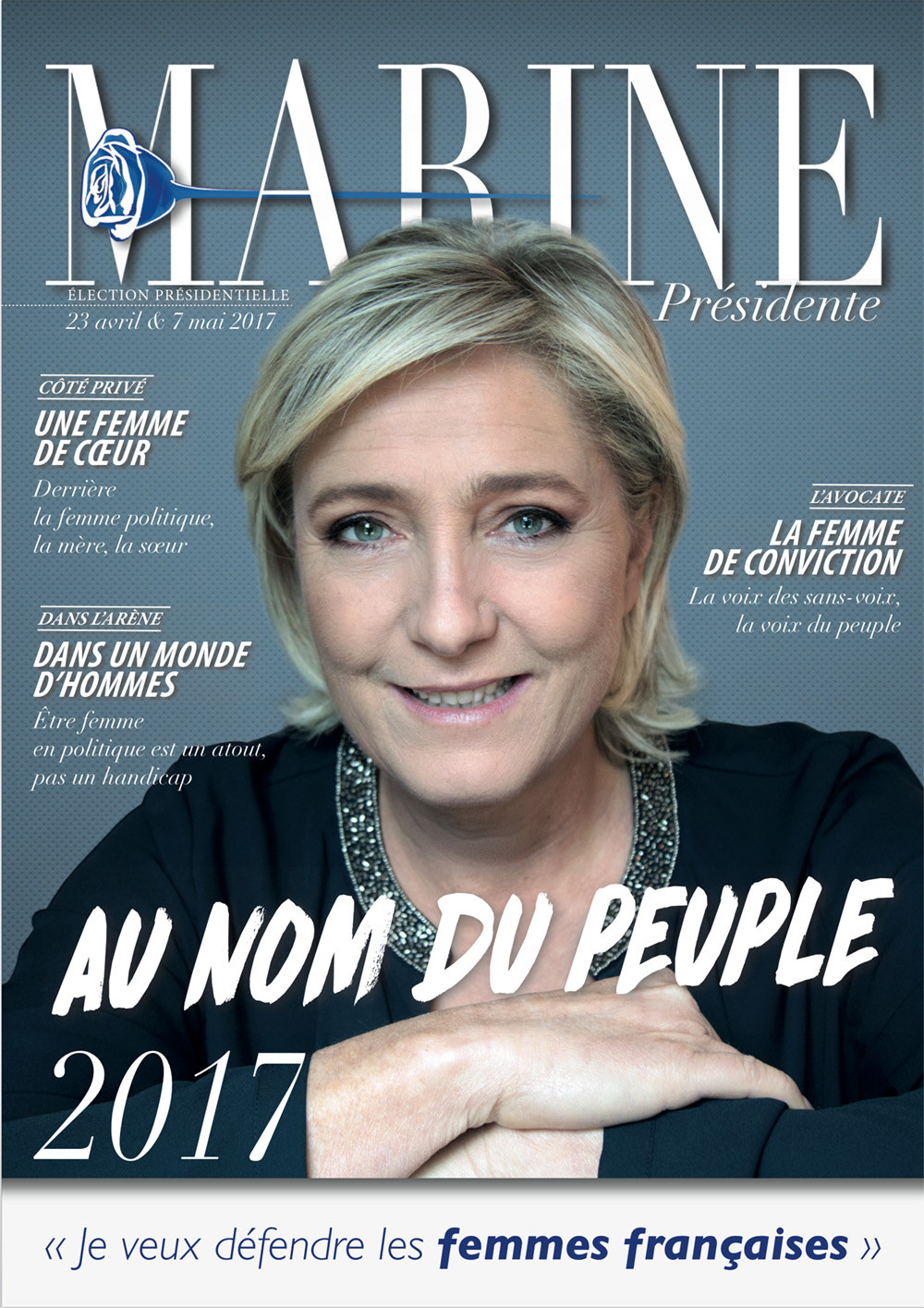 There's more truth in that message than Le Pen may have intended. Her gender "gives a softer image of the party," Mayer said, and that's made the National Front more palatable. In fact, Le Pen's gender strategy is a key part of the softening that has brought the National Front its first serious chance at the presidency. Partly, that's a matter of lucky timing: Like their counterparts in the US and Great Britain, the French are tired of "elites," and voters from across the political spectrum express frustration with nepotism and corruption. Not that Le Pen is immune to those either: She inherited her political position, after all, and her party is being investigated for fraud and abuse of state funding for political campaigns. But in a crowded race with 11 contenders, those details haven't made a major dent.
"We've reached the end of the French political system," said Claire Serre-Combe, spokesperson of Osez le Féminisme, a national feminist network. "We have so many candidates. We have TV debates that last four hours, but we're [still] not talking about the real, deep issues. We might have a problem with our constitution, with the Fifth Republic," the postwar political system that constitutes today's France.
"We're looking for a supreme leader, a hero, but it's the end of the system," she said.
Meanwhile, every leading contender has faced some major scandal or another. François Fillon has been accused of paying his wife with state funds for emploi fictif, or "fictional work." Emmanuel Macron, who overtook the embattled Fillon as the next likely winner, has taken a hit for retaining as a health adviser a doctor who had been paid for years by a pharmaceutical company found negligent for drug-related deaths. The adviser resigned once the compensation package was made public — but not before Macron gave a pro-pharma speech.
In France, a presidential candidate needs a simple majority to win, and the multi-candidate race usually takes two rounds of voting. Pollsters and analysts have said for months that Le Pen will likely advance to the last vote — and lose there. But in the last week of the campaign, things are in unexpected flux.
"Anything can happen right now," said Marie-Pierre Badré, president of the French Center for Men's and Women's Equality at Centre Hubertine Auclert in Paris.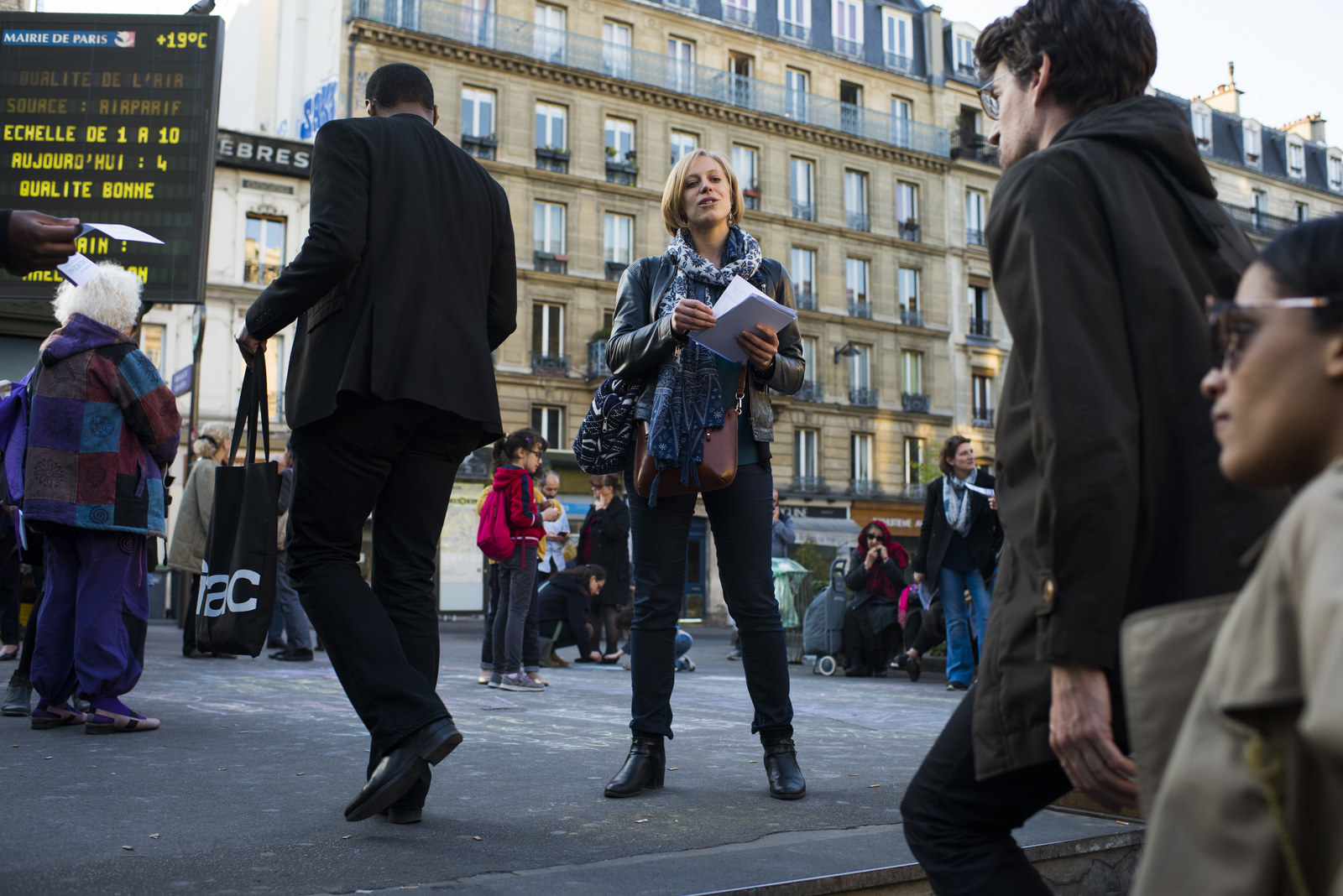 Not everyone is buying Le Pen's brand of female leadership. Experts on the National Front call the feminine pose she's recently struck a marketing ploy. (Florian Philippot, Le Pen's chief strategist, did not reply to a request for comment.)

"The fact that we have a vagina doesn't mean we're feminists," said Caroline de Haas, formerly an adviser to the Ministry of Women's Affairs and now a left-wing political candidate in one of Paris's municipal elections. "Being a feminist is in the brain."
Le Pen's own voting record is anything but feminist. In her 10 years as a member of the European Parliament — an institution she now rallies crowds by railing against — Le Pen skipped votes on preventing violence against women, ending wage discrimination, and supporting female entrepreneurs. She also voted against workplace improvements for pregnant women and new mothers, legal and social recognition for caregivers and domestic workers, and greater attention to online abuse and other manifestations of gender inequality in cyberspace.
"Marine Le Pen, before being a woman, is a fascist. That's all. Period," said Sarah, a member of the feminist collective 52, which "defaced" campaign posters with stickers that transformed presidential slogans into messages of gender equality. (Members go only by their first names.)
It's the fascism, some say, which actually lets Le Pen float above the sexism that usually dogs female political candidates, in France and around the world. "She presents herself as a strong woman," said Mayer, of Sciences Po. "She has a way of occupying the space, which is very similar to the way her father did ... She's not a weak little woman whose voice is covered by the other men in the room. And she knows how to use the media."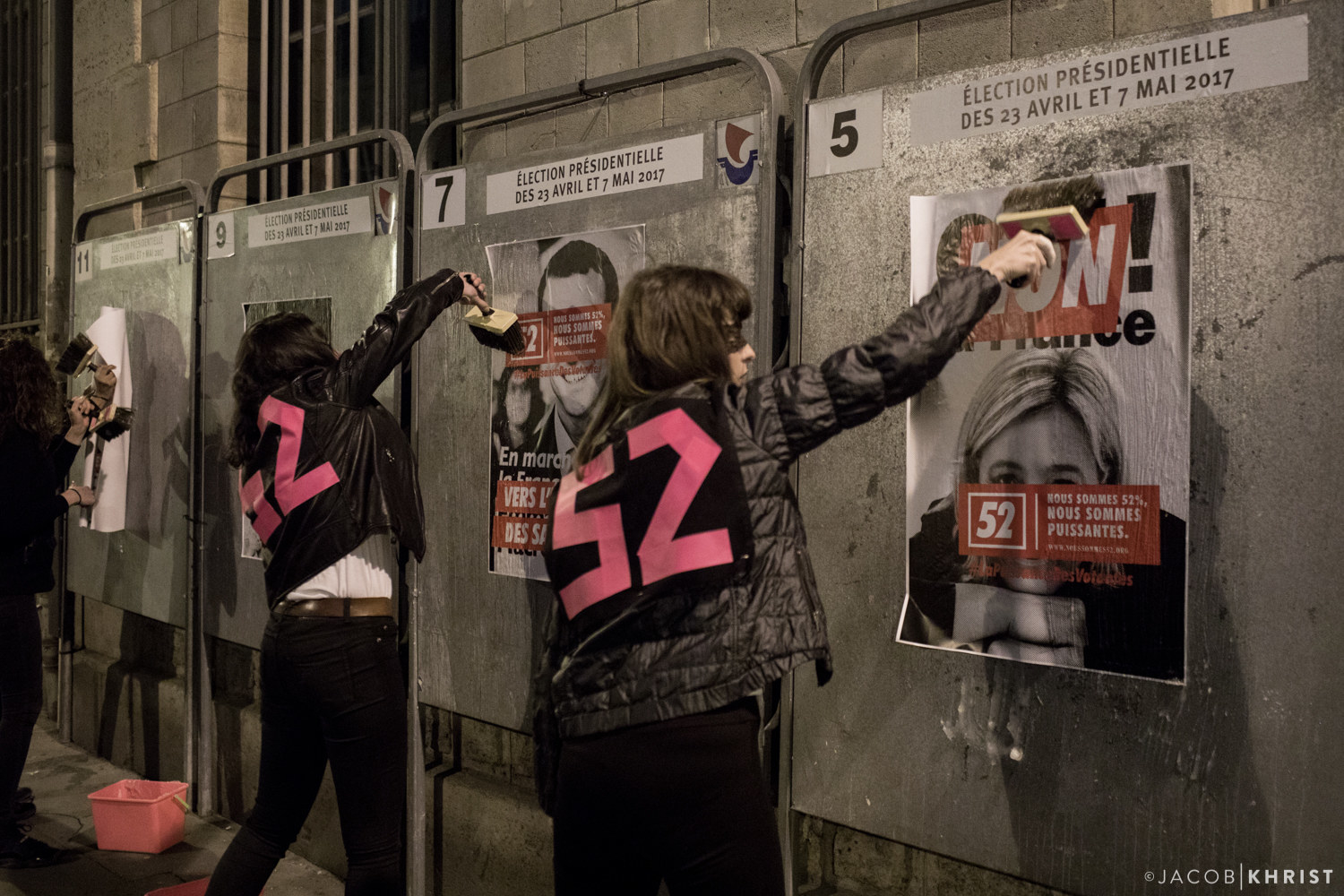 Le Pen's public presence is a big change from the last time a woman got this far in the race. "Ten years ago, with Ségolène Royal as a candidate from the Socialist Party, the media talked entirely about her being a woman. The whole debate was about her gender — about how she dressed, how she behaved. Now, effectively, there's none of that," said Serre-Combe, of Osez le Féminisme.
Sexism in France runs much deeper than superfluous comments about clothes. Blogs are full of anonymous stories about sexism, from everyday encounters on the street to harassment in local and national halls of power.
Newspapers are full of these stories too. Most famous, perhaps, is Dominique Strauss-Kahn, the former managing director of the International Monetary Fund, who was indicted in New York City on rape charges in 2011; French prosecutors investigated him on three more cases of rape or sexual misconduct over the next four years. The details that came out in those court cases revealed a deeply entrenched misogyny among the French political elite.
In 2015, 40 French political journalists wrote an open letter in France's biggest daily paper, detailing the sexism they faced in doing their work. Last year, a scandal erupted when one political party leader was accused of sexual assault and harassment, sending as many as 100 lewd text messages to one fellow parliamentarian that complimented her for crossing her legs and confessed fantasies about sodomizing her. In response, 17 female former ministers released a "Statement Against Sexism" protesting sexual harassment and gender discrimination in politics.
It's a problem the French political class knows it has. In 2000, the country passed a gender parity law that requires political parties to list as many female candidates as it does male candidates, or to pay a fine. In 2012, Badré said, "all the parties decided, 'We're just going to pay the fine. We don't care; we'd rather have men on the list.'"
This year, the fines will double, but Badré says they won't really solve the problem: When women do make the candidate list, they're nominated in districts the parties know they're going to lose, the way Democrats know they'll never win, say, Idaho. "They're pushing women to failure," Badré said.
"The fact that we have a vagina doesn't mean we're feminists."
Marine Le Pen, on the other hand, avoids all that. "She's her father's daughter, the heir to his party," said Serre-Combe. "In the political space, she's not seen as a woman. She's seen as a brand, a trademark."
Badré, a member of the right-wing Republican party, thinks Le Pen's harsh political platform shields her from the kind of sexist projections often indulged by the media or politicians. "Her program is so tough, so extremist, that she always seems softer by comparison," Badré said. "There's a certain kind of fragility [assumed of] other female candidates, but Le Pen doesn't have that. Her program doesn't allow her that. It doesn't allow her to be human in that way."
Rebecca Amsellem, who runs the weekly feminist newsletter Les Glorieuses, which has more than 40,000 subscribers, says it's because Le Pen has connected her gender strategy to one of France's great political myths. "Marine Le Pen doesn't present herself as a woman, she presents herself as a mother. In a campaign video, she was saying she wants to be the 'mother of France.' I think it's a de Gaulle strategy," Amsellem said, referencing Charles de Gaulle, who founded the Fifth Republic.
Whatever it is, it's working. Le Pen has transformed herself from the daughter of a racist into the mother of a nation, and that's helped her avoid the same kind of media scrutiny about her womanhood that Royal faced a decade ago — or that Hillary Clinton faced last year. But Le Pen has managed to use her gender to signal, in subtle ways, a respectability about her party that's earning her big crowds and high poll numbers.
In fact, it may be earning her more — female — votes than we know.
"I think most women won't say they're going to vote for her. They keep it a secret. It's not seen as feminist, not seen as an expression of gender equity, so women don't say that they're going to do it," Badré said. "It's exactly like how you got Donald Trump. Exactly."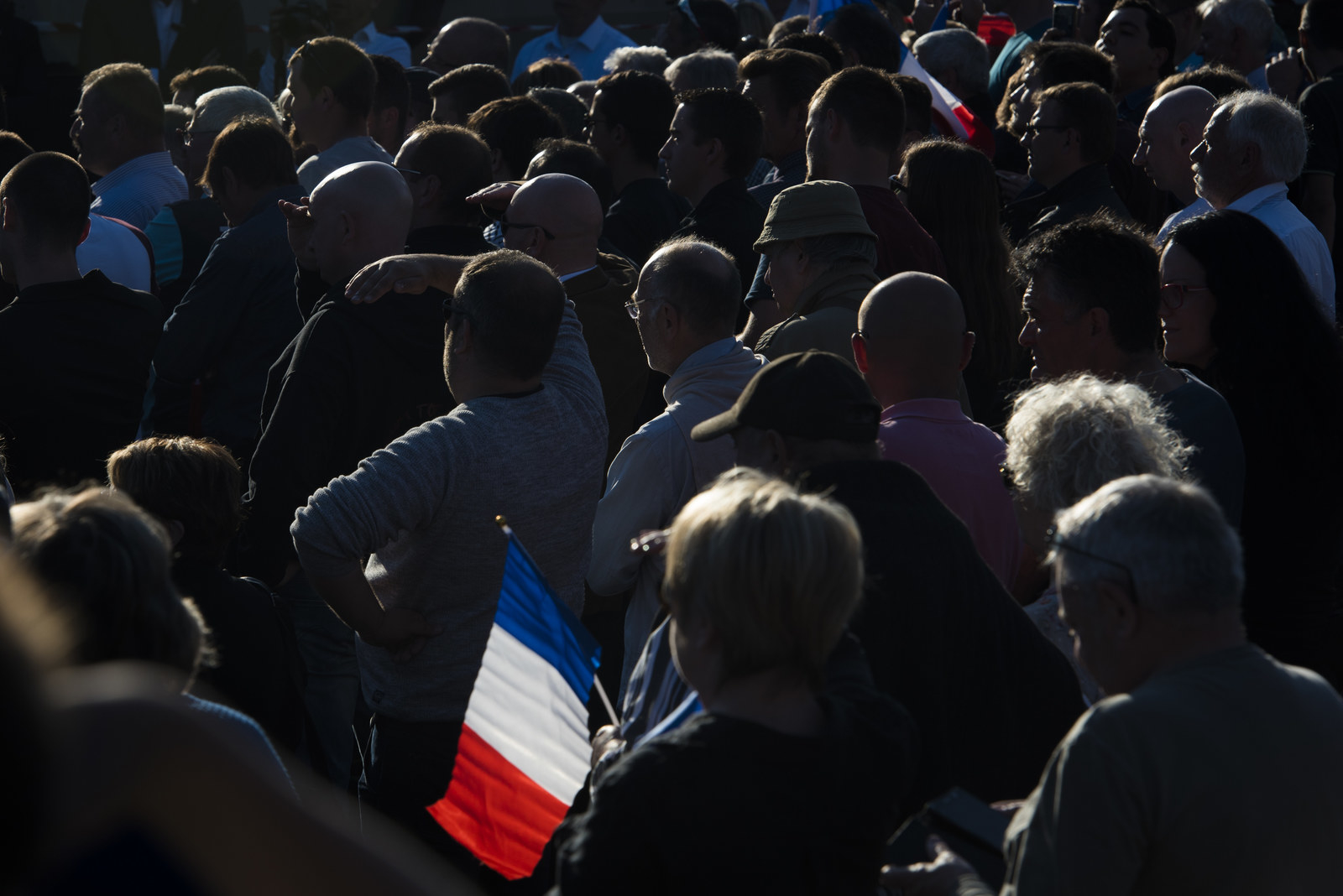 Le Pen's posture as a woman in politics has always been twinned with her Islamophobia. A 2016 column in L'Opinion, a conservative French paper, was the first time she positioned herself politically as a woman, even quoting iconic French feminist Simone de Beauvoir, a move women's rights activists considered a cynical appropriation. The column was prompted by a mass sexual assault in Cologne, Germany, and Le Pen used her gender to portray her strength — her rhetorical and political courage — while simultaneously broadcasting the vulnerability of the women she claims to protect. "It is as a political leader, but also as a woman, that I address the French people today. It is as a free French woman, who has been able to enjoy, her whole life, the very precious freedoms fought for long and hard by our mothers and grandmothers, that I want to warn about a new form of social, human and moral regression imposed on us by the migrant crisis," she wrote. "I fear that the migratory crisis signals the beginning of the end of women's rights."

It was the first draft of an argument that became stronger as Le Pen's campaign took off. "You can clearly see that her feminism — although it really hurts me to use this word on her behalf — her feminism is deeply racist," said Serre-Combe. "She speaks of sexual violence only when the aggressors are foreigners."
"Marine Le Pen, before being a woman, is a fascist. That's all. Period."
Of the 144 "commitments" in Le Pen's party platform, only one is about women's rights. Although it has three parts —including a vague reference to fighting unemployment and an allusion to the importance of pay equity — Le Pen talks exclusively about just one, her plan to "defend women's rights against Islamism, which would take back women's fundamental freedoms."
But it's the middle part — about pay equity — that's most on the minds of some Muslim women. In interviews with more than half a dozen women at an annual national gathering of French Muslims, in the Paris suburbs, ending wage discrimination came up as a key issue. Like some of Le Pen's 2012 female supporters, the economic interest of French Muslim women might have driven their vote — if this year's election hadn't also been turned into a kind of referendum on the hijab.
That's not just Le Pen's doing. Another candidate, former prime minister François Fillon, has described "Islamism" as a Nazi-like "totalitarian" force and invited Russia to help fight against it. Current president François Hollande has called Islam "a problem" and pinned the blame for it on Muslims who "don't denounce radicalization."
But the driving battle cry of the Islamophobia sweeping through the French political debate has come from Le Pen, who has framed it with women's rights. In the February speech launching her campaign, Le Pen decried what she called Islam's "gender discrimination," alleging that Muslim women are forbidden to have jobs or socialize in public. "No woman who is bound to her freedom and her dignity can accept this," she said.
The ignorance of this position exhausts some Muslim women in France. The politics of the veil that Le Pen stoked in her speech cost Malika, 51, a good-paying job — the very thing Le Pen erroneously argued that a Muslim woman like Malika wasn't allowed, by her husband, to have. "I was working in the insurance industry," she said, "but I had to leave my job because of the veil. So I'm a nanny. It was that, or become a cleaning lady" — both jobs whose workplace protections Le Pen voted against in the European Parliament last year.
Ophia, an older woman originally from Tunisia (who, like other women interviewed, preferred to keep her family name out of the media), remembered one painful illustration of French hypocrisy. When she applied for naturalization, she was turned down the first time — not because of the specifics of her situation, but because of concerns that her father and her husband didn't represent "good French values."
"I cried for hours," she recalled. She wasn't just disappointed to be turned down; she was angry that free and equal France saw her only as an extension of her male guardians —the very thing for which Le Pen, today, denounces Islam.
It's hard to know how much Islamophobia Le Pen has created, and how much she's simply exploited. Secularism, or laïcité in French, is a sacrosanct cultural and political value, with roots in a law that predates even the Fifth Republic. Women in hijab — so visible, ironically, in their supposed oppression — are an easy target for Le Pen, who shores up her secular bona fides every time she calls out the veil.
Agnès De Féo, a filmmaker who has been documenting the lives of women who choose to wear the niqab, or "full veil," in France since 2010, says the public narrative gets the basic data wrong. Le Pen talks endlessly about women "oppressed" into wearing the hijab or the niqab by their husbands, or by their religion. But "the majority of women [in niqab] are single," De Féo said. Often, they're looking for husbands; sometimes, they've been traumatized. Many are willing to wear the niqab despite the 150-euro fine (and lessons in French citizenship) they face for violating France's ban on the full veil. "A proportion of them wear the veil because they feel safer, especially from street harassment," De Féo said. "It's actually a reflection on French society [as] very sexist. There's no connection with this imagined character we have, that they're all submissive and married."
"Her program is so tough, so extremist, that she always seems softer by comparison."
At least the women De Féo talks to used to feel safer in the niqab, which is generally worn in public and removed in private. In today's climate, De Féo says, women commonly wear the niqab close to home but remove it when they have to venture farther afield, fearing street harassment from non-Muslims.
Ela, a 30-year-old woman from Strasbourg, says a different kind of street harassment is a big reason she chooses her hijab. "When I wear the veil, I am seen as a person and not as an object or a body. When a man is talking to me, I know it's not because he's about to hit on me," she said. "In France, there's so much talk of women's rights — there are naked bodies of women in ads, and people say it's freedom. To me, it's objectification. And when we say we're free, because we are independent with our [choice about] the veil, people don't believe us."
The hijab debate is downright subtle compared to last year's "burkini ban." Following a terrorist attack on a Bastille Day parade in July, several towns along the French Riviera banned the full-body swimsuits Muslim women wore to the beach; police issued fines or forced women to partially disrobe for lacking "an outfit respecting good morals and secularism," according to one of the women's tickets. (The ban was suspended by a court after several weeks.)
Despite her self-proclaimed duty to "give voice to the voiceless," Le Pen isn't interested in the votes of independent Muslim women. Very little about her rhetoric indicates that she acknowledges they exist, and there's no major candidate really pulling for their votes. "We would have liked a candidate, but candidates are not interested in the Muslim community," said Karma, a middle-aged woman who lives in central Paris.
And therein lies perhaps the biggest irony of all: France has the largest Muslim community in the European Union, and many Muslims share the same disillusion with the mainstream political parties as other French voters. They're so fed up that they're changing their voting patterns, according to Fatima Khemilat, of Sciences Po in Aix, making them a voting bloc ripe for the taking.
Much has been made of Le Pen's savvy at turning her party's former opponents into allies. She's courted the gay community, and women, and members of other minority groups. But France's nearly 5 million Muslims — most of whom are not part of the recent wave of refugees and migrants — are a bridge too far. Or, put differently, her "anti-Islamist" stance, as she calls it — a phrase many interpret as a rhetorical dodge — is too important to her vision and her values to give up.
"If you ignore the issue of the veil, some Muslims are really close to Le Pen on other issues: They're protectionist, they are anti-American, they are anti-abortion, anti-homosexuality, anti-EU," Khemilat said. "But they won't vote for her because of the Islamophobia of her position."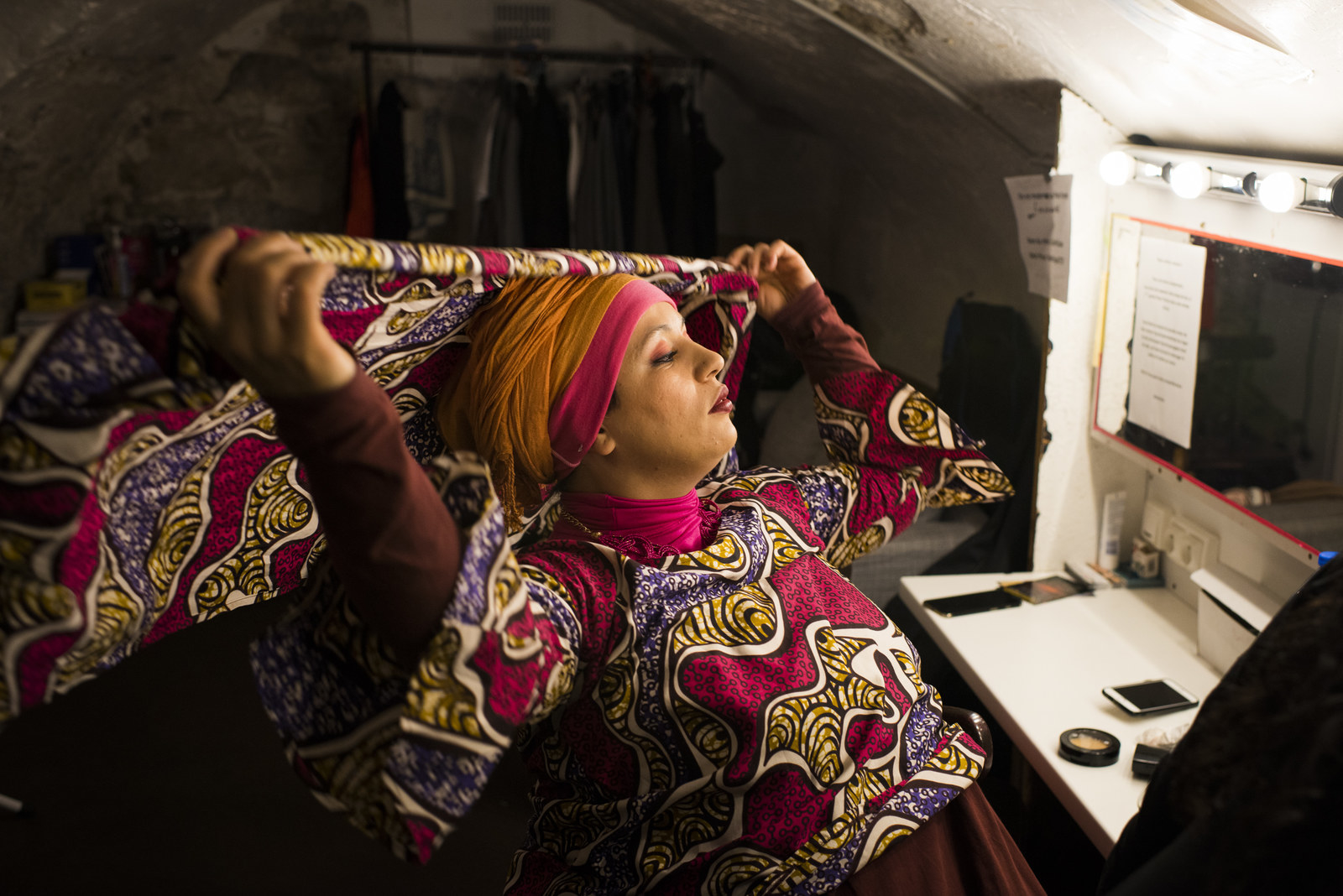 If there is an anti–Le Pen in France, it is Samia Orosemane. She's the French-born daughter of Tunisian parents. She's Muslim. She's an actor, and a loud, bright person, figuratively and literally. She wears electric shades of eyeshadow, even offstage, and shirts tailored from colorful African prints, with a matching head wrap.

The wrap is actually her hijab, which Orosemane first wore 13 years ago. She started with a headscarf, but she hated the way people reacted to it. "People gave me these really serious looks. In France, wearing the hijab is a political act. You know that movie Not Without My Daughter? Everyone thought I was like Sally Field," she said, referencing the bestselling book–cum–blockbuster movie about a white American woman who marries an Iranian and is held hostage by her husband on a trip to Tehran. "They don't just take you for a very vulnerable woman … [or] a woman who is submissive. They take you for an ignorant person, a dumb person."
It's hard to know how much Islamophobia Le Pen has created, and how much she's simply exploited.
Muslims didn't like the look of her hijab either, she said, because she didn't pair it with the usual long, loose robes. After another Muslim woman insulted her on a bus for wearing the hijab "improperly," Orosemane had had enough. "From that moment, I decided it's nobody's business," she said. "I wear it like this, and nobody knows what it is. God knows, and that's what matters to me."
She's built her alternative hijab into her one-woman show, a hilarious hourlong tour of stories that don't make it into the French mainstream. In a country seized by fear — of terrorism on one side, of Le Pen on the other — Orosemane reigns over an unexpected space of social connection, a space that, if it weren't for the political crisis of the moment, might otherwise be banal. It's a space with white people and people of color, where couples go on dates and teenagers pass the Easter holiday. They laugh when Orosemane pokes fun at how slowly people from Ivory Coast speak, how quickly Muslim women — but most women, really — get pressured to have kids after they marry.
There aren't a lot of places in France where Muslims and non-Muslims mix like this, confronting directly — and convivially — the visible differences that politicians turn into social divides. Orosemane's stories about her own complicated identity refute Le Pen's vision of Muslim women — and, perhaps, make it harder to maintain Le Pen's Islamophobia.
"I'm just telling the stories of this France of today, stories that some people might not know," she said. "I don't have a political objective."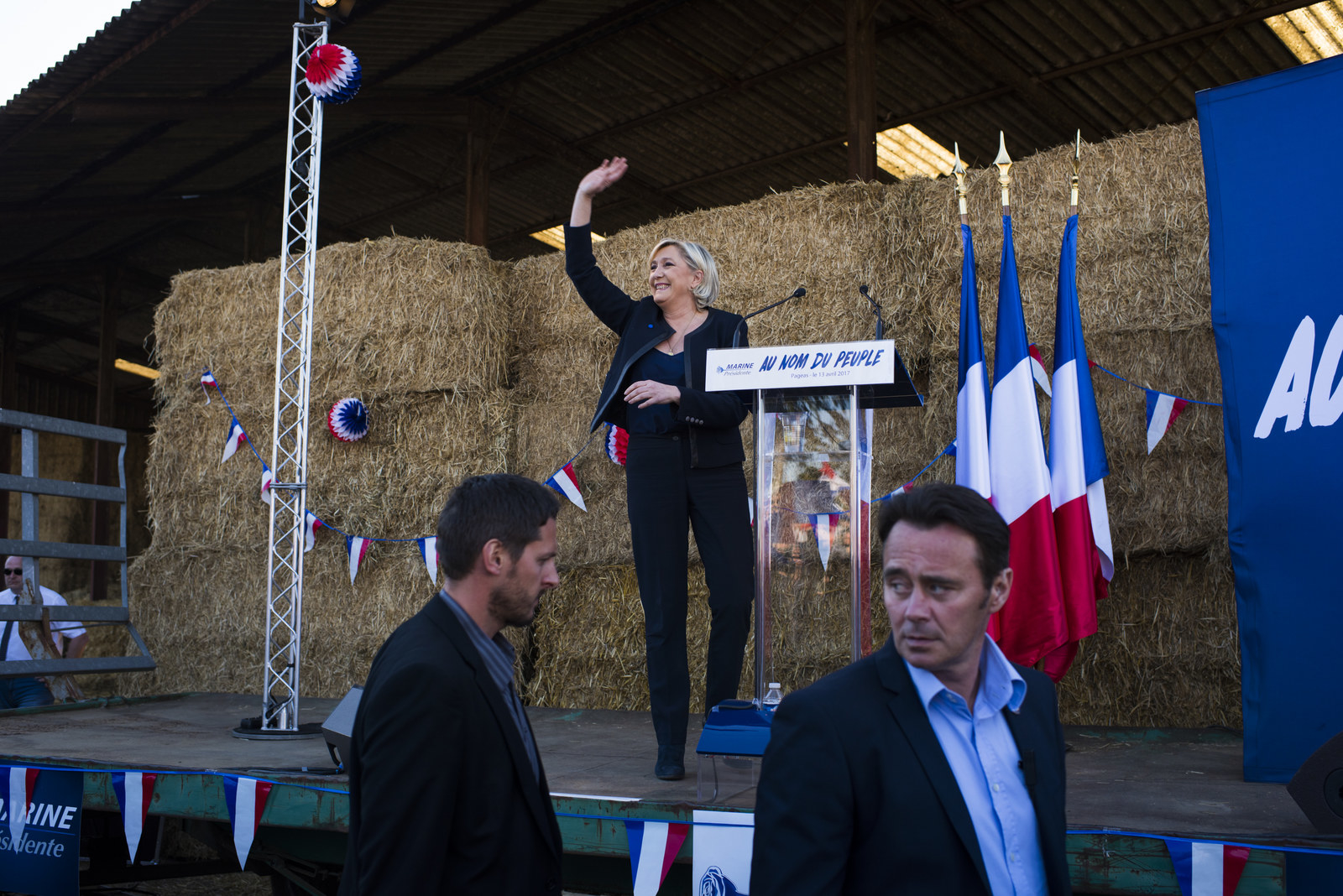 Four hundred kilometers away, there's another kind of theater going on, one with a profoundly political objective.

People say that a Marine Le Pen rally is like a rock concert, and it's true, even when she's standing in front of hay bales.
The bales are flanked by tough-looking machines — a rotary rake with monstrous, curled claws; a massive green tractor — and stacked 10 feet or so high, pinned with plastic flags and a few paper balls, in the red, white, and blue of the French flag. In front of this faux wall of hay, there's a podium on top of a tractor bed and a gently descending series of wooden pallets for steps. The whole thing feels like a hastily scheduled Sadie Hawkins dance, until a recording of Marine Le Pen booms through the loudspeaker. Low, expectant music thrums beneath her words, whose tone is somehow both irrefutably strong and and irresistibly soothing.
Then three things happen at once: The music explodes with drums. The crowd erupts into cheers. Marine Le Pen glides onto stage.
"Most women won't say they're going to vote for her ... It's exactly like how you got Donald Trump. Exactly."
Whatever you think intellectually of Marine Le Pen — whatever you think about breaking up the European Union, about refusing refugees, about Islamophobia — it's almost impossible to resist this crescendo of sound and action, impossible not to feel that same sentimental swell you get at the end of a movie, when the runt on the football team scores the championship-winning touchdown, or the orca, free at last, leaps from the ocean to that perfectly timed cymbal clash. It's hard not to fall for the tension and release built into this moment, even if you believe that everything before and after it is a terrible idea. Hard not to be such a sucker.
The crowd, preseasoned with her ideas, has been whipped to applause by an audio clip — tested and focus-grouped and prerecorded to deliver a reliable, consistent hit no matter how tired or off the real live Marine Le Pen feels when she takes the stage. It almost doesn't matter what she says when she finally does speak; you leave with your biases neatly confirmed.
At least, many of these people did: The guy in the "Like it or leave" hat. The woman whose mum's friend once saw "a refugee walking around a car, and you could just tell he was trying to steal something." The loud string bean of a man who, when Le Pen said she'd strengthen the borders, hollered back that she could just line them with pork.
Marine Le Pen takes the stage. French flags, handed out as freebies at the entrance, flap wildly. A few hundred voices unify, chanting, "Marine Présidente! Marine Présidente!"
Marine Le Pen has not yet spoken a word, but her work is done.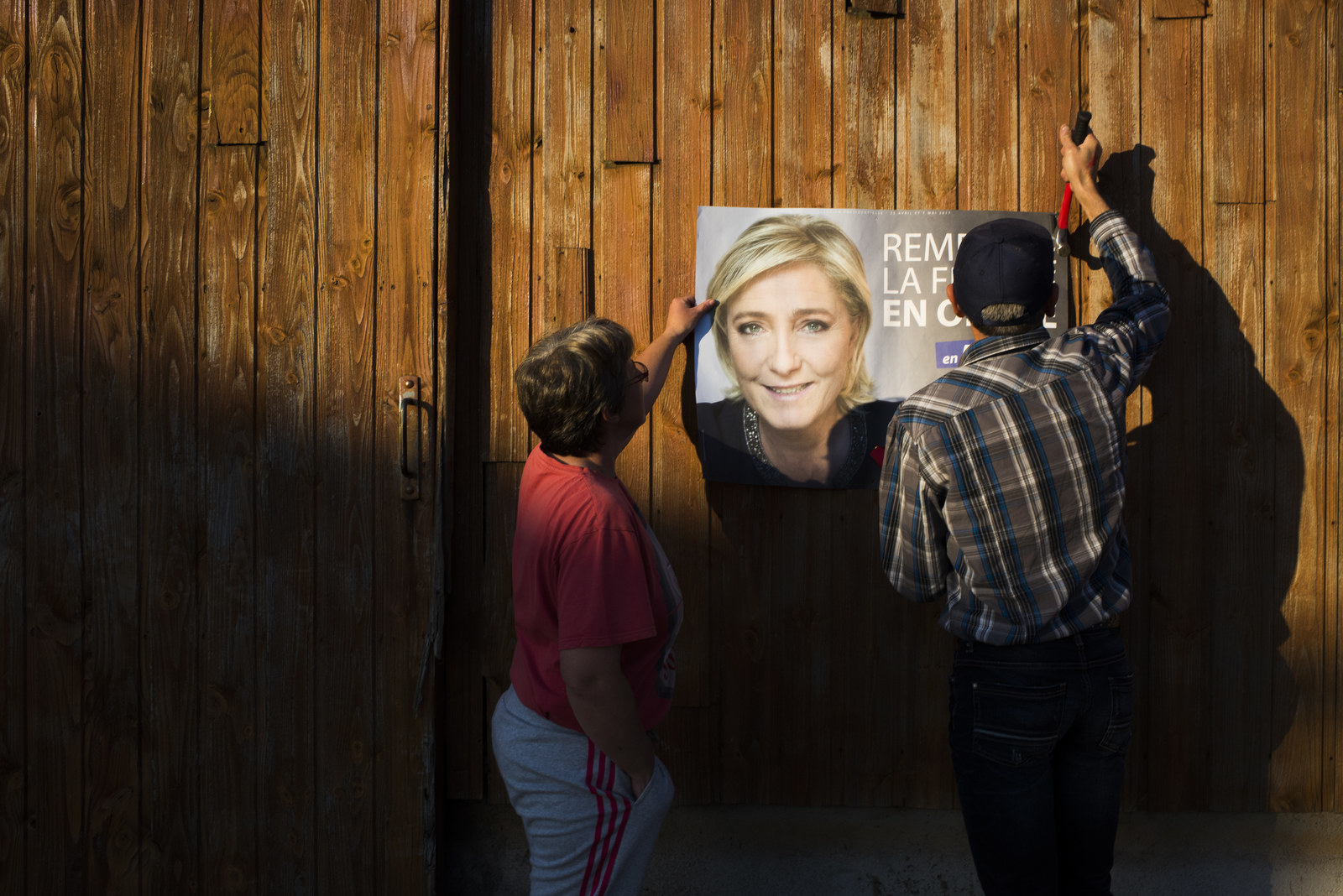 Annabelle Azadé contributed reporting.
Outside Your Bubble is a BuzzFeed News effort to bring you a diversity of thought and opinion from around the internet. If you don't see your viewpoint represented, contact the curator at bubble@buzzfeed.com. Click here for more on Outside Your Bubble.