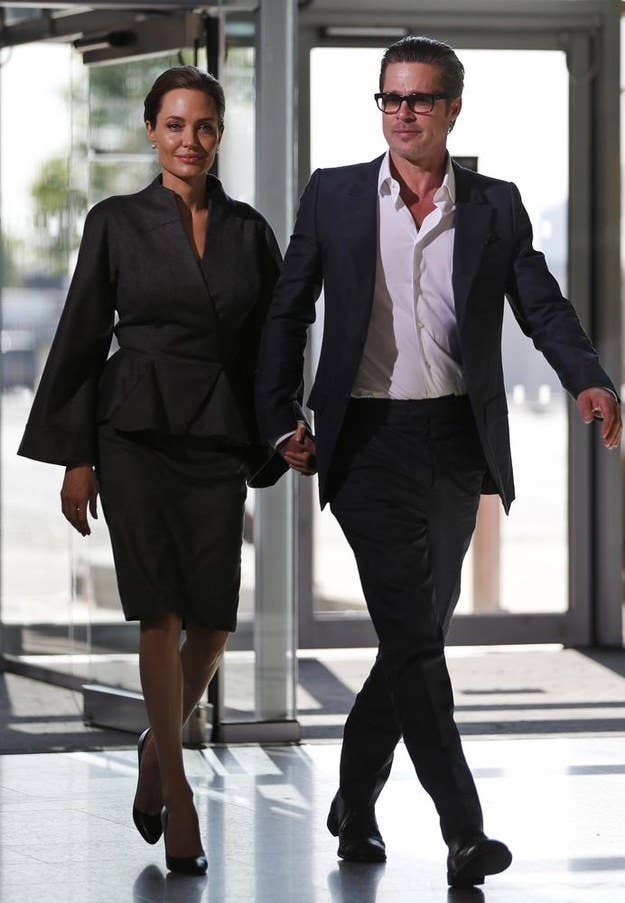 LONDON — For decades, activists, specialists and survivors have been working to prevent and punish sexual violence in war zones, and to assist survivors. Angelina Jolie gave them a major boost this week when she co-chaired a global summit on ending sexual violence in London.
But as the three-day meeting drew to a close on Friday with soaring rhetoric — "together, we have opened the eyes of the world on this issue," Foreign Secretary William Hague declared — lawyers, public health workers, activists and others recounted the concrete progress of two decades of work on the issue.
"Rape as a crime against humanity is still relatively new," said Toby Cadman, a human rights lawyer based in London. "It was the 1990s before it was really recognized."
Since then, there has been remarkable progress in trying perpetrators, assisting survivors and experimenting with informal forms of justice in imperfect settings.
The summit's language and feel suggested to some attendees that organizers felt they had newly discovered the problem — "Maybe William Hague did not know, but we have been working on this for a long time," said one grassroots human rights activist — and some attendees pointed out that it's those decades of work that led to the summit, not the other way around.
"Between 20 and 50 thousand women, and men, were victims of sexual violence in Bosnia between 1992 and 1995," said Lara Nettelfield, a lecturer at the University of London, who listed several initiatives Bosnian women made during the war to help protect other women and to bring perpetrators of rape to justice. "You can draw a direct line from those courageous women in Bosnia to the events of this week."
Nettelfield said there are many useful lessons about justice and sexual violence to learn from the Bosnian conflict. First and foremost, she said, is that "survivors can make legal history."
Nettelfield pointed to a 1995 lawsuit that victims brought against a Serb warlord in U.S. courts. The case established the validity of holding individuals responsible for crimes against humanity using a little-known 1789 American law called the alien tort claims act. The case marked a major milestone in the fight against impunity.
20 years of progress on trying rape as a war crime
There have been other milestones in that fight: In the last 20 years, international criminal tribunals have established legal precedents that recognize rape as a crime against humanity and a tool of genocide; that define forced marriage to rebel leaders as a specific violation in and of itself; and that criminalize forced abortion from rape in times of war.
The founding document of the International Criminal Court, set up in 2002, explicitly recognizes rape, sexual slavery, enforced prostitution, forced pregnancy, and other forms of sexual violence as distinct war crimes, and the court has prosecuted two sexual violence cases, though it has not yet won a conviction. The recent acquittal of a Congolese warlord brought forward concerns about the court's handling of sexual violence cases and catalyzed, in part, a new policy paper from the prosecutor's office on sexual violence investigations.
Local advocates have made progress in that time, too. In Liberia, where rape reports have sky-rocketed since the end of the country's civil war, prosecutor Felicia Coleman oversees a sexual violence investigations unit and pursues cases in a court set up specifically to try sexual violence cases, though the court is underfunded, and the police lack critical tools to investigate rape reports.
In Democratic Republic of Congo, a civil society group called Sofepadi offers one-stop medical, psychological and legal services to survivors, trains survivors as paralegals, and advocates for women who choose to pursue cases against their perpetrators.
In Kenya, a court last year ruled that police negligence in the investigation of 240 cases of child rape contributed to a culture of impunity; the court demanded police open investigations into the cases and threatened non-compliant officers with fines and imprisonment.
And a ruling by the Inter-American Court for Human Rights forced the Mexican government to apologize to Valentina Rosendo, an indigenous woman who was raped by Mexican soldiers when she was 17 years old, and to try rape cases against its soldiers in civilian, not military, courts.
What justice doesn't do
Even as the London conference called generally for governments to take action against perpetrators, some human rights observers said that promising international legal action can also be an easy way of passing the buck on difficult political problems.
"The trouble with Syria is the international community keeps [saying], 'Assad will go to the Hague and everything will be fine,'" Cadman said. "Even if we have a trial, how many people will be tried? Four? Five?"
International courts famously try only a handful of high-ranking perpetrators, and at huge cost. Transitional justice initiatives like truth commissions or hybrid courts systems have become common ways to expand accountability and establish a historical record of fact. At least 45 countries have opened truth commission inquiries or commissions of inquiry into atrocities. Other countries, like Rwanda, opt for a slightly different model; there community courts known as gacaca tried more than a million accused genocide perpetrators over five years, including for crimes of sexual violence.
Even once a trial system is set up, sexual violence cases can be difficult to pursue.
"All crimes are bad, and all need to be properly adjudicated, but the ones most difficult to prosecute are sexual violence cases," Cadman said. It's difficult to get survivors to agree to come forward, and to protect them when they do, and it's difficult to get judges to understand how to weigh testimony about sexual violence.
"What you need to present as evidence in a war crimes trial is not necessarily the same as in a rape trial," Cadman said. That's because proving rape happened — an individual crime in war or in peace time — and proving it was a systematic policy — a crime against humanity — require different approaches, and because there's often so little physical evidence pointing to the systematic nature of the crime.
"You're relying almost exclusively on the testimony of the women coming forward, and judges tend to scrutinize that sometimes unfairly," he said.
In DRC, lots of promises — but little movement — on key impunity issue for survivors
In an address at the closing of the summit, Zainab Bangura, United Nations Special Representative on Sexual Violence in Conflict, called for future focus in key areas, including "reparations survivors require and deserve."
But in the DRC, even agreed-upon reparations are hard to come by.
A national law banning sexual violence provides for reparations to victims of between $5,000 and $20,000, but not a dime of reparations awarded by courts in judgments handed down last year have yet found their way into survivors' hands.
That's because bureaucracy, and politics, have stalled the payments, lawyers with Sofepadi say.
Sofepadi paid $750 to get copies of six different judgments awarding reparations from the government to 16 women, who themselves were never offered copies of the judgments. They then paid several hundred dollars for plane tickets to Kinshasa, the capital, to push for action, according to Carine Novi Safari, a lawyer and the head of communciations for Sofepadi.
But in Kinshasa, the minister of justice chased the group out of her office. It was only after the personal intervention of the minister of gender, Safari said, that the justice minister agreed to move the reparations demands forward.
Safari has her doubts.
"She told us she signed" documents authorizing the release of funds, Safari told BuzzFeed. "But we don't know." The group hasn't seen copies of the releases.
Once the justice minister's signature is secured, the request has to go to Congo's budgetary office, and no one knows how long a request might linger there before payments come through.
"There are many cases where government is liable [to pay reparations] which means there are many cases that are not getting to Kinshasa [for follow up] — which means that there is nothing given to the survivor," said Nyota Babunga, with the partner group the Fund for Congolese Women.
International good will in London, but will anything come of it?
The Global Summit to End Sexual Violence closed with many — loose — pledges by government officials to help end rape in war zones.
Hague had earlier announced an additional $8.5 million in aid devoted to sexual violence and another $1.2 million for an existing victims' trust fund; together, they mark a 2 percent increase to the UK's funding, last year, on sexual violence issues in crisis areas.
Hague had said he hoped the announcement would inspire similar funding pledges, but few came through. Germany pledged 1 million euros to and International Red Cross Appeal; Australia pledge $5 million for "post-conflict support" to Liberia, Uganda, Timor Leste and Afghanistan.
By the summit's end, 155 countries had signed on to a "statement of action" generally outlining the anti-rape position of governments, but the statement was so vague that several officials in the closing session emphasized the need for specificity and follow-up. UNICEF followed the summit's closing by issuing an official reaction demanding "more practical action."