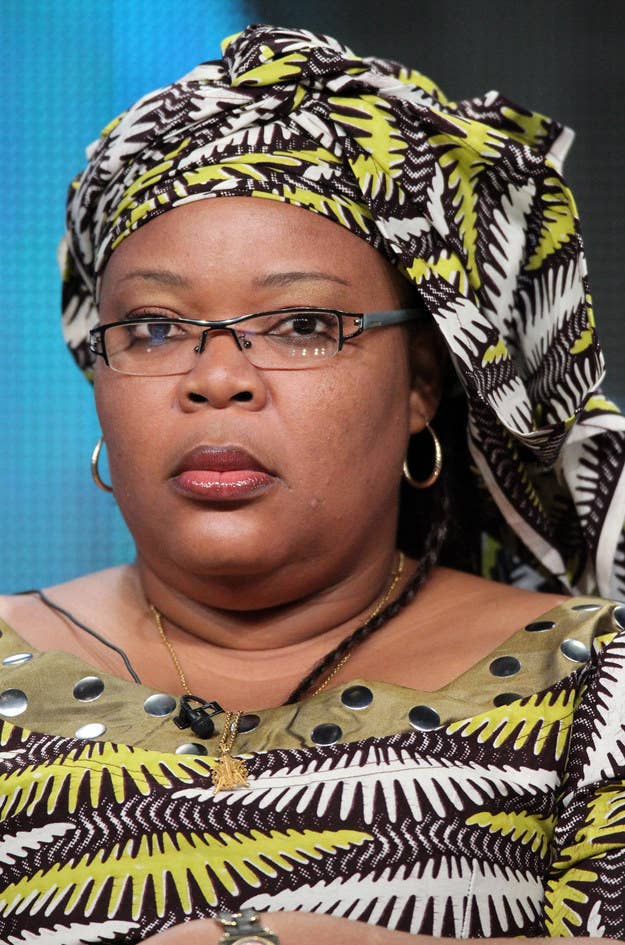 Survivors of sexual violence from six countries joined four Nobel Peace Prize laureates and two foreign ministers on Thursday to launch a network aimed at improving government response to sexual violence, amid conversations at — and criticism of — an international meeting on the topic co-chaired by Angelina Jolie.
The Survivors Action Network, launched by the Nobel Women's Initiative as part of its two-year-old International Campaign to End Sexual Violence, aims to bring voices of ordinary women into the global conversation, pushed forward this week by the Global Summit to End Sexual Violence in London.
"We survivors and witnesses of sexual violence are raising our voices in order to support all the women who have suffered this crime against humanity," said Jineth Bedoya Lima, a Colombian journalist who was kidnapped, tortured and sexually assaulted as an act of intimidation against her journalism.
Lima also called on men to join the effort.
"Men can't forget that a woman's body... gave them life. This should be enough of a reason to be by our side," she said.
Nobel Laureate Jody Williams, whose leadership in banning land mines earned her a 1997 peace prize, said the network will help shift shame from the victim back to the perpetrator.
"The shame in so many cultures around sexual violence is so extreme," Williams told BuzzFeed. "We thought if we could have a group of women from around the world say, 'It's the shame of men who violate us," it might help other women, not necessarily to speak out, but to change how they think about" what happened.
Williams, who was sexually assaulted in El Salvador in retaliation for her work there,
only spoke about her assault 15 years later. She emphasized that not every survivor may want or need to speak publicly, but hopes the global alliance will help reduce the stigma attached to even survivors who stay silent.
The foreign ministers of the Netherlands and Norway introduced some of the network's members, and Romeo Dallaire, a Canadian senator and formerly the head of the United Nations peacekeeping mission in Rwanda, attended. But there were few if any other official faces, on a day of ministerial-level meetings at the summit, and Williams took issue with the summit's insinuation that the issue has been neglected, and also with its hashtag #timetoact.
"We are happy governments have put this on their agenda," Williams told the room at the launch. "But, 'time to act'? We [in civil society] have been acting for decades."
Delegates from local and international human rights groups have quietly criticized the star-studded affair, co-chaired by Angelina Jolie and kicked off this morning with a surprise appearance by her partner Brad Bitt, for marginalizing the voices of civil society. There are few grassroots experts on the program's panels, and most civil society groups have been relegated to a public exhibition space on a different floor from the official meetings.
The criticism came up pointedly in one public program, focused on legacies of violence in Bosnia. "It's Bosnian women who quite literally through their blood sweat and tears identified this early on as a policy issue...and while war raged in their country," said Lara Nettelfield, a lecturer at the University of London. "Later, they found a political ally with an A-list Hollywood celebrity who generously lent her social capital to their issue, but Bosnian women had a voice."
Nobel Laureate Leymah Gbowee, who won the award in 2011 for anti-war activism in her native Liberia, hopes a survivors network can amplify those voices from conflict regions widely enough that political elites begin to listen to them. She said her Nobel Prize is a tool she and her fellow laureates can use to get access and drive conversations ordinary women might struggle to win.
"It's the people who make the government, but unfortunately we live in an upside-down world where the governments are like demi-gods," Gbowee told BuzzFeed. "It's difficult for women to access them."
Bringing the voices of land mine survivors into her campaign was part of what made Williams' initiative to ban the weapons a success, she said, and serves as a model for this network. Williams hopes the network can help catalyze on the high-level discussions in London and push governments to make and honor tangible commitments on the issue.
"When you have survivors in your face, it's hard to talk hot air," she said.