Second Wave Of Somalis Deported From Kenya Amid "Anti-Terror" Crackdown
Citizens of Somali descent also face new scrutiny. Police say the operation will continue indefinitely.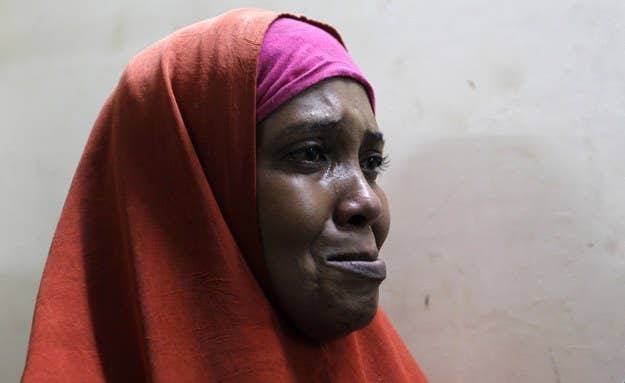 NAIROBI — Ninety-one Somalis were deported from Nairobi to Mogadishu today on a charter flight as the Kenyan police continue house-to-house sweeps looking for refugees and illegal immigrants in parts of Nairobi and elsewhere in the country.
One woman, 40-year-old Seynab Bulhan, allegedly died while awaiting deportation at Jomo Kenyatta International Airport.
Mohamad Ali Nur, Somalia's ambassador to Kenya, said the deportees were among those identified as illegal immigrants after the most recent round of sweeps. Last Wednesday, 82 Somalis were deported.
"Operation Usalama Watch," as it's officially known has attracted criticism for ethnic and religious profiling. Kenyan police have gone house to house in Eastleigh, nicknamed "Little Mogadishu" because of its concentration of Somali residents, and recently in South C., a middle-class Nairobi suburb.
The operation was prompted by recent bombings in Eastleigh and in Mombasa, a heavily Muslim city, according to Kenyan police. Last September's attack on Nairobi's Westgate shopping mall, in which 67 people were killed, also weighs heavily here in conversations about security.
But human rights groups worry that the operation is too blunt an instrument, and that in targeting Somali-looking people, and Muslims in general, it will stoke tensions, rather than improve security.
"If anything, [the current] methods are playing into the terrorism. If you carry sweeps of 5,000 people and vet them one by one… of people belong to a particular religious or ethnic group. If you are Muslim and Somali you are obviously a target," said Mwambi Mwasuru, executive director of Muslims for Human Rights, a (nonreligious) nongovernmental organization based in Mombasa, on Kenya's south coast.
Today's deportees, Nur confirmed, were illegal immigrants, not refugees, registered aliens or Kenyan citizens swept up by the operation. Most of the deportees were male, around 30 years in age, he said, although there were five children among them.
"These were Somali-Somalis, here illegally and undocumented," Nur told BuzzFeed by telephone as he prepared to board the charter flight with the deportees. (There were too many deportees to travel commercially, he said.)
"Kenyan Somalis," meanwhile, has become a kind of shorthand for legitimacy that many Kenyan nationals of Somali heritage find objectionable.
"There's always been a sense of feeling that you have to prove your Kenyanness," said Dauddinn Hajji, a 28-year-old professional who was interrogated in his South C. apartment by nine police officers in military-style camouflage at 1 a.m. on Monday.
Hajji, who was born in Kenya, said the police checked his balcony, his bedrooms, and "every door in the apartment, even in the kitchen."
"They went through my suits," he said. "They looked behind my TV. I don't know what they were looking for."
He says the police asked him for a bribe in coded language.
"They asked, 'Have you had your supper?' I said, 'Are you in your right mind, asking about supper at one in the morning?'" he said.
The inspection lasted about 10 minutes, he said, and ended when he produced a national identity card the police accepted as authentic.
But the exercise left a bad taste in his mouth.
"A document does not make me Kenyan. I was born, raised and schooled here. I have all the rights to be here," he said. "Is it illegal to be a Somali?"
Those whom the police suspect of having fake documents — or those who don't have any identification on them at all when the police arrive — are arrested, put into lorries and taken to police stations, then on to Kasarani stadium for "screening," where they are held until their documents are verified.
Rights groups and the Somali ambassador say these individuals can be detained for several days; Zipporah Mboroki, the national spokesperson for the Kenya Police, denies this, saying they are escorted to police stations to sleep before being returned in the morning.
She also objects to the word "detained."
"We don't have detention camps in Kenya," Mboroki said.
Though human rights groups say bribery is rampant in the operation, Mboroki said the police had not received any formal complaints from detainees about being asked for or having to pay bribes.
Mboroki said 1,136 people have picked up in Nairobi and processed through Kasarani since the sweeps began April 4, though human rights groups put the figure much higher, between 3,000 and 4,000.
Mboroki said 3,000 nationally people have been held for document inspection nationwide, though she did not have figures that included this week's sweeps. She said the operation will continue indefinitely.
But fewer than 300 have been deported for being illegal, according to local news reports; 173 of those are Somalis, according to Nur. Mboroki said she didn't know how many had been returned, or are slated to return, to refugees camps, but critics of the operation say the low deportation number suggests the sweep is too broad.
Mboroki said all those who are detained also undergo police interrogation before they are released, including those who have provided genuine paperwork.
She also sought to clarify the meaning of the word.
"'Who are you, where are you from, why didn't you have your papers?' — that can also be interrogation," she said.
She also confirmed that the Kenyan intelligence service is present in the stadium.
Mboroki denied reports circulating on Twitter that one woman released from Kasarani to give birth had died after delivering twins, and that another had given birth while in police custody.
On Thursday some activists reported on Twitter that a 40-year-old woman had died while awaiting deportation to Somalia — but the details and sources of that story remained unclear.
A journalist with Al Jazeera said the woman's family confirmed her death after eight days in Kasarani stadium.
The United Nations Human Rights Commission, whose protection officer was present during the morning's deportations, could not confirm the reports. Kenyatta National Hospital (KNH) had no record of a patient by that name. Duty officers at Jomo Kenyatta International Airport, reached in the evening by telephone, said they had not heard of any such report.
Human Rights Watch earlier this week released a statement saying the police stations it visited last week held hundreds of people in cells designed to fit 20 and were "filthy with urine and excrement."
Hajji said that despite the harassment he and other Kenyans of Somali heritage may feel, they will persevere.
"This is reactionary, it's knee-jerk, and it will end," he said. "We're not moving anywhere. ... We rightfully belong to this place. We're not running away.