Peacekeepers In Somalia Accused Of Raping And Exploiting Women And Girls
Troops from Uganda and Burundi, deployed under a United Nations mandate to stabilize Somalia, are allegedly exploiting medical services and aid for sex.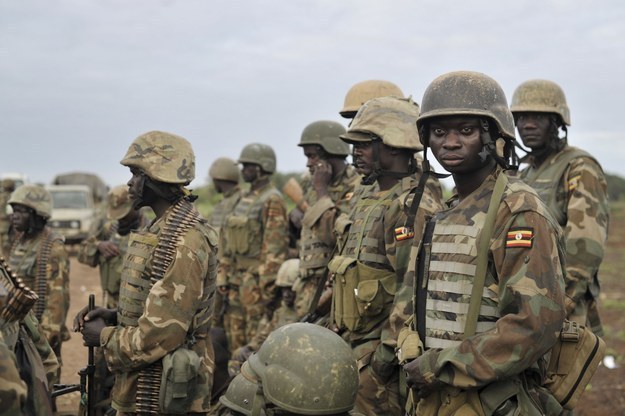 NAIROBI — Peacekeepers in one of East Africa's least stable and most dangerous countries are exploiting humanitarian aid to sexually abuse Somali women and girls, a new report alleges.
Soldiers from at least two bases of the African Union Mission in Somalia (AMISOM) have committed abuses, including rape, according to Human Rights Watch.
"Hospitals are being used to identify women and girls," Laetitia Bader, a researcher with Human Rights Watch and lead author of the report, told BuzzFeed News. "The AMISOM soldiers hardly leave their bases, so they don't actually have that many opportunities to come into contact with women and girls.... It's when women and girls are coming to use medical facilities… which are on the bases and which open up to Somalis two or three times a week" that the opportunity for exploitation arises, she said.
Human Rights Watch interviewed 21 women and girls who said they had experienced rape or sexual exploitation. The group's research revealed a "relatively organized" system on bases for Ugandan and Burundian soldiers, in which women or girls are approached by a male Somali intermediary who presented himself as a translator — often while they are waiting in line for medicine for themselves or a family member. The intermediary would then bring the girls to a soldier, who would pay them $10 for sex.
Bader said at a press conference launching the report in Nairobi on Monday that part of the reason troops get away with this exploitation is because AMISOM has a reputation for having brought a measure of stability back to Somalia, which has seen two decades conflict, most recently in battles against Al Shabaab, an Islamist terror group that controlled most of Mogadishu from 2009 until AMISOM helped oust them in 2011.
The ouster came with renewed international support for the mission, Bader said, "because it has been credited with moving Al Shabaab out of Mogadishu."
Donations to a UN-administered voluntary "trust fund" to supplement formal AMISOM funding more than doubled between 2011 and 2012, according to UN figures.
"Certain soldiers have been abusing that support," Bader said.
The abuse relies on a system that implies organization and some degree of implicit consent by other soldiers, Bader said. The soldiers work through a Somali intermediary and bring the women and girls through the official entrance of the bases; one even described being given an AMISOM visitor's badge. The soldiers' abuse generally takes place on the base, in AMISOM facilities including soldiers' own living quarters.
"Not only [is] this organized, but it's not secret," Bader said.
In a June letter responding to HRW, the head of AMISOM said he could not comment fully without more specifics but "I fully accept that if the contents of your investigation are true, the mission will need to double its efforts" on gender-based violence prevention and response.
But in a public statement, the African Union said it was "concern[ed] [with] the imbalance, inaccuracies and partial view" of the report. It nevertheless pledged that the report's claims "will be thoroughly investigated, and appropriate measures will be taken if they are found to be true."
AMISOM adopted a "zero-tolerance" policy on sexual violence and exploitation last September. In January, the African Union, which oversees AMISOM, signed onto a 16-point framework, developed with the UN Special Representative on Sexual Violence in Conflict, to prevent and respond to sexual violence across Africa.
Troop-contributing countries are primarily responsible for investigations of sexual misconduct by troops. HRW said that only two cases had been investigated since 2012. A 2012 investigation by a Burundian legal officer was closed before medical examination results were issued, and without the officer completing any kind of formal case file, HRW said.
The other investigation resulted in charges filed, in a Ugandan military court in July 2013, against a Ugandan private accused of raping a 12-year-old girl. The case has not yet been heard.
In 2013, AMISOM investigated the claims of a woman who told local media she had been abducted by Somali soldiers, transferred to and gang-raped by AMISOM soldiers, and left on the street. The peacekeeping outfit found the claims lacked credibility, even though hospital records documented physical abuse consistent with rape, the report states.
The report alleges that AMISOM never interviewed the woman or independent witnesses and notes that no report on the inquiry has ever been made public.
An annex to AMISOM's June letter responding to some of HRW's findings states that no AMISOM board of inquiry has ever found a report of rape or sexual violence credible.
A response from the chief of Burundi's military states that Burundi has never received a single complaint from Somali citizens alleging sexual abuse, exploitation or misconduct.
The report notes repeatedly that women and girls are often reluctant to report rape or sexual abuse, a reluctance that seems reinforced by the cultural and religious contexts at work in Somalia.
Because of security limitations, the group confined its research to two military bases, populated by Ugandan and Burundian soldiers, in Mogadishu. Uganda and Burundi together contribute more than half of the mission's 22,000 troops. The rest come from Kenya, Sierra Leone, Ethiopia and Djibouti.
Bader said that the research limitations mean the group cannot conclusively say that troops from other countries have committed similar abuses — or that they have not.
"This is the tip of the iceberg," said Agnes Odhiambo, an HRW women's rights researcher. "[AMISOM] really need[s] to go in and look at what is happening."
Updated 3:20 p.m. ET to include African Union's public statement in response to the report.