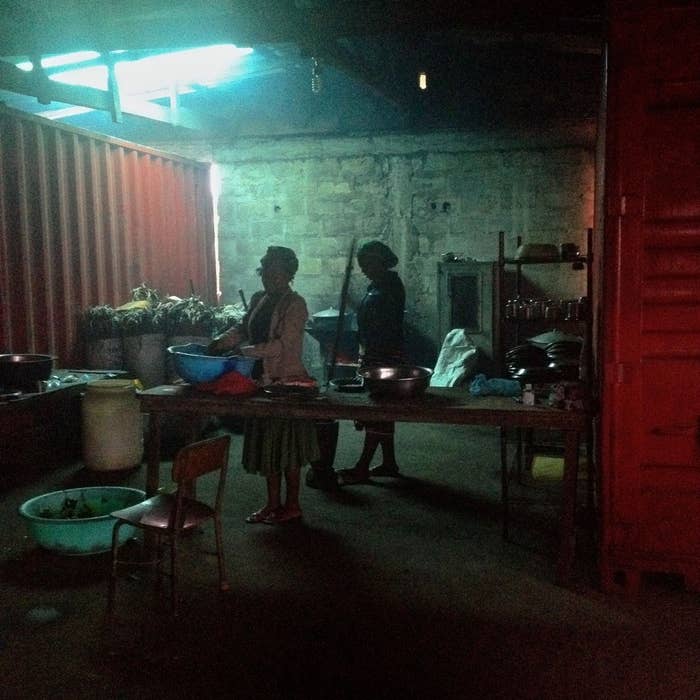 MONROVIA, Liberia — Catherine Jeejuah starts so early these days that she doesn't know the time. It's irrelevant. She rises when it's dark, lights a fire, and boils rice and greens for her two kids. By about 6:30 a.m., when light begins leaking through the windows, she leaves for a nearby school.
Here, she does it all again, at a greater scale. Jeejuah, 30, and two other women, all volunteers, are cooking for 12 of the most important, but invisible, people in Liberia right now.
The dozen meals are meant for the team of technicians that tests the blood of suspected Ebola patients. They visit sick peoples' homes and overwhelmed Ebola treatment centers, sticking needles in the veins of physically unpredictable, highly contagious people. They then drive their blood back to Liberia's only medical lab, more than an hour from the capital of Monrovia.
The lab staff are Ebola's first responders. No patient can be moved, no body can be collected, no containment or burial team sent in, without confirming whether the person is positive for the disease, a rare but highly contagious virus that's swept through three West African countries. Nearly 2,500 people have contracted the virus; more than 1,300 have died. It's the biggest Ebola outbreak in history, and the first in West Africa.
The lab technicians work 12 hours a day, six days a week. The days have been more grueling recently, as the number of cases spikes, but they've been at it since the early days of the outbreak, in April.
And until last week, when a man named Jonathan Enders organized these three women to help, no one was feeding the lab workers.
Enders is 52, driven, and glows with compassion. He heard from a news report that the lab staff had no food, and he simply couldn't accept that. So he asked three neighbors if they'd volunteer their time to cook, and then he asked friends for donations of food or money.
He didn't think much about it. It simply needed to be done, so Enders did it. But he's never been on the radio or in the newspaper, and he hasn't run an outreach campaign or written a jingle to get donations or attention. He's just talked to people who trust him — and after long years helping his community and running and school, there are many — and he's tried to fix a problem that seemed fixable.
Ebola has overwhelmed Liberia, and in many ways, its structures and systems are failing its people. But there are also so many stories of undocumented acts of compassion. A taxi driver who takes an obviously sick and possibly contagious patient to a treatment center. A neighbor who brings an abandoned dying woman food.
And Enders and his team, who cook for the men and women who make it possible to understand the nature and scale of the outbreak.
Enders is not a man of means, so there's a whole community of support behind him. Friends have given him nearly 90 pounds of rice, a fat bag of onions, liters of palm oil, and the spicy Liberian pepper that must be part of every meal. Several gave Enders cash.
"We're trying to spend $10 a day," Enders said. He uses the cash for fresh potato leaves and for protein, usually fish or chicken. Liberian food is simple: The rice is boiled, and the rest of the ingredients are essentially stewed together and poured on top.
But $10 goes less far with each passing day. Liberia's markets are jittery. The country has never grown much of its own food, and now its land borders are closed, blocking supplies. Some of its counties are cut off by quarantine, jamming food in transit. Everyone wonders if tomorrow there will be anything left to buy, so prices climb.
Enders needs one more tool, something as disposable as the dozens of rubber gloves the lab workers pull on and strip off each day. He needs Styrofoam.
"When I told [the women who cook] this idea, they said, 'If we give these people dishes, will they take them back to us?' I said, 'Yes.' And they asked, 'But how about the Ebola?'"
Specialists and most health workers know that chlorine kills the virus, and most residents of Monrovia are learning this too. Every office, every business, has to have a bucket with chlorinated water at its door, and every person entering has to rinse their hands.
But no matter what someone tells you, it's hard to believe that dipping a dish in chlorine really cleans it, when it's coming from the most biologically dangerous place in the country. In these moments, even science requires faith — and faith is in short supply in Liberia. "Part of the fear here is lack of trust," Enders said. "Unfortunately one of the things in Liberia is that rumors thrive... You're not trusting people telling you what to do or what not to do."
Enders has some experience with all this — with fear, with scarcity, with uncertainty about which rules will let you live. Enders' 35th birthday, on April 6, 1996, was a turning point in Liberia's years of civil war that ran, on and off, from 1989 to 2003. Enmity between two warlords sparked a siege in the capital, and Enders' wife and their two children survived by making the birthday cake she'd baked for him last for a month.
Watching a community torn apart by violence is one of the reasons Enders is dedicated to helping his neighbors. And his dedication, long on display in the private school he runs at subsidy for the poorest children in his low-resourced village, is one of the reasons his neighbors trust him. They listen to what he says, in this case, about Ebola. He passes out fliers and talks with neighbors about what really transmits the disease. He's a one-man army against resistance and denial of the virus and its risks, and unlike Liberia's political elite or international health workers, Enders speaks the language of the people these messages most need to reach.
"We've had an opportunity [to help] that a lot of people have not had," Enders said.
"The joy I have is that every morning people look forward to receiving something, getting some encouragement because I'm willing to be there for them."
He's not talking only about the lab workers. The cooking isn't just about feeding them. It's also about reminding a community that it isn't helpless. Helplessness insulates fear, and fear erodes trust between neighbors.
That's why Jeejuah comes here very morning. No one before had ever hinted to before that an ordinary woman like her might be able to do something to help — that there was something ordinary, something doable, that an average woman could do in the midst of this unknown, terrifying disease.
"I just want to help," she said. "I'll cook until there's no more food left to cook."